Many cultures have a version of pizza that is unique to the ingredients of the region. Of course, in Italy and North America, we make a flat, open-faced pie that is generally topped with tomato sauce and cheese. In Greece, there is hortopita which is a phyllo or cornmeal crust filled with greens and feta cheese. In Morocco, there is a pizza called medfouna that is 2 layers of yeast-risen flat dough that is filled with onions, herbs, and spices.
Moroccan pizza (medfouna) is often eaten as an after-school snack. It is also popular served with a large salad for lunch. I like this as a picnic food that I can take to the beach. Medfouna packs and transports well. It is also perfect with cocktails on the patio on a relaxed Saturday afternoon or Sunday late brunch with platters of fresh fruits and olives and a large bowl of dressed bitter greens.
There are different versions of Moroccan pizza. Some are vegan with just aromatics and spices, some are vegetarian with vegetables and cheese, and others include ground meats, such as lamb. The dough is pretty much the same as the pizza crust we are familiar with. It is a yeast-risen dough made with wheat flour.

I decided to try a vegan Morrocan pizza for this recipe. The dough is my go-to pizza or flatbread recipe. The filling is basically sautéed onions, cilantro, cumin, za'atar, coriander, cayenne, salt, and pepper. I make the dough about 1-1/2 hours before assembling and baking the pizza. I set the dough aside to rise while I prepare the filling. The filling needs to be cool when it goes onto the dough. I bake this in the oven, but you can cook the pizzas in a cast-iron skillet or on a griddle as you would fried flatbread. This recipe will yield 2 pizzas.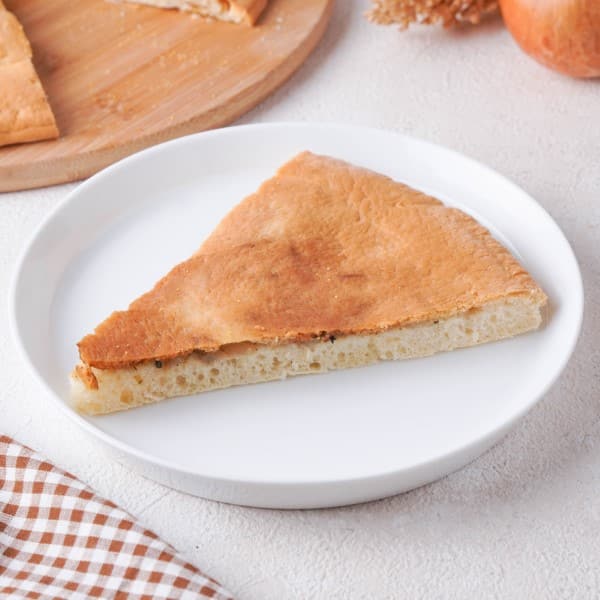 Ingredients
Pizza Dough
1 ½

cups

lukewarm water

1

packet of active dry yeast

1

tsp

raw or turbinado sugar

1

tsp

sea salt

⅓

cup

extra virgin olive oil + more for finishing

4 ½

cups

all-purpose flour + more for kneading

Cornmeal for baking
Filling
1 ½

Tbsp

extra virgin olive oil

4

medium onions

peeled and sliced thinly

1

tsp

ground cumin

1

tsp

za'atar or dried thyme leaves

½

tsp

ground coriander

½

tsp

cayenne pepper

½

tsp

sea salt

½

tsp

freshly ground black pepper

¼

cup

chopped fresh cilantro leaves
Instructions
All ingredients ready? Let's begin!
Pizza Dough
In a large mixing bowl, combine the water, yeast, and sugar. Give it a gentle stir and set aside for about 10 minutes until the yeast starts to expand and bubble.

Gently stir in the salt and olive oil. Add the flour and stir well to combine until the dough comes together into a sticky ball. Add more flour or water if needed.

Lightly flour a flat work surface. Turn the dough onto the floured surface and knead with the heels of your hands for at least 5 minutes and up to 10 minutes, dusting with a little more flour as needed if the dough is too sticky.

Wipe out the mixing bowl well. Place the ball of dough in the bowl. Cover with plastic wrap and place it in an oven that is turned off (or another draft-free space). Allow the dough to rise until doubled in size, approximately 60 minutes.

After the dough has doubled in size, punch it down and divide it into 4 equal size balls. Place these on a sheet pan and return to the oven to rise again while you make the filling, approximately 40 to 60 minutes.
Filling
In a large sauté pan over medium-high heat, warm the olive oil. Add the onions and sauté until just starting to wilt, stirring often, approximately 5 minutes.

Stir in the cumin, za'atar, coriander, cayenne, salt, and pepper. Sauté until very aromatic. Add the cilantro and set aside to cool.
Assembly & Baking
While the filling is cooling, lightly flour your work surface and roll each ball of dough into 8-inch discs.

Preheat the oven to 400°F.

Spread 1/2 of the cooled filling on one disc and 1/2 on another, leaving about a 1-inch perimeter free of filling.

Wet the edges of each pizza with a little water.

Place the other 2 dough rounds on top of the filling and press the edges to form a tight seal. You can use the tines of a fork to do this. Roll the filled pizzas again so they are flat and about 12-inches in diameter.

Sprinkle a clean baking sheet or pizza stone with a little cornmeal. Place a pizza on the sheet pan and transfer it to the preheated oven. Bake for 20 to 25 minutes until the crust is golden brown and a little crispy.

Remove from the oven and brush the pizza with extra virgin olive oil.

Slice and serve while warm. Bake the other pizza the same way while enjoying the first one.
Nutrition
Calories:
393
kcal
|
Carbohydrates:
61
g
|
Protein:
8
g
|
Fat:
13
g
|
Saturated Fat:
2
g
|
Polyunsaturated Fat:
2
g
|
Monounsaturated Fat:
9
g
|
Sodium:
443
mg
|
Potassium:
183
mg
|
Fiber:
3
g
|
Sugar:
3
g
|
Vitamin A:
103
IU
|
Vitamin C:
5
mg
|
Calcium:
31
mg
|
Iron:
4
mg
Notes & Tips
This recipe is ideal for the arid climate of Northern Africa. If the humidity is high in your kitchen, it is best to allow the dough to rise in a dry space. That is why I use my oven that is turned off with the door closed. You can also put it in a microwave or place it on top of your refrigerator which is generally a little warm.
Substitutions & Shortcuts
Gluten-free Flour: I make a lot of gluten-free breads and baked goods. I have been experimenting with the best gluten-free flours for yeast-risen breads and doughs. The best I have found are cassava and buckwheat. Cassava will rise a little, but it is very crumbly. Buckwheat rises nicely, but it is sticky. I find that combining the two and sometimes adding almond flour works pretty well for making pizza. It takes some trial and error to work with the texture, but it is worth a shot if you are gluten intolerant.
Aromatics and Herbs: Yellow, white, or red onions are all fine for the filling. I find that using a large shallot in place of one of the onions really adds a lot of flavor. Not everyone loves the taste of fresh cilantro. If you are that person, flat-leaf parsley is a good substitute.
Seasonings: You can certainly change up the herbs and spices in this recipe. Some medfouna recipes call for ras al hanout, a lively spice blend that is native to Northern Africa. Za'atar is a spice blend with thyme, sesame seeds, and sumac. I use this in so many dishes because it is herbal, nutty, and lemony in flavor. I think it really enhances the pizza. If you don't have this, use dried thyme leaves.
Pizza Dough: If you aren't in the mood to make your own dough, by all means, use a premade dough from your local market or bakery. This will save 2 hours. I would probably do this if I lived in an area of high altitude.
More Pizza Recipes
We like pizza a lot on this site. You might want to try some of these other recipes.
---
Recent Recipes