Super Simple Mushroom Avocado Toast
Avocado toast is a super easy and very satisfying breakfast. I think it might just be the most popular breakfast of this decade.
This combination of avocados and whole grain bread is rich in mono-unsaturated fats, dietary fiber, vitamins, and minerals. The buttery flesh of avocadoes is a good source of vitamins A, E, and K. It also supplies us with a variety of minerals, such as copper, iron, magnesium, manganese, and potassium. Whole grain bread offers calcium, B vitamins, and more fiber.
This is all well and good, but I think avocado toast needs an update. I can't think of a better addition to this dish than sautéed mushrooms. I think I like mushrooms as much as I like avocadoes. To be clear, I am also slightly addicted to crunchy toast.
This recipe for mushroom avocado toast is incredibly simple in both ingredients and preparation. The base recipe is vegan. You can make it vegetarian by adding a little creamy goat cheese to the toast if desired. That is delicious. Or, try your favorite vegan cream cheese.
I like to add some minced shallots and earthy thyme leaves to the sliced mushrooms when sautéing them. I thought about adding garlic, but that seemed a little much for breakfast. If this is a lunch dish and everyone at the table is eating it, then go ahead and add garlic. Despite the intense flavor and aroma of garlic, mushrooms and garlic are great together.
I sauté the shallots and mushrooms in extra virgin olive oil. Then, they are seasoned with thyme, salt, pepper, and drizzled with a little bit of good balsamic vinegar. A touch of acid accentuates the mushroom flavor. I slice a ripe avocado thinly and layer them on the toast before topping with the mushrooms. My favorite toast for this recipe is oat bread. I can't always find it, so my next favorite is gluten-free multi-seed.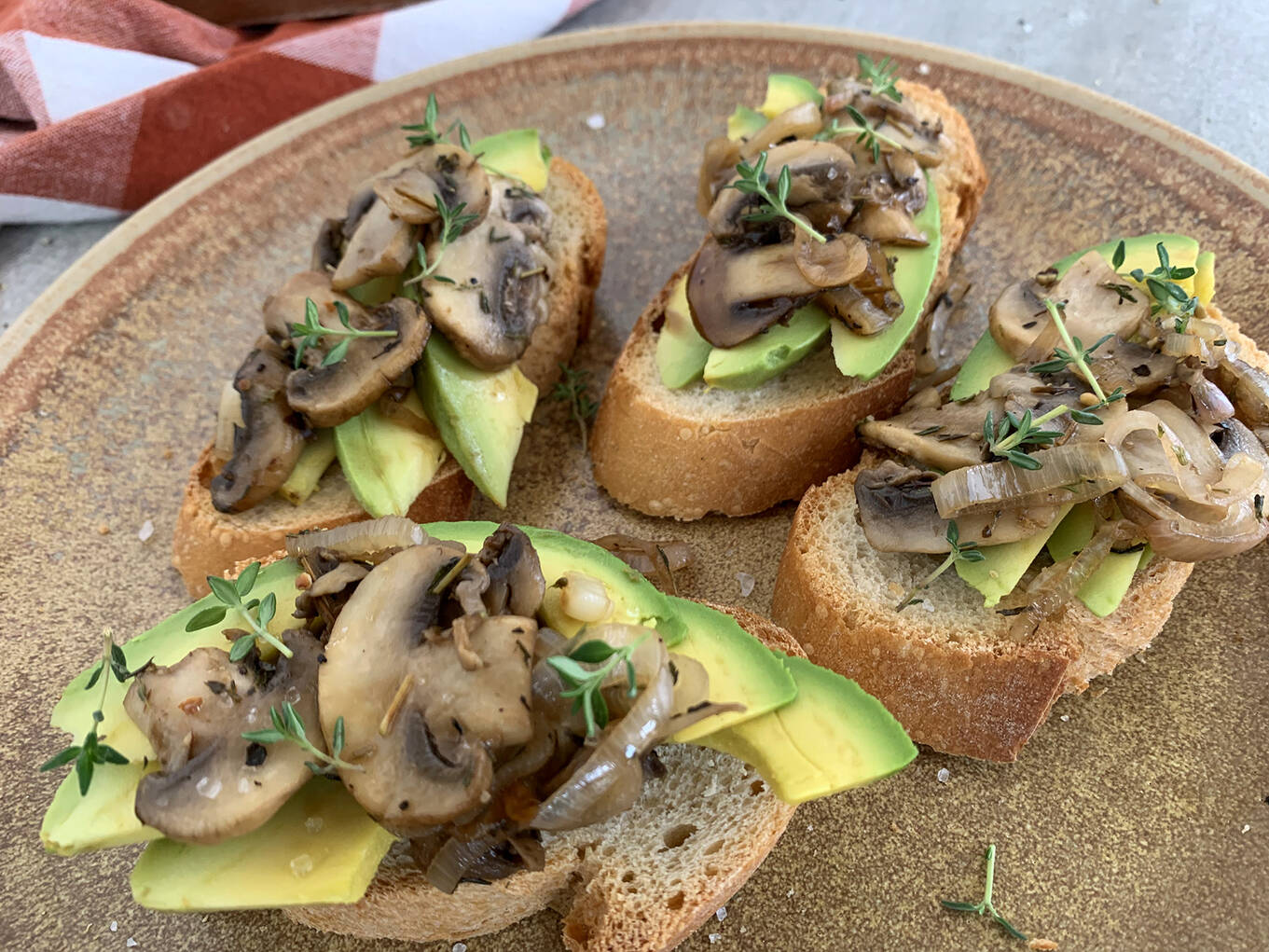 Ingredients
1

small shallot

sliced thinly

3

cups

of sliced cremini mushrooms

1-1/2

TBS

extra virgin olive oil

1/2

tsp

dried thyme leaves

1/2

tsp

coarse salt

1/4

tsp

freshly ground black pepper

1

tsp

good balsamic vinegar

4

slices

whole-grain crusty bread

1

large ripe avocado

more if desired

4

pinches

of coarse salt
Instructions
In a large sauté pan over medium-high heat, add the olive oil and shallots. Cook for 1 to 2 minutes until the shallots start to become soft. Add the mushrooms, thyme, salt, and pepper. Cook until the mushrooms start to brown, approximately 5 minutes. Drizzle in the balsamic vinegar and continue to cook until the mushrooms are caramelized, approximately 2 minutes longer.

Place the bread slices in your toaster or toaster oven. Toast until just brown and crunchy.

Slice the avocado in half lengthwise and remove the pit. Using a soup spoon, scoop the flesh out of each half. Slice the avocado thinly from end to end into half-moons.

Layer the avocado slices on each piece of toast. Spoon the mushrooms over the avocado. Season each toast with a pinch of coarse or kosher salt.

Enjoy with a cup of tea or coffee.
Video
Nutrition
Calories:
183
kcal
|
Carbohydrates:
19
g
|
Protein:
6
g
|
Fat:
10
g
|
Saturated Fat:
2
g
|
Polyunsaturated Fat:
1
g
|
Monounsaturated Fat:
7
g
|
Sodium:
411
mg
|
Potassium:
577
mg
|
Fiber:
6
g
|
Sugar:
4
g
|
Vitamin A:
74
IU
|
Vitamin C:
6
mg
|
Calcium:
49
mg
|
Iron:
1
mg
Notes & Tips
Wait until just before assembling the toasts to slice the avocado. If you cut it open too early, the flesh will oxidize and discolor. You want a bright green layer of avocado.
If you decide to use more avocado and end up some extra, store the cut avocado in an air-tight container with the pit. I don't know the science behind this trick, but the pit helps the flesh to stay green. Store this in the refrigerator in the crisper drawer that is away from light.
If you are expecting to feed a big family or guests, you can toast several pieces of bread in your oven and double the recipe. Just place the slices of bread on a rimmed baking sheet and toast for 8 minutes on 350°F, flipping over halfway.
Lessons Learned
When cooking mushrooms, it is best to use a stainless steel or clad/non-stick sauté pan. I made the mistake of cooking them in a cast-iron skillet and they turned black and tasted slightly metalic.
Substitutions and Additions
You can use any kind of mushroom for this recipe. Some of my favorites are shitake, maitake (hen of the woods), and classic button mushrooms.
If you don't have balsamic vinegar, substitute it with fresh lemon juice.
The type of bread you use is totally up to you. I prefer either a sturdy whole grain with seeds or crusty Tuscan bread. The only bread I might not recommend is standard white bread because it could become soggy and will be hard to eat when piled high with avocadoes and mushrooms.
You can top this toast with additional items for more flavor and texture. Here are some ideas:
Chopped fresh herbs, such as cilantro, parsley, or basil
Blistered cherry tomatoes, sliced in half
Toasted sunflower seeds
A few dashes of hot sauce
Crumbled feta or blue cheese (vegetarian)
What to Serve with Mushroom Avocado Toast?
This is a good meal all by itself. I enjoy avocado toast with a steaming hot cup of strong coffee.
If I have guests for brunch, I will poach some eggs for the non-vegans. I will also make a big bowl of fresh fruit that is mostly berries with a little fresh lemon or orange juice squeezed over the top.
I have a family member who loves overnight oats with cinnamon and almond milk. She will eat that along with avocado toast for a replenishing breakfast after spin class or a run. Overnight oats are super easy to make and can be done the night before, as the name implies.
---
Recent Recipes