Bean soups are a staple weeknight meal in my home. Beans are nutritious and affordable. A pound of dried beans is about $1.50 and a can of organic beans at my market is 99 cents. You can't beat that. For quite some time I took in nieces and nephews who were in college during their summer breaks. They often had internships, minimum wage jobs, or worked for me. These kids were on some serious budgets. So, we would make dinner together and it was often bean-based soups and stews with homemade bread. There weren't any complaints.
One of my favorites is navy bean soup. I have a very dog-eared cookbook that was published by Yankee Magazine. This vintage book has a Yankee bean soup recipe that is pretty simple and uses navy beans or great northern beans, which are definitely a New England pantry staple. My navy bean soup is based on that recipe. It has dried beans, a few vegetables, and smoked ham hocks. The ham hocks are what create the rich broth and the meat is very soft.
This particular soup recipe calls for water as the soup base. If you plan on making a vegetarian version of the soup, use no sodium vegetable broth instead of water. I also use dried beans because I like the texture of dried navy beans a little better than the canned ones for this soup.
I purée some of the beans to make a creamier and thicker soup. This is nice because you don't have to add a lot of dairy to make the soup silky. Though, I do top my soup with a little bit of cream, which is completely optional.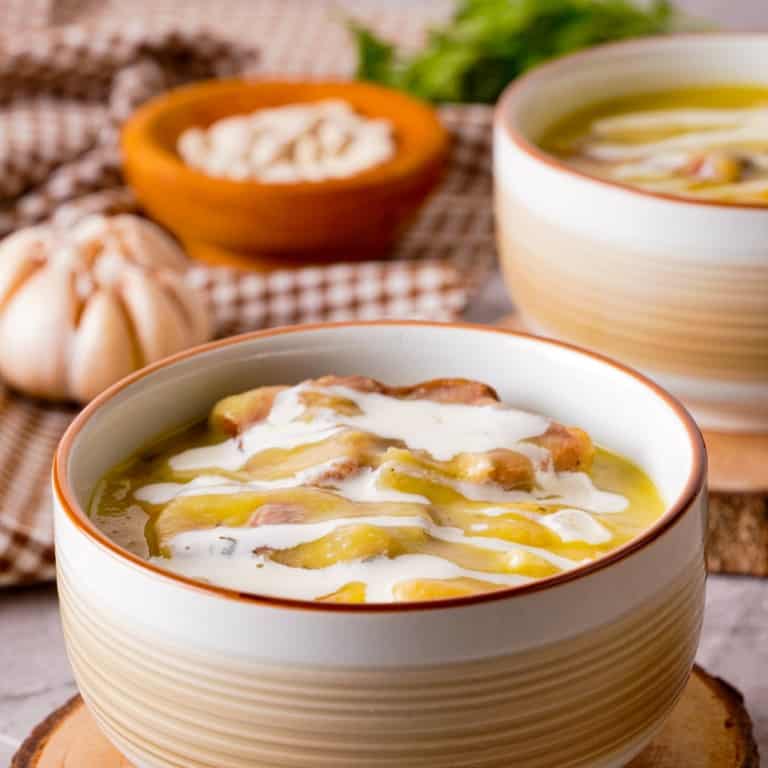 Ingredients
16

ounces

dried navy beans

soaked in water with a pinch of baking soda for at least 12 hours

2

smoked ham hocks

1

medium onion

peeled and chopped

2

garlic cloves

chopped

1

tsp

dried thyme leaves

1

large dried bay leaf

8

cups

cold water

1

large carrot

diced

2

Tbsp

chopped fresh flat-leaf parsley

Sea salt and freshly ground pepper to taste

Heavy cream for serving

optional
Instructions
All ingredients ready? Let's begin!

Drain and rinse the soaked beans. Place them in a large soup pot or Dutch oven with a lid over medium-high heat. Add the ham hocks, onion, garlic, thyme, bay leaf, and water. Stir to combine. Bring this to a boil.

As soon as the water boils, reduce the heat to a low simmer. Cover the pot and cook for 1 hour.

Add the carrots and parsley to the soup and stir again to combine. Cover the pot and continue to simmer until the beans are tender and the meat on the ham hocks is starting to pull away from the bone, approximately 30 minutes longer.

Turn off the heat and remove the ham hocks to a clean cutting board. Remove the bay leaf and discard it. Allow the ham hocks to cool until you can handle them.

Place about 3 cups of the cooked beans in a blender. Purée until smooth, being very careful to allow some steam to escape from the hole in the top of the blender. You can cover it loosely with a kitchen towel.

Remove the ham from the bones. Discard the bones. Dice or shred the ham into bite-size pieces. Add the puréed beans back to the soup along with the diced ham meat. Stir to combine well. Season with salt and pepper to taste. Heat the soup back up.

Ladle the hot soup into individual serving bowls. Serve the hot soup with a drizzle of heavy cream over the top that everyone can stir into their soup.
Nutrition
Calories:
342
kcal
|
Carbohydrates:
37
g
|
Protein:
25
g
|
Fat:
11
g
|
Saturated Fat:
4
g
|
Polyunsaturated Fat:
2
g
|
Monounsaturated Fat:
5
g
|
Cholesterol:
46
mg
|
Sodium:
128
mg
|
Potassium:
888
mg
|
Fiber:
14
g
|
Sugar:
3
g
|
Vitamin A:
1610
IU
|
Vitamin C:
4
mg
|
Calcium:
110
mg
|
Iron:
4
mg
Notes & Tips
Soaking the beans helps them to be more digestible and to cook faster. The baking soda hastens the process. I like to sprout my dried beans, which involves soaking and rinsing them for a few days until they sprout small tails. This is the germinated seed to grow a beanstalk from. This process makes the beans so much easier to digest fully.
Smoked ham hocks are often salty, so don't add any salt to the water until the soup is fully cooked. Salt can toughen the skins of the beans if added too early.
Remember to be careful when puréeing hot soup. You do need to allow some steam to escape from the top of the blender jar, as mentioned in the recipe.
Substitutions & Shortcuts
Navy Beans: If dried beans are not something you want to deal with, you can use canned navy beans. However, you will have to simmer the ham hocks in water with the aromatics and seasonings for at least 1-1/2 hours, adding the carrots, parsley, and canned beans after 1 hour. Also, you will need to use less water. You can make this soup with great northern beans, black beans, or cannellini beans if that is what is available.
Ham Hocks: It's funny, when I lived further north in New England, I could always find smoked ham hocks in my grocery stores. For some reason, they are not a popular item where I live now. If I can't find ham hocks, I use a good amount of thick-cut bacon that I first render in the pot, drain, and then add back to the beans and vegetables.
Water: If you want to make a vegetarian version of navy bean soup, use unsalted vegetable broth instead of water. It has to be unsalted so the beans will cook properly. As well, add more vegetables, such as another carrot, 2 celery ribs, and a diced bell pepper for texture.
Heavy Cream: Many navy bean soup recipes call for some form of fat to finish off the soup when serving. This is often butter, which I find a little too rich. I like the way the heavy cream makes the soup a little silky. If this is going to be vegetarian, drizzle the top of the soup with a good extra virgin olive oil or a little coconut milk.
More Soup Recipes
I think of soup as the ultimate comfort food. We all know that chicken soup is considered the best remedy to soothe a winter cold. But it doesn't end there. Every culture has some version of soup or actually many versions. We have explored the soups of many different cuisines. Here are some interesting soup recipes you might like to try.
---
Recent Recipes