Awesome One-Pan Chicken and Cauliflower
Everyone has got to get this Awesome One-Pan Chicken and Cauliflower dish on their weekly menus. It is quick and easy, and you can try it with various permutations and combinations, and you come out with a delicious dish each time.
The important thing is to get the flavors right with the seasoning you are using. I have used Italian seasoning along with some extra thyme, paprika, and olive oil. Marinate everything evenly, add more oil or spices according to what works for your family. Ensure that everything is coated with the oil and spice blend so that the flavors and the cooking are not uneven.
The process is so simple it is pretty much just marinating and baking and voila, your meal is ready. Garnish with your favorite topping and enjoy this Awesome One-Pan Chicken and Cauliflower.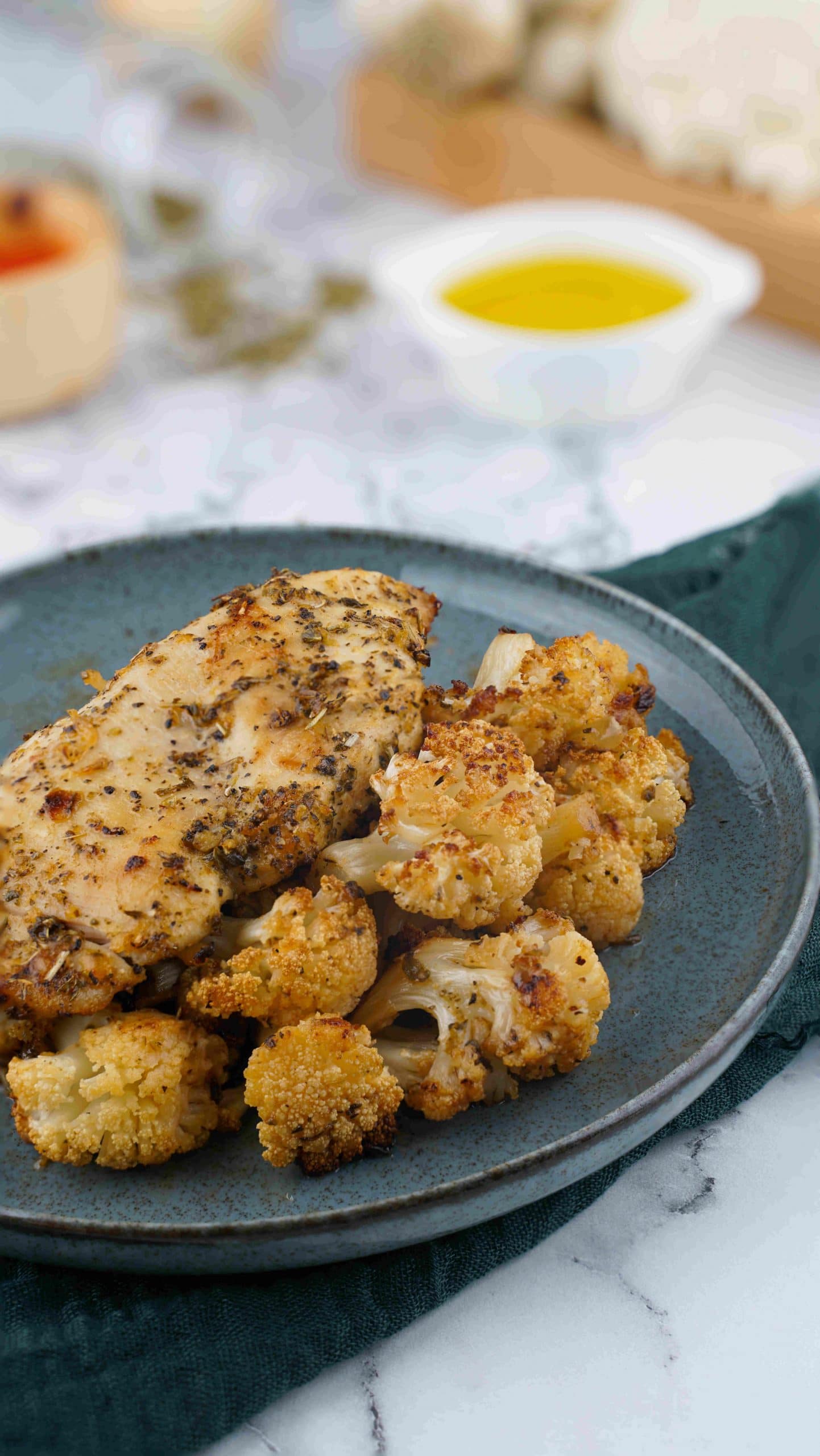 Ingredients
1

large head of cauliflower

cut into florets

4

boneless

skinless chicken breasts

1

large onion

thinly sliced

2

cloves

garlic

minced

½

cup

extra virgin olive oil

2

teaspoons

Italian seasoning

1

teaspoon

thyme

1

teaspoon

paprika

1/3

cup

parmesan

Salt and pepper
Instructions
Preheat the oven to 425 degrees

Line a large baking pan and grease it

In a large bowl put the oil, and add the Italian seasoning, thyme, paprika, and parmesan to it.

Add the salt and pepper

Add the onions, garlic, chicken, and cauliflower to the bowl and mix well till they are all well coated with the oil and spices.

Let it marinate for 10 minutes

Then place everything in the baking pan, make sure the chicken is placed flat on the pan

Place in the oven and bake for 25-30 minutes. Take them out halfway, give them a toss and continue baking.

Take it out of the oven

Before serving, garnish with some more black pepper and parmesan.
Video
Nutrition
Calories:
518
kcal
|
Carbohydrates:
11
g
|
Protein:
42
g
|
Fat:
34
g
|
Saturated Fat:
6
g
|
Polyunsaturated Fat:
4
g
|
Monounsaturated Fat:
22
g
|
Trans Fat:
1
g
|
Cholesterol:
114
mg
|
Sodium:
376
mg
|
Potassium:
1131
mg
|
Fiber:
4
g
|
Sugar:
4
g
|
Vitamin A:
196
IU
|
Vitamin C:
76
mg
|
Calcium:
166
mg
|
Iron:
2
mg
Tips & Tricks
Don't overcrowd the baking pan, the chicken will steam instead of getting a nice roast.
Cut the cauliflower into small florets, if they are too big, they bake unevenly
You can let the cauliflower and chicken marinate for 30 mins up to an hour
Make sure to grease the pan or foil before baking, else it will end up sticking to the base
This Awesome One-Pan Chicken and Cauliflower can be cooked with the chicken skin on, in fact, the skin keeps the chicken from drying out.
Storage
This Awesome One-Pan Chicken and Cauliflower taste even better the next day as the herbs and spices settle in nicely. You can store it in the fridge for up to two days, I find that the cauliflower doesn't hold out too well after.
You can also freeze this dish. You can wrap it in an airtight container and freeze it for up to two months. Take it out of the freezer and let it sit in the fridge overnight before heating. Add a little bit of butter or oil before eating to get the chicken and cauliflower moist and juicy.
This is also a great make-ahead dish. You can marinate the vegetables and chicken, wrap them in foil and refrigerate for up to 24 hours. Stick it in the oven and bake the day of.
FAQs
Can This Dish Be Cooked On The Stove Instead Of Being Baked?
Yes, absolutely. This Awesome One-Pan Chicken and Cauliflower can be roasted over a skillet or pan instead of in the oven. It will still be a one-pan dish but remember you will have to cook one after the other as the cauliflower cooks much faster than the chicken. Marinate the vegetables as recommended. Heat oil in a pan and sauté and onions and garlic. Once they become fragrant or start changing color add the chicken pieces and cook over medium heat. Keep turning the chicken pieces till they start developing a nice brown coat. When the chicken is close to being done, add the cauliflower florets and cook together. You can close the lid for the last two minutes, so the chicken and cauliflower get tender but maintain the crisp outer layer.
Will The Cauliflower Burn If It Is Baked For So Long?
No, the cauliflower shouldn't burn at all, it will develop a nice char and should be completely cooked. Since the cauliflower is getting cooked along with the chicken and other vegetables and the pan is not empty, the cauliflower will be just right.
Can I Cook The Cauliflower Separately, I Feel The Cauliflower Will Be Burnt Or Undercooked In My Oven?
You can if you want to, but then it wouldn't be a one-pan dish. Bring a pot of water to boil, add the cauliflowers and let it cook in boiling water for one minute. Drain. Now your cauliflower is semi-cooked. It is slightly tender but still has some bite, you can then marinate it and bake it or roast it and then add to the chicken.
Substitutions
Cauliflower: You can use potatoes instead
Vegetables: This can be a great one-pan vegetarian bake. Use the same ingredients to marinate, add cauliflowers, potatoes, tofu, green beans, asparagus, and bake. You can also add mushrooms or make a nice eggplant bake.
Seasoning: I love Italian seasoning on baked vegetables and chicken, but you can go with Greek flavors with more lemon and garlic, or Indian flavors with turmeric and chili powder, or any dry rub, including what you use for steak.
Paprika: This is completely optional. I like some extra spice, so I added it and it also gives the dish a little pop of color.
Onions & Garlic: Optional, but it lends a fantastic fragrance and flavor to the Awesome One-Pan Chicken and Cauliflower. You can also add some grape tomatoes to the dish while baking.
Parmesan: I think it enhances the dish and gives it extra richness. You can use the parmesan just as garnish and don't have to use it to marinate the chicken and cauliflower if it is too much.
Accompaniments
This works well on top of spaghetti or any kind of long or short pasta. You can also serve the Awesome One-Pan Chicken and Cauliflower over rice or quinoa. A simple side salad, a nice mushroom or tomato soup, and some roasted vegetables like carrots make great accompaniments. For similar delicious dishes try this Honey Harissa Cauliflower Bites and this Keto Bourbon Chicken.
---
Recent Recipes