Easy One-Pan Vegetarian Enchilada Pasta
I can't tell you enough good things about this delicious, dreamy, exceptionally hearty enchilada pasta. It is easy, quick, versatile and can be whipped up in 30 minutes or less. Although my enchilada pasta is vegetarian, you can make it with meat, vegan or even gluten-free.
It's almost a combination of two cuisines and two dishes into one beautiful pot that is loaded with flavor, bursting with taste and texture and is a palate pleaser like no other. It is basically cooking pasta, your choice of protein, black beans here, and all kinds of condiments, spices and garnishes. This is a no-drain pasta recipe, as we are cooking everything in one pot together, so you need to be careful not to overdo the water. It is easy for the pasta to get squishy, especially since we're adding enchilada sauce to it as well. All the vegetables we use are optional or easily substituted. The corn and the green peppers can easily be substituted with no vegetables, or you can go an entirely different way and add broccoli and peas or shredded chicken or spinach. This recipe is a favorite because I can keep changing it up and it can transform into a completely different dish. You can also use green enchilada sauce and make it a super bright and slightly picante dish. And what is even more, I love dressing up the pasta with a variety of garnishes. My go-to topping is sour cream and cilantro. But you can just as easily use, shredded cheese or parmesan, green yogurt, guacamole even, diced avocado, diced jalapenos and assortment of peppers, or chili flakes or a dash of lemon juice.
Besides being filling and delicious the best thing about it, is how little there is to clean up afterwards with this dish.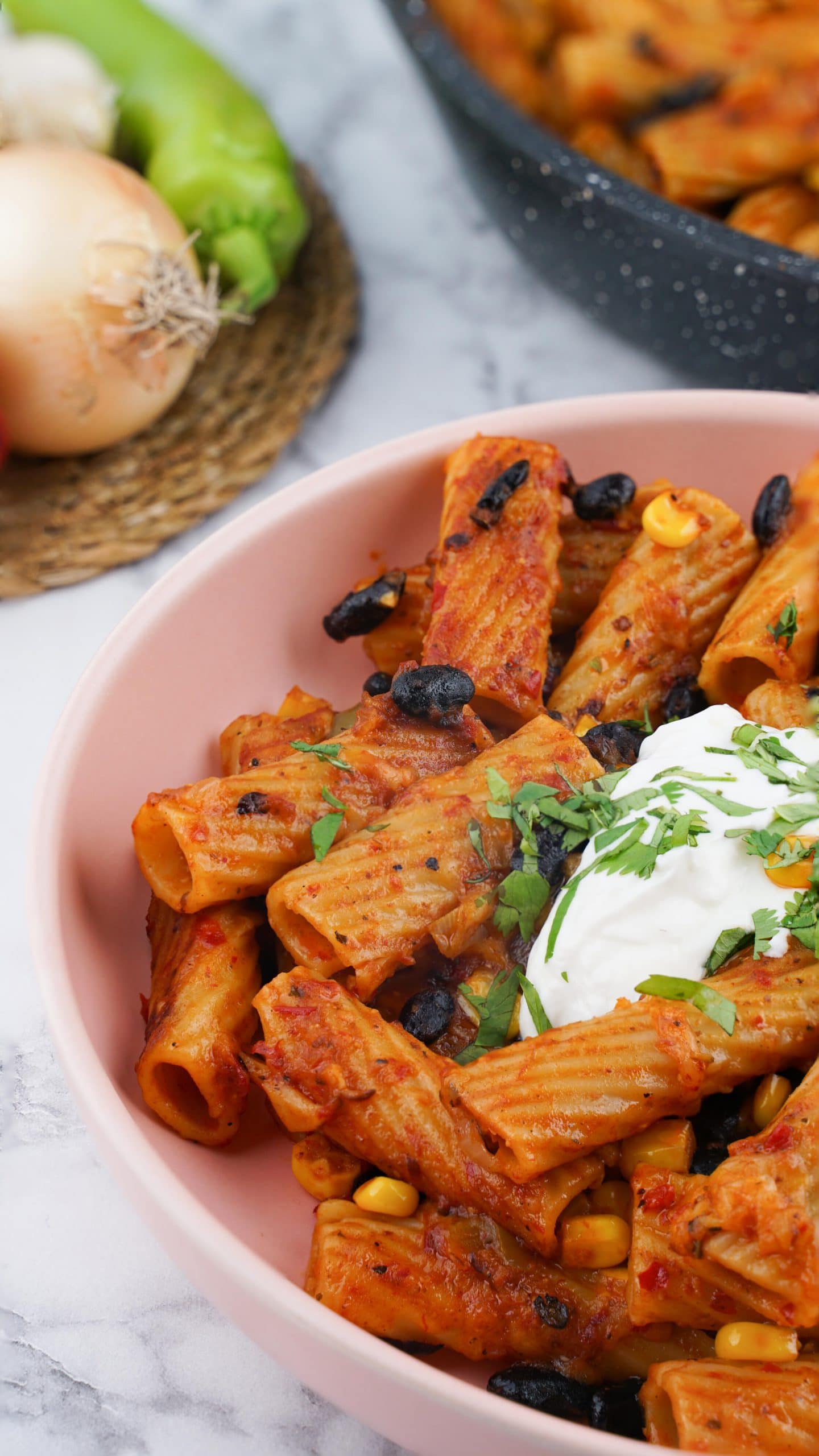 Ingredients
8

oz

of rigatoni or any short pasta

1

can black beans

drained and rinsed

1

can red enchilada sauce

2 ½

cups

vegetable stock

1

cup

onions

finely diced

2

cloves

garlic

minced

1

cup

of frozen corn

1

green pepper

diced

2

tablespoons

of taco seasoning

½

cup

shredded cheese

Mexican blend or cheddar

Extra Virgin Olive Oil

Salt

Garnish with cilantro and sour cream
Instructions
In a big pot or skillet heat the oil

Add onions and garlic and sauté till it becomes fragrant

Now add the green peppers and sauté

Add the enchilada sauce, the vegetable broth and the pasta

Bring to boil

Add the black beans and frozen corn along with the salt and taco seasoning

Cover and cook on medium heat for about 15-20 minutes

Add the cheese and stir well till the cheese melts and combines with the rest of the dish

Take off heat and top with a dollop of sour cream and cilantro
Video
Nutrition
Calories:
327
kcal
|
Carbohydrates:
58
g
|
Protein:
13
g
|
Fat:
5
g
|
Saturated Fat:
2
g
|
Polyunsaturated Fat:
1
g
|
Monounsaturated Fat:
1
g
|
Cholesterol:
13
mg
|
Sodium:
687
mg
|
Potassium:
342
mg
|
Fiber:
4
g
|
Sugar:
7
g
|
Vitamin A:
640
IU
|
Vitamin C:
30
mg
|
Calcium:
102
mg
|
Iron:
1
mg
Tips & Tricks
You can add ½ cup of pinto beans for some extra protein and flavor
The cheese adds some extra creaminess to the dish, so you don't want to skimp on that
You can use water or chicken stock instead of vegetable stock but don't use too much
Storage
This pasta can be stored in the fridge for up to 3 days. Reheat in the microwave, stovetop or oven. Add a little bit of enchilada sauce before heating, it helps loosen up the dish and keeps it from drying out.
You can freeze it for up to two months. Let it sit out for about an hour before heating.
FAQs
Is there any way to make this dish spicy?
Absolutely, a couple of green chilis work wonders to add some heat. You can also slice some jalapenos as garnish on the pasta. If you are making your own taco seasoning, increase the amount of paprika or red chili powder you are using. You can also use green enchilada sauce instead of red.
Can I make this dish with meat?
Ground turkey or beef or strips of chicken are fantastic options if you want to make this dish with meat. Add the meat you are using right after the onions and garlic and cook till they brown. Then follow the rest of the instructions. If you are using meat, you can eliminate the black beans. You can also keep it on for extra protein.
Substitutions
This dish is so flexible, it lends itself to a number of variations.
Rigatoni: You can make this with any short pasta. You can also add rice or use a chickpea-pasta to make it gluten-free.
Black Beans: You can use pinto beans, instead of or along with the black beans. You can also use meat like chicken, turkey or beef instead.
Green Peppers: This is entirely optional; you can also use any other colored peppers.
Frozen Corn: Again, this is optional. You can also use fresh corn or eliminate completely. I like using it because it gives some crunch and sweetness to this dish.
Tomatoes: You can add diced tomatoes or a cup of crushed tomatoes to this dish to give it some more tang and a rich, tomato flavor.
Red Enchilada Sauce: You can use the green enchilada sauce as well.
Taco Seasoning: You can use store bought or homemade. You can add some extra heat by adding in a little more red chili powder
Cheese: Any shredded cheese works well. Cheddar, Colby Jack, Mexican Blend work best.
Garnish: You can use parsley if you don't have cilantro. Sour cream is great, but you can also use Greek yogurt or cream cheese or just more shredded cheese on top. A quick squeeze of lemon or a lemon wedge adds some acidity to the pasta. Diced jalapenos, crisp onions are also good garnish options.
Accompaniments
This pasta is a rich and hearty entrée and there are a number of sides that work well with it. Corn on the cob pairs so well with this dish. Tortilla chips and fresh guacamole are great sides for this dish. A nice green, avocado salad is a great accompaniment to this.
If you enjoyed the Mexican flavor, then you should try this delicious Mexican quiche with chorizo and this turkey quesadilla.
---
Recent Recipes