This is not a healthy lasagna recipe (though, if you want that, you can make a yummy chili meat lasagna). Using the word "lasagna" is a bit of a stretch here, but the layers of this dessert do resemble the layers of a lasagna, which is why we can get away with calling it that. That is where the similarities end, though.
Oreo lasagna or oreo pudding is one of those treats that I LOVED as a kid. I could only ever have it at other people's birthday parties because my mom thought it was too sweet. She was probably right, but that meant nothing to me. This version of oreo lasagna is made fully from scratch, so it might be a tiny bit healthier than recipes that use any pre-made ingredients. That being said, I do tell you how to make a quicker version below the recipe.
This is a fairly simple no-bake dessert, but it does take a lot of time. If you're seeking a healthy dinner to go with it, you can do an ovenless lasagna too! While you do not need to work in the kitchen for hours, you should probably still make this a day in advance. There is a lot of time needed for things to chill in the fridge, so keep that in mind before you dive in.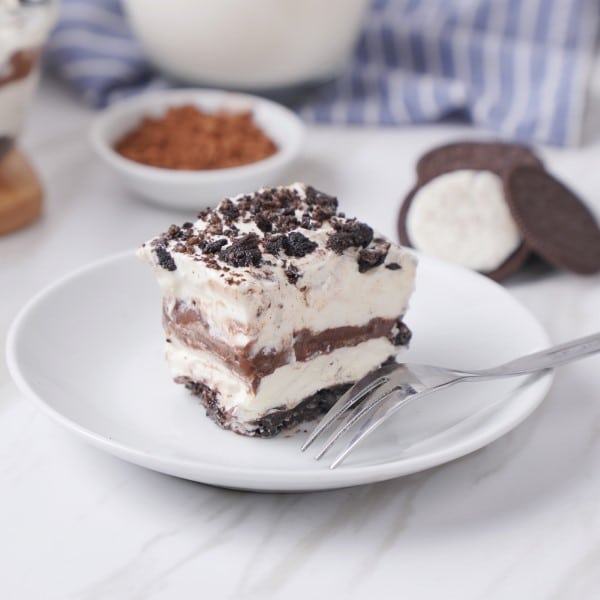 Ingredients
8

oz

cream cheese

½

cup

sugar

½

cup

baking cocoa

3 ½

tbsp

cornstarch

3

cups

2 tbsp milk

2

cups

heavy whipping cream

1

cup

powdered sugar

1

tsp

vanilla

1

package

oreos

6

tbsp

butter
Instructions
All ingredients ready? Let's begin!

Set out the cream cheese so it can reach room temperature.

In a medium pot, add 3 cups of milk. Heat over medium-high. When the milk begins to simmer, add ¼ cup of sugar, the cocoa powder, and the cornstarch. Use a whisk to mix together.

Bring the milk to a boil while stirring constantly.

Cook and stir until the mixture thickens, around 2-5 minutes.

Transfer the pudding to a bowl and cover it with plastic wrap, pushing it down to rest on top of the surface of the pudding (to prevent a skin from forming).

Put the pudding in the fridge for several hours until chilled.

In a medium bowl or the bowl of a stand mixer, add the heavy whipping cream, powdered sugar, and vanilla.

Whisk together with an electric hand mixer or stand mixer for several minutes until stiff peaks form. Keep whisking it even after the stiff peaks; you want it extra thick. This can also be done by hand but it will take much longer.

Cover and place in fridge.

Crush the oreos. This can be done in several different ways. The easiest method is to pulse in a food processor until the cookies turn into fine crumbs. Another method is to put all the oreos into a ziplock bag and pressing the air out before sealing it. Use a meat mallet or rolling pin to smash the oreos into crumbs.

In a microwave safe bowl, add the butter. Pop it in the microwave for 30 seconds or until melted.

Set aside a handful of oreo crumbs and add the rest of the oreo crumbs to the butter and mix well. You can use a spatula, fork, or your hands.

Dump the buttered oreo crumbs onto the bottom of a baking dish. I usually use a 9×13 inch dish, but you can use a smaller one if you want thicker layers. Use your fingers to press the crumbs against the dish to form a crust. Put in the fridge.

In the bowl of a stand mixer affixed with the paddle attachment, add the softened cream cheese. Or add to a regular bowl and use an electric mixer or a spatula if you do not have a stand mixer.

Beat the cream cheese for 3 minutes or until pale and fluffy. Use a spatula to scrape down the sides of the bowl as needed.

Add ¼ cup of sugar and 2 tbsp of milk. Continue to mix for a couple of minutes.

Remove from the stand mixer. Add the previously made whipped cream and use a spatula to gently fold it together. Do not use an electric mixer for this as you want it to remain fluffy.

Get the crust out of the fridge and spread half of the whipped cream cheese mixture across in an even layer.

Return to the fridge to let sit for 10 minutes.

Take out of fridge and spread the set chocolate pudding across in an even layer.

Return to fridge and let sit again for another 10 minutes.

Take out of fridge and top with the remaining whipped cream cheese mixture. Spread in an even layer.

Sprinkle the rest of the oreo crumbs across the top and refrigerate for several hours to allow it to set.

When the oreo lasagna has set, slice and serve. Yum!
Nutrition
Calories:
304
kcal
|
Carbohydrates:
33
g
|
Protein:
4
g
|
Fat:
18
g
|
Saturated Fat:
10
g
|
Polyunsaturated Fat:
1
g
|
Monounsaturated Fat:
6
g
|
Trans Fat:
1
g
|
Cholesterol:
43
mg
|
Sodium:
149
mg
|
Potassium:
185
mg
|
Fiber:
1
g
|
Sugar:
23
g
|
Vitamin A:
569
IU
|
Vitamin C:
1
mg
|
Calcium:
85
mg
|
Iron:
3
mg
Notes & Tips
The oreo lasagna can be stored in the fridge for up to 5 days. It is best to cover the baking dish with plastic wrap or something similar to keep everything fresh.
To make this a little easier on you, I recommend preparing the chocolate pudding the day before you assemble this dish so it has enough time to cool and set.
Substitutions
There is a way to make this recipe quicker, but I find it to be overwhelming sweet. Instead of making your own whipped cream, use frozen cool-whip. Do not substitute with squirty whipped cream from a can, it will not work for this. I personally have never liked cool-whip, so I avoid it wherever I can. Plus, if you make your own whipped cream, you can adjust the sugar to your taste.
Instead of making chocolate pudding from scratch, you can make it from a packet of instant chocolate pudding. Prepare it according to the instructions on the packet.
---
Recent Recipes