This easy orzo pasta salad will surely become one of your summer staples. It's so simple and you can even make it ahead of time. I love my orzo pasta salad with cherry tomatoes, feta, Kalamata olives, and a garlicky lemon dressing. But what makes this easy orzo pasta salad recipe so fantastic is how you can switch up the ingredients so effortlessly. 
You simply stick to the roughly same proportions and think of incorporating as many flavors and colors as you can (or as you deem fit). I love tweaking it each time and discovering new flavor and beautiful color combos. Make sure to check out the Substitutions and Serving Suggestions section for plenty of ideas.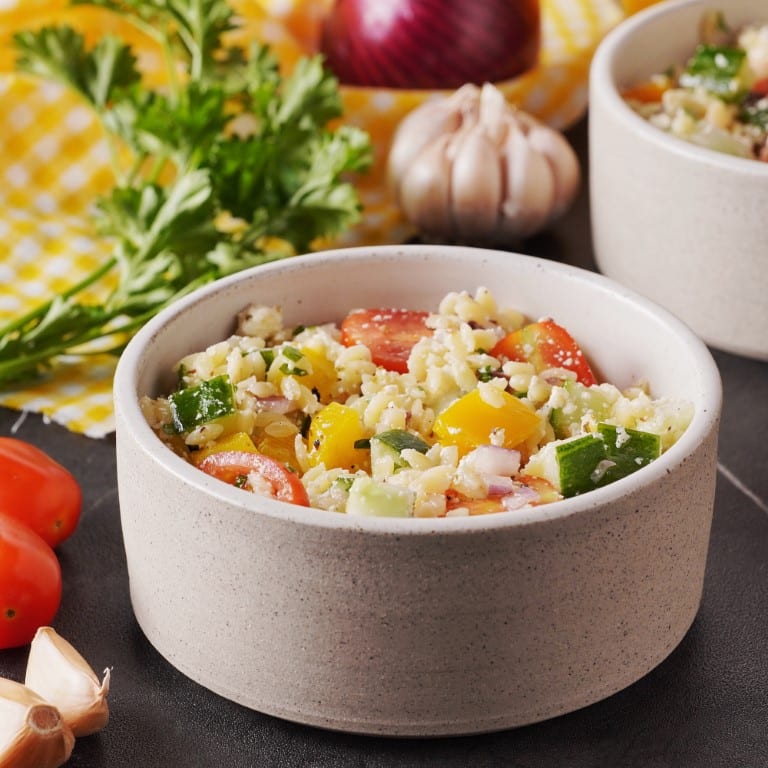 Ingredients
1 ½

cups

dry orzo pasta

about 11 oz

8

oz

cherry tomatoes

sliced in half

4

oz

chopped yellow bell pepper

2

Persian cucumbers

cut into cubes

½

cup

pitted Kalamata olives

diced

1

cup

crumbled feta cheese

½

cup

red onion

finely minced

3

Tbs.

fresh chopped parsley
For the dressing:
1/3

cup

lemon juice

1

clove

garlic

finely minced

½

cup

extra Virgin olive oil

2

tsp.

dried oregano

1 ¼

tsp.

kosher salt

¼

tsp

freshly ground black pepper
Instructions
Boil orzo pasta in salted water according to package instructions. It usually takes 8-10 minutes for it to cook al dente (meaning it has some chew to it).

Drain pasta in a strainer and rinse with cold water until cooled down. Shake off any excess water and transfer orzo to a large bowl.

Add tomatoes, bell pepper, cucumbers, olives, feta, onion, and parsley to the pasta.

In a separate small bowl, prepare the dressing by whisking all of the ingredients together until creamy.

Pour dressing over the pasta salad and mix until combined and evenly coated with dressing.

Serve immediately or chill in the fridge for 1 hour to let the salad soak in all the flavors. Enjoy!
Nutrition
Calories:
410
kcal
|
Carbohydrates:
36
g
|
Protein:
10
g
|
Fat:
26
g
|
Saturated Fat:
6
g
|
Polyunsaturated Fat:
2
g
|
Monounsaturated Fat:
16
g
|
Cholesterol:
22
mg
|
Sodium:
868
mg
|
Potassium:
322
mg
|
Fiber:
3
g
|
Sugar:
3
g
|
Vitamin A:
590
IU
|
Vitamin C:
53
mg
|
Calcium:
181
mg
|
Iron:
2
mg
Where is Orzo Pasta From?
Orzo is a form of short-cut pasta, shaped like big grains of rice. This pasta originated in Italy, but it's more widely used in Greece. But, did you know that orzo is the name commonly used in the US? In Italy, they call this pasta shape risoni because orzo means barley. And that'd be a bit confusing. 
Orzo pasta is typically made from flour, but it can also be made with whole grains. Often, it's made with semolina, the same type of durum wheat flour that's used to make other pasta shapes. 
One of the most common ways to prepare orzo in Italy is to add it to soups like minestrone. In Greece, orzo is called kritharaki, meaning little barley. But it's called manestra when added to soups. 
It's unclear when orzo pasta was invented. But, a similar product called ptitim was developed in Israel as a substitute for rice in the early 1950s. As for when and where orzo pasta salad was invented, I cannot say. But I'm guessing it was some time this century. 
Now, my pasta salad lovers, let's make the best orzo pasta salad you've ever tasted!
Substitutions & Serving Suggestions
This recipe is delicious as it is, but you can easily modify it to your taste buds' preferences. I know a lot of people don't like olives, so you can omit them or swap them for another ingredient. Try swapping them for some chopped walnuts or toasted pumpkin seeds. 
All the veggies in this simple orzo pasta salad are replaceable as well. Instead of tomatoes, try more bell pepper or experiment with fresh strawberries. They add a nice sweetness to the dish. Instead of bell pepper, more tomatoes or even cooked carrots or sweet potato. 
If you don't have orzo pasta, that's also no problem. Just substitute an equal amount of any other small shape pasta such as ditali, macaroni, fiorelli, or orecchiette. Some pasta shapes like orecchiette can even be made at home. 
For a gluten-free version of this simple summer salad, replace the orzo pasta with cooked quinoa. It's still as tasty. Another option would be rice or corn. If using corn, I like to increase the amount of the other veggies so that they're in equal proportions with the corn. 
As for the dressing, you can substitute any of your favorite salad dressings or vinaigrettes. Or if you don't like garlic, leave it out. If you prefer vinegar to lemon juice, I suggest using red wine vinegar. A honey-mustard dressing is another yummy idea.
To make this orzo pasta salad a full meal, add in some cubes of grilled chicken breast or some chickpeas. Serve it with hummus and pita, and you've got yourself a fresh and filling summer lunch meal. 
And, of course, if you want to make this simple orzo pasta salad vegan, you can replace the feta with vegan feta. Or use another naturally vegan ingredient, such as flavorful sun-dried tomatoes, or toasted seeds. You can reinvent this salad as many times as you can reinvent yourself – infinitely.   
How Long Will Orzo Pasta Salad Last?
You can make this easy orzo pasta salad up to 2 days in advance. I do recommend cutting and adding the fresh veggies (cucumbers, tomatoes, and bell peppers) just before serving. This allows to preserve the best textures. Plus, I don't know about you, but I'm not a fan of second-day tomatoes in salads. 
Before serving, make sure you taste the salad and add some more extra virgin olive oil if you find it's a bit dry. And of course, don't forget to cover the salad with plastic wrap before storing it in the fridge. 
Other Recipes With Orzo You May Like
Orzo pasta is a versatile ingredient that can be valued for its uniqueness or can replace rice in dishes to cut their cooking time by half. If you're new to orzo and are looking for more recipes, make sure to check these out:
Apart from these yummy recipes, you can also use orzo pasta in any soup, like chicken noodle soup. Or you can cook it like pasta and add some butter and salt for a quick and simple side dish. But one of my favorite ways to use orzo pasta is definitely to make this fresh and colorful orzo pasta salad with feta. 
---
Recent Recipes