In my pursuit to create the best oven-baked nachos, I decided to investigate their origins. Before 1943, the word "nacho" had two meanings — a Mexican slang word for ''of course" and a nickname for a boy called Ignacio. So, nachos must have been invented by a guy named Ignacio, right? Sure enough, a man called Ignacio Anaya is credited with this culinary creation.
He was working at two different restaurants in Piedras, Mexico back in the early 1940s. One day, a group of American customers asked for something out of the ordinary. Ignacio went into the kitchen and looked for inspiration. He took a bowl of tortilla chips, coated them in grated cheese, topped them off with jalapeño pieces, and then thought "that must taste delicious all melted into cheesy goodness in the oven". The customers were ecstatic about this new mouthwatering dish and the word about Ignacio's ''Nachos Especiales" quickly spread across the continent. And well, folks, the rest is history.
Now, let's turn these simple ingredients: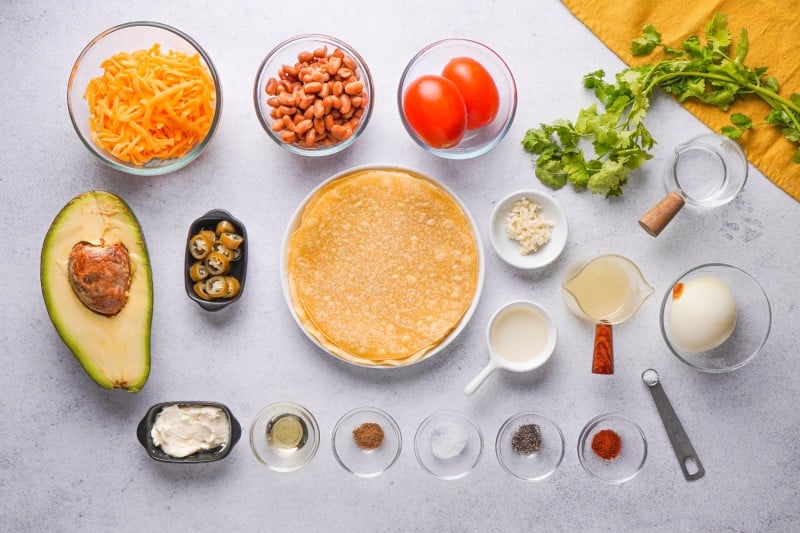 Into this savor, crunchy and melty cheesy sheet of baked nachos: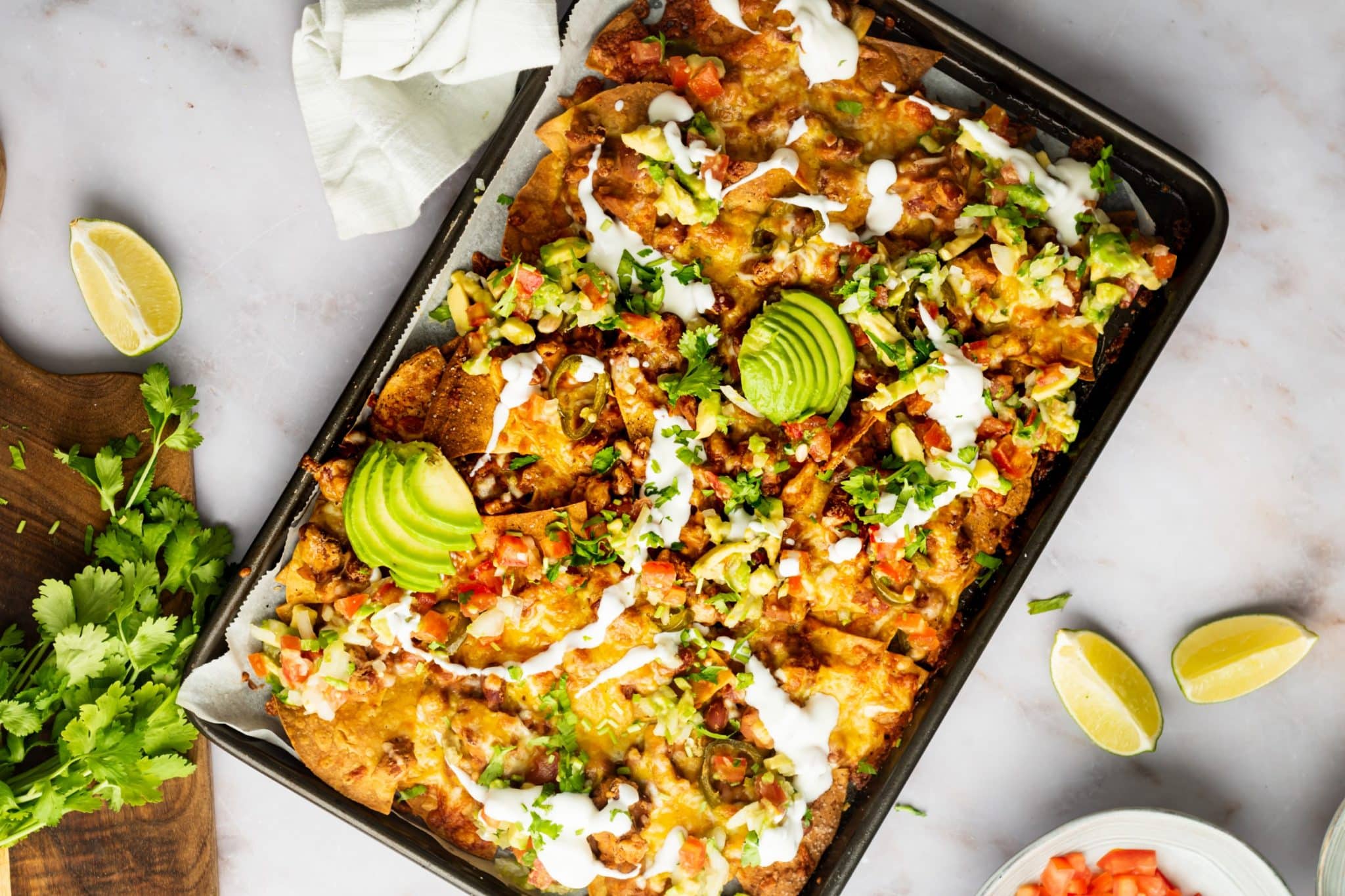 The secret to making the best nachos ever is in the tortilla chips. Or, as they're traditionally called in Mexico — totopos. When it comes to totopos, homemade is always best. So, in this recipe, I'll teach you how to make your own tortilla chips! It's much easier than you'd expect and you can make them as low calorie or greasy as your heart desires. No matter what you choose, these nachos will definitely leave you and your guests wanting more. Let's get into it, amigos!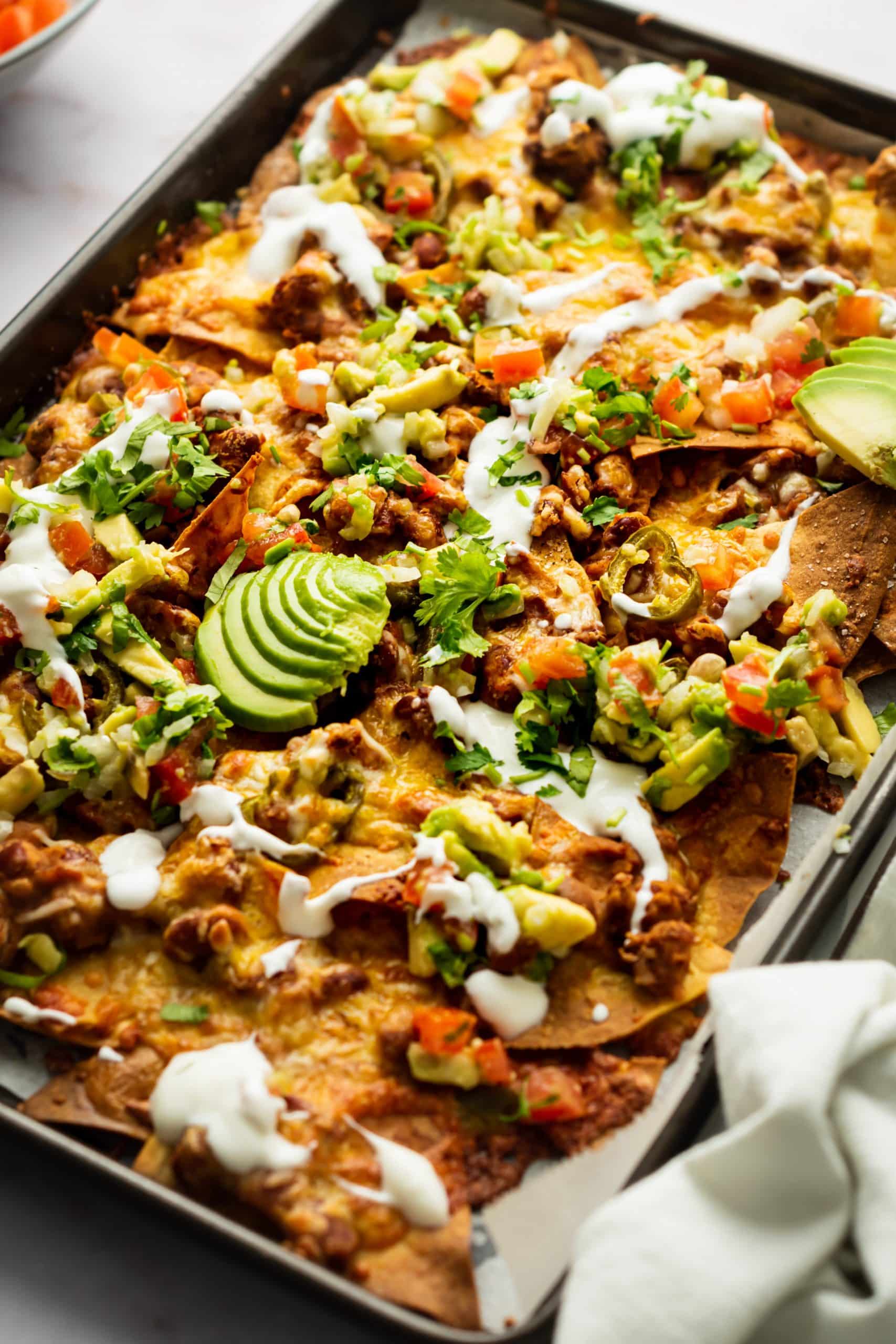 Ingredients
Tortilla Chips:
10 corn tortillas

approx. 9 oz

2

tbsp

vegetable oil

A pinch of salt
Refried Beans:
15

oz

can pinto beans

remove brine

1

garlic clove crushed or minced

¼

tsp

cumin

black pepper, salt, and paprika (or to your liking)

¼

cup

water

1

tsp

olive oil
Guacamole:
1

small

 white onion

1

big

avocado

4

plum tomatoes

1

bunch

fresh cilantro

Juice of half a lemon

¼

tsp

salt
Indispensable Toppings:
8

oz

freshly grated Colby cheese

¼

cup

jalapeño slices from a can or homemade

¼

cup

sour cream
Instructions
Assemble your ingredients.
Tortilla Chips:
Line a baking tray with parchment paper and preheat oven to 350°F.

Cut corn tortillas into 6 triangular pieces (like you would cut a pizza).

Coat each piece on both sides with vegetable oil.

Place in a single layer on baking tray.

Sprinkle evenly with salt and bake for 10 min or until golden brown.
Refried Beans:
Heat oil in a medium saucepan over medium heat. Add garlic, salt, and spices and cook until fragrant. Don't let the garlic burn.

Stir in the drained beans and pour in the water. Cover the pan and let simmer for 5 min.

Reduce heat to low and remove the lid. Smash about half the beans with the back of a fork until the right amount of creamy and chunky.

Let cook for 3 more minutes. Remove from heat and set aside.
Guacamole:
Finely chop the onion, tomatoes, avocado, and cilantro. Set a third of the cilantro aside for garnish.

Put all ingredients in a bowl and add lemon juice and salt.

Mix and set aside.
Baking and assembling the nachos:
Sprinkle cheese evenly over freshly baked tortilla chips. Do the same with the jalapeños.

Take a teaspoon and dollop the refried beans over the chips. Try to get it as equally distributed as possible. Sprinkle some more cheese if you feel like it.

Bake for 10 min or until the cheese is melted.

Remove from the oven, top with dollops of sour cream.

Put the guacamole in the middle of the nachos, spread it around and garnish with the remaining cilantro and perhaps any leftover slices of avocado. Enjoy!
Nutrition
Calories:
673
kcal
|
Carbohydrates:
67
g
|
Protein:
24
g
|
Fat:
36
g
|
Saturated Fat:
15
g
|
Polyunsaturated Fat:
8
g
|
Monounsaturated Fat:
10
g
|
Trans Fat:
0.04
g
|
Cholesterol:
62
mg
|
Sodium:
992
mg
|
Potassium:
710
mg
|
Fiber:
10
g
|
Sugar:
5
g
|
Vitamin A:
1370
IU
|
Vitamin C:
21
mg
|
Calcium:
536
mg
|
Iron:
3
mg
Notes & Tips
Totopos are traditionally made from stale corn tortillas, giving them a second life. If you don't have stale tortillas, you can pre-cut them 2 hours prior to baking and let them chill on the counter or top of your fridge.
I recommend using neutral vegetable oil for coating the tortilla pieces, such as Canola or Rapeseed oil. You can also use olive oil. Personally, I find the flavor pairs well with Mexican food.
Now, if you want the greasier true version of totopos, you can deep-fry your corn tortilla strips in hot oil (340°F) for 40 sec to 1 min. Make sure to fry in small batches and remove from the oil immediately. Place them on paper kitchen towels to absorb excess oil.
For the guacamole, use meatier tomatoes to avoid excess liquid. If you don't have plum tomatoes, cut your tomatoes first, place them in the bowl and drain the excess juice before adding the other ingredients.
Throw in some meat if you need to fill up more people with shredded chicken, pulled pork or birria if you got the extra time.
If you want to add a whole new layer of flavor, try adding quick pickled red onion at the end as a cold topping. It's easy to make and keeps for up to 2 weeks in the fridge. You start by slicing a half or whole red onion and leave it in a pot or bowl that can handle boiling hot water. Then mix white vinegar (any vinegar works), cane sugar, sea salt in a saucepan, turn on the heat until it the sugar/sea salt dissolves and is almost boiling, then pour it on the bowl of red onion, let sit for 30 minutes to cool. Once cooled, it's ready to be put on the nachos or placed in the fridge for future tacos or just about anything.
Serving Suggestions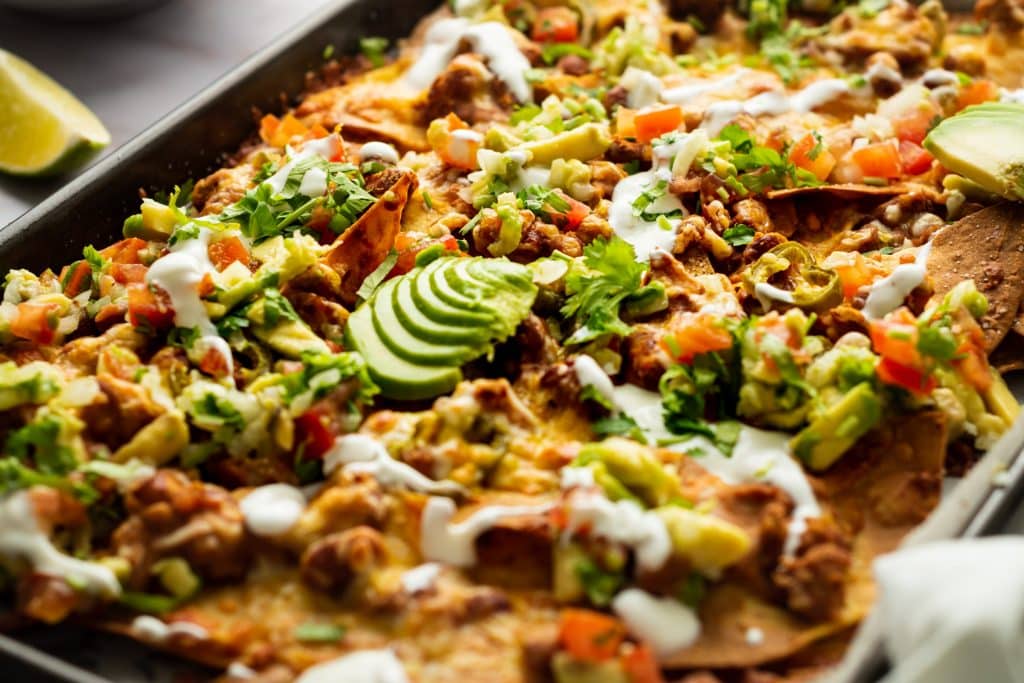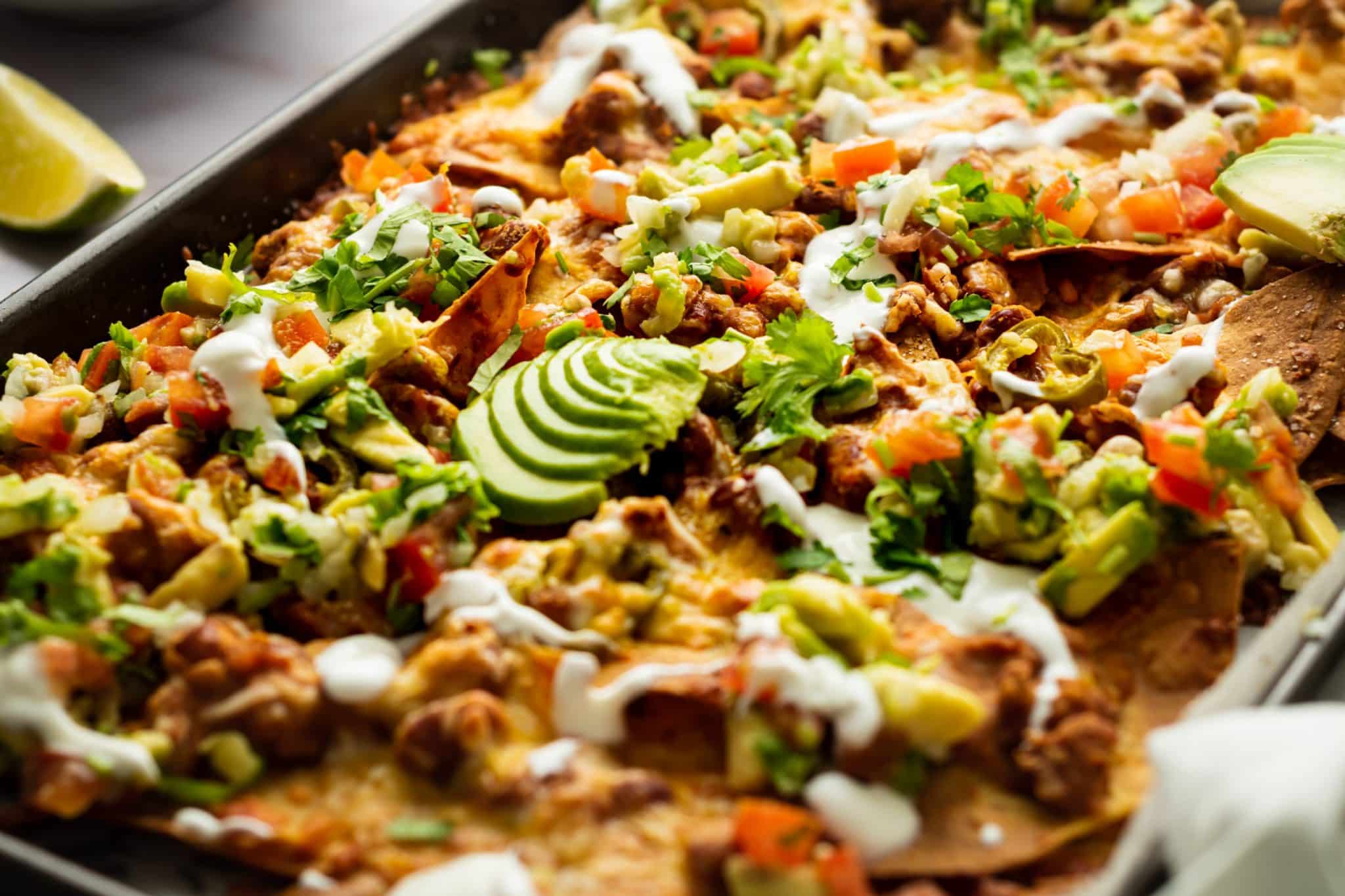 Nachos are best served hot, but they'll still be delicious cold. In this case, I recommend serving the guacamole and sour cream separately to avoid soggy nachos.
Nachos are scrumptious but also pretty messy, so make sure to have plenty of paper napkins for your guests.
Whether you're watching the Super Bowl, hosting a cookout, or simply having a get-together with friends or family, these amazing oven-baked nachos are a must that everyone will love. I'm sure you'll be showered with compliments and sharing the recipe with fellow foodies.
Substitutions & Shortcuts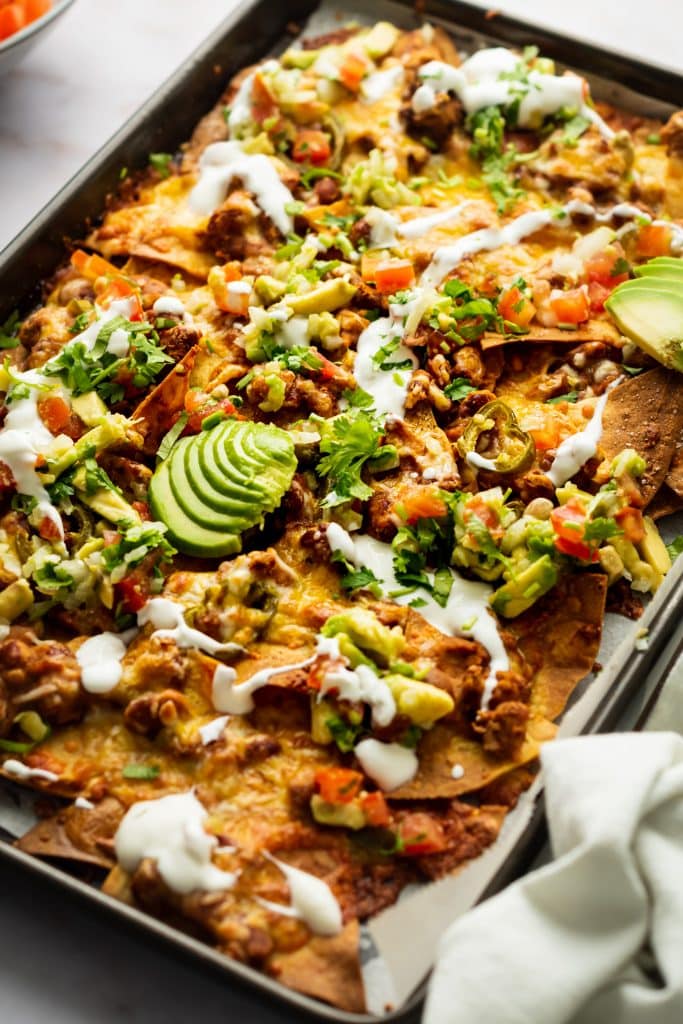 Homemade tortilla chips will guarantee the best oven-baked nachos, but you can always substitute store-bought. Not everyone has the time in their busy lives to make totopos from scratch. But don't worry, these nachos will still taste fantastic.
You can also substitute pre-grated cheese, but bear in mind that pre-grated cheese will have lost some of its flavor and texture. But Ignacio would still be proud that you made nachos from scratch!
If you want an express version, you can buy some refried beans at your local Mexican store. For a homemade flavor, fry a little onion and garlic in oil and then refry the refried beans. Refried bean-ception.
Got some spice adverse friends or family, or simply trying to make it kid friendly? Swap the spicey ingredients like the jalapenos and replace it with some paprika.
Spice heads as friends or family? Try habanero or even the dreaded ghost pepper, but keep some milk nearby.
Make this ahead of time, make the homemade chips, prep all the ingredients, shred the cheese and store them all separately in the fridge until you are ready to bake in the next 1-3 days. Then it's easy to sprinkle it all on and just bake it.
More On The History & Background
Nachos hail from the Mexican bordertown Piedras Negras and are referred to throughout Mexico as Comidas Fronteriza (Food from the borderlands). In the early 1940's, the dish was made by complete accident when Ignacio Anaya combined fried triangles of tortilla, colby cheese and pickled jalapeno peppers for a group of famished American women.
It wasn't until the 1970's when Texan businessman, Franz Liberto, brought Nachos to the forefront to coincide with the invention of cheddar cheese sauce. At this point, nachos rapidly gained popularity with many, especially sport spectators. Helmet Nachos, 'Game Day' Nachos and Loaded Nachos, each with their own helping of glowing cheese sauce have become the snack of choice at most sporting events.
The birthplace of nachos is constantly debated. Are they Tex-Mex? Are they American? Are they Mexican? According to the International Nacho Festival, nachos are to be celebrated as a Tex-Mex food. The guidelines for the perfect Nacho according to the festival are:
Tortilla Chips
Copious amount of melted cheese
Chili of some kind
Authentic nachos are a simple dish, the modern interpretations are less so. There is no rulebook when it comes to nacho toppings. Pulled chicken or carnitas (pork), black beans or pinto beans, sour cream or Mexican crema, the possibilities are limitless. This recipe is no different, we definitely are not sticking to the classic guidelines.
---
Recent Recipes