How often do you see a paella pizza on a menu? I'm guessing not very often. Though I have seen some seafood on pizzas (shrimp primarily), seafood is not a very common pizza topping. But what if seafood is actually a fantastic pizza topping?
When I am thinking of different pizza toppings, I look for a few things. I want high-quality proteins, the freshest vegetables, the perfect sauce consistency and melty mozzarella cheese. I like to put toppings on to bake with the pizza and add crunchy, raw vegetables and herbs on top to finish it all off.
So, would paella ingredients work on a pizza? They do! The tender texture of seafood pairs really well with a crispy crust and light sauce. I don't usually like to mix seafood and cheese together, but for this recipe it works. The mellow salt flavor balances out the lemony seafood. And really, what's a pizza without cheese?!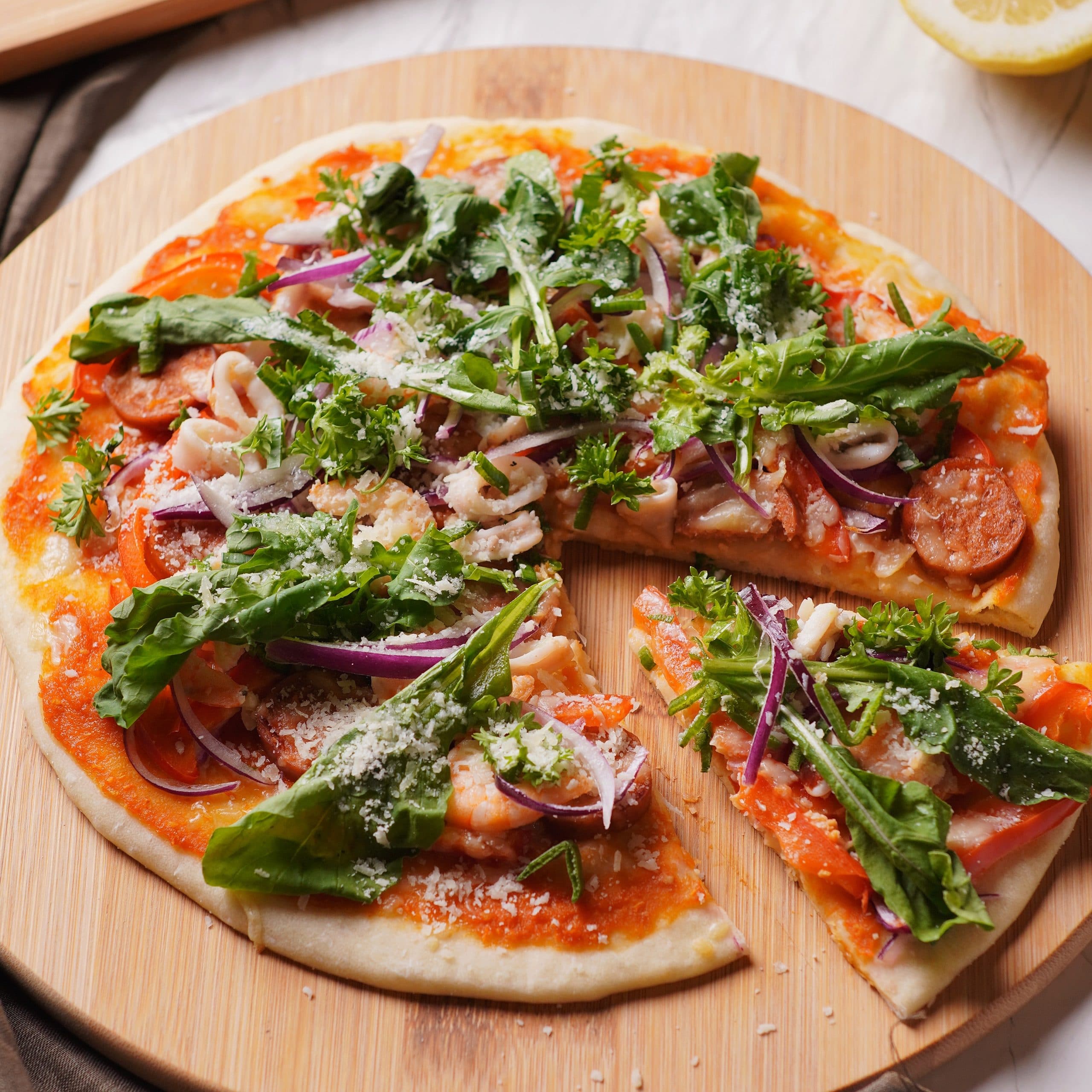 Ingredients
For the crust
¾

cup

lukewarm water

1

teaspoon

active dry yeast

Pinch

of granulated sugar

2

cups

all purpose flour

1

teaspoon

salt

2

teaspoons

olive oil

Semolina flour

for shaping
Pizza toppings (Amount is for two 10" pizzas)
½

cup

marinara sauce or basic red tomato sauce

1

link chorizo sausage

¼" slices

1

red onion

sliced thin, divided into two ½ cup portions

½

red bell pepper

sliced thin

2

cloves

garlic

minced

1

teaspoon

olive oil

1

cup

small shrimp

cleaned and tails removed

½

cup

baby squid

sliced into thin rings

½

cup

mozzarella cheese

1

lemon

cut in half

1

pinch

saffron

optional

¼

cup

loosely packed parsley leaves

3-4

green onions

sliced thin

1

handful fresh arugula

High quality olive oil

for drizzling

Block of parmesan cheese for shaving
Instructions
All ingredients ready? Let's begin!
To make the dough
Add the lukewarm water to the mixing bowl of a stand mixer. Pour the yeast and sugar into the water and whisk together. Let it sit for about five minutes to activate the yeast.

Add the flour and salt to the bowl.

Using the dough hook, work at a slow speed and mix together the ingredients until a dough forms. You may need to add more flour. You don't want the dough to be too sticky. It should form a small ball. This should take about 5 minutes. It should bounce back slightly when poked.

Remove the ball from the bowl and let it rest on your counter top while you work on the toppings. Cover it with a clean towel.

The dough should rest for about ten minutes.
To make the toppings and prepare the pizza
Preheat a pizza stone in a 450F oven.

If you haven't yet, slice up the red onion, red pepper, and chorizo.

After the dough has set for about ten minutes, divide it into two equal portions. You're going to want to do two smaller pizzas instead of one large one for a crispy dough.

Roll each portion into a ball and then stretch it out to be about 10" in diameter. Use the semolina flour on your countertop and hands to help shape the dough.

Place one pizza crust at a time on the pizza stone in the oven (bake each individually unless you have two pizza stones).

Brush each pizza with olive oil before placing it in the oven.

Bake for 5-8 minutes or until the dough forms a dry, outer crust. We are just par-baking the crust here so that the base of the pizza is strong enough to hold all the toppings without getting soggy.

While the pizza is baking, you can prepare the seafood. Heat a large saute pan on medium high heat. Add the garlic and one teaspoon of olive oil.

Heat the garlic for about one minute and then add in the shrimp and squid rings. Cook for 4-5 minutes until they are opaque and tender.

Squeeze one half of the lemon over the seafood, stir together, and turn off the heat. If you are using saffron, now is the time to mix it in with the lemon juice.

After the pizza crusts have par baked, spread out ¼ cup of the red sauce over each pizza. Spread out the chorizo, half of the onion slices, and the red pepper slices on the dough.

Sprinkle the cheese on top of the toppings.

Put the pizza back into the oven for another 8-10 minutes or until the cheese is melted.

Remove the pizza from the oven and sprinkle the seafood (half on each pizza) over the pizza. Put the pizza back into the oven for 1-2 minutes.

Take the pizza out of the oven again and place it on a cutting board. Garnish the pizza with the remaining fresh red onion slices, parsley, green onions, and arugula. Then squeeze a little bit of juice from the other lemon half over everything.

Drizzle with a small bit of olive oil and then finally, add some fresh shredded parmesan cheese.

Cut the pizza into slices and serve immediately.
Video
Nutrition
Calories:
368
kcal
|
Carbohydrates:
40
g
|
Protein:
26
g
|
Fat:
12
g
|
Saturated Fat:
5
g
|
Polyunsaturated Fat:
1
g
|
Monounsaturated Fat:
4
g
|
Trans Fat:
1
g
|
Cholesterol:
137
mg
|
Sodium:
1064
mg
|
Potassium:
411
mg
|
Fiber:
3
g
|
Sugar:
3
g
|
Vitamin A:
1025
IU
|
Vitamin C:
30
mg
|
Calcium:
284
mg
|
Iron:
3
mg
Notes & Tips
You can par bake and freeze the pizza crusts ahead of time. It's great to make a big batch of dough and freeze individual pizza crusts for when you need to put together an easy meal.
You can easily use a store-bought crust instead of making your own. I would suggest buying pizza dough that you can find in the deli section for this recipe instead of the canned roll of pizza dough. Another option would be to ask your local pizza place for some dough! Oftentimes, they will sell you the dough so you can make your own pizza at home.
A pizza stone really is the key here. The high heat distributes perfectly so the pizza crust is cooked evenly. If you don't have a pizza stone, you can use a cookie sheet, too, but the crust might not be as crispy on the bottom.
A pizza peel is another really great item to have on hand if you like making pizzas.
Looking for some other pizza recipes for the ultimate pizza night? Check these out!
---
Recent Recipes