Homemade Pancetta Peas Pasta
Pancetta and peas is a classic Italian side dish. Add some pasta and you've got an entire meal.  Light enough for summer, hearty enough for winter, it's ready in no time and impressive enough for guests.
Pancetta, or cured pork belly, is a chewy, fatty cured meat similar in taste to bacon. And you can certainly use bacon as a substitute for pancetta. Or skip it altogether to make a vegetarian version. Just add some extra salt or parmesan cheese to make up for the missing salty taste from the pancetta.
There are numerous variations of this dish but ours is a quick yet flavourful version. We've also got some tips and suggestions to make this dish your own.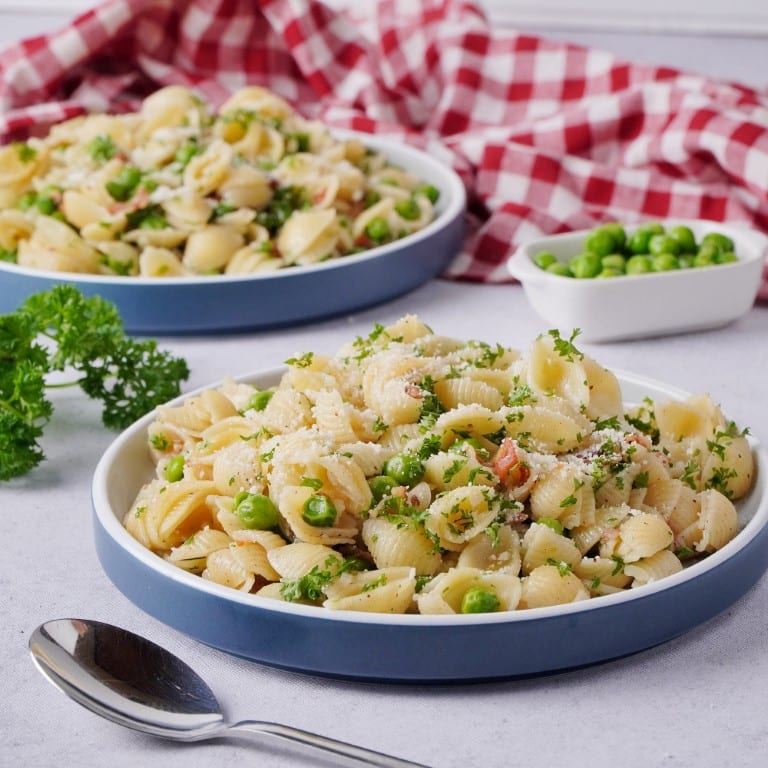 Ingredients
1 lb. medium shell pasta

6 ounces pancetta

1 medium onion

5 cloves garlic

peeled

1 lb. frozen peas

2 tbsp olive oil

divided

1 ½ teaspoon kosher salt

divided

½ teaspoon black pepper

¼ cup fresh parsley – minced
Instructions
All ingredients ready? Let's begin!

Fill a large pot with water over high heat. Add the 1 tsp kosher salt. As soon as the water boils, add the pasta and cook until al dente (about 2 minutes less than package instructions). When the pasta is already cooked, reserve and keep warm a cup of the pasta water.

Drain the pasta and set aside.

Slice garlic thinly and finely dice the onion.

Cut the pancetta into ¼ inch dice.

Heat 1 tbsp olive oil on a large pan over medium-low heat. Add the pancetta. Cook until pancetta gets crispy and releases its fat, it will take 10-15 minutes.

Take out the fried pancetta from the pan and place on paper towels to dry out.

Leave all but about 2 tablespoons of pancetta drippings in the pan, add the onions and sauté until translucent. Then add the garlic, sauté until fragrant.

Add the peas and stir well. Add the rest of olive oil, ½ tsp kosher salt and ½ tsp black pepper. Cook peas for about 5 minutes – soft but not mushy.

Return the pancetta and the cooked pasta to the peas mixture. Add about ¾ cup of the warm reserved pasta water and mix well until heated through.

Taste and add more salt and pepper if needed. Top with chopped fresh parsley and serve with grated cheese.
Nutrition
Calories:
816
kcal
|
Carbohydrates:
107
g
|
Protein:
40
g
|
Fat:
26
g
|
Saturated Fat:
7
g
|
Polyunsaturated Fat:
4
g
|
Monounsaturated Fat:
13
g
|
Trans Fat:
0.1
g
|
Cholesterol:
28
mg
|
Sodium:
301
mg
|
Potassium:
1287
mg
|
Fiber:
31
g
|
Sugar:
11
g
|
Vitamin A:
185
IU
|
Vitamin C:
4
mg
|
Calcium:
79
mg
|
Iron:
7
mg
Tips
Shell-shaped pasta is used so that the peas and pancetta will nestle inside. Smaller pasta shapes like ditalini or elbows are also used so the peas and pasta are in every spoonful. But bottom line is that any shape pasta will work and it will still taste delicious.
While fresh parsley is the traditional garnish dried parsley will also work. Or, garnish with any other fresh herb you have on hand for a little twist.
Prefer a creamier version? Instead of adding water, add a similar amount of warm heavy cream or half and half at step 8. Just make sure not to bring it to a boil. You can also add broth or a wine/broth mixture for another take on this classic.
Add some crushed red pepper flakes when you're sauteing the garlic for a little heat.
No pancetta and no bacon? Cooked diced chicken is a great way to add the missing protein.
---
Recent Recipes