Panelle are Sicilian chickpea flour fritters. The fritters are commonly served with a squeeze of fresh lemon juice on a wheat flour roll. They are often offered from street carts. This dish has very humble beginnings, originating from the cucina povera or poor man's kitchen. This is because the ingredients were considered very inexpensive.
Chickpea or garbanzo bean flour is a staple in my pantry, as it is in many Italian and Indian kitchens. I have been making chapati for decades to accompany large meals when I have weekend guests. This is a gluten-free flatbread that I bake on a pizza stone. It is affordable, filling, and quick to make. The same is true for panelle. The ingredients are simple and the dish is very satisfying.
Chickpea flour is a good source of protein, potassium, vitamin A, and folate. The flour has a bit of a nutty taste and does resemble the flavor of the beans it is milled from. It is fairly unique. Chickpea flour is an excellent substitute for gluten-containing flours in many dishes.
Panelle requires a bit of patience because the simple bean flour, water, salt, pepper, and parsley batter has to cook and then set up until firm enough to slice into fritters. It takes about 2 hours in the refrigerator for this to happen. There is a second cook involving frying the fritters in oil before serving. The process is similar to preparing polenta that is pressed into a shape that can be sliced and fried the next day.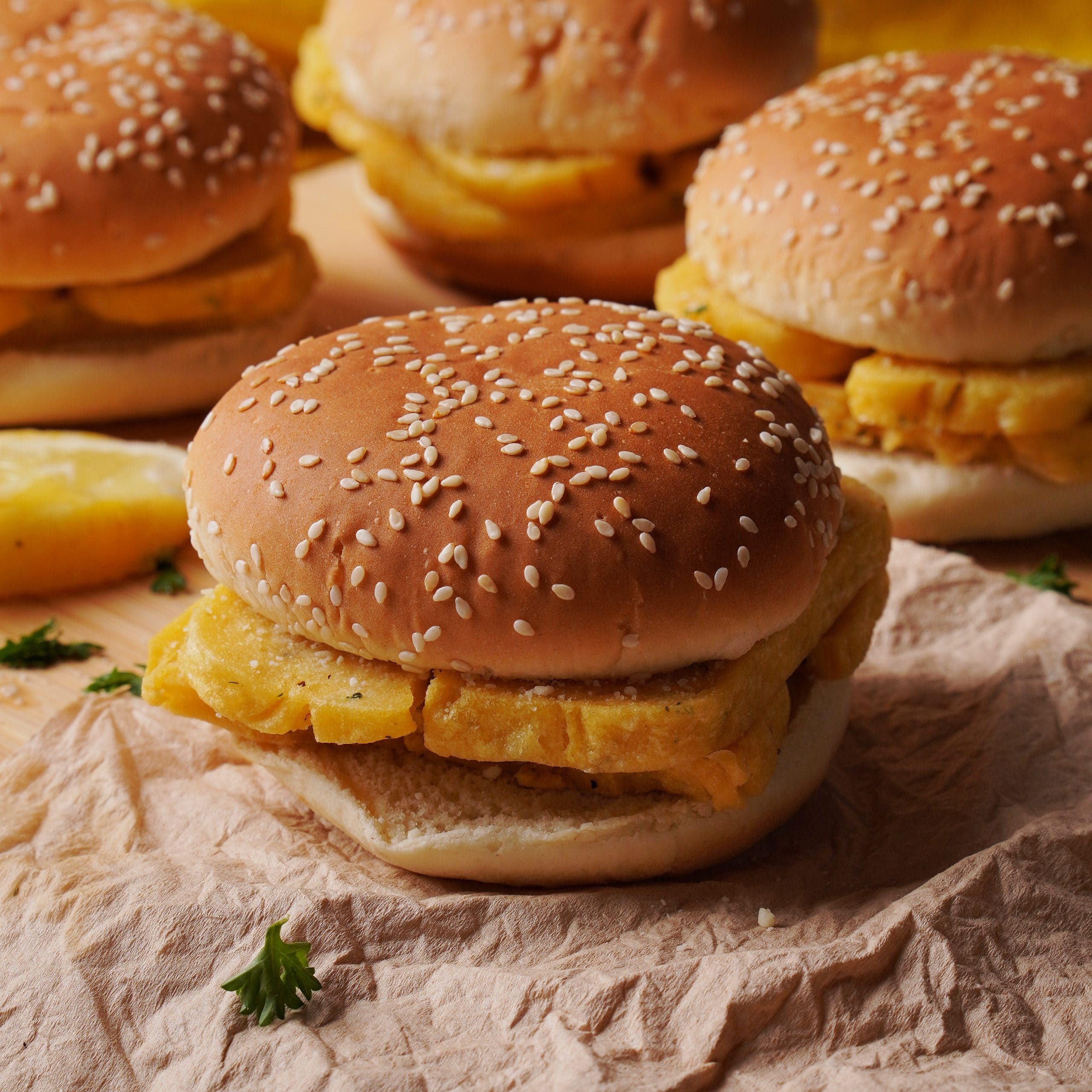 Ingredients
2

cups

chickpea

garbanzo bean flour

1

tsp

sea salt

3 ½

cups

water

1/2

tsp

freshly ground black pepper

1 ½

Tbsp

minced fresh flat-leaf parsley

Grapeseed or canola oil for frying

10

brioche or hamburger buns

Lemon wedges for serving

Freshly grated Parmigiano Reggiano cheese

optional
Instructions
In a large saucepot over medium heat, add the water and salt. As soon as the water warms up, slowly whisk in the chickpea flour, stirring constantly and scraping the flour down from the sides of the pot. Continue stirring until all the flour has been incorporated into the water.

Using a wooden spoon, stir the pepper and parsley into the batter. It will be a little thick and sticky at this point.

Lightly coat a loaf pan with some vegetable oil. Line the pan with parchment paper. This short video shows how to line a loaf pan.

Place the batter or dough into the prepared loaf pan and smooth out the top with a spatula. Cover with plastic wrap and refrigerate until the batter sets up and is firm enough to slice, approximately 2 hours.

Remove the pan from the refrigerator and lift the dough out. Invert it onto a cutting board and peel off the parchment paper. Using a sharp chef's knife, slice the panelle into ¼ inch thick rectangles.

To a deep skillet over medium-high heat, add the oil and allow it to heat to about 350°F. Fry the slices for approximately 2 minutes per side until golden brown and a little crisp. Remove the panelle to a brown paper or paper towel-lined platter or sheet pan to drain and continue cooking in batches. Season with a little salt as soon as they come out of the skillet.

Place a few fritters on each brioche or hamburger bun and squeeze a bit of lemon juice over the top. Add some cheese, if desired. Top the sandwiches with the other half of the bun. Wrap in a napkin and enjoy.
Video
Nutrition
Calories:
174
kcal
|
Carbohydrates:
31
g
|
Protein:
7
g
|
Fat:
2
g
|
Saturated Fat:
1
g
|
Polyunsaturated Fat:
1
g
|
Monounsaturated Fat:
1
g
|
Sodium:
454
mg
|
Potassium:
155
mg
|
Fiber:
3
g
|
Sugar:
4
g
|
Vitamin A:
60
IU
|
Vitamin C:
2
mg
|
Calcium:
94
mg
|
Iron:
2
mg
Notes, Tips & Suggestions
Chickpea flour isn't always easy to find at your typical grocery store. You can easily find it at whole or health food stores and online where you might pay a little more for it. I discovered many years ago that Southern Asian markets carry bags of chickpea flour (besan or gram) for about $2.00. That sure beats the $8.00 you might pay at an upscale market.
The panelle batter needs to firm up in the refrigerator before you can slice it. I like using a loaf pan for this step. It just makes sense and takes up very little room. Old school recipes call for spreading the batter out thinly on a sheet pan or plate to set up before slicing. I prefer the loaf pan method, but you can try either technique.
Since chickpea flour does have a distinctive flavor, I recommend frying the panelle in neutral vegetable oil rather than olive oil. Olive oil could overpower the subtle nuttiness of the flour.
Substitutions & Serving Ideas
I haven't tried this recipe with any other bean flour. I would think you could use fava bean, black bean, pea, or soybean flour if desired. Would love to hear from anyone who has tried another bean flour as a substitute.
You don't necessarily have to serve panelle fritters in a roll. You can eat them just as they are. You could also serve them between 2 slices of bread, such as Texas toast, or in a grain-free wrap if avoiding gluten.
I am pretty sure the original panelle sandwich didn't include cheese. I like the addition of the parmesan. I have seen recipes that call for ricotta cream and others with aioli. I wouldn't shy away from topping the fritters with bitter salad greens and any condiment you like. You can skip the cheese and keep this dish vegan with homemade eggless mayonnaise.
---
Recent Recipes