All The Papa John's Vegan Menu Options
Everyone loves pizza, right? It's cheap, it's delicious, and it's everywhere. There are numerous pizza chains across the country, including sit-down restaurants like Mellow Mushroom, MOD Pizza, as well as delivery joints like Little Caesar's. One of the most popular delivery pizza restaurants is Papa John's. The real question we've got is about their menu though.

Are you looking for a quick pizza delivery? Not sure if Papa John's has vegan options? Don't worry, we've got you covered. Check out all of the vegan options on the Papa John's menu below!
| Menu Item | Type | Notes |
| --- | --- | --- |
| Breadsticks | Appetizer | Order without cheese and pick a sauce below |
| Create Your Own Pizza | Main Dish | Order without cheese, pick Original or Pan Crust, choose Toppings from list below or try the Garden Fresh Pizza |
| Vegan Pizza / Dipping Sauces | Sauces | Pizza Sauce, BBQ Sauce, Garlic Sauce, Buffalo Sauce |
| Vegan Toppings | Toppings | Mushrooms, Pineapple, Onions, Green Bell Peppers, Black Olives, Green Olives, Sliced Jalapenos, Banana Peppers, Tomatoes, Fresh Spinach |
Note: Menu items as of 1/10/2023 as menu items may have changed.
Papa John's Vegan Pizza Options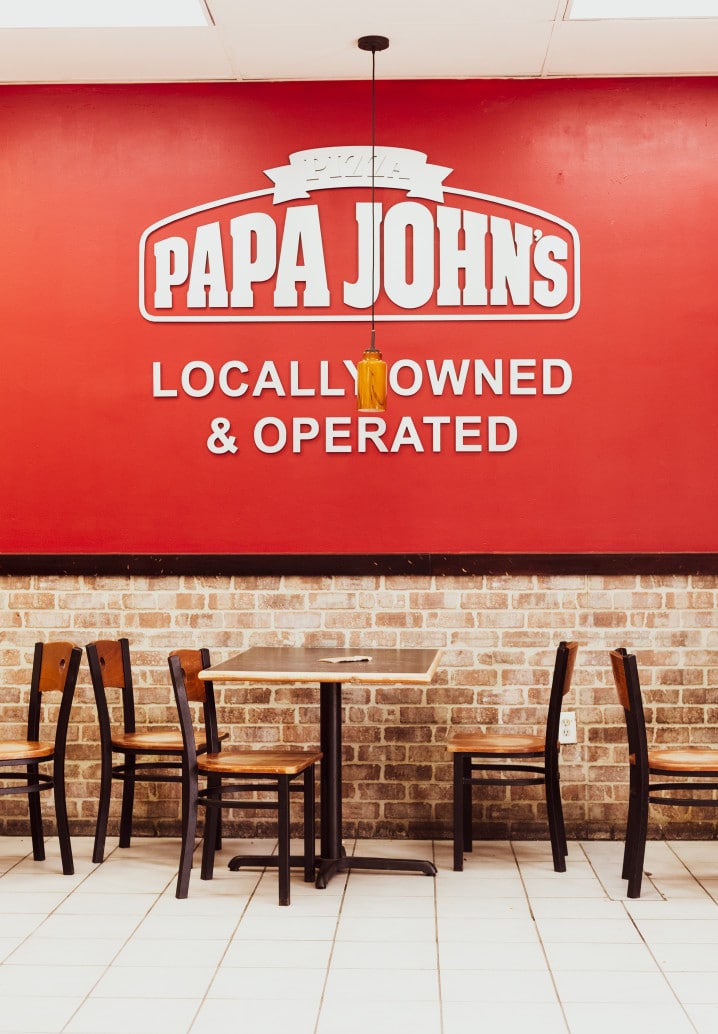 When it comes to getting a vegan pizza at Papa John's, you're going to have to build a pizza from scratch. This is pretty common among pizza restaurants, especially for people with dietary restrictions. But how does Papa John's measure up to the others?
Every pizza starts with a good crust. At Papa John's you've got two options for vegan crusts. They have their original hand-tossed crust that is vegan, as well as a thick pan pizza crust. Both of these are the best crust options on their menu, thankfully. Unfortunately, both the thin crust and the gluten-free crust have eggs and dairy.
The next choice you'll have to make comes down to sauce. Papa John's has three options that are vegan. Naturally, their BBQ sauce is vegan. However, so are their standard pizza sauce and pan sauce. This means that you've got sauce options when you build a pizza with the Papa.
While cheese may be considered a topping, it's also pretty paramount in pizza creation, making it a bit more important. That's why we've set it aside here. Unfortunately, in the North American market, Papa John's does not offer a vegan cheese option. You're in luck if you're in the UK, Australia, or Spain, though. Those three markets have vegan cheese available on the menu.
Now we've come to the toppings. As with many other pizza places, many toppings are vegan, since they're vegetables. All of the vegan toppings available at Papa John's are listed below.
Mushrooms
Pineapple
Sliced onions
Green peppers
Black olives
Green olives
Sliced jalapenos
Banana peppers
Tomatoes
Building your own pizza with Papa John's is easy, thankfully. Everything can be chosen, from the crust to the sauce, down to the toppings themselves. You can also ask for a premade pizza sans cheese, like the Garden Vegetable Pizza that they offer. This makes eating vegan easy at Papa John's.
Papa John's Vegan Dipping Sauces and Seasoning Options
Many people like to add sauces or extra seasoning to their pizzas. Papa John's caters to that, and they have a variety of sauces that they offer to customers. Among these options, a good number of them are vegan! The vegan sauces offered by Papa John's are their Garlic Dipping Sauce, Pizza Sauce Dip, Buffalo Dipping Sauce and BBQ Dipping Sauce.
They also offer Crushed Red Pepper and Special Seasoning packets to be added to the pizza. Both of these are vegan, as well.
Papa John's Vegan Side Options
At this point in time, the North American market only has one vegan side offered by Papa John's. This is the classic breadsticks option. These breadsticks come with two of the dipping sauces listed above for flavor.
In the other markets, a number of vegan sides are offered. These include potato wedges, vegan cheese wedges, and cauliflower wings. Until these are offered in the North American market, we can only dream of them, unfortunately.
Papa John's Vegan Dessert Options
This is yet another case of the North American market not having all of the international options available. Currently, there are no vegan dessert options provided by Papa John's. In the UK market, there is a vegan Nutella Bites dessert that seems delicious. It's unclear as to whether or not it will ever leave that market, though.
Papa John's Vegan Menu FAQs
Does Papa John's plan on making vegan proteins an option?
In the UK market, Papa John's introduced some great vegan protein options in the UK. The protein they've gone with in that market is the Not-Chicken Vegan Bites. These are a chicken replacement protein, of course. They aren't available on pizzas in the UK, but rather as a side, much like traditional chicken wings.

If the company were to explore vegan protein options in the North American market, it's likely that they'd partner with Impossible or Beyond. Many chains have seen success when working with these brands.
Papa John's offers a vegan pizza webpage, but doesn't have vegan cheese. Why?
At this point, we aren't sure. Hopefully this webpage is an indicator of things to come. They've specified the page for vegan guests specifically, after all. They also offer vegan cheese in other markets, indicating that the company as a whole is receptive to vegan alternatives.
Should I be worried about cross contamination at Papa John's?
As with any restaurant, cross contamination is a problem that people with dietary restrictions have to be concerned with. Most pizza lines are a bit better when it comes to cross contamination thanks to the individual pans that roll through the pizza oven. However, some customers have found cheeses or meats in their pizzas. Be sure to check your food thoroughly upon delivery, as you would with any other restaurant that serves non-vegan foods.
Is Papa John's a Good Choice For Vegans?
Generally speaking, Papa John's is an alright choice for vegans. However, compared to a handful of other pizza chains, Papa John's isn't the best pick. They don't offer any vegan cheese or vegan protein options, where other chains do. We're specifically referring to MOD Pizza, who has begun offering vegan Italian sausage from Plantly this year. If you want pizza and Papa John's is the only option, you can take comfort in knowing that they do have vegan options.
Are you wondering if any of the other pizza places around you have vegan options? Be sure to check out our other restaurant menu reviews! We're doing all the hard work so that you don't have to.
---
Recent Recipes