All The Pei Wei Asian Kitchen Vegan Menu Options
Vegan dining can be tough, especially when it comes to chain Asian food. Simply put, a majority of Asian cuisine isn't vegan friendly, either because the dishes include meat or some part of the recipe calls for animal products like eggs.
Still, many modern chains are doing their best to accommodate vegan diners these days. Pei Wei is leading the charge, offering a decent spread of vegan meals and optional ingredients or adjustments. Today, let's break down Pei Wei's vegan options in detail.
| Menu Item | Type of Dish | Notes |
| --- | --- | --- |
| Build Your Own Bowl | Bowl | Can be customized with vegan options |
| Cauliflower Rice | Rice | |
| Chili Paste | Condiments | |
| Dumpling Sauce | Condiments | |
| Edamame | Side | |
| Five Spice Tofu & Vegetables | Entree | Served with broccoli, carrots, snap peas, and your choice of fried or steamed tofu |
| Lettuce Cups | Greens | |
| Lime Vinaigrette | Condiments | |
| Mixed Salad Greens | Greens | |
| Noodles | Noodles | |
| Pad Thai | Entree | Order with no egg, request to be cooked in allergen-free wok |
| Sesame Ginger Vinaigrette | Condiments | |
| Sweet Chile Sauce | Condiments | |
| Teriyaki Fried Tofu | Entree | |
| Thai Dynamite Fried Tofu | Entree | |
| White Rice | Rice | |
| Brown Rice | Rice | |
Note: Cross-contamination can occur. Menu items as of 1/12/2023. Some item are only available at certain locations. Please ask your server to confirm these options as they may have changed.
Pei Wei Vegan Entrees
Pei Wei offers a few different vegan-friendly entrées without having to change anything from the menu or request special treatment. These include the Honey Seared Regular, Sweet & Sour Regular, and Thai Dynamite Regular with Vegetable & Tofu dishes.
But wait, you might ask – how is the dish with honey vegan? Although the title implies honey is present, Pei Wei doesn't actually use honey in the Honey Seared Regular with Vegetables & Tofu. So it's totally safe if you want to eat at Pei Wei!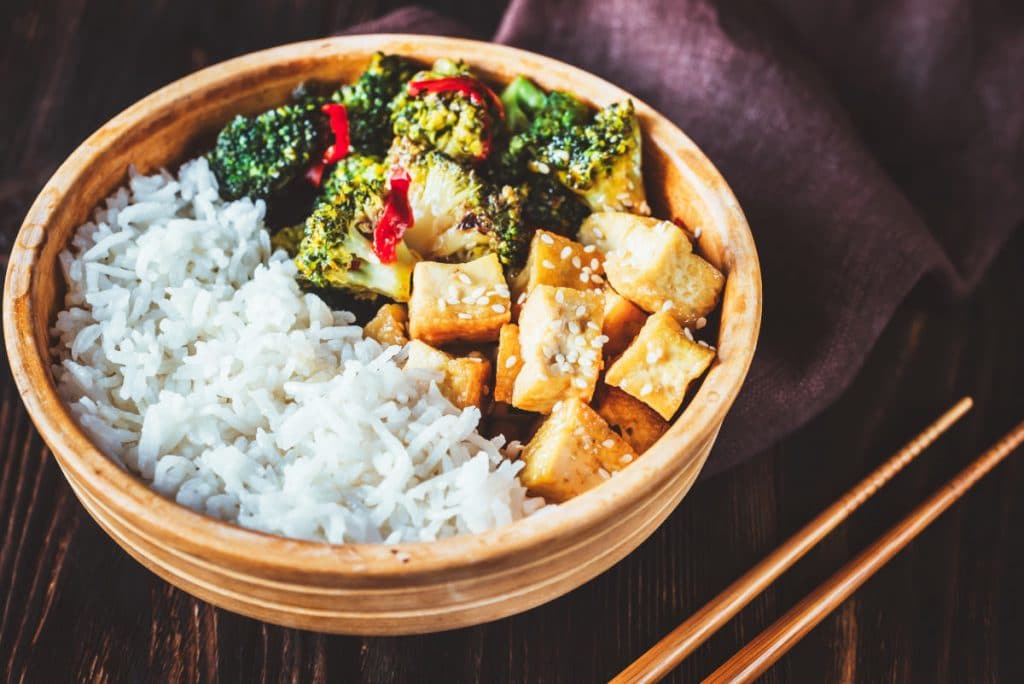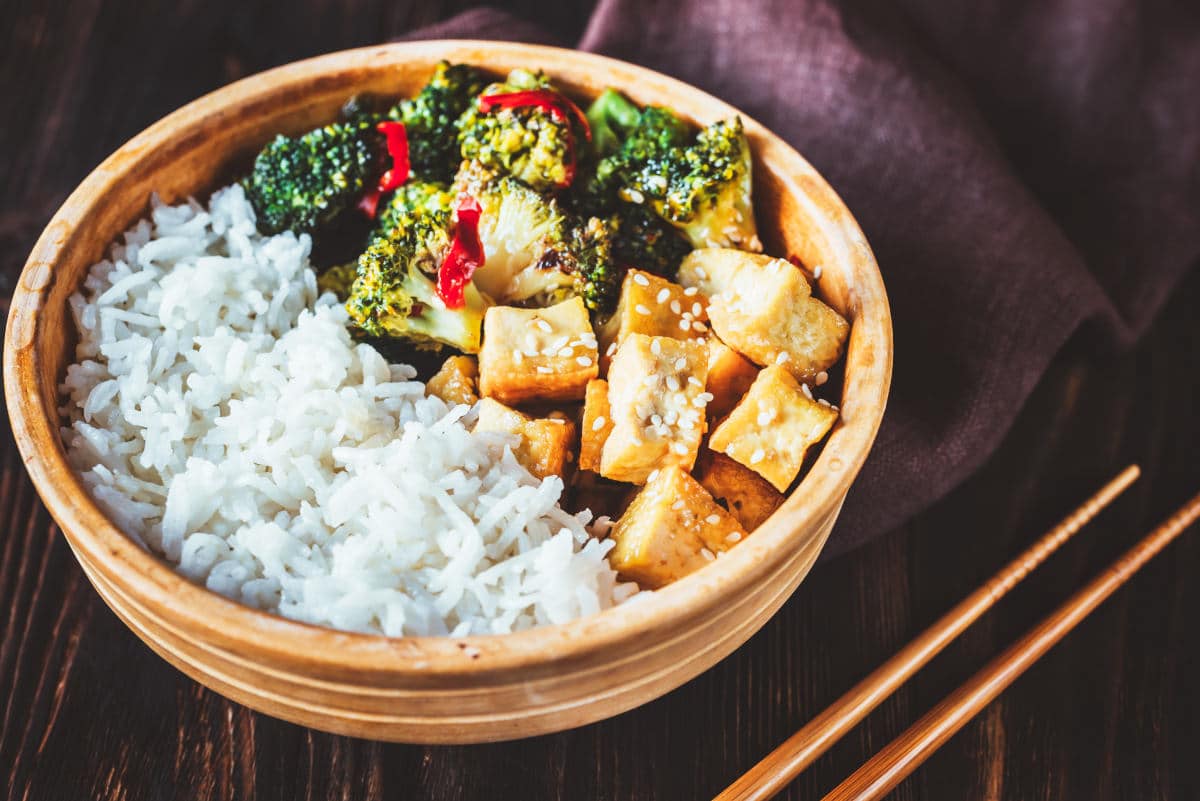 Pei Wei Vegan Sides
Pei Wei also offers some vegan-friendly side options and "shareable" plates. These naturally include both brown and white rice, the "extra vegetables" side you can add to most of the meals, and Edamame.
Pei Wei Vegan Kid's Meals
Bringing kids to Pei Wei? Luckily, Pei Wei has a couple of vegan options for your kids, including the above-mentioned Sweet & Sour Regular. Order it with Five-Spice Tofu & Fresh Vegetables.
Alternatively, you can order the Orange Chicken Meal but specify no chicken. Pei Wei will then sub the meat for tofu and vegetables, leaving the rest of the meal intact.
Pei Wei Vegan Salads and Dressings
Pei Wei offers a variety of salads and dressing options for vegans. These include the:
Salad in regular or small size
Miso Side Salad
Lettuce Wrap Sauce
Lime Vinaigrette Dressing
Sweet Chile and Mustard Sauces
Wasabi Vinaigrette
Pei Wei Vegan Greens/Grains
Lastly, Pei Wei offers a selection of greens and grains you can add to different meals as sides or substitute for parts of dishes that are non-vegan. These include cauliflower rice, lettuce cups, noodles (made without eggs), the rice mentioned above, and mixed salad greens. Fresh vegetables can also be added to almost any meal and are by nature vegan-friendly.
The Tastiest Pei Wei Vegan Options
Just which meals or sides taste the best? It's largely up to personal preference, but many vegan favorites include:
The Edamame, which is made with sea salt and steamed to order. You can and should ask for fresh water to be used to steam your Edamame to prevent cross-contamination
The Sweet & Sour Regular, which includes red bell peppers, carrots, pineapple, snap peas, onions, and fresh ginger with a sweet-and-sour sauce.
Honey-Seared Regular, which uses a honey-seared garlic sauce garnished with crispy rice sticks, scallions, and red bell peppers. Remember, there's no actual honey in this recipe – instead, the Honey is used to describe the flavor of the dish.
Thai Dynamite Recipe, which includes red bell peppers, snap peas, carrots, Thai basil, and onions in a chili soy Sriracha sauce with a lime wedge.
Pei Wei Vegan Food FAQs
Are Pei Wei's spring rolls vegan?
Not usually; most of Pei Wei's spring rolls, even the vegetable ones, contain eggs. So these are not vegan unless you specifically request vegan rolls, and the restaurant may not be able to accommodate that request depending on how the eggrolls are put together.
Are Pei Wei's noodles vegan?
Generally, yes, but not the ones in Korean dishes. The noodles found in other dishes can be vegan depending on the dish in question; ask your server how the noodles were made and what they were cooked in to be sure.
Is Pei Wei's Teriyaki sauce vegan?
Unfortunately, Pei Wei's teriyaki sauce contains honey. As a result, the teriyaki sauce and any ingredients that include teriyaki are not vegan. One good example is the Japanese Teriyaki Bowl (though you can potentially ask for no teriyaki sauce when ordering and get around this).
Are Pei Wei's Korean dishes vegan?
No; each Korean dish from Pei Wei currently contains either fish or oyster sauce. Additionally, any noodle dishes with Korean origins have eggs by default. Note that not all noodles are non-vegan, however.
Are Pei Wei's wontons vegan?
No, sadly. Pei Wei's wontons all have some kind of meat. Any dishes that include wontons, like wonton soup, are not vegan as a result. They may seem vegan on the surface since they don't have any non-vegan allergy ingredients.
Are Pei Wei's Fortune Cookies vegan?
No. All the fortune cookies have eggs, but you fortunately don't have to eat these in any dish (since they're only ever added to the end of the meal in little bags).
Can you order vegan Thai food at Pei Wei?
Not directly from the menu. Pei Wei's Thai food isn't vegan by default; as an example, their Pad Thai has noodles made with eggs. However, you can order this same dish without egg (since Pei Wei does have non-egg noodles available). Additionally, you can request that this dish and others be cooked in an allergen-free wok.

Bottom line: you can get vegan Thai food from Pei Wei, but you have to ask for it specifically rather than order it off the menu.
Summary – Is Pei Wei a Good Place for Vegan Options?
Ultimately, Pei Wei does a fairly good job of accommodating vegan diners at its locations. Pei Wei offers three vegan dedicated entrée options, which is far better than what many other chain Asian restaurants can provide, even in today's day and age.
In addition to the entrées, Pei Wei has various salad options, vegan-friendly sides ranging from rice to fresh vegetables, and more. It even has some kids' vegan menu options.
That being said, you'll still need to substitute some ingredients or others if you want to access most of Pei Wei's menu. All in all, Pei Wei's vegan options are plentiful compared to other restaurants.
---
Recent Recipes