Easy Vegan Pesto Butter Beans
When I see a jar of butter beans in the market, I generally grab it. They are large broad beans with a creamy color and texture. These are delicious and substantial enough to be the main ingredient in a vegan entrée.
There is some debate about whether butter beans and lima beans are the same things. What is crazy is that I absolutely disliked lima beans as a kid. They were green, mushy, and somehow always ended up on my dinner plate with corn kernels and maybe some bell peppers or diced carrots. This was succotash and I wasn't a fan of it. I think lima beans and butter beans are pretty much the same bean. So, why do I like these beans as an adult?
Here's the thing, I probably would have disliked butter beans as a kid too. According to some research, green lima beans are likely the younger versions of butter beans. Creamy white butter beans may be mature lima beans. All I know is that I do enjoy this bean now.
Butter beans don't have a lot of flavor all by themselves. They are a neutral base for any complex sauce and other vegetables and aromatics. Pesto in particular is excellent with butter beans.
This pesto butter bean recipe is a little different. I have added bitter arugula to the pesto, mostly because the beans can handle it and I really like bitter greens. They are also very good for you. I have also used hazelnuts in place of pine nuts in the pesto. The reason for this is that I associate creamy beans with autumn dishes and hazelnuts scream autumn to me. I have added broccoli to the dish to make it more substantial, nutritious, and fresh.
This is a vegan recipe. However, butter beans are a good source of protein and they are filling, making them a perfect substitute for animal protein. Serving this dish as your entrée with sides will be a substantial and satisfying meal. This recipe is also gluten-free and macrobiotic compliant.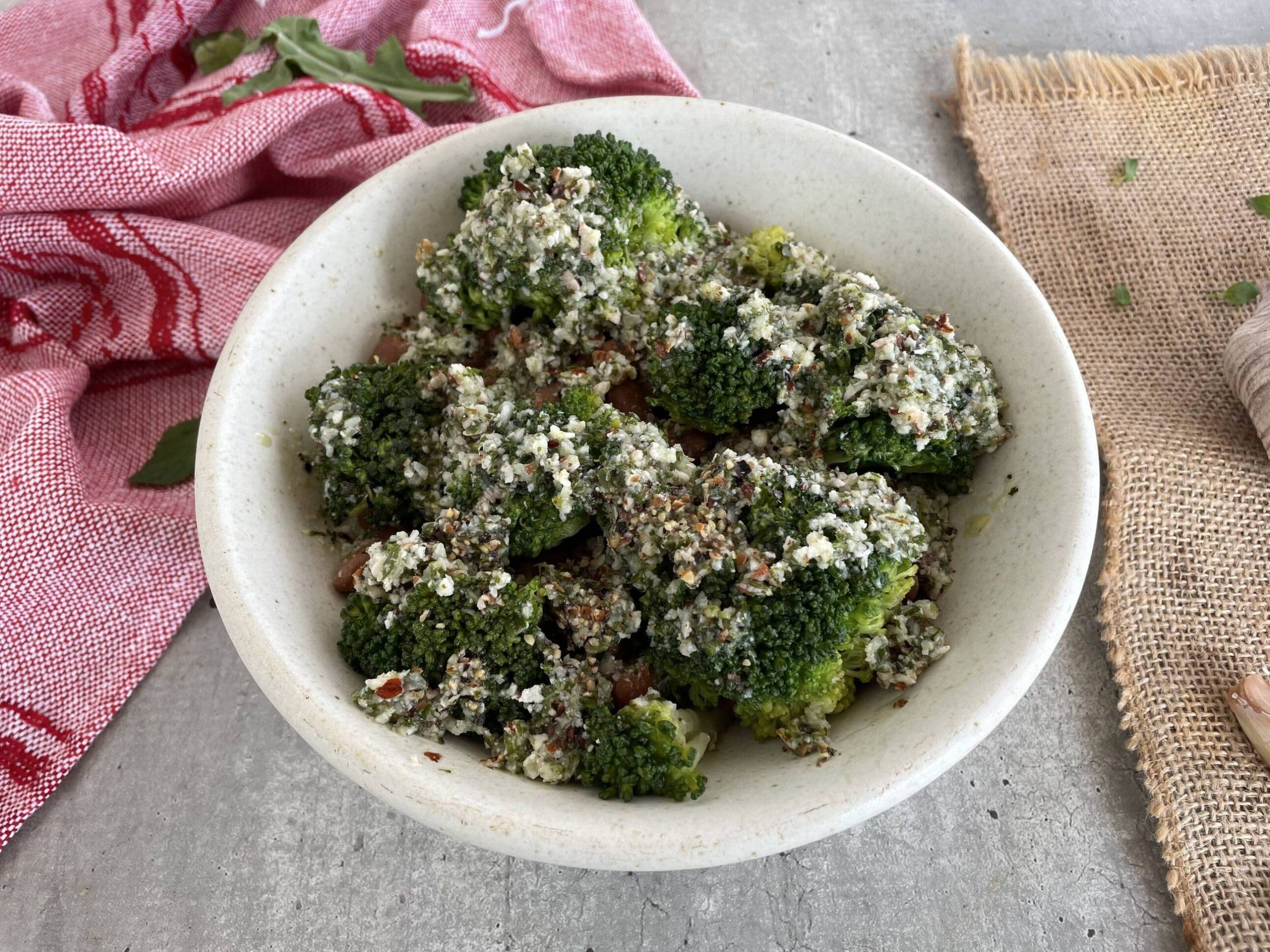 Ingredients
2

cups

fresh basil leaves

1

cup

fresh arugula leaves

1/2

cup

lightly toasted hazelnuts

skins removed

2

cloves

garlic

2

TBS

nutritional yeast

1/2

tsp

sea salt

1/2

tsp

freshly ground pepper

Juice of 1/2 lemon

1/2

cup

extra virgin olive oil

2

cans or jars of butter beans

1

small head of broccoli

washed

1

pinch

of fresh ground pepper

1

tsp

extra virgin olive oil
Instructions
Place the basil, arugula, hazelnuts, garlic, nutritional yeast, salt, pepper, and lemon juice in a food processor. With the motor running, drizzle in 1/2 cup of the olive oil until you have a coarse, yet mostly smooth paste. Scrape down the sides of the processor if needed.

Check the seasoning and add more salt and pepper if needed. Set the pesto aside.

Place the beans in a colander and rinse them under cool water. Allow them to drain.

Cut the broccoli into bite-size chunks. Blanch the broccoli in boiling water for up to 3 minutes or until just al dente yet still bright green. Drain the broccoli and rinse it under very cold water to stop the cooking.

In a large sauté pan over medium-high heat, add the remaining teaspoon of olive oil. Place the beans in the pan and cook until just warmed through. Add the broccoli and heat everything up again for about 1 minute or so.

Turn the heat down to low. Stir in enough pesto sauce to evenly coat the beans and broccoli. Allow the beans and broccoli to mellow on the stove for 2 to 4 minutes, stirring occasionally.
Video
Nutrition
Calories:
557
kcal
|
Carbohydrates:
41
g
|
Protein:
19
g
|
Fat:
38
g
|
Saturated Fat:
5
g
|
Polyunsaturated Fat:
4
g
|
Monounsaturated Fat:
27
g
|
Sodium:
346
mg
|
Potassium:
1353
mg
|
Fiber:
15
g
|
Sugar:
7
g
|
Vitamin A:
1702
IU
|
Vitamin C:
140
mg
|
Calcium:
142
mg
|
Iron:
6
mg
Notes & Tips
You can make the pesto sauce ahead of time and simply store it in your refrigerator or even the freezer in a sealable baggie. This is great to have on hand for any quick meal.
This is a fairly quick recipe to make, especially if you make the pesto ahead. However, you do need to keep an eye on the broccoli and beans while they are cooking. It would be a shame if the beans fell apart and the broccoli turned gray and mushy from being overcooked. This is best with a little bite to the broccoli and the freshness of the pesto.
Substitutions and Shortcuts
You can use dried butter beans for this recipe. You will have to soak them overnight and then cook the beans prior to making this recipe. If you can't find butter beans, lima beans will work.
Frozen broccoli florets will work in this recipe. Just heat them through with the beans and pesto. There is no need to boil them first.
For this pesto, you can use all basil leaves or substitute spinach for the arugula. Hazelnuts can also be swapped out to walnuts or pine nuts. You can use white miso paste or vegan parmesan cheese in place of the nutritional yeast.
Are Butter Beans Good for You?
Butter beans are important sources of plant proteins. 100 grams offer 338 calories and provide 21.46 grams of protein. They are also a rich source of antioxidants, vitamins, minerals, and plant sterols.
These beans contain substantial amounts of dietary fiber. Dietary fiber assists with digestion and motility of the intestines. Dietary fiber has also been shown to reduce blood cholesterol levels by decreasing the reabsorption of cholesterol-binding bile acids.
Fresh, as well as dry butter beans, are an excellent source of folates. 100 grams of mature beans provide 99% of the recommended daily amount of folates. Folate, along with vitamin B-12, is one of the essential co-factors for DNA synthesis and cell division.
Butter and lima beans are very rich sources of many B-complex vitamins, especially vitamin-B6, thiamin, pantothenic acid, riboflavin, and niacin. They are also excellent sources of the minerals calcium, copper, iron, magnesium, manganese, molybdenum, and potassium. Potassium helps counter the pressing effects of sodium on the heart and blood pressure.
---
Recent Recipes