Sun-dried tomato pesto or pesto Rosso (red pesto) is a vibrantly red rich-tasting Sicilian variation on the traditional pesto Genovese. It's one of my favorite sauces and it's so easy to make at home. Traditionally, it's made with sun-dried tomatoes, almonds, garlic, basil, parmesan cheese, and extra virgin olive oil, but the recipe varies from each region and chef. I love adding a little rosemary and using roasted unsalted almonds. It gives the sauce an even stronger aromatic flavor that will make your taste buds want to sing Abballati.
How To Make Pesto?
In this recipe, I used the traditional pesto-making method of mortar and pestle. I find that by making the pesto by hand, you're adding a lot of love to the sauce. You can also control the consistency of each ingredient and tweak the sauce to your liking. This makes the process more personal. But there's a specific technique for using a mortar and pestle. Instead of slamming your pestle down and winding it all around, rock and smash your ingredients in the mortar. Rock by using the pestle to go around the edges of the mortar and push the ingredients back into the middle to smash them.
Of course, if you don't have a mortar, you can use a food processor. The result will be just as tasty, and quicker. Just add all the ingredients except the olive oil into the food processing bowl, turn it on, and slowly pour the olive oil through the feed tube; blend until combined. Now, let's make this magic sauce!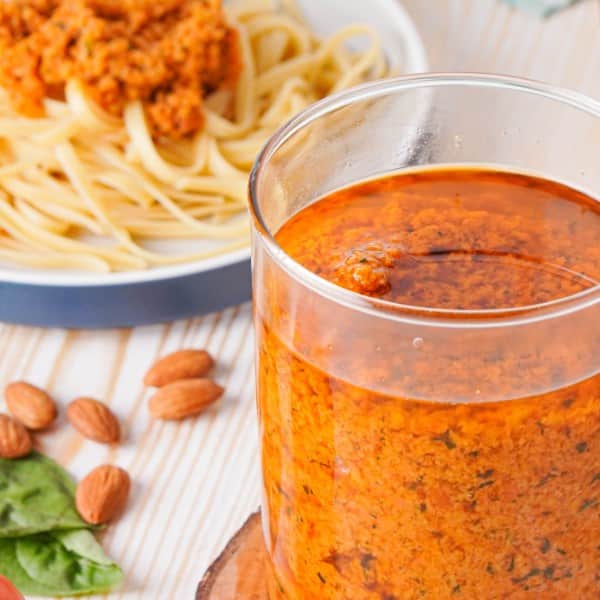 Equipment
Mortar and pestle. (or a food processor)

Knife and cutting board
Ingredients
7

oz

sun-dried tomatoes

2

garlic cloves

cut in quarters

1

bunch of fresh basil

washed and leaves separated

½

cup

freshly grated parmesan cheese

¼

roasted unsalted almonds

3 ½

oz

extra virgin olive oil

EVOO

1

sprig rosemary
Instructions
Assemble and measure all ingredients.

Finely chop the almonds. Place the almonds and garlic cloves in the mortar and pound until creamy.

Add rosemary, basil, and black pepper. Smash until blended in.

Sprinkle in the parmesan cheese. Slowly pour in the EVOO as you pound the mixture until it has turned into a beautiful pesto sauce.

Pour into a jar and cover with a layer of EVOO to store in the fridge for up to 1 week or in the freezer for up to 4 months.

Enjoy on toast, with pasta or pizza, on meats, fish, or even in salad dressings!
Nutrition
Calories:
410
kcal
|
Carbohydrates:
29
g
|
Protein:
12
g
|
Fat:
30
g
|
Saturated Fat:
6
g
|
Polyunsaturated Fat:
3
g
|
Monounsaturated Fat:
20
g
|
Cholesterol:
9
mg
|
Sodium:
254
mg
|
Potassium:
1739
mg
|
Fiber:
6
g
|
Sugar:
19
g
|
Vitamin A:
638
IU
|
Vitamin C:
20
mg
|
Calcium:
214
mg
|
Iron:
5
mg
Allergens & Substitutions
If you want to make this recipe vegan, remove the cheese and add a teaspoon of miso paste or nutritional yeast instead. I love using miso paste because it gives the pesto a little umami flavor. Just make sure the miso paste hasn't expired.
I used roasted unsalted almonds for this recipe, but you can substitute raw almonds, pine nuts, walnuts, or pecans. I wouldn't use pistachios because they're sweeter and have a stronger flavor. The sun-dried tomatoes should remain the star here. To make this recipe nut-free, use sunflower seeds or a mix of sunflower seeds and pumpkin seeds (I like going half/half). I wouldn't use sesame seeds because their flavor is very specific.
If you're not a fan of rosemary, you can omit it. Try adding sage or marjoram, or a little more basil. Whichever you choose, make sure your herbs are fresh, washed, and dried. You don't want any water or dirt getting into the pesto sauce.
How to use pesto Rosso
There are so many ways to use sun-dried tomato pesto in your meals:
As a sauce for pasta or gnocchi. One of my favorite easy pasta dishes to make is pesto Rosso with mushrooms, shallots, Kalamata olives, and parmesan cheese with penne Rigatte or farfalle.
With proteins such as chicken, steak, pork, or fish. Dollop some pesto sauce on top of your baked or grilled meat/fish.
Omelets. Deliciously compliments a breakfast omelet with spinach, mushrooms, or your favorite veggies and cheese.
Sandwiches and wraps. It's great used as a spread instead of mayo or mustard. It'll give your sandwich a whole new dimension of flavor.
Crostini and crackers. You can enjoy it simply spread on crackers or crostini. Or serve as a condiment on a cheese and cracker platter.
Pizza or Stromboli. Dollop it on top of a pizza or try this delicious vegetarian Stromboli recipe with cheese.
With your favorite grains and veggies. Mix a teaspoon of pesto Rosso for each cup of grains and serve with grilled veggies also tossed in pesto. This makes for a quick and tasty vegan meal.
Should pesto sauce be refrigerated?
Yes, homemade pesto sauce should be refrigerated. Store-bought typically should be refrigerated once opened. Home-made pesto keeps in the fridge for up to a week, and in the freezer for 3-4 months.
Where is pesto from in Italy?
The most famous variety of pesto, Pesto Alla Genovese, is from the city of Genoa in the Liguria region of Italy. Pesto Rosso originated in Sicily and is made using tomatoes, almonds, and a lot less basil.
How to make this pesto vegan-friendly?
Pesto by definition means anything that is made by pounding (in a mortar). It can very easily be made vegan. Just add a little miso paste for that umami flavor instead of the cheese.
Can I use green pesto instead of red pesto?
Green pesto or pesto Genovese has a strong basil flavor, while red pesto or pesto Rosso has a strong sun-dried tomato flavor. But I find that you can substitute one for the other depending on your preference. Both pair well with pasta, chicken, sandwiches, Caprese, pizza, and more.
How many types of pesto are there?
There are many traditional variations of pesto from different regions of Italy (mostly Liguria and Sicily). The main types are:
Pesto Genovese from Genoa in the Liguria region. This pesto sauce is made with basil, garlic, pine nuts, Parmigiano Reggiano, and salt, bound together with extra virgin olive oil.
Pesto Rosso, also called pesto Alla Trapanese, from Sicily.
Pesto di agrumi (citrus pesto), from Sicily, as well. This pesto uses the same ingredients as pesto Genovese, only substitutes almonds for pine nuts, and adds lemon, orange, or both to the sauce.
Pesto di rucola (arugula pesto) is a spin on the original pesto recipe that uses arugula leaves instead of basil. It's a bit more bitter and aids in digestion. The origins date back to ancient Roman times.
Pesto di noce (walnut pesto), also originated in Genoa, Liguria. It's a creamy sauce made with walnuts, garlic, EVOO, salt, and bread crumbs softened in milk. This sauce was created specifically for a type of ravioli from Liguria, but it can be used in many pasta dishes.
Pesto di pistacchio (pistachio pesto). This sweet sauce complimented with lemon zest also comes from the beautiful island of Sicily.
But there are endless modern-day variations of this sauce. Some of the more popular pesto sauces include pesto Calabrese (with red peppers and a hint of ricotta), garlic scape pesto, salsa verde (herb sauce with breadcrumbs), pesto with pepitas and cilantro, and parsley pesto with anchovies.
Index
---
Recent Recipes