Pistachio milk is a nut milk you must try if you've been experimenting with other dairy-free milks. It's creamy, rich, and a gorgeous pale green that makes you feel fancy as soon as you add it to your coffee or tea.
Sure, you can buy nut milk at the grocery store. I'm sure you will have shelves of options to choose from. But have you ever tried making your own nut milk? It's so simple, and the taste is so much better. Plus, you know exactly what the milk is made of — nuts, and nuts alone. Some cartons of store-bought nut milks list a plethora of ingredients that don't seem to make sense.
Nut milk should be simple, and delicious. And that's exactly what this pistachio milk is.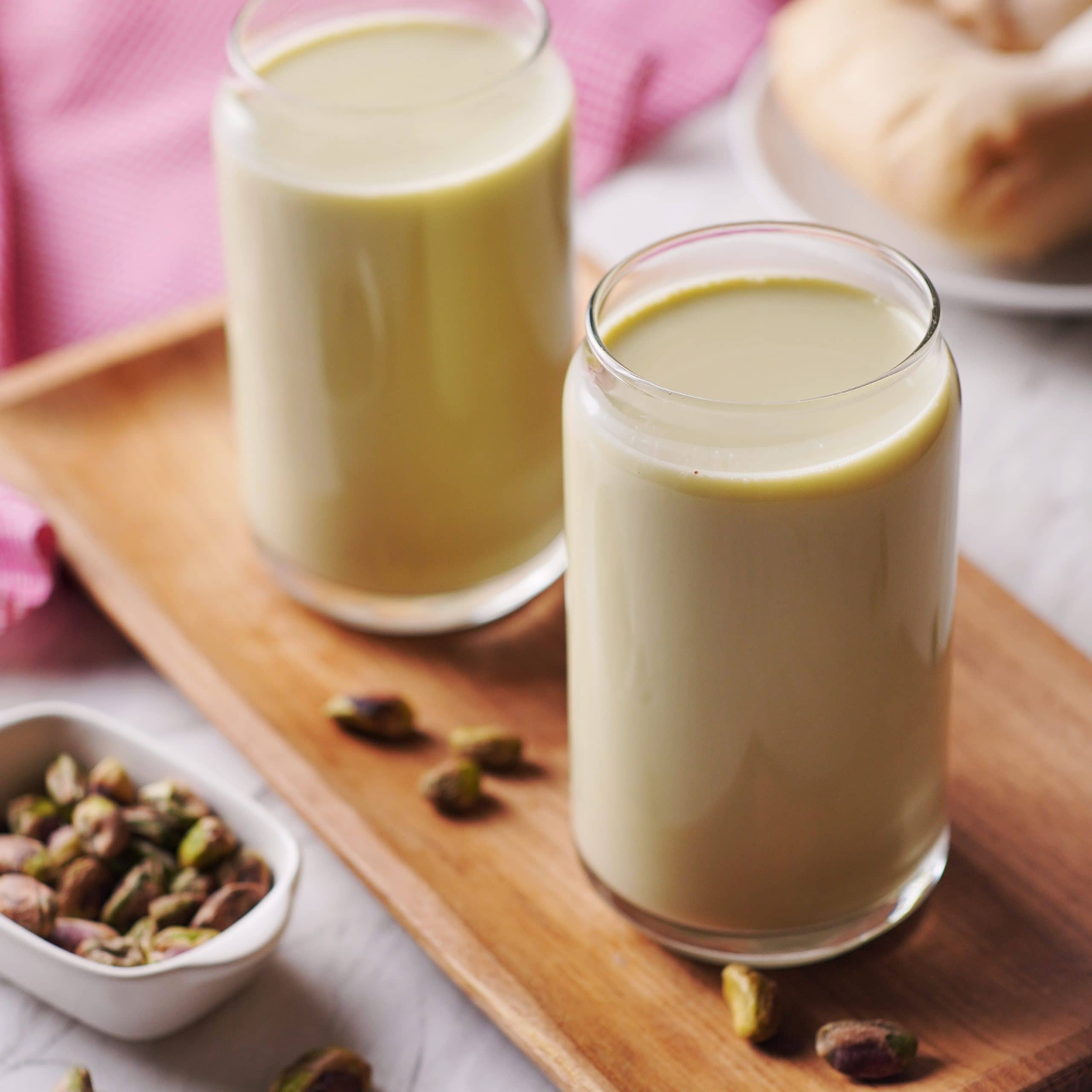 Ingredients
1

cup

pistachio nuts

shelled

4

cups

filtered water
Instructions
Soak the pistachio nuts in water for six hours. (This can be straight tap water and not the measured 4 cups. You need as much water as it takes to cover all the nuts.)

Drain the pistachios and then place them in a high-speed food processor or blender. Blend so that the nuts break down to a dust-like consistency. Do not blend them so much that they become pasty.

Then, add the 4 cups of water to the blender.

Blend again for about 2 minutes.

Place a strainer lined with cheesecloth over a bowl.

Pour the nut and water mixture into the strainer so the nut milk strains through the cheesecloth.

Squeeze out any extra liquid from the cheesecloth.

Pour the nut milk into a bottle or glass jar for storage. Pistachio milk will stay fresh in the refrigerator for 3-5 days.
Video
Nutrition
Calories:
173
kcal
|
Carbohydrates:
8
g
|
Protein:
6
g
|
Fat:
14
g
|
Saturated Fat:
2
g
|
Polyunsaturated Fat:
4
g
|
Monounsaturated Fat:
7
g
|
Sodium:
12
mg
|
Potassium:
315
mg
|
Fiber:
3
g
|
Sugar:
2
g
|
Vitamin A:
128
IU
|
Vitamin C:
2
mg
|
Calcium:
39
mg
|
Iron:
1
mg
Notes & Tips
You have the option to sweeten the milk once it's made. It's best to add a liquid form of sugar so that it dissolves easier. Maple syrup, agave syrup, and honey are all great options. Plus, you'll reap the benefits that some of these sweeteners offer.
Nothing from this recipe should go to waste either. You can dry out the nut pulp and use it for many other uses. One of the best ways is to use the nut pulp as a flour substitute for baked goods.
You can peel the pistachios for a brighter green color. But this step is unnecessary and won't affect the flavor of the milk.
Did you know there are blenders made for processing nut milk? This one has great reviews. 
Shake or stir the milk really well before serving. 
What Can You Do With Pistachio Milk?
Pistachio milk is great on its own, but there are a lot of other delicious ways you can use this recipe. Pistachios can be rather expensive, so it's best to make use of all the milk so that it doesn't go to waste.
It's fantastic when used to make matcha tea. Simply swap out the milk you use with your fresh-made pistachio milk. Are you wondering what matcha tastes like? Click here to read more about it.
If you add some chia seeds and vanilla extract, you'll have tasty pistachio pudding. When chia seeds are soaked in a liquid, they become softer and act as a thickener for most liquids. Simply mix about 2 tablespoons of chia seeds with ⅓ cup of pistachio milk. Add a splash of vanilla and store in a jar overnight in the fridge. You'll have a tasty breakfast pudding in the morning.
Here's another chia pudding recipe that you can try, too.
Is Pistachio Milk Good For You?
There has been a lot of research done to see if swapping out nut milk for cow's milk is better for your overall health. The general findings are that, yes, using nut milk has incredible health benefits. Especially for those who have a lactose intolerance.
Cow's milk and standard dairy products have their benefits that should be taken into consideration. For example, they are an excellent form of calcium. We've been told that since we were kids, right?
But if you are looking to branch out and stick with non-dairy options, pistachio milk is certainly a good one to have around. As mentioned earlier, pistachios can be very expensive. But with that price comes some hefty benefits that you may not find in other nuts.
For example, pistachios are lower in calories than most other nuts. One ounce of pistachios has about 160 calories. Most other nuts have closer to 200 calories per ounce.
Pistachios also have high amounts of protein compared to other nuts. They contain amino acids that our body cannot make on its own. So we must find them in other sources, like pistachio nuts, in order to increase our protein intake.
What Do You Need To Make Pistachio Milk?
There are a few tools you are going to need in order to make pistachio milk. In fact, you'll need these if you are going to make any kind of nut milk at home.
As mentioned before, there are special blenders, like the NutraMilk, that are made only to make nut milk. However, you can also use a regular high-speed blender. 
You're going to need tools to strain the nut milk if you're using a regular blender. You can use a standard strainer or a China cap strainer. You will also need cheesecloth. You could also use a dish towel, if you don't have any cheesecloth. Straining through one of these will ensure you have smooth, particle-free nut milk. 
Another option would be to use a nut milk bag. These are considered "micro-strainers" and have many purposes in the kitchen.
---
Recent Recipes