Fantastic Pizzelle Fritte
When I was a kid, my mom bought me a children's cookbook in an effort to get me excited about making food with real vegetables from our garden. The first thing I made was English muffin pizzas, not a veggie dish. There were toasted English muffin halves with tomato sauce and cheese that were placed under the broiler of the toaster oven just to melt the cheese. The best part was that my siblings and I could customize our own mini pies.
Pizzelle fritte are similar, only much better, in that they are mini pizzas made with fried pizza dough. Yes, fried! The dough is soft and airy inside and a little crisp on the outside. The dough is traditionally topped with tomato sauce and parmesan cheese. The recipe is simple and the result is little hand pies that can be eaten in a few bites and while walking around the streets of Naples or making the rounds at a party.
When researching the origins of this dish, I came across many recipes with different names: pizzettas, pizzette fritte, pizzelle fritte, and miniature fried pizzas were some of the names, depending on where you live.
There is a story that claims many towns in Italy were bombed during WWII and homes and kitchens were destroyed, leaving families and eating establishments without their wood-fired ovens to make pizza or flatbread. A new way of cooking dough was to fry it in a pan over a flame. This was also great for street vendors to introduce a new and affordable snack.
My recipe for pizzelle fritte is a little different in that I like to use fresh tomatoes when they are in season and I enjoy different cheeses. My mom's garden had lots of tomatoes. I also like the addition of fresh herbs. These little hand pies are great for parties and perfect for kids with tiny fingers.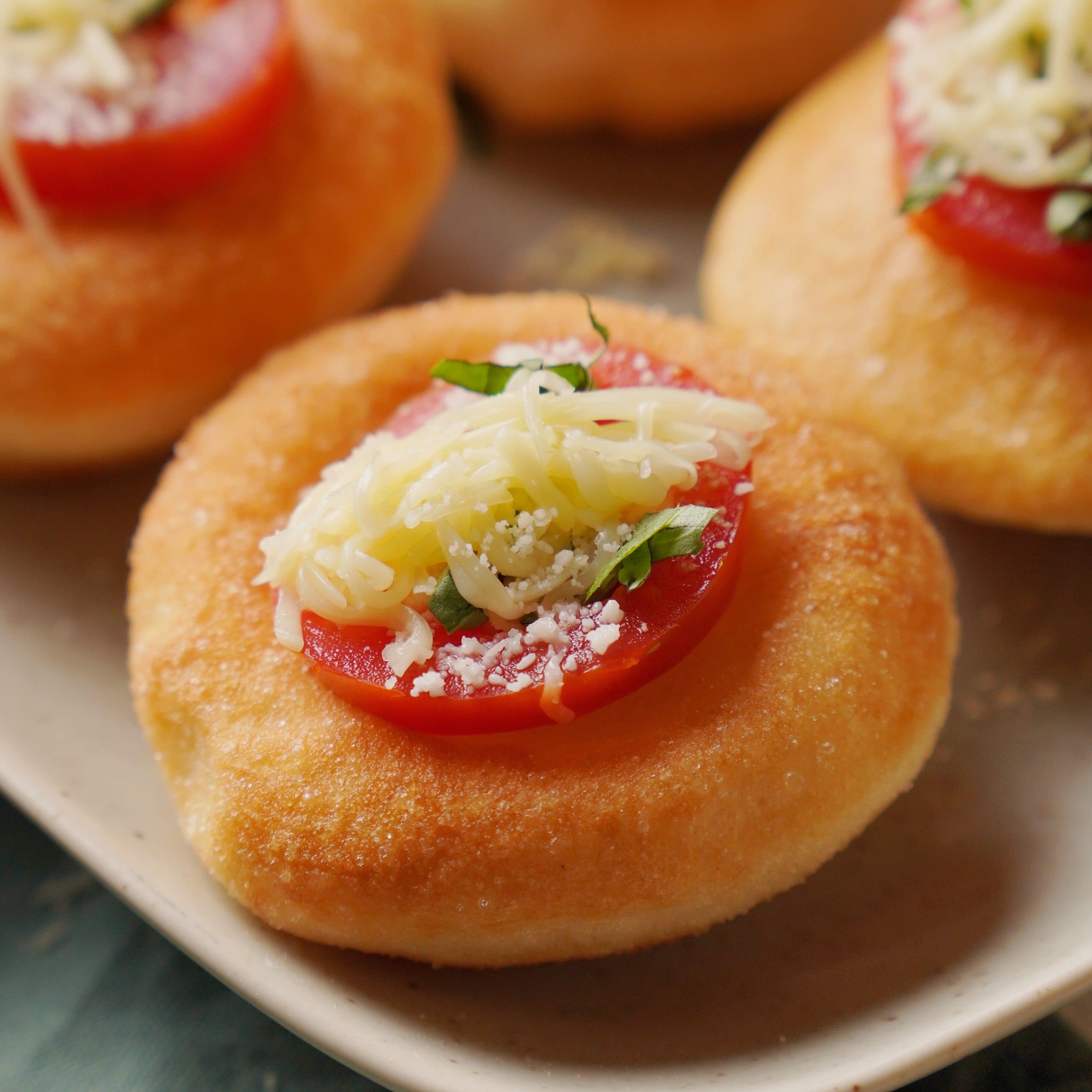 Ingredients
1 ⅛

cup

warm water

not boiling hot

1

packet active dry yeast

1

tsp

raw or granulated sugar

¼

tsp

sea salt

2

tsp

extra virgin olive oil

divided

3

cups

all-purpose flour + more for kneading

Extra virgin olive oil or grapeseed oil for frying

24

slices

ripe Roma or plum tomatoes

4 tomatoes +/-

24

basil leaves

sliced thinly

Kosher salt and freshly ground pepper to taste

⅔

cup

grated parmesan cheese

⅓

cup

shredded mozzarella cheese
Instructions
All ingredients ready? Let's begin!

In a large mixing bowl, combine the warm water and yeast. Sprinkle the sugar on top of the water and yeast. Set this aside for about 5 minutes until the yeast starts to bloom or bubble.

Gently stir the salt and 1 teaspoon of olive oil into the blossomed yeast.

Add the flour and stir to combine well until the dough comes together into a ball.

Lightly flour a flat work surface. Turn the dough onto the floured surface and knead with the heels of your hands for 5 minutes, dusting with a little more flour if too sticky. (Alternatively, you can make the dough in a stand mixer with a dough hook attachment).

Wipe out the bowl. Add the remaining teaspoon of oil to the bowl and rub it onto the sides of the bowl. Place the ball of dough in the bowl and rotate it so the oil coats it.

Cover the bowl with a clean kitchen towel or plastic wrap and place the bowl in either a cold oven or a microwave away from drafts or moisture.

Allow the dough to proof until it doubles in size, approximately 60 minutes.

Make 24 smaller balls of dough and place them on a lightly floured work surface.

Roll each ball out into a 3-inch circle at approximately ¼-inch thick.

Place the pizzas on a floured or parchment-lined sheet pan or two, cover with a clean dishtowel, and allow them to rest for approximately 30 minutes to rise again.

Meanwhile, slice your tomatoes, slice the basil, and combine the 2 cheeses.

In a large skillet over medium-high heat, warm about ½ inch of oil. When the oil is hot, start frying the pizza dough in a single layer for 2 minutes per side until golden brown. Drain on butcher's paper or paper towels quickly and place them on a serving platter. Top immediately with a tomato slice, basil, salt, pepper, and cheese.

Continue frying and topping the dough until all are cooked. Serve while still warm and crisp.
Video
Nutrition
Calories:
77
kcal
|
Carbohydrates:
13
g
|
Protein:
3
g
|
Fat:
2
g
|
Saturated Fat:
1
g
|
Polyunsaturated Fat:
1
g
|
Monounsaturated Fat:
1
g
|
Cholesterol:
4
mg
|
Sodium:
84
mg
|
Potassium:
27
mg
|
Fiber:
1
g
|
Sugar:
1
g
|
Vitamin A:
64
IU
|
Vitamin C:
1
mg
|
Calcium:
36
mg
|
Iron:
1
mg
Notes & Tips
It is important to rest your dough so it will proof properly. This is what makes the fried pizzas light and airy.
I like frying the dough in a shallow, wide pan. My preference is my 12-inch cast-iron skillet that is well seasoned and tends to hold the heat well.
Shortcuts & Substitutions
There is a pretty obvious shortcut that I am fine with. To make these super quick and easy, use prepared pizza dough. Just make sure it is at room temperature before you fry it. You can also make your pizza dough ahead of time and store it in the fridge until ready to use.
Another shortcut and substitution is a good jarred tomato sauce in place of sliced fresh tomatoes. This is perfect when tomatoes are not in season.
I love fresh basil leaves, but I wouldn't shy away from a cheesy, nutty, herb pesto for these pizzas.
The cheese is a personal preference. You can omit the mozzarella. You could sub with pecorino Romano for parmesan. You could also add a little ricotta to your cheese mixture for a creamier texture. If you want to make this a vegan dish, feel free to use vegan parmesan and mozzarella cheese or nutritional yeast.
If you want to be festive, make a platter of meats, cheeses, olives, and vegetables that each person can add to their pizzelles to customize them.
---
Recent Recipes