I don't know about you, but lasagna is one of those dishes that triggers childhood memories for me. It's generally pretty simple to make and it can serve a large family a filling and affordable meal, which makes it a solid choice for any parent's arsenal. This version of lasagna has a fun twist and uses homemade polenta instead of regular lasagna pasta. There is a lot of cheese in this recipe, but I do include some alternative suggestions if you are vegan or lactose intolerant. If you love dairy and want even more, round off your dinner with tres leches cake!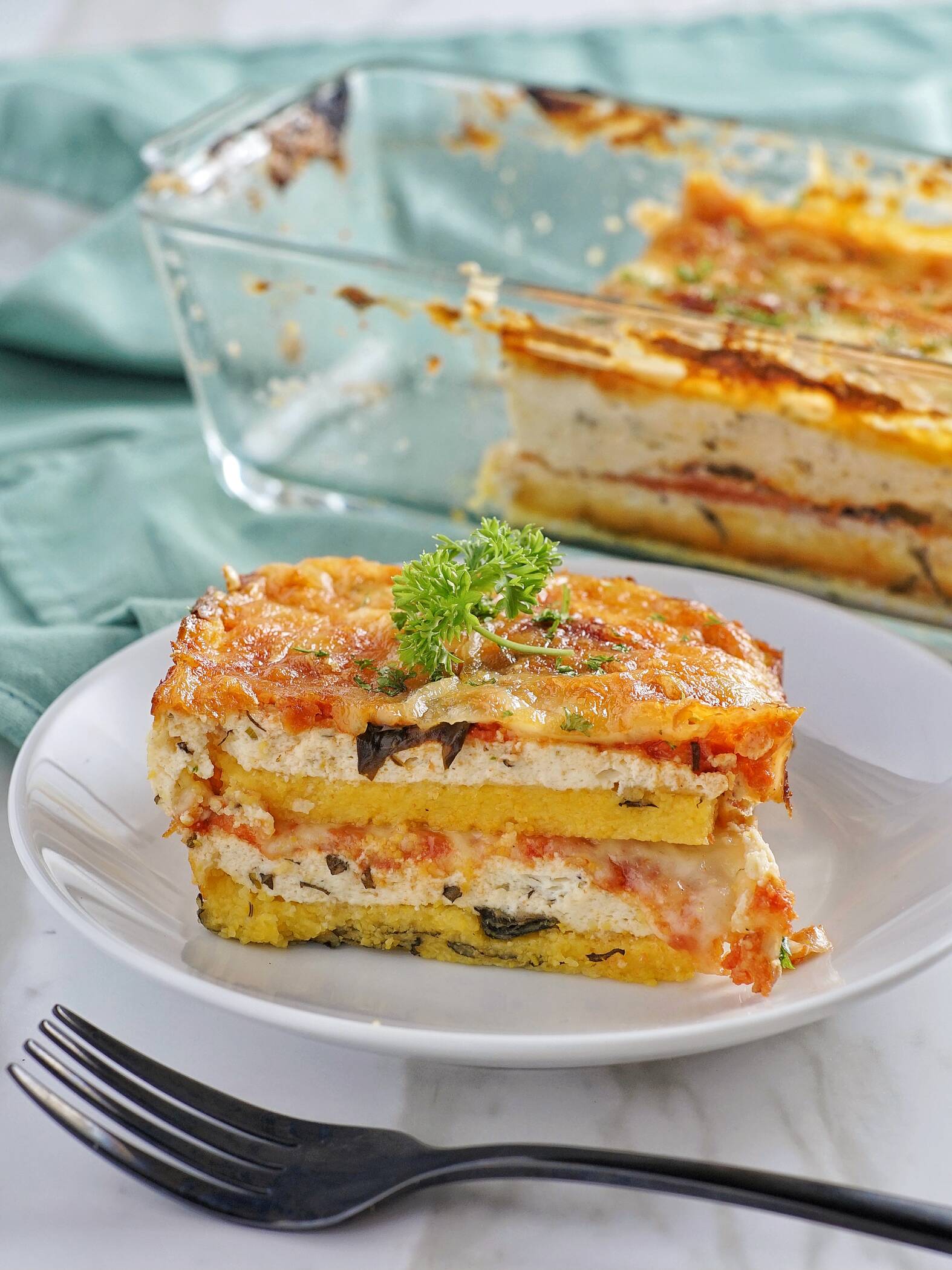 Ingredients
4

tbsp

unsalted butter

1

tbsp

& ½ tsp salt

2

cups

polenta

5

cups

baby spinach

2

cups

grated parmesan

1 2/3

cups

ricotta

3

tbsp

fresh parsley

2

tbsp

fresh basil

1

egg

½

tsp

pepper

⅛

tsp

ground nutmeg

1

can marinara sauce

4

cups

shredded mozzarella
Instructions
Make sure you have all your ingredients together.

Preheat the oven to 425F. Prep a 13 x 18 inch baking tray by greasing it using butter or non-stick spray. Layer parchment paper on top and grease the paper as well.

Add 6 cups of water and 1 tbsp of salt to a large pot and bring to a boil. Turn the heat down to medium and add the polenta. Whisk continuously at first, then occasionally for 10 minutes or until the polenta thickens.

Mix in the butter until incorporated.

Add the spinach and stir for 2 minutes, or until the spinach starts to wilt.

Remove the pot from heat and add half the parmesan.

Pour the polenta onto the greased baking sheet and smooth it evenly across the top. The goal is to have evenly cooked lasagna. Evenly spread ½ cup of parmesan on top.

Put the tray in the oven and cook for 15 minutes or until the polenta feels hardened and the cheese on top has melted.

Remove from oven and let it cool in the pan for an hour, or until it is completely cold. You could also put the pan in the fridge or freezer to speed up the process (but don't let it freeze!).

To bake the actual lasagna, turn the oven heat to 400F and prep a 9 x 13 inch baking dish. Like before, you can use butter or non-stick cooking spray. Don't use parchment this time.

Finely chop the parsley and basil before adding it in a mixing bowl with the ricotta, egg, pepper, nutmeg, and ½ tsp salt. Stir until everything is thoroughly mixed.

Use a large, sharp knife or a pizza cutter to cut the cooled polenta in half horizontally. Place one half on the bottom of the prepped baking dish. Don't worry if it breaks, just cover the surface as best you can.

Spread half the ricotta mix evenly on top of the first layer. Spread half the marinara on top next, then cover with half the mozzarella.

Repeat the next layers the same: polenta, remaining ricotta, remaining marinara, and remaining mozzarella. Cover with the rest of the parmesan.

To protect your oven from spills, put the baking dish on a larger tray before placing it in the oven for 30 minutes. For a crispier top, after it's done cooking, turn your oven to broil and let the cheese on top crisp for a couple minutes.

Take the dish out of the oven and let it sit for 15 minutes before serving. Enjoy!
Video
Notes
Video Note: The video is making only 2 servings, not 8 servings.
Nutrition
Calories:
596
kcal
|
Carbohydrates:
41
g
|
Protein:
34
g
|
Fat:
33
g
|
Saturated Fat:
20
g
|
Polyunsaturated Fat:
2
g
|
Monounsaturated Fat:
9
g
|
Trans Fat:
1
g
|
Cholesterol:
128
mg
|
Sodium:
2119
mg
|
Potassium:
589
mg
|
Fiber:
2
g
|
Sugar:
5
g
|
Vitamin A:
3392
IU
|
Vitamin C:
13
mg
|
Calcium:
705
mg
|
Iron:
3
mg
Notes & Tips
If the marinara isn't quite up to your standards, you can easily improve it! Add some red pepper flakes, dried oregano, garlic, salt, and pepper. Or, even easier, add some Italian seasoning mix (which is usually made up of oregano, thyme, basil, and rosemary). Whenever I make a simple pasta for dinner, I used cheap, canned marinara and I always add Italian seasoning and usually extra basil. It's a quick cheat for making your sauce classier.
If you don't have a large 13 x 18 inch baking sheet, you can break up the polenta into two smaller baking sheets. When you assemble the lasagna, you want the surface to be covered, so it would be fine either way.
This will keep in the fridge for a week, but it also does really well in the freezer. This is a good, robust meal to prepare, freeze, and take out when you're having an off day. You could also divide it into servings before freezing, then defrost it in the fridge overnight before taking it to work for lunch the next day.
Vegan Substitutions
This is an excellent vegetarian recipe, but it has so much cheese that it wouldn't work for vegans. And we love vegan food here. Luckily, nothing is impossible, so there are ways to make this lasagna vegan friendly. For the butter, substitute plant butter if you have it, and olive oil or vegetable oil if you don't.
All of the cheeses can be replaced by dairy-free alternatives. I would give you specific names if I could, but most of them are just called "vegan parmesan," "vegan mozzarella," etc. Most vegan cheeses are made up of cashews, nutritional yeast, tofu, and spices, depending on what type and brand.
While most cheeses have the same name prefaced by "vegan," ricotta might be a bit different. Unless you make your own (which is totally possible and actually quite easy), you will probably need to look for vegan cream cheese or vegan soft cheese. If that still fails, use vegan yogurt (as thick as you can find it). With the vegan diet and lifestyle becoming increasingly popular, it shouldn't be difficult for you to find the appropriate substitutions in your local grocery store.
What Kind of Polenta?
Polenta is a corn product that could be considered the oatmeal of corn. Polenta is generally a term used for finer ground cornmeal and it can be yellow or white. The kind of polenta you want for this recipe is finely ground polenta. Course ground or white polenta would also be acceptable, but you do not want instant or precooked polenta. Stick to fine or course ground polenta and you should be good to go!
---
Recent Recipes