Simple Polish Cream Cake (Karpatka)
Karpatka or Polish Cream Cake is a delicate, yet decadent traditional Polish dessert made of soft, flaky pastry with a rich, delicious cream filling. The cake is simple yet stunning in both its taste and sheer elegance of it. The choux pastry is soft, buttery and flaky while the cream filling is thick and gloriously rich. It is a lovely balance, one of the prettiest cakes I have seen, because of its rough, uneven shape.
The Karpatka can be made with a cream or custard filling, I have made a simple enough cream filling. The whole cake is very straightforward but time consuming so you can make the pastry ahead. The cake lasts in the fridge for up to two days if by some chance you end up with leftovers. If you do make Karpatka, it is best had fresh and finished the day of.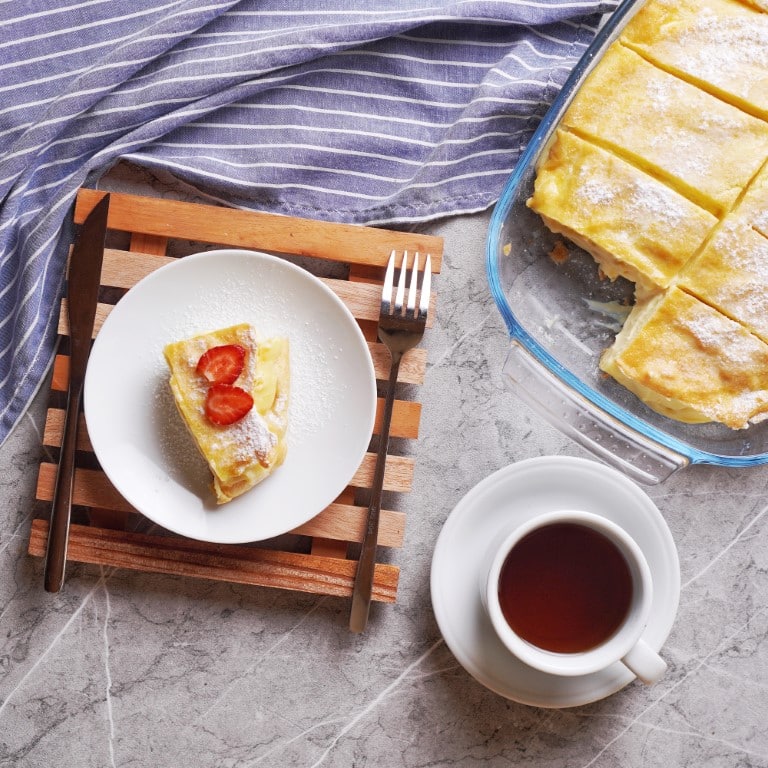 Ingredients
For the Choux Pastry
1

cup

water

1

cup

all-purpose flour

A pinch of salt

10

tablespoons

of unsalted butter

5

eggs
For the Cream Filling
4

cups

milk

1

cup

sugar

5

yolks

2

teaspoons

of vanilla essence

5

tablespoon

of cornstarch

5

tablespoons

white flour

1

cup

butter

Powdered sugar
Instructions
All ingredients ready? Let's begin!
Choux Pastry:
Preheat the oven to 390 degrees F.

Line two 9 x 13" baking pans and spray and set aside.

In a saucepan, bring the water to boil with the butter.

In a mixing bowl sift together the flour and salt.

Once the water and butter boil, add the dry ingredients to it and keep whisking.

A smooth, soft dough should form that doesn't stick to the sides of the pan.

Remove from heat and add in the eggs, one at a time. You will have a shiny, glossy dough.

Divide the dough into the two baking pans equally. Spread it into a thin layer on the pan. It doesn't have to be smooth, it should look rustic and uneven, like mountains, once baked.

Place in the oven and bake for 25 – 30 minutes.

Remove from oven and cool over a wire rack.
The Cream Filling:
In a medium saucepan bring 3 cups of milk to boil. Add the sugar to it and keep whisking till all the sugar dissolves

In another bowl, add the remaining 1 cup of milk, vanilla extract, the eggs and the all-purpose flour and cornstarch. Whisk till smooth and lump-free.

Now add the flour and egg mixture to the milk and sugar and keep whisking over low heat until the cream thickens. Cover and refrigerate.

While it cools, take the butter and whisk till it is soft and fluffy.

While beating the butter, start adding the cooled cream little by little. Keep whisking till you get a nice, fluffy cream.
Assembling the Karpatka Cake:
Take one of the two choux cakes and place it back in the baking pan.

Slather with the cream filling on top. The entire cake should be covered in cream.

Place the second layer of the cake on top of the cream.

Place in the fridge and cool for 3-4 hours.

Sprinkle with powdered sugar, slice and enjoy.
Nutrition
Calories:
390
kcal
|
Carbohydrates:
43
g
|
Protein:
10
g
|
Fat:
20
g
|
Saturated Fat:
11
g
|
Polyunsaturated Fat:
1
g
|
Monounsaturated Fat:
6
g
|
Trans Fat:
0.5
g
|
Cholesterol:
223
mg
|
Sodium:
101
mg
|
Potassium:
242
mg
|
Fiber:
1
g
|
Sugar:
27
g
|
Vitamin A:
796
IU
|
Calcium:
180
mg
|
Iron:
1
mg
Tips & Tricks
The cake is actually choux pastry because no rising agent is used
The cake shouldn't have a smooth finish when baked, but be uneven as it is supposed to resemble the Carpathian Mountains the cake is named after
Remember to let the cream and the cake cool before assembling it together
You have to refrigerate the cake, as it gives the cream time to settle. You can refrigerate it for 3 hours to overnight.
You can use a whisk of electric mixer or hand mixer to get a smooth finish for the dough and for a soft and fluffy cream filling.
The traditional recipe uses potato flour in the cream filling, which you can use instead of cornstarch
Storage
Karpatka tastes best when eaten the same day, but it will keep in the fridge for up to two days. It cannot be left outside because of the cream filling. The cake will start to get soggier but still taste delicious. You cannot freeze it.
You can make the cake ahead and wrap it in foil and keep it in an airtight container in the refrigerator for no more than two days. Make the cream filling the morning of or the previous night. The fresher the cream filling, the better it tastes.
FAQs
What is choux pastry?
Choux pastry is a form of pastry that is made with just flour, water or sometimes milk, butter and eggs. It doesn't use a rising agent like cake does. It can also be made without sugar, as oftentimes the sweetness comes from the filling. Choux pastry is usually used to make baked goods like eclairs and profiteroles. Choux means "cabbage" in French referring to the irregular shape the pastry takes when baked.
Choux pastry is delicate and flaky and is common in European cooking and baking.
What is Karpatka?
Karpatka is a Polish cake made with cream or custard filling. The word Karpatka refers to the Carpathian Mountains the cake is said to resemble when it is baked. It is a traditional Polish cake that has to two layers of choux pastry with a creamy filling. Karpatka is called Polish Cream Cake, Polish Custard Cake, Carpathian Cream Cake or variations of it.
Substitutions
Okay, so you do not want to change things up too much as the Karpatka is a traditional cake that is made a certain way. Changing or substituting might make it an entirely different dessert.
The Choux Pastry: You can use water or milk to make the pastry, although water is most commonly used.
You can add sugar to the pastry.
While the uneven texture of the cake is what gives it its name, if you want to make it a regular cake you can but be aware that it won't be the traditional Karpatka. You can also use a puff pastry base, shortcrust pastry or regular sponge cake, but it won't be the same.
Cream Filling: You can use a cream or custard filling. You can also use flavored cream or custard, like vanilla, buttercream, chocolate, if you want to give a little twist to this traditional cake.
Accompaniments
You can have this delicious cake with some berries, a compote or coulis. It also pairs great with tea or coffee.
For more such decadence try the Everyday Sunday Chocolate Cake or the Chocolate Lavender Cake.
---
Recent Recipes