You may have heard of pomodoro sauce or have seen it on a menu and wondered what it is, especially when compared to other Italian tomato-based sauces. The word pomodoro might be confusing because it translates to golden apple. This refers to the color of yellow tomatoes, which are mostly heirloom varieties and not always easy to find, except at some farmer's markets. Pomodoro sauce was likely made with these golden-colored tomatoes originally. These days, pomodoro sauce is made with ripe red tomatoes.
What is unique about pomodoro sauce compared to other tomato sauces is its creamy and thick texture. Marinara sauce is a bit runny and even chunky with tomatoes. Bolognese is textured with ground meat. Pomodoro is smooth and clings beautifully to pasta.
Ideally, pomodoro sauce is made with fresh ripe tomatoes with the skins and seeds removed. It is then blended until smooth. You can make it with canned crushed tomatoes or tomato purée. The other ingredients are olive oil and garlic. I add onions and basil for a little more depth of flavor.
While pomodoro sauce is excellent on all shapes of pasta, it is also a great topping for pizza and eggplant or chicken parmesan. It is also really nice on steak pizzaiola and in lasagna.
Pomodoro sauce is not very hard to prepare but you do need to have a little patience when using fresh tomatoes at the height of their season in summer. I actually look forward to blanching, peeling, and seeding the tomatoes. I take what my garden or farmer's market has to offer and get into a zen state of mind and relax into the process. It brings me back to my childhood when my mother used her mother's vintage hand-cranked grinder that was clamped to the side of the countertop to extract all the juice from our garden of tomatoes. It took a long time, but it was calming and we had a lot of super fresh tomato sauce that could be stored in the freezer for the winter.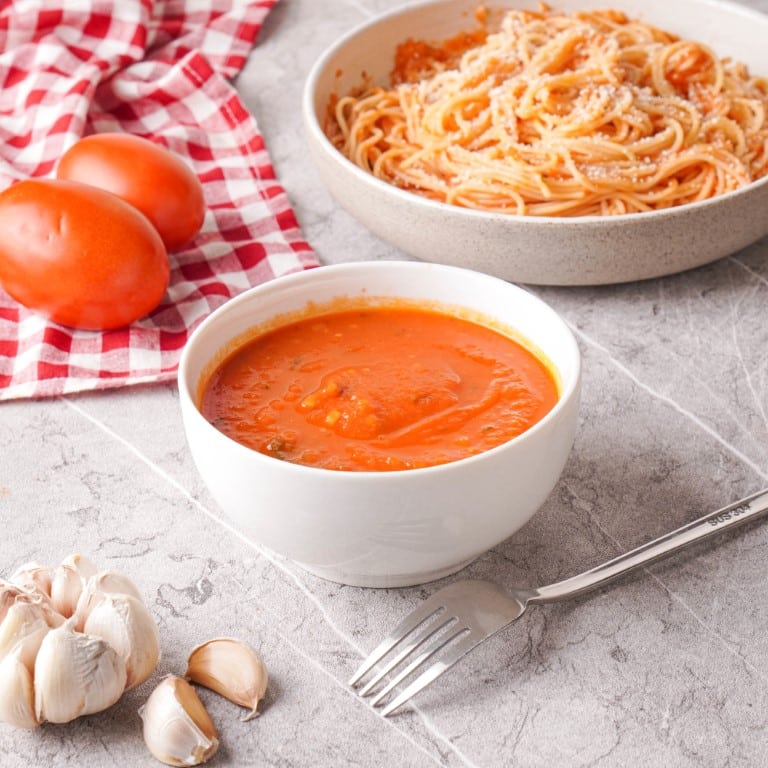 Ingredients
5

pounds

ripe Roma or beefsteak tomatoes

2

Tbsp

extra virgin olive oil

½

peeled and finely minced or grated yellow onion

4

finely minced or pressed garlic cloves

15

fresh basil leaves

minced finely

1

tsp

sea salt

1

tsp

freshly ground pepper

1

pound

cooked pasta for serving

Grated pecorino Romano cheese for serving
Instructions
All ingredients ready? Let's begin!

Bring a large saucepot of water to a simmering boil over medium-high heat. Fill a large bowl halfway with cold water and add 3 cups of ice to the water.

While waiting for the water to boil, make small cross incisions in the bottoms of the tomatoes using a sharp paring knife or serrated knife. Once the water is boiling, plunge the tomatoes in the water and boil for 15 to 30 seconds until the skins start to peel back from the flesh. As soon as the flesh starts to peel back, immerse the tomatoes in the ice water bath using a slotted spoon.

Drain the tomatoes in a colander. Using your hands, peel the skins off the tomatoes and discard them. Once peeled, cut the tomatoes in half and slice the tough stem/core out and discard.

Cut each half again so your tomatoes are quartered. Using a small spoon, remove the seeds to a bowl that will collect them and all the juices.

Using a fine sieve and a rubber spatula or wooden spoon, press the seeds until all the juices have been strained back into the bowl. Discard the seeds.

You will end up with about 4 cups of tomato flesh and 1/2 cup of tomato juice.

Place the tomatoes and juice in a blender and process until smooth. Set this aside.

Place the saucepot that you blanched the tomatoes in over medium heat. Add the olive oil, onions, and garlic. Cook the aromatics until soft and translucent, approximately 8 minutes.

Add the puréed tomatoes and juice to the pot. Once the tomatoes start bubbling, reduce the heat to a low simmer and cook for 30 minutes until thick and creamy, stirring often.

Add the basil, salt, and pepper to the sauce. Cook for another 5 minutes. Taste and add more seasoning if desired.

Toss the pomodoro sauce with pasta. Sprinkle with cheese and enjoy.
Nutrition
Calories:
191
kcal
|
Carbohydrates:
30
g
|
Protein:
7
g
|
Fat:
6
g
|
Saturated Fat:
1
g
|
Polyunsaturated Fat:
1
g
|
Monounsaturated Fat:
3
g
|
Cholesterol:
4
mg
|
Sodium:
349
mg
|
Potassium:
722
mg
|
Fiber:
5
g
|
Sugar:
8
g
|
Vitamin A:
2427
IU
|
Vitamin C:
40
mg
|
Calcium:
77
mg
|
Iron:
2
mg
Notes & Tips
If you have ever watched the movie "Goodfellas" you may know that tomato sauce is one of the unifying ingredients/activities in the entire story. Henry Hill is mixed up with some unsavory characters, but he takes the time to make pomodoro sauce both at home and while in jail. He lets it simmer all day long and stirs it so it doesn't scorch. My point is that you can cover this sauce and cook it for hours low and slow until the flavor is insanely concentrated. Add a little water from time to time, if needed. This is good stuff.
When serving pomodoro sauce over pasta, add a ladle or two of the pasta water to the sauce to make it silky and a little richer. The starch from the pasta water will help the sauce to adhere to the pasta.
Pomodoro sauce will keep in the refrigerator for about a week. You can seal it well and freeze it for up to 4 months.
Substitutions
Tomatoes: I always use fresh tomatoes for pomodoro sauce when they are in season. If it is a cold winter day and I am craving the aroma and warmth of a pot of good tomato sauce simmering on the stove, I reach for canned San Marzano peeled tomatoes or Muir Glen organic crushed tomatoes to make my sauce. Tomato purée works too. San Marzano is the king of tomatoes when it comes to making tomato sauce. For this recipe, use 3 (28-ounce) cans of crushed tomatoes in place of fresh tomatoes.
Onions and Garlic: Sometimes I will use 3 shallots instead of the garlic and onions. Shallots are a cross between both and have a very sophisticated flavor profile that is both pungent and mellow at the same time. It is hard to describe until you have cooked with them.
Basil: This herb is so classic in great tomato sauces. You could also add fresh oregano or thyme. If you don't have fresh herbs, it is fine to use a good dried Italian seasoning blend.
---
Recent Recipes