Sweet & Gooey Chocolate Popcorn Bar Slab
Light and fluffy popcorn bars are the ideal snack for kids and adults alike. Easy to customize with endless ingredient options and easy enough for anyone to make, our simple popcorn bar slab recipe will blow you away with texture and a combination of salty and sweet that no one can say no to. These popcorn bar slabs don't require any baking and come out like a store-bought candy bar.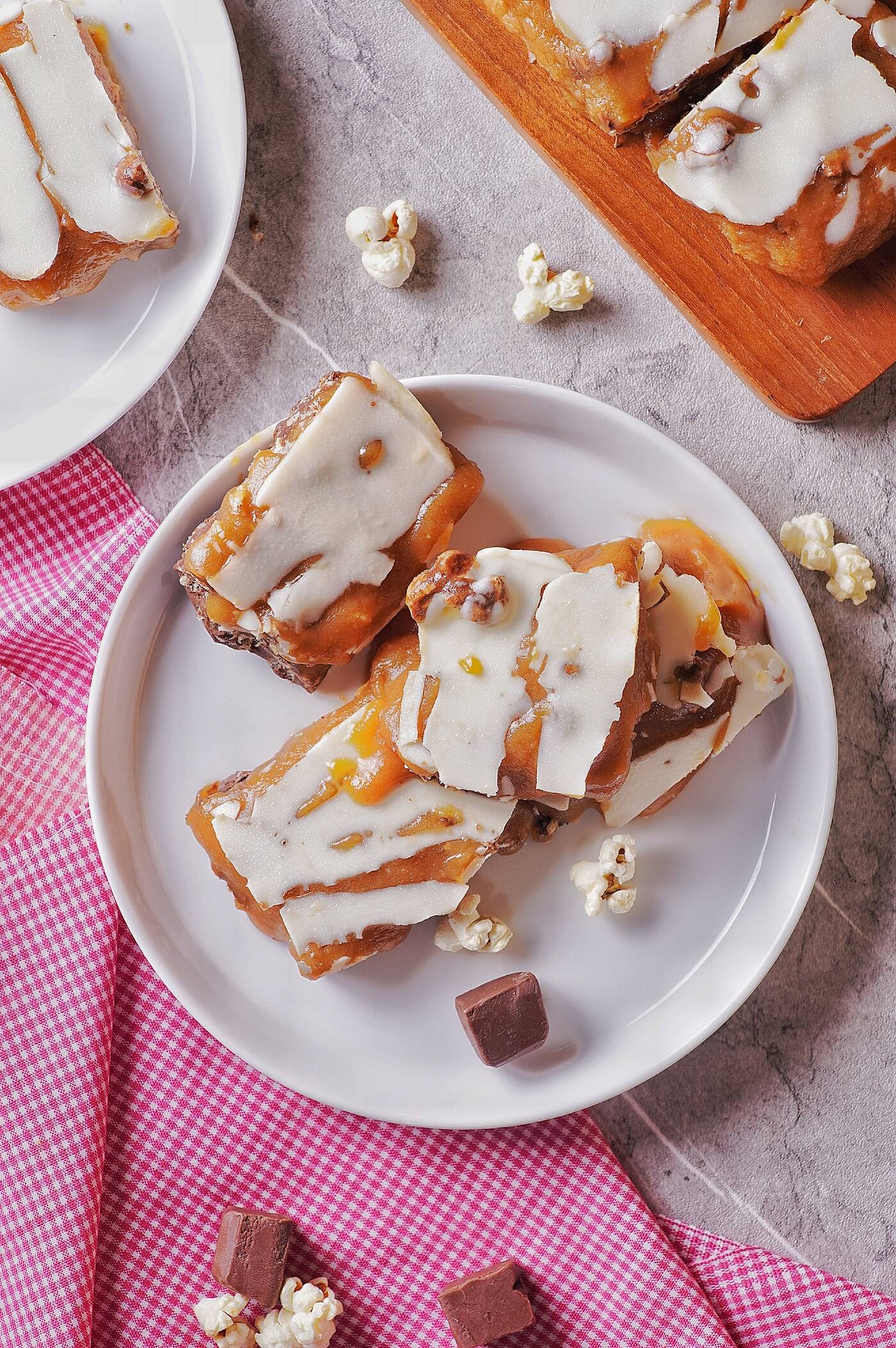 Ingredients
1

Cup

Plain Milk Chocolate

Broken Into Blocks/Chunks

¾

Cup

Salted Popcorn

½

Cup

Popped Rice

Rice Krispies

1

Cup

Granulated White Sugar

6

Tablespoons

Butter

½

Cup

Heavy Cream

½

Teaspoon

Salt

¼

Cup

2 Ounces Dark and/or White Chocolate

Broken Into Blocks/Chunks

1

Teaspoon

Coconut or Vegetable Oil
Instructions
Assemble your ingredients and check you have everything.

Break the plain milk chocolate into blocks and slowly melt in a double boiler or the microwave.

Stir the popcorn and puffed rice into the melted chocolate until well combined.

Line a 9×13-inch baking pan with parchment paper and pour in the popcorn mixture.

Place in the refrigerator for 2 to 3 hours.

At roughly 30 to 40 minutes before the slab has finished setting, start making caramel by heating a small pot or saucepan containing the granulated sugar over medium to low heat.

Stir constantly as the sugar melts to a syrup, turning an amber color. Take great care to prevent burning.

Once the sugar has turned to syrup completely, take off the heat and stir in the butter gradually. If the butter separates or the sugar crystallizes, whisk it constantly until it reforms smoothly and continue adding butter again.

After the sugar syrup and butter have combined, return to low heat and cook without stirring for a minute.

Remove from the heat and begin gradually stirring in the heavy cream.

Once well combined, return to the heat and cook without stirring for a minute.

Stir in the salt, remove from the heat, and set aside.

Melt the white chocolate or dark chocolate in a double boiler.

As the chocolate begins to melt, stir in a tablespoon of coconut or vegetable oil and continue stirring until a smooth consistency is reached.

Remove the popcorn bar slab from the fridge and drizzle over caramel.

Pour over melted dark or white chocolate.

Allow the caramel and chocolate to set for an hour.

Slice into slabs in any size preferred. Six to nine bars are generally optimal.

Preheat your oven to 350°F and bake the popcorn bar slab with its set coating on a parchment paper lined baking tray for 5 minutes to warm it up.
Video
Nutrition
Calories:
299
kcal
|
Carbohydrates:
43
g
|
Protein:
2
g
|
Fat:
16
g
|
Saturated Fat:
9
g
|
Polyunsaturated Fat:
1
g
|
Monounsaturated Fat:
5
g
|
Trans Fat:
1
g
|
Cholesterol:
20
mg
|
Sodium:
161
mg
|
Potassium:
112
mg
|
Fiber:
2
g
|
Sugar:
38
g
|
Vitamin A:
317
IU
|
Vitamin C:
1
mg
|
Calcium:
34
mg
|
Iron:
1
mg
What Do Popcorn Bar Slabs Taste Like?
Our popcorn bar slabs taste very similar to Pret's Popcorn Bar, but our recipe has the primary type of chocolate inverted. Instead of using a base of white chocolate, we've gone for melted milk chocolate. This gives each bar a taste that's more akin to a brownie with a rewarding crunchy mouthfeel that offsets the silky chocolate perfectly.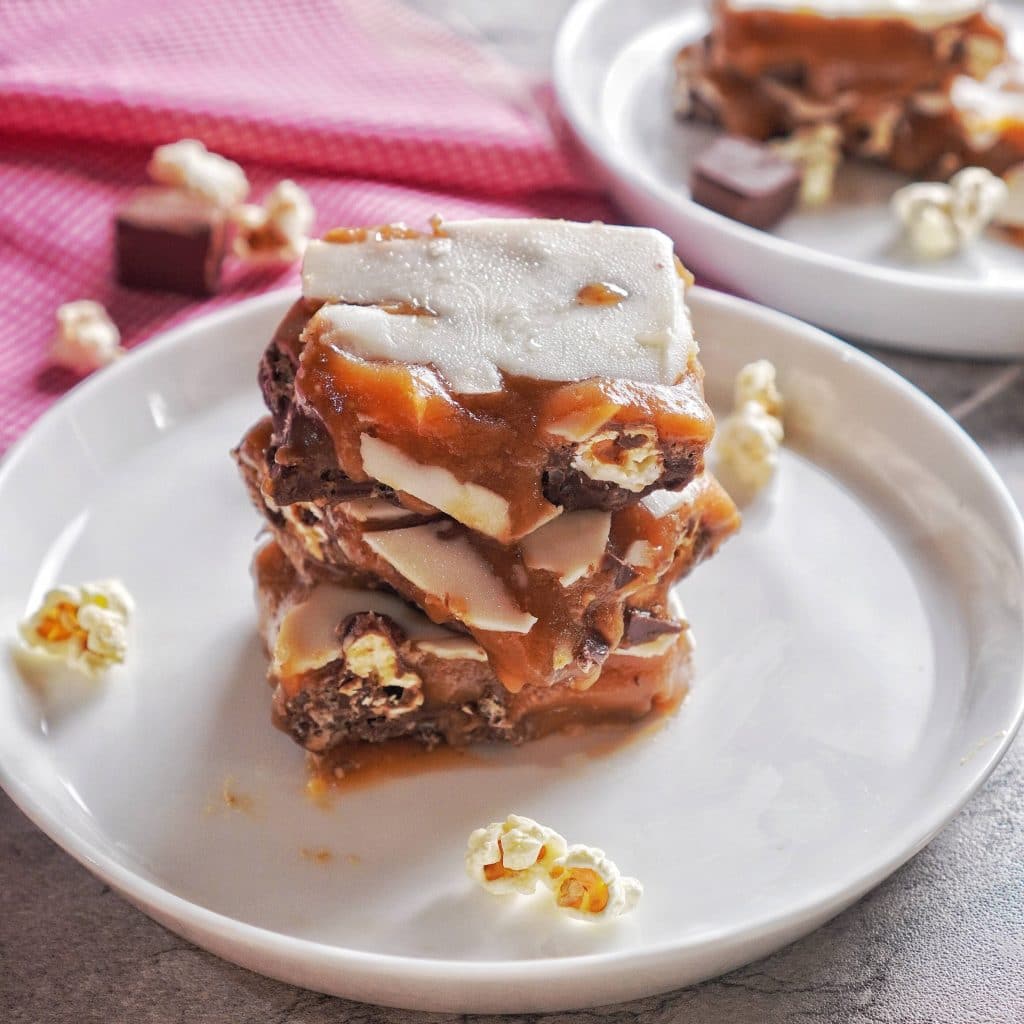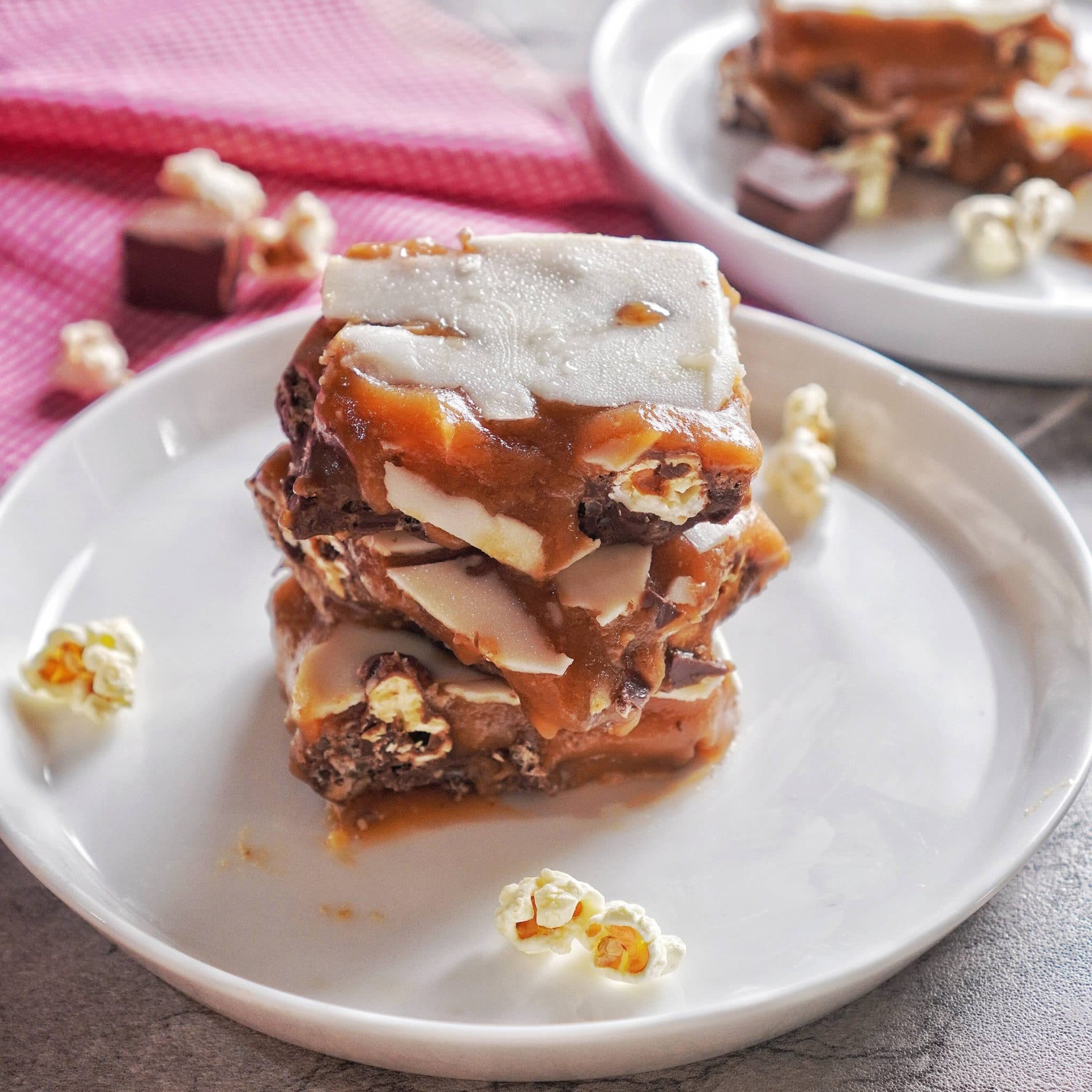 Popcorn Bar Slab Tips
Chocolate never needs direct heat to melt. It has such a low melting point that one's own body temperature can melt it. We strongly advise using a double boiler or makeshift double boiler over melting in the microwave. Regardless of which method you use, always melt chocolate gradually.
If you don't have a double boiler, make a make-shift one by suspending a heat-resistant glass bowl on top of a saucepan. It must rest on the edges of the pan but not touch the water directly. Turn the heat to low and add the chopped-up chocolate to the bowl. Melt while stirring constantly until smooth. In the microwave, you'll never need more than 50% power, and it'll normally take 3 minutes for 7 to 8 ounces of chocolate. Stop and stir every 20 seconds to ensure even melting.
Popcorn Bar Slab Variations
Popped rice and popcorn don't have to be the only things you include in these tasty popcorn bars. The simplest way to start customizing the base recipe is to adjust the proportion of ingredients accordingly and partially substitute either popcorn and popped rice or just popped rice. Adding a few extras will lift the recipe but too many ingredients and your popcorn bar will end up too dense. Switch it out in favor of tasty ingredients like marshmallows, broken-up pieces of biscuits like graham crackers, nuts, or irresistible bits of your favorite chocolate or sweet. Add a healthy helping of Ferrero Roche or chocolate liqueurs broken apart, and no one will be able to say no.
The base flavor can be altered by blending in essences and liquid ingredients. From essence of almond to maple, banana, peppermint, and vanilla, popcorn bars are easy to customize. Try adding pieces of your favorite chocolate combined with a flavor element featured in its own recipe to give your slab a definite taste that you'll keep coming back to. Add a few tablespoons of strong brewed black coffee to the melted milk chocolate and mix in a tablespoon or two of powdered sugar to thicken things up.
Take advantage of the layering process to incorporate flavor. Coat with chocolate fudge sauce, butterscotch, praline, or any type of chocolate shell you prefer. All types of icing work on these tasty popcorn bars just make sure it sets nice and hard. Fondant is ideal. Think outside of the box, and you'll soon see just how much simple but outstanding additions you can make.
How To Store Popcorn Bar Slabs?
Store popcorn bar slabs in an airtight container in a cool place. They do not need to be refrigerated but if there is a risk of melting, refrigeration is recommended.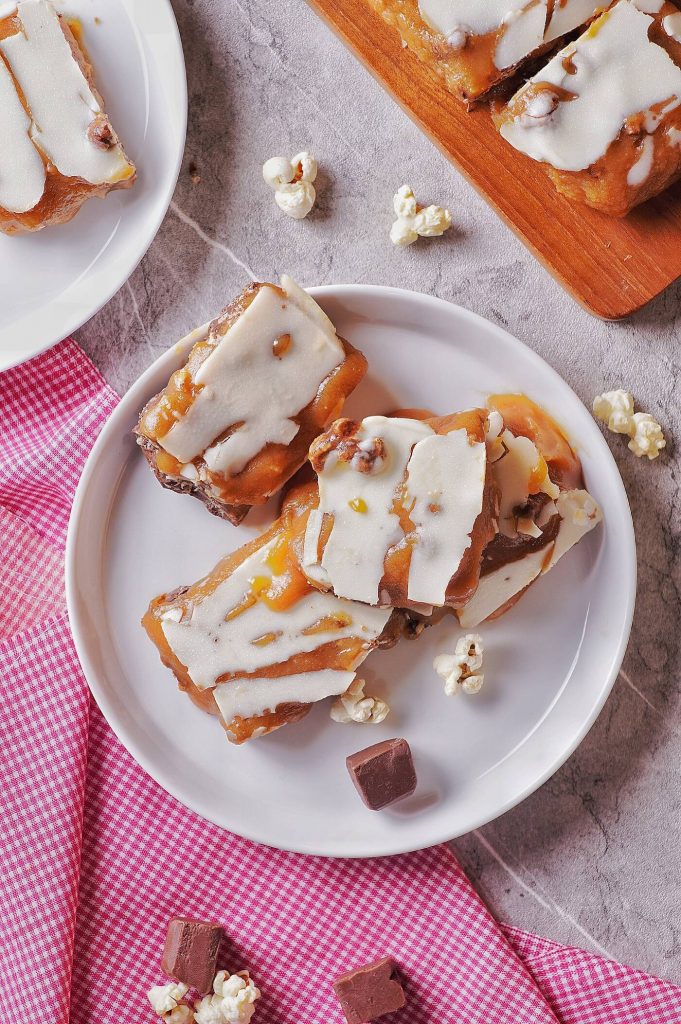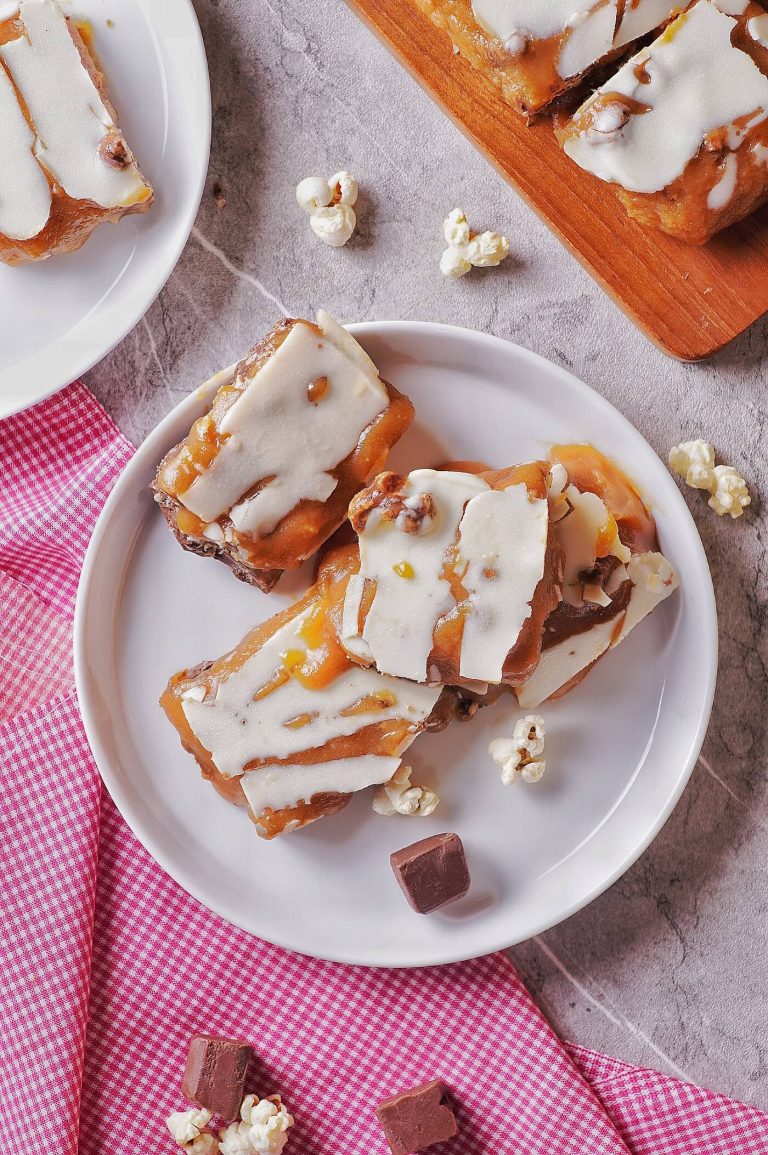 How Long Do Popcorn Bar Slabs Last?
Properly stored popcorn bar slabs will stay fresh for three to four days when stored in an airtight container and up to a week or more when refrigerated.
Why Does Popcorn Turn Out Tough?
One of the first challenges faced by anyone new to making popcorn at home is the chewy texture that often arises. Instead of turning crunchy, popcorn all too often ends up tough and chewy. This occurs due to too much moisture being trapped in the pot used for popping. Instead of the moisture escaping as steam, it's locked inside, which effectively steams the popcorn chewy. Open the lid infrequently to allow the steam about while also shaking the pot to evenly disperse the kernels. Too much oil can also cause the popcorn to stew instead of pop. Only use as much as you need, which is roughly a tablespoon for every quarter cup of popcorn.
---
Recent Recipes