Easy Homemade Pork Belly Banh Mi
Pork belly banh mi is a delicious, Vietnamese sandwich that utilizes my very favorite cut of meat. If you have never had pork belly, you're missing out. When cooked properly, it has an amazing melt-in-your-mouth kind of texture. Do you like sweet BBQ pulled pork? You'll probably love this soft, marinated pork belly.
This recipe is relatively easy to prepare, but keep in mind that the pork does need about an hour to cook. Also, if you're looking to make your own pickled carrots to go with it, you'll need to make those several days in advance so they have time to ferment.
When getting the bread for the sandwich, the traditional option is a Vietnamese baguette. I've instructed you to get 8 bread rolls, but if you want to be extra authentic, get a few fresh-baked baguettes to assemble the sandwiches in.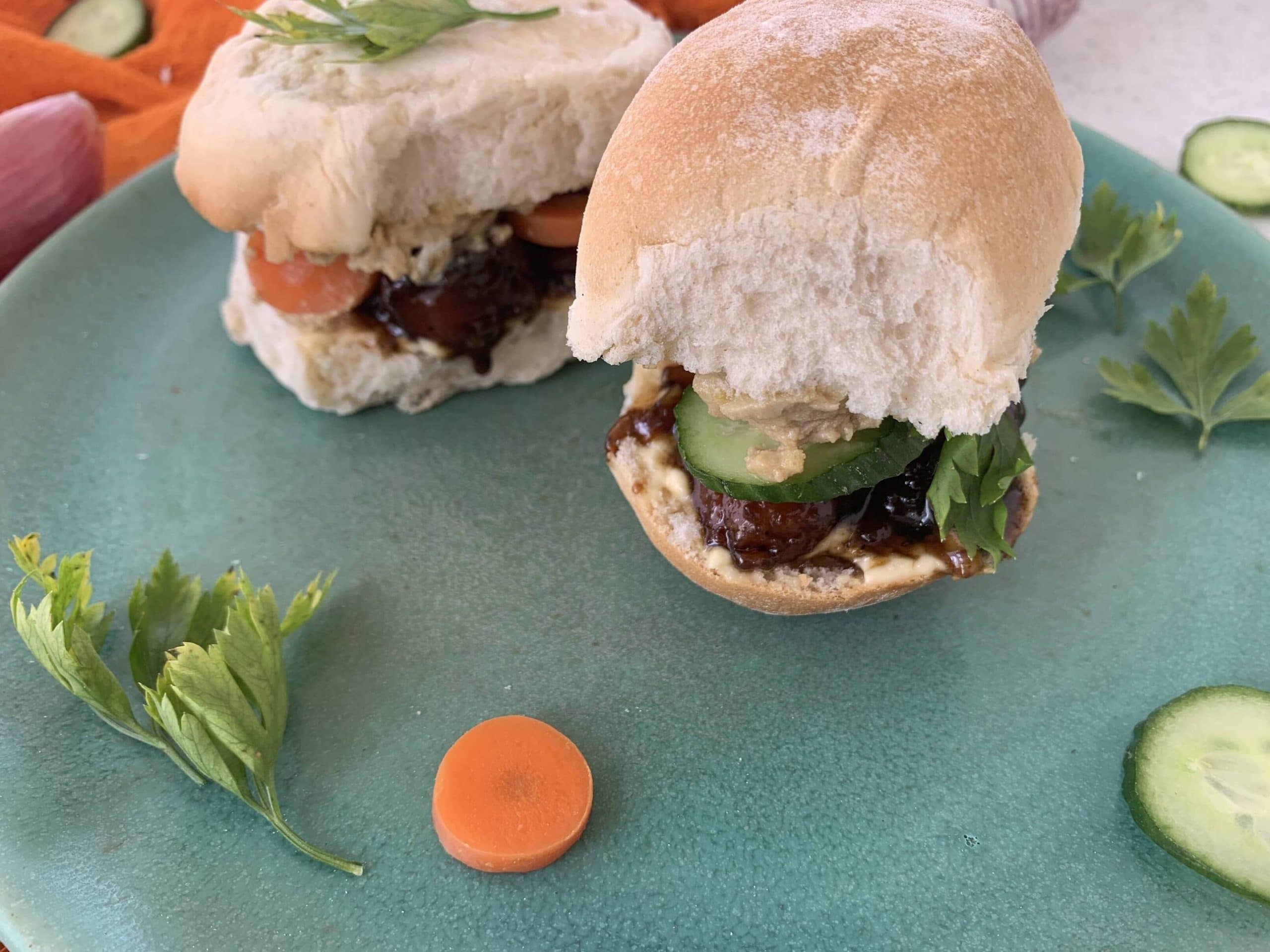 Ingredients
2

lbs

pork belly

4

shallots

5

garlic cloves

1

tbsp.

olive oil

1

tsp.

salt

1/2

tsp.

black pepper

1/3

cup

brown sugar

1 ¾

cups

water

2

tbsp.

fish sauce

4

tbsp.

soy sauce

For serving:

Cucumber

Chili pepper

Fresh cilantro

8

bread rolls

1

can pork liver pate

Kewpie mayonnaise

Pickled carrots
Instructions
Cut the pork belly into 1-inch cubes. Mince the shallots and garlic and add together with the pork into a large bowl.

In the same bowl, add together the oil, salt, and black pepper. Stir or toss with your hands until everything is evenly coated. Cover and put this bowl aside to marinate while you do the next step.

In a large saucepan over high heat, mix together the sugar and 2 tbsp. of water. Bring to a boil and carefully monitor until it starts to brown. The caramel will burn really quickly, so make sure you are watching it and stirring at all times.

Once the caramel has reached a golden brown color, immediately add the contents of the pork bowl and turn the heat down to medium. Constantly stir to coat the pork with caramel for about 5 minutes.

Add 1 ½ cups of water, the fish sauce, and the soy sauce, then bring the heat down to allow a simmer. The pork will need to be left at this heat for 45-60 minutes. Stir occasionally and spoon off any fat lard that floats to the top. The excess fat can be thrown away. Once the pork has reached your preferred level of tenderness, take it off the oven and set aside.

Use a vegetable grater to cut the cucumber into thin slices. Carefully cut the chili pepper in half, remove the seeds, and slice thinly. Destem the cilantro and roughly chop.

To assemble the sandwich, cut each bread roll in half. On one half, spread the Kewpie mayo. On the other half, spread a generous helping of pate. Spoon the pork on top of one half and drizzle with sauce. Pile on cucumber, chili slices, pickles carrots, and top with a sprinkle of cilantro. Place the other half on top and voila!

Enjoy your delicious pork belly banh mi!
Video
Notes & Tips
For a less fatty version, you can replace some or all of the pork belly with a leaner pork meat. It is slightly healthier to use pork butt, but I just can't bring myself to do it. There's something so special and delicious about pork belly!
Some ingredients may be difficult to find if you don't know where to look. If you don't want to make pickled carrots, look for picked carrots and daikon or kimchi. Kewpie mayo can be substituted for regular mayonnaise. Kewpie mayo is a brand of Japanese mayonnaise that is made using only egg yolks and a sweeter vinegar, so it has a richer umami taste. You can find it here or other places online and in stores.
If you prefer, the pork can be baked in the oven. After coating the pork with the caramel glaze, bake the pork at 320F. Use a heat-proof pan and cover with foil. This method should take about the same amount of time, but check halfway through to see how it's going.
Pork belly banh mi is a very popular street dish in Vietnam and makes a wonderful lunch to grab and go or to eat while you sit down with friends.
Suggested Side Dishes
If you are having this meal in the summer when mangos are abundant and ripe, try making a mango side salad. If you have already made the pork, you should have all the ingredients you need in addition to mango. If you need a warmer, wintery side, try boiled cabbage. It's super simple, super yummy, and healthy. You can boil it while you're waiting for your pork belly to finish cooking.
Leftovers
The pork will keep in the fridge for a few days in an air-tight container. The fat in the sauce might congeal into a jelly, but don't worry, it's still perfectly safe to eat. Simply reheat it and the fat should break back down.
Leftovers pork – or just the sauce – taste great over jasmine rice.
You could also freeze the pork. Just remove it from the freezer when you're ready to eat and reheat it on the stove over medium-high heat until it is warmed through again.
---
Recent Recipes