Best Pork Belly Burnt Ends
Pork belly might be the best cut of meat ever. It's fatty, juicy, and incredibly tender and sweet. It's sort of like bacon, but better. Pork belly isn't fully appreciated in the US, so it can sometimes be difficult to find. Depending on the selection at your local grocery store, you may need to look for pork belly in a specialty shop. A butcher's shop will probably have some, or you can request it from them in advance. You can also usually find pork belly in Asian food shops, as it is commonly used in Asian cuisine. If you want to try pork belly in an Asian style, try easy pork belly banh mi, a scrumptious Vietnamese sandwich.
This pork belly dish has a BBQ inspired flavor, so you know it will be delicious. These instructions are for cooking in the oven, but you can also cook the pork belly on a grill or in a slow cooker for a slightly different result. However, the oven method is quicker and easier, even if BBQ pork cooked over charcoal has a more authentic feeling.
This recipe isn't just about the pork; it also includes a mouth-watering, homemade BBQ sauce that you'll want to keep making for everyday use.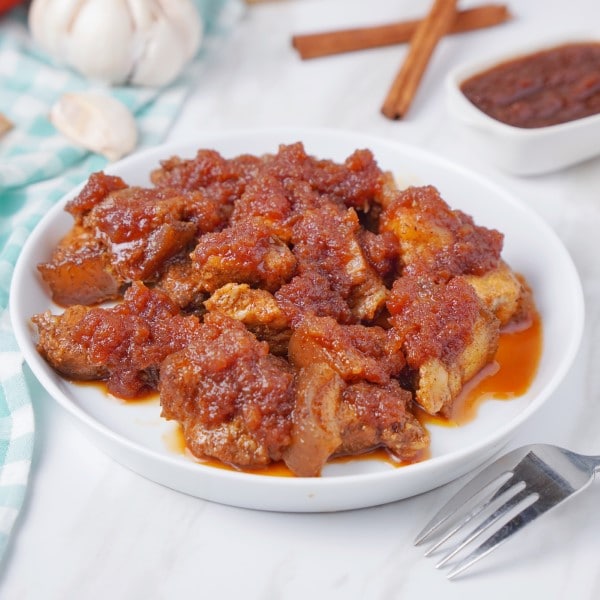 Ingredients
For the rub:
½

cup

brown sugar

2

tsp

pepper

1

tbsp

rosemary

½

tsp

cayenne pepper

¼

cup

smoked paprika

1

tbsp

salt

2

tbsp

cinnamon

1

tbsp

chili powder

1

tbsp

garlic powder

1

tbsp

onion powder
For sauce:
1

cup

tomato paste

1

cup

brown sugar

2

cups

applesauce

2

tbsp

red wine vinegar

1

tsp

salt

½

tsp

onion powder

½

tsp

cayenne pepper

½

tsp

smoked paprika
Instructions
All ingredients ready? Let's begin!

Preheat oven to 355F.

In a large bowl, combine the ingredients for the rub: brown sugar, pepper, rosemary, cayenne pepper, smoked paprika, salt, cinnamon, chili powder, garlic powder, and onion powder.

Cut the pork belly into bite-sized cubes, or about an inch big.

Add the pork belly to the rub mixture and use your hands to mix together. Each chunk of pork should be completely covered by rub on all sides.

Line a large baking sheet with aluminum foil.

Use your hands or tongs to transfer the pork pieces to the lined baking sheet, shaking off any excess rub.

Cook in the oven for about 35 minutes. Pork is done when the internal temperature reaches 145F, so if you are unsure as to whether or not the pork belly is done cooking, check with a meat or candy thermometer.

If you want crispier pork, cover the baking tray with aluminum foil and continue cooking in 15 minute increments until it reaches the desired level of crisp.

While the pork is cooking, you can make your BBQ sauce. In a small pot over medium heat, add all the sauce ingredients: tomato paste, brown sugar, applesauce, red wine vinegar, salt, onion powder, cayenne pepper, and smoked paprika.

Stir to mix. Simmer for 10 minutes or until the sauce begins to bubble, stirring occasionally.

When the sauce is nice and thick, remove from heat and set aside.

Remove the pork from the oven and drain the fat. Let cool for 15 minutes.

Divide the pork belly pieces into appropriate servings and generously drizzle BBQ sauce on top.
Nutrition
Calories:
2587
kcal
|
Carbohydrates:
60
g
|
Protein:
45
g
|
Fat:
241
g
|
Saturated Fat:
88
g
|
Polyunsaturated Fat:
26
g
|
Monounsaturated Fat:
112
g
|
Cholesterol:
327
mg
|
Sodium:
1600
mg
|
Potassium:
1417
mg
|
Fiber:
5
g
|
Sugar:
50
g
|
Vitamin A:
2703
IU
|
Vitamin C:
10
mg
|
Calcium:
114
mg
|
Iron:
5
mg
Notes & Tips
Leftover pork belly burnt ends can be kept in an airtight container in the fridge for 5 days. Reheat in the microwave. The pork might dry out a little the longer you save it, so make sure to add extra sauce. The sauce can be stored with the pork or on its own.
You do not have to douse the pork belly pieces in the BBQ sauce. If you want, you can keep them separate and serve the sauce on the side.
If you have extra rub after cooking your pork belly, you don't need to throw it away yet. You can keep it in an airtight container in the fridge for a few weeks. If you save it, you can use it for other meat dishes. Make sure that whatever you use it for will get cooked. You can use it as a rub for chicken or even cook it into a new sauce.
Because the dry rub will have been in contact with raw pork belly, it will need to be cooked before eating. If you cook it with meat later, any unsafe bacteria the pork might have left will be cooked off.
Serving Suggestions
While these pork belly burnt ends are good enough to eat on their own, you might want to serve them with something else for variety. You can get some fresh bread rolls and serve the pork as a sandwich, maybe even with some coleslaw.
Mac'n'cheese is always a great, classic side for any kind of BBQ. It has to be good, homemade mac'n'cheese, like this perfect dinosaur BBQ mac'n'cheese dish. If you want to really go all out, do it all! BBQ on a bun with coleslaw and a side of mac'n'cheese. It doesn't get much better than that.
Substitutions
Any of the spices in either the rub or the sauce can be altered according to your preferences. Alteration or removal will not affect the consistency or cooking.
For the sauce, it is best to use smooth, unsweetened applesauce. However, you can use sweetened applesauce, but I recommend reducing the amount of sugar you add. I also don't recommend using lumpy applesauce.
If you do not have red wine vinegar, you can use red wine instead. It does not matter what type of wine as long as it is red. If you want to avoid wine entirely, you can use apple cider vinegar.
If you do not have tomato paste, you can use ketchup for the sauce. Ketchup is generally already sweetened, so consider cutting down the amount of sugar you add to balance the flavor out.
---
Recent Recipes