I don't cook pork as often as I would like. I think that is because sometimes I dry it out and then I am disappointed. I do have a few go-to recipes for making juicy pork. One is pork sirloin or blade chops simmered in a bath of wine, broth, and spicy peppers. The other recipe is boneless pork loin chops in a lemony piccata sauce.
This recipe is very similar to chicken and veal piccata, which are both easy to make. I prefer lean pork, so piccata is perfect when made with loin chops. Chops cut from the tenderloin are a little too lean and small for me. I like 1/2-inch thick boneless loin chops because they have a little bit of fat cap for added flavor and are bigger than those from the tenderloin.
I tenderize the chops by placing them in between 2 sheets of plastic wrap and pounding them with the flat side of a meat mallet until they are 1/4-inch in thickness. This help to break down the meat fibers just enough so the meat isn't tough and chewy.
I make this dish in two steps. I coat the chops in seasoned flour and quickly sauté them in olive oil. After cooking the pork, I deglaze the pan with wine and then proceed to make a garlic-infused lemony broth to pour over the cooked chops. It really doesn't get much easier than that. This entrée can be on the table in 30 minutes or less.
I like serving pork piccata with a starchy side of risotto, polenta, or potatoes, specifically spicy Calabrian Pootatoes. I also have a Caprese salad on the side with ripe tomatoes, Buffalo mozzarella or burrata cheese, and fresh basil leaves. I often pair pork with white wine, such as a dry Riesling or even a dry rose from Provence.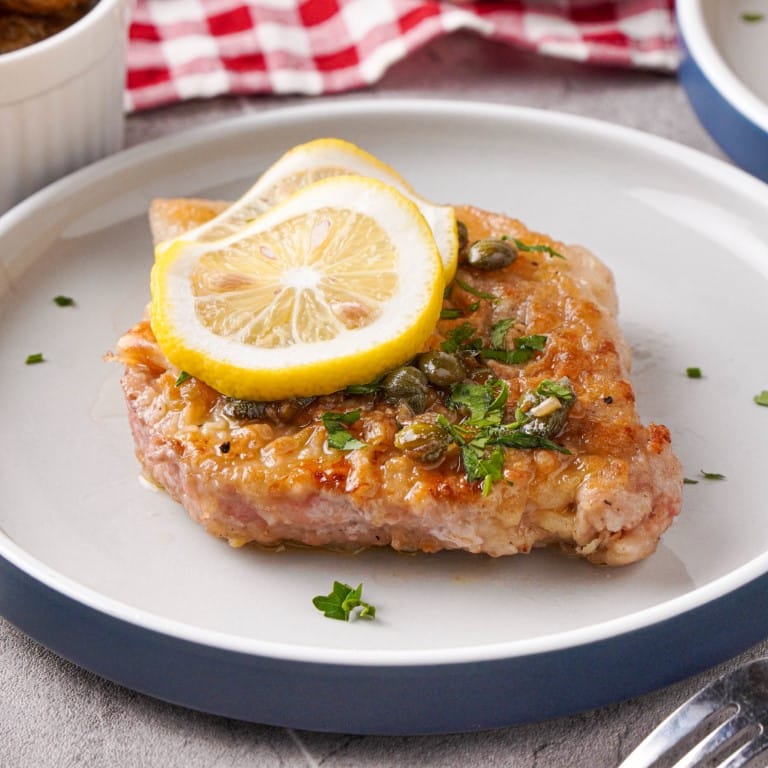 Ingredients
4 ½

inch

thick boneless pork loin chops

½

cup

all-purpose flour

½

tsp

sea salt

½

tsp

freshly ground black pepper

2

Tbsp

extra virgin olive oil

more if needed

1

large clove of garlic

minced

¼

cup

dry white wine

⅓ to ½

cup

chicken broth

Juice of 1 lemon

2

Tbsp

brined capers

drained

2

Tbsp

butter

2

Tbsp

chopped fresh flat-leaf parsley

8

thin lemon slices
Instructions
All ingredients ready? Let's begin!

Place one pork chop between 2 sheets of plastic wrap. Using the flat side of a meat mallet, pound the meat into 1/4-inch thick medallions.

Repeat with the other 3 chops.

In a wide, shallow bowl, combine the flour, salt, and pepper.

Press the chops into the flour mixture to coat each and then shake off the excess flour.

In a large skillet over medium-high heat, warm the olive oil.

Sauté the pork chops for 3 minutes.

Flip them over and sauté for another 2 minutes until almost cooked through. You might have to do this in 2 batches. Transfer the cooked pork to a serving platter and tent it with foil to keep warm.

Add the garlic to the pan. Deglaze with the wine, whisking up any browned flour bits. Cook until the wine reduces and the garlic is golden, approximately 2 minutes.

Whisk into the pan the broth and lemon juice.

Add the pork medallions back to the pan and cook for just 1 minute until warmed through.

Wipe the serving platter clean with a paper towel and transfer the pork back to the serving platter.

Add the capers and butter to the sauce and stir until it is silky and smooth.

Pour the sauce over the pork.

Sprinkle the parsley over each.

Place 2 lemon slices on each chop. Serve immediately with your favorite sides, such as risotto, polenta, or potatoes, and a Caprese salad.
Nutrition
Calories:
467
kcal
|
Carbohydrates:
15
g
|
Protein:
47
g
|
Fat:
22
g
|
Saturated Fat:
6
g
|
Polyunsaturated Fat:
3
g
|
Monounsaturated Fat:
11
g
|
Trans Fat:
0.1
g
|
Cholesterol:
141
mg
|
Sodium:
585
mg
|
Potassium:
856
mg
|
Fiber:
1
g
|
Sugar:
1
g
|
Vitamin A:
200
IU
|
Vitamin C:
11
mg
|
Calcium:
38
mg
|
Iron:
2
mg
Notes & Tips
If you want to save a bit of money, you can purchase a 4-pound loin of pork and slice your own chops and freeze what you don't use right away.
If you want smaller medallions of pork, use pork tenderloin that you can cut into small chops and pound thinly. In my experience, the texture, flavor, and size of tenderloin appeal more to kids.
If you don't have a meat mallet to tenderize the pork, you can use a rolling pin or a small cast-iron skillet.
Bone-in rib pork chops will work. But you still need to pound the flesh to tenderize it. This will resemble a pork Milanese dish with the rib bone attached.
Substitutions
Pork: Many people don't eat pork. You can easily make this recipe with pounded chicken breasts or turkey cutlets. Thinly sliced veal also works very well in this recipe. For a vegetarian spin, try zucchini planks.
Flour: I try not to eat gluten as much anymore and I do feel better for it. So, I keep an arsenal of gluten-free flour selections in my pantry. Right now, I have tapioca flour, garbanzo bean flour, buckwheat flour, and almond flour that I am baking with. Any of these will work as a replacement for all-purpose flour. You can also buy a GF blend. Bob's Red Mill has three that I like.
Olive Oil: I keep one bottle of olive oil for cooking and then a bottle of really nice olive oil for salad dressings and finishing dishes. If for some reason you don't love the taste of olive oil, try avocado or walnut oil for this recipe.
Garlic: Garlic is not essential in pork piccata. You can leave it out or substitute it with shallots or scallions. Alternatively, you can season the flour with 1/2 teaspoon of garlic powder.
White Wine: Any dry white or rose wine works in this recipe. Red doesn't work well because it turns everything pink. I simply recommend that the wine your choose is one you would actually drink, preferably the one you will serve with pork piccata. While the alcohol will cook out of the wine, if you prefer, you can use all broth instead of wine.
Lemon: I always have either fresh lemons or limes in a wooden bowl on my kitchen counter. I will use them interchangeably in dishes. Either is fine in my book, but don't reach for bottled lemon juice. It is simply too strong and bitter and could ruin the dish.
Capers: Capers are a signature ingredient in piccata sauces. If you don't have any in your pantry or fridge, try chopped green olives or the zest from the lemon you are using for the juice.
Parsley: Parsley is a great neutral herb that adds color to the dish. You can opt to use an herb that is a little more flavor-forward, such as basil, oregano, or thyme. Just use fresh, not dried leaves for garnishing the dish.
---
Recent Recipes