Homemade Potato Banchan (Gamja Jorim)
Potato banchan is a Korean staple side dish in both home kitchens and restaurants. It is also a dish that is commonly packed into school lunch boxes. While generally served warm, these potatoes are just as good when eaten cold the next day. Kids really like this dish.
In Korean, this braised potato dish is called gamja jorim. Gamja is the Korean word for potato or yam and jorim refers to a method of simmering main ingredient in a braising liquid until everything is cooked through and the sauce has reduced until it just clings to the potatoes.
This potato banchan recipe involves pan roasting baby or new potatoes for a few minutes and then braising them in a slightly sweet, soy sauce and honey-based braising liquid. By pan-roasting or sautéing the potatoes first, you get a nice outer layer with some good color, especially when you leave the thin skins intact. After pan roasting, the potatoes continue to cook in the braising liquid that has soy sauce, vinegar, and honey or maple syrup. The potatoes are soft in the center and taste sweet and salty.
This dish is often served over steamed rice. It is great when paired with bok choy kimchi and chili meatballs for a filling meal with plenty of varied and complex Asian flavors.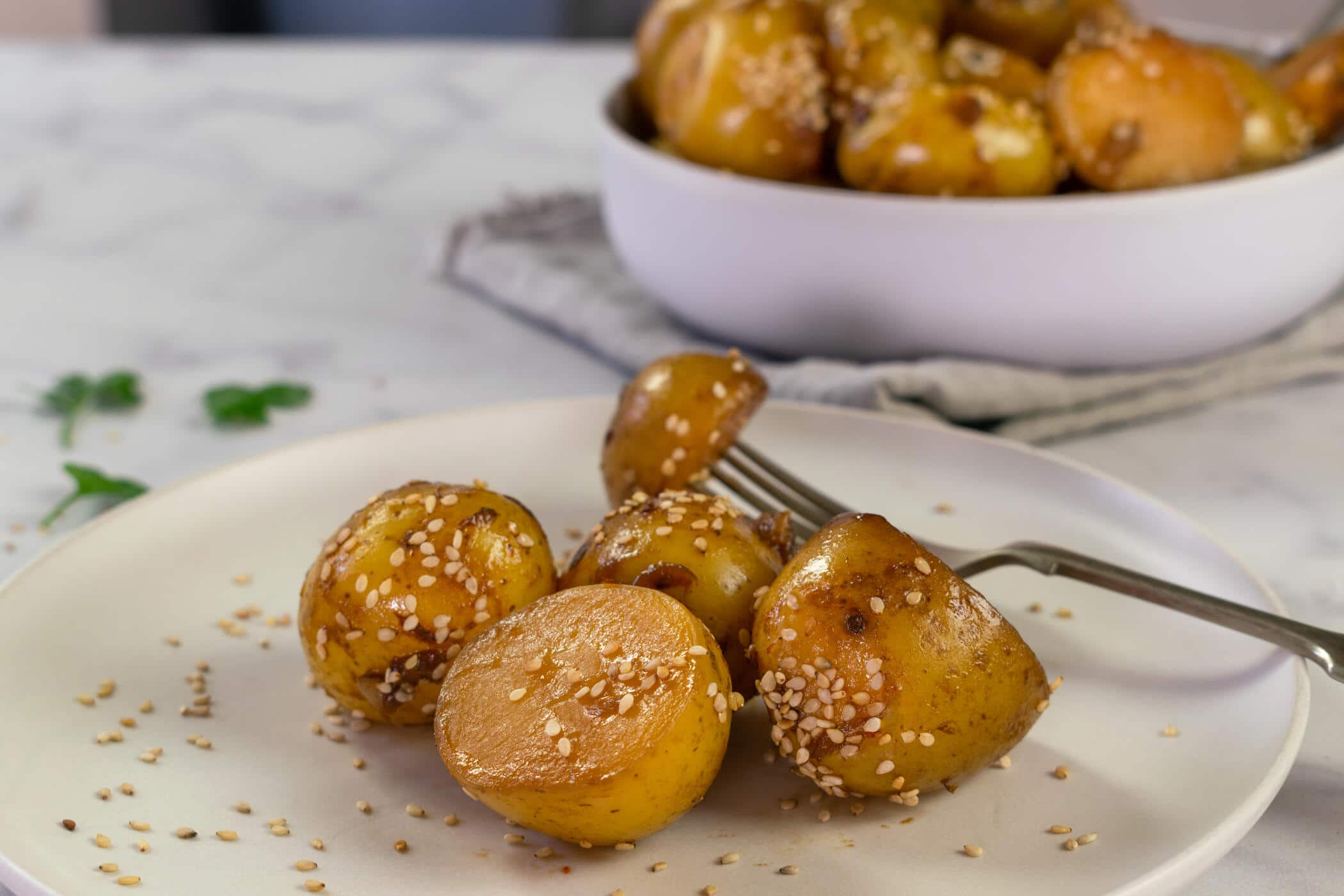 Ingredients
2

pounds

baby potatoes

washed not peeled

1

Tbsp

neutral oil

canola or grapeseed

3/4

cup

water

3

Tbsp

soy sauce or tamari

2

Tbsp

honey or maple syrup

1

Tbsp

sweet rice wine vinegar

mirin

1

clove

garlic

minced

Small pinch of cayenne pepper flakes

1/4

medium onion

sliced thinly

1

tsp

toasted sesame oil

1/2

tsp

toasted sesame seeds
Instructions
If the potatoes are larger than a small egg, cut them in half. You are looking for 1-inch pieces approximately.

In a small mixing bowl, whisk together the water, soy sauce or tamari, honey or syrup, vinegar, garlic, and cayenne pepper flakes. Set this aside.

In a deep sauté pan over medium-high heat, heat the oil. Add the potatoes and cook until they just start to brown, approximately 5 minutes. Stir to get a little color on all sides.

Raise the heat to high and add the braising liquid. Allow the liquid to come to a boil. Cover the pan and reduce the heat to medium or medium-low so that the liquid is at a rolling simmer. Cook the potatoes until still firm but almost cooked through, approximately 5 to 6 minutes.

Remove the lid and stir in the onion slices. Continue to cook without the lid until the potatoes are just tender when pierced with a sharp knife and the braising liquid has reduced to the sticky sauce, approximately 3 to 4 minutes.

Stir in the sesame oil. Remove the potatoes to a serving bowl and sprinkle with the sesame seeds. Enjoy with your other favorite Asian-inspired dishes.
Video
Nutrition
Calories:
254
kcal
|
Carbohydrates:
48
g
|
Protein:
6
g
|
Fat:
5
g
|
Saturated Fat:
1
g
|
Polyunsaturated Fat:
1
g
|
Monounsaturated Fat:
3
g
|
Sodium:
771
mg
|
Potassium:
1019
mg
|
Fiber:
5
g
|
Sugar:
8
g
|
Vitamin A:
5
IU
|
Vitamin C:
45
mg
|
Calcium:
45
mg
|
Iron:
2
mg
Notes and Tips
You will see recipes for banchan potatoes that call for boiling the potatoes before braising in the sauce. The texture and flavor are much nicer when you first brown the potatoes and then boil them directly in the braising sauce. Alternatively, you can pan roast the potatoes in your oven until almost cooked through before braising them.
This dish is commonly served over steamed rice. That is quite good, though it is starch on starch. I prefer this with lots of other vegetables and a protein dish that is served over the rice. Or, you can go vegan and have just veggies. If making this vegan, use maple syrup instead of honey in the braising liquid.
Substitutions, Variations, and Shortcuts
If you can't find baby or new potatoes, simply cut large potatoes into rustic 1-inch cubes. This dish works best with waxy potatoes, such as red bliss or Yukon gold.
Instead of honey or maple syrup, you certainly could substitute with white or brown sugar.
I like the addition of acid in this dish. Mirin is a sweet rice wine vinegar that is slightly acidic. If you don't have mirin, try 2 teaspoons of balsamic vinegar or a scant teaspoon of apple cider vinegar.
There are some variations to this recipe that are definitely worth giving a try. One of my favorites is cooking the potatoes with shishito or jalapeño peppers. If doing that, omit the cayenne pepper flakes. Another great idea is a combination of potatoes and carrots or potatoes, carrots, and parsnips. This is terrific when making a large banchan dish around the holidays. Finally, I have seen this made with 1-inch cubes of chicken thigh meat for an entrée.
This dish doesn't take very long to make but if you are pressed for time, you could definitely make this with pre-cooked potatoes. Either boil your own a day ahead or buy a bag of cooked potatoes from the market. If using pre-cooked potatoes, reduce the amount of water in the braising liquid. You can always add more water as necessary.
Leftovers and Storing
You probably won't have any leftovers. But if you do, place the potatoes in a sealed container and refrigerate them for up to 4 days. These can be served cold, at room temperature, or you can reheat them with just a touch of boiling water or in your microwave. Personally, I like to quickly pan-sear the leftover potatoes so the sugars caramelize and they get a little crispy.
---
Recent Recipes