Fudgy Vegan Potato Milk Brownies
The perfect brownie is firm but soft, rich, and similar to fudge in texture. It oozes with chocolate and creaminess without being cakey. This is exactly what you can expect from our irresistible potato milk brownies. Free from elaborate ingredients and complex methods, it is an easy recipe for brownies that you can turn to in a hurry and expect outstanding results everytime. Most non-vegans prefer it too.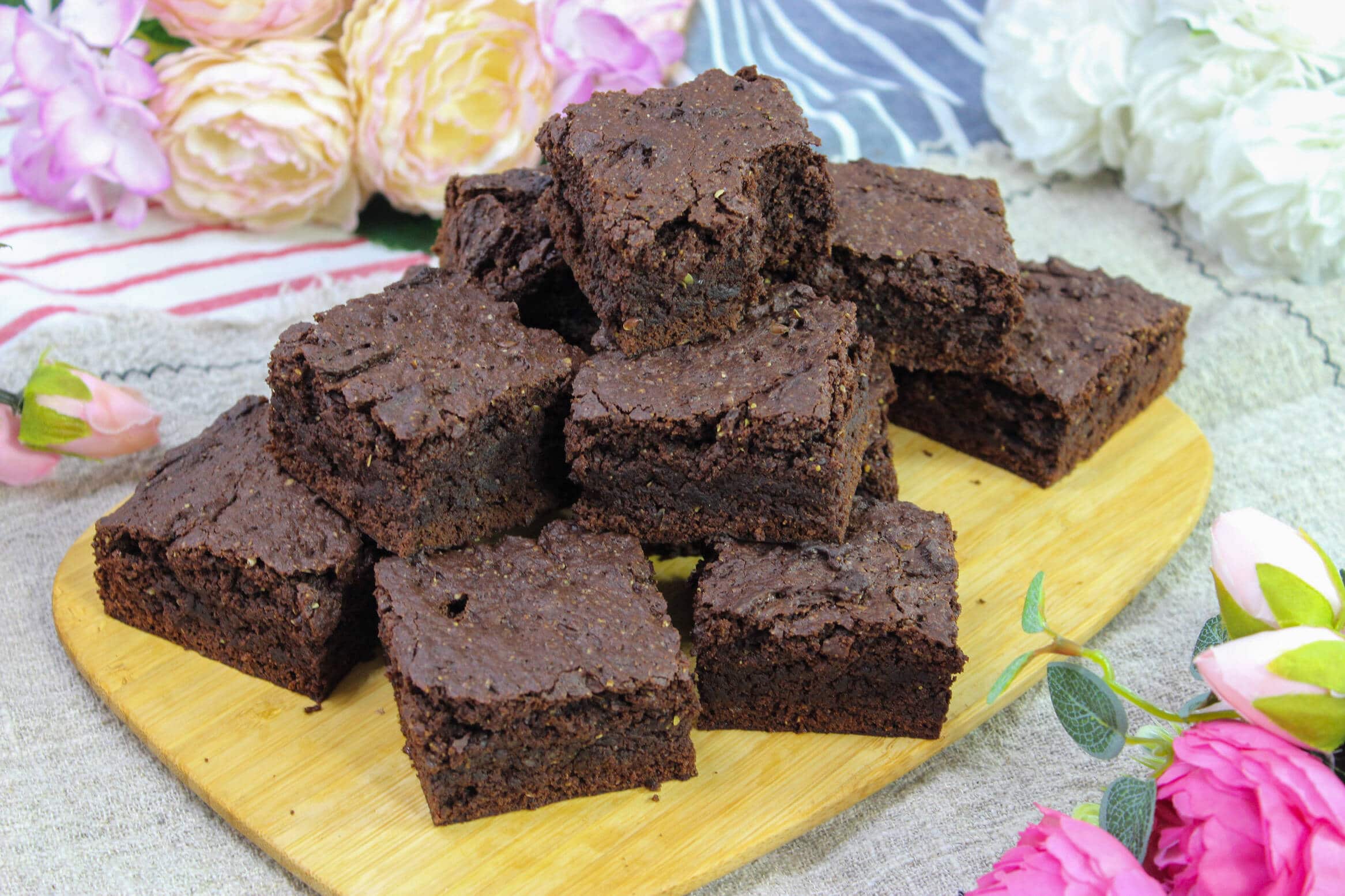 Ingredients
¾

Cup

Potato Milk

1 1/2

Cups

Castor Sugar

1/2

Cup

Ground Flax Seed

1 1/4

Cups

Unsweetened Cocoa Powder

1

Teaspoon

Salt

1

Teaspoon

Baking Powder

1

Teaspoon

vanilla extract

¾

cup

vegan butter

melted

1 1/2

Cups

All-Purpose Flour

1

Cup

Semi-Sweet Chocolate Chips
Instructions
Preheat your oven to 350° and ready a greased 9-inch square baking pan.

In a large mixing bowl, combine the flour, cocoa powder, baking powder, ground flaxseeds and salt and mix well.

Melt the semi-sweet chocolate chips with the vegan butter together and set aside.

In a separate mixing bowl, combine the potato milk, and vanilla extract together and stir in the melted chocolate and vegan butter mixture.

Combine the wet ingredients with the dry ingredients in the large mixing bowl and continue whisking until well combined.

Stir in the melted chocolate and flour and stir until a thick, sticky batter forms.

Pour into your prepared square baking evenly and bake in your preheated oven at 350°F for forty to forty-five minutes.

Once done, remove the brownies and allow them to cool for twenty to thirty minutes before cutting and serving.
Video
Nutrition
Calories:
382
kcal
|
Carbohydrates:
52
g
|
Protein:
6
g
|
Fat:
19
g
|
Saturated Fat:
7
g
|
Polyunsaturated Fat:
5
g
|
Monounsaturated Fat:
6
g
|
Trans Fat:
1
g
|
Cholesterol:
1
mg
|
Sodium:
347
mg
|
Potassium:
298
mg
|
Fiber:
6
g
|
Sugar:
31
g
|
Vitamin A:
547
IU
|
Vitamin C:
1
mg
|
Calcium:
79
mg
|
Iron:
3
mg
Why You Want To Try Our Potato Milk Brownies
Our potato milk brownies come out soft and fudgy, just like the best brownies around. It's a recipe that'll soon become your go-to whether you're vegan or not and a method that'll turn anyone into an ardent supporter of vegan baking.
Potato Milk Brownies Tips
Don't overbake the brownies, or they will dry out and become more cake-like than fudgy. Test at regular intervals toward the end of baking using a toothpick. If it comes out clean, they done and ready to rest. The resting time is vitally important to serving up solid brownies instead of cake that falls apart. Your brownies can't lose moisture and need the residual heat while solid to finish cooking inside to perfection.
The best way to ensure that your brownies lift easily off the pan is bake them atop parchment paper. If you don't have any on hand, try this tip. Lightly oil your baking pan with vegetable oil. Scatter over a dusting a flour. Knock the pan against a hard surface to ensure complete coverage and throw away the excess. Lining your pan with flour guarantees that baked goods will never stick. Too much flour will give a layer to whatever you're baking, but if you use the slightest amount to grant a light coating, brownies and other baked goods will come out great with zero chance of getting stuck.
Potato Milk Brownies Variations
Turn these chocolate brownies into coffee brownies by substituting a quarter cup of strong brewed cold coffee in place of potato milk. If following our instructions, you'll need half a cup of potato milk in this case. If you're making instant coffee, we recommend adding double to triple the quantity so that your brownies have bold flavor.
A great addition to the basic recipe is nuts. Crushed nuts are great for those who like texture, whereas nut powder grants almost the same flavor while leaving the brownies silky smooth and fudgy throughout. Fresh berries are another popular choice. Chop them fine and add to the batter or process to a puree instead. Whole fruit is slightly healthier as you get the extra fiber, but not everyone likes a textured consistency to their brownies.
Chocolate glazing is the ultimate way to finish off perfectly baked brownies. Either melt down your favorite chocolate to use as a glaze or mix half a cup of powdered sugar with two tablespoons of baking cocoa, a few drops of vanilla extract, and three to four teaspoons of boiling hot water. Mix well and pour over your brownies, then allow them to set.
Potato Milk Brownies Substitutions
If you can't make potato milk but have other plant-based milk available, feel free to substitute. Even dairy works in this recipe, but then the brownies will only, of course, only be vegetarian-friendly. Instead of ground chia or flaxseed, those who consume eggs can simply add a beaten egg. Otherwise, egg replacement powder is readily available in most specialty food stores and online.
You can make these brownies with just about any type of flour preferred. All-purpose flour is what most have on hand. If you decide to use gluten-free flour in place of all-purpose flour, keep in mind that your brownies will need a little longer in the oven. Substitute the same quantity of gluten-free all-purpose flour as regular all-purpose flour when baking but bake these brownies for five to ten minutes longer so that they aren't as gooey. The texture will still be slightly denser than when using gluten-based flours.
Can You Freeze Vegan Brownies?
Baked vegan brownies freeze well if correctly stored. Place neatly into an airtight container and cover tightly with foil. Wrap the entire container in plastic wrap to guarantee that the brownies won't dry out, and they'll last safely for three to four months in the freezer. All it takes to reheat brownies is a short period in an oven preheated to 350°F. Just make sure that they don't dry out.
What To Serve With Potato Milk Brownies?
Once your friends and family have had a taste of these brownies, they may vanish so fast that you're left without time to make something to serve them with. Eager chefs with an appetite for something sweet can make easy sweet onion ice cream in advance. Otherwise, try serving these potato milk brownies with a topping of cream or avocado chocolate mousse.
---
Recent Recipes