Simple Potato Milk Chia Pudding
You are in for a treat. Today we bring you one of our favorite uses of potato milk: Potato Milk Chia Pudding. This tasty treat delivers tons of flavor in a rich and creamy blend of simple ingredients. You may only need a couple of minutes to prepare this dish, but the taste will surprise you.
For best results, we recommend letting the pudding chill overnight, but you can still enjoy it after a couple of hours if you need to satisfy your taste buds. Don't have any potato milk on hand? We show you how to make your own, so please keep reading to see how easy it is to whip up this delightful, fluffy pudding recipe.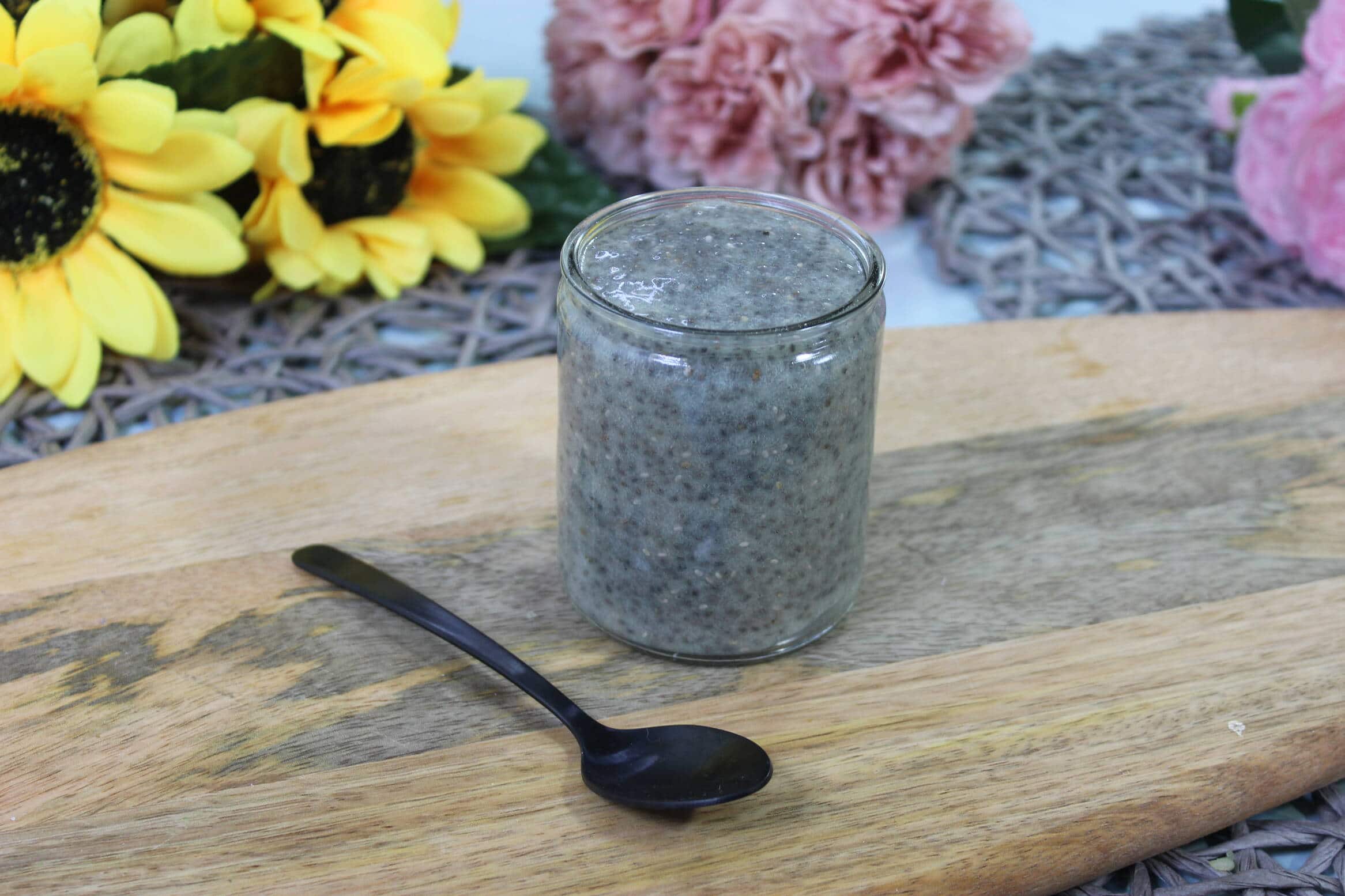 Ingredients
2

tablespoons

of chia seeds

⅓

cup

of potato milk
Instructions
This is definitely one of the easiest recipes you'll ever make. Simply combine the ingredients above and mix until there are no clumps remaining.

Place mixture in a mason jar or other airtight container.

Store in the refrigerator for three or four hours. If possible, let chill overnight before serving.
Video
Notes
Want to make your pudding a bit sweeter? Feel free to add vanilla extract and your favorite sweetener to suit your preference.
Nutrition
Calories:
128
kcal
|
Carbohydrates:
10
g
|
Protein:
4
g
|
Fat:
8
g
|
Saturated Fat:
1
g
|
Polyunsaturated Fat:
6
g
|
Monounsaturated Fat:
1
g
|
Trans Fat:
1
g
|
Sodium:
112
mg
|
Potassium:
98
mg
|
Fiber:
9
g
|
Sugar:
1
g
|
Vitamin A:
13
IU
|
Vitamin C:
1
mg
|
Calcium:
251
mg
|
Iron:
2
mg
Notes & Tips
If you have the time to spare, we highly recommend letting the completed mixture chill in the fridge overnight. The longer it has to chill, the creamier and thicker the pudding becomes. This recipe is at its best when it has plenty of time to set and thicken.
Some people like to add sweet potato to this recipe to give the pudding a pie-like taste. If you wish to do the same, follow the steps below.
Preheat oven to 400°F.
Cut a medium sweet potato in half and put the half on a baking sheet.
Bake until the sweet potato half is tender enough to pierce with a fork.
Remove from oven and let it cool down.
Using a spoon, scoop the pulp out of the baked skin and into a small bowl.
Sprinkle cardamom and cinnamon over the pulp and mix well.
From here, you can top the Potato Milk Chia Pudding with the sweet potato mixture and serve.
Substitutions
If you don't have potato milk, you may use any plant-based milk as a substitute. Some popular alternatives include oat milk, almond milk, coconut milk, and soy milk. You also don't have to use vanilla when adding an extract. Vanilla is our favorite, but feel free to use the flavor you like the most.
There are many extract flavors to choose from, such as hazelnut extract, almond extract, or any other flavor you like. Or, if you prefer a simpler taste that makes the potato milk flavor stand out more, you can omit adding extract entirely.
Just note that your pudding will taste a bit bland if you decide to go this route. You can make up for this by substituting the potato milk for something like almond milk, as doing so will provide a bit more flavor that may better complement the chia pudding.
What's more, you can inject some additional sweetness into the chia pudding by adding your own favorite sweetener. Feel free to use sugar, agave nectar, or another kind of sweetener. There isn't a set amount you need to add; just add to taste until you've achieved the sweetness you desire.
If you don't have potato milk, we suggest making your own. We'll show you how to in the section below. It's fairly straightforward and only takes around a half-hour to complete.
Common Questions
What is potato milk?
Potato milk serves as a substitute for dairy-based milk. Being a plant-based milk, potato milk is derived from cooked mashed potatoes and mixed using the cooking water. Additional ingredients are added to give potato milk its sweet taste.
How do I make my own potato milk?
We previously shared a delicious creamy Potato Milk recipe that covered all the necessary steps to make potato milk. Check out the link to see how easy it is to create your own. Moreover, you can use potato milk in a variety of recipes and in place of cow's milk.
What potatoes are used to make potato milk?
If you're making your own potato milk to use in Potato Milk Chia Pudding, you can use almost any kind of potato, including sweet potatoes. The only types that should be avoided are potatoes that are too waxy, such as baby potatoes, Red Bliss, and New Potatoes.

Another problem with these types is that their shape is too well maintained. The only exception is certain fingerling potatoes with red skin but low moisture content.

You are looking for starchy but nutritious things that can be cooked into a creamy texture. White potatoes are usually the easiest to locate. Plus, they have really good nutritional value, as do russets.
Sides and Pairings
There are a ton of different toppings you can use to sweeten the pot. That's one of the nice things about chia pudding — it's highly versatile and easy to enjoy with other foods.
We like to top our Potato Milk Chia Pudding with walnuts, almonds, or pecans. Shredded coconut or coconut flakes are also wonderful additions. Various fruits work well with chia pudding, too, including sliced bananas and blueberries.
Don't be afraid to think outside of the box when it comes to trying out different topping ideas. We found that yogurt and almond butter are both fantastic with chia pudding. What other toppings can you think of to try?
If you need some more recipe ideas for additional snacks or main courses, be sure to head on over to our recipes section and explore the many unique meals and treats that we've compiled for your consideration. If you're strictly looking for vegan recipes, you can find a whole assortment of them here.
---
Recent Recipes