Potato Milk Chocolate Marble Cake
Your friends here at Cook Gem have done it again! Today we bring you another delicious cake recipe to add to our growing list of tasty treats. This one might be a bit different from what we've traditionally brought you, however, as this recipe is made with potato milk.
Thanks to this Potato Milk Chocolate Marble Cake recipe, you will fall in love with the soft, fluffy, and rich taste. And if you're entertaining guests, they are sure to love it, too!
Potato milk is all the rage right now, as it's an excellent substitute for cow's milk and works well in a wide variety of recipes and dishes. So join us as we show you how to make Potato Milk Chocolate Marble Cake.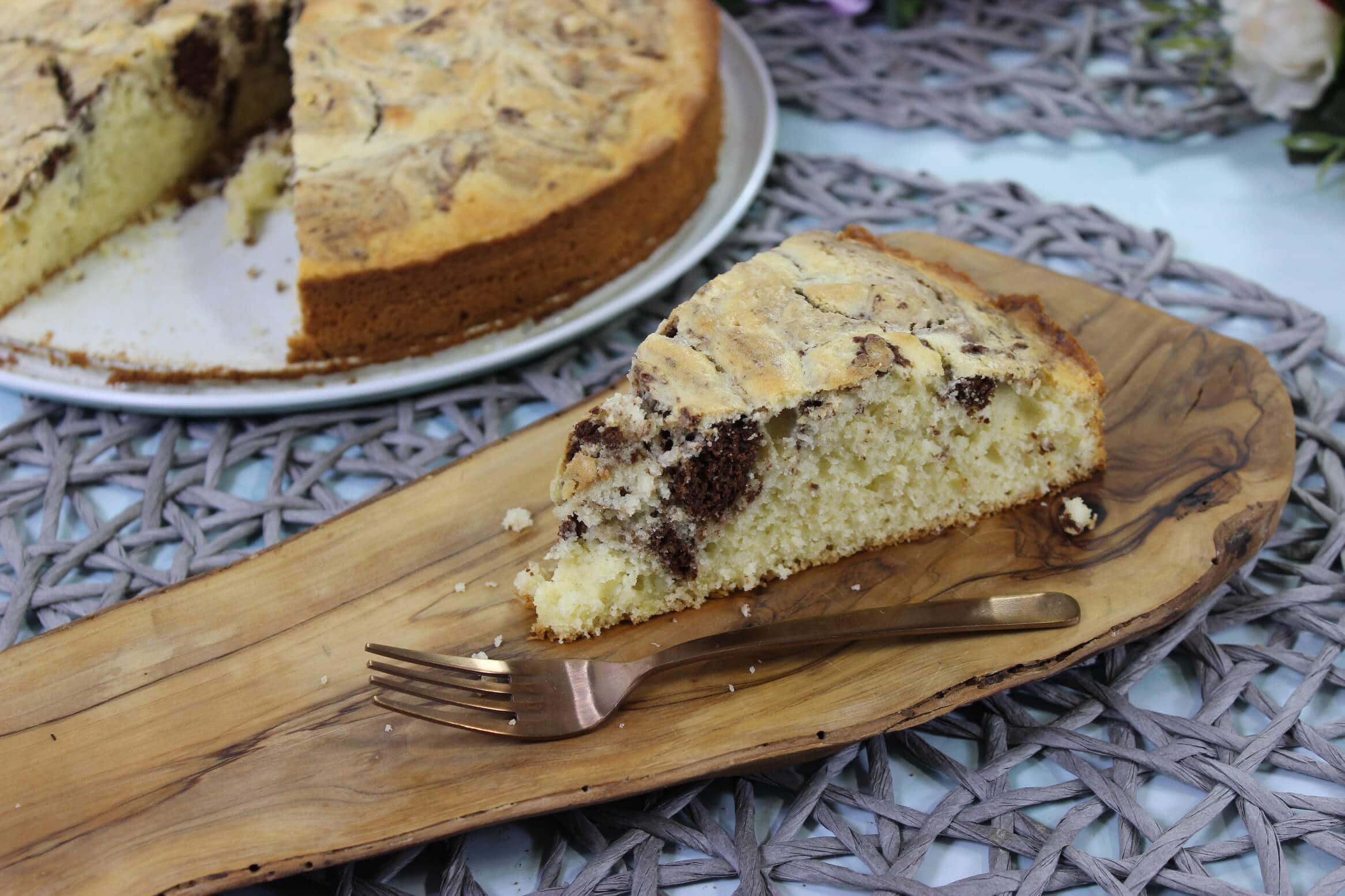 Ingredients
1

tablespoon

of cocoa powder

2

teaspoons

of baking powder

1

teaspoon

of vanilla extract

2

cups

of all-purpose flour

1

large potato

mashed

½

cup

of soft margarine

1

cup

of potato milk

1

cup

of sweetener

½

teaspoon

of salt

2

eggs
Instructions
To start, preheat your oven to 350°F.

Grease a round, 9-inch baking pan, then dust with flour.

Put baking powder, salt, flour, sweetener, eggs, margarine, vanilla extract, potato milk, and mashed potatoes in a mixing bowl.

Slowly moisten the mixture by beating it.

Using an electric mixer, mix at medium speed for about 2 minutes or until smooth.

Pour the batter out into the baking pan, making sure to keep ¾ cup in the mixing bowl.

Add the cocoa powder to the ¾ cup of remaining batter and mix well.

You should now have two different batters; one white and one brown.

Use a spoon to scoop balls of the brown batter on top of the white batter.

With a knife or fork, gently swirl the two batters around to create the marble effect.

Bake between 30 and 35 minutes at 350°F or until a toothpick removes clean.
Video
Nutrition
Calories:
322
kcal
|
Carbohydrates:
54
g
|
Protein:
5
g
|
Fat:
11
g
|
Saturated Fat:
2
g
|
Polyunsaturated Fat:
3
g
|
Monounsaturated Fat:
5
g
|
Trans Fat:
1
g
|
Cholesterol:
33
mg
|
Sodium:
357
mg
|
Potassium:
224
mg
|
Fiber:
2
g
|
Sugar:
28
g
|
Vitamin A:
454
IU
|
Vitamin C:
7
mg
|
Calcium:
96
mg
|
Iron:
2
mg
Notes & Tips
You will need to set aside time to make mashed potatoes if you don't have already prepared. So plan accordingly if you wish to serve Potato Milk Chocolate Marble Cake on short notice. As you can see, this recipe assumes you already have them ready to use.
If you don't have time to make fresh mashed potatoes from scratch, you can use instant mashed potatoes in a pinch. However, we highly recommend that you stick with the real deal if at all possible.
Also, make sure you don't use any additional ingredients when making mashed potatoes. That means no butter or salt — nothing but potatoes.
Substitutions
If you don't wish to use potato milk for any reason, you may substitute it with any plant-based milk instead. Alternatives include almond milk, oat milk, coconut milk, and soy milk. You also don't have to use vanilla when adding an extract. We prefer vanilla, but it's entirely up to you which extract you use.
There are many extract flavors to choose from, such as hazelnut extract, almond extract, or any other flavor you like. Or, if you prefer a simpler taste that makes the potato milk flavor stand out more, you can omit adding extract entirely.
However, your cake will taste bland if you decide to go this route. You can make up for this by substituting the potato milk for something like almond milk to give the marble cake more flavor.
Moreover, you can add in some extra sweetness by using your favorite sweetener. You may use sugar, agave nectar, honey, or maple syrup, for example.
If you don't have potato milk, why not make your own? Check out the Common Questions section below to find out how. It's a pretty easy recipe and only takes about 30 minutes to make.
If you need help finding a vegan alternative to margarine to use in this recipe, check out our guide to Country Crock spreads here.
Common Questions
What is potato milk?
Potato milk serves as a substitute for dairy-based milk. Being a plant-based milk, potato milk is derived from cooked mashed potatoes and mixed using the cooking water. Additional ingredients are added to give potato milk its sweet taste.
How do I make my own potato milk?
We previously shared a delicious creamy Potato Milk recipe that covered all the necessary steps to make potato milk. Check out the link to see how easy it is to create your own. Moreover, you can use potato milk in a variety of recipes and in place of cow's milk.
What potatoes are used to make potato milk?
If you're making your own potato milk to use in Potato Milk Chia Pudding, you can use almost any kind of potato, including sweet potatoes. The only types that should be avoided are potatoes that are too waxy, such as baby potatoes, Red Bliss, and New Potatoes.

Another problem with these types is that their shape is too well maintained. The only exception is certain fingerling potatoes with red skin but low moisture content.

You are looking for starchy but nutritious things that can be cooked into a creamy texture. White potatoes are usually the easiest to locate. Plus, they have really good nutritional value, as do russets.
Sides and Pairings
Potato Milk Chocolate Marble Cake is a delicious dessert that goes well with a big glass of milk. We like to snack on this cake in the morning with our coffee, too. Of course, Potato Milk Chocolate Marble Cake is just fine all on its own, so feel free to indulge however you like!
If you would like even more tasty recipe ideas for other snacks or main dishes, head on over to our recipes section to explore the many unique meals and delicacies we have prepared for you. If you are strictly looking for vegan recipes, you can find a variety of them here.
---
Recent Recipes