Homemade Creamy Chocolate Potato Milk Ice Cream
For the creamiest vegan ice cream around, you've got to give this fusion of potato milk yogurt, and avocado a try. The avocado makes up for the slightly lower fat content, blending with nut butter into a cream that freezes semi-solid. It's not technically ice cream, more frozen yogurt, but it sure is creamy and packed with flavor. Our recipe whips up a sweet vegan ice cream without any ice cream maker needed but feel free to adjust for a different flavor profile.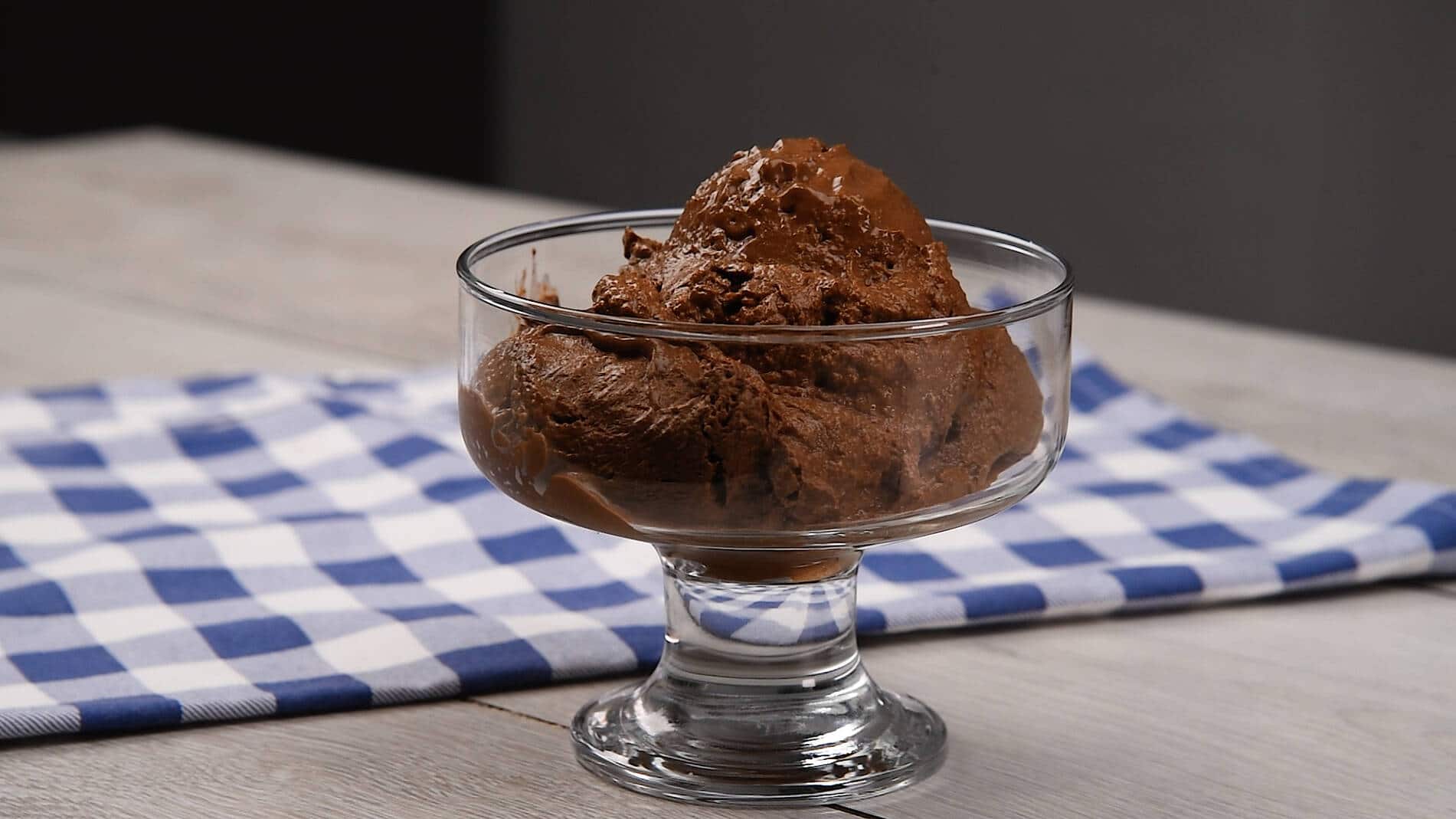 Ingredients
2

Tablespoons

Cornstarch

4

Tablespoons

Potato Milk/Water

2

Cups

Potato Milk Yogurt

3-4

Ripe Avocados

Peeled And Cleaned

⅓

Cup

Cashew Butter

⅓

Cup

Maple Syrup

½

Cup

Unsweetened Cocoa Powder

2

Teaspoons

Coconut Oil

½

Teaspoon

Sunflower/Canola Oil

¼

Teaspoon

Salt

1

Teaspoon

Lime Juice

Optional

2

Teaspoons

Vanilla Extract
Instructions
Mix two tablespoons of cornstarch with two tablespoons of potato milk or water to create a slurry.

Combine the potato milk yogurt with the cashew butter, maple syrup, cocoa powder, coconut oil, sunflower oil, salt, lime juice, vanilla extract, and your slurry in a blender.

Process until smooth and dispense into an airtight freezer-safe container.

Allow to freeze for an hour and a half to allow the ice cream to firm up and set before serving.
Video
Nutrition
Calories:
583
kcal
|
Carbohydrates:
53
g
|
Protein:
13
g
|
Fat:
41
g
|
Saturated Fat:
11
g
|
Polyunsaturated Fat:
5
g
|
Monounsaturated Fat:
23
g
|
Cholesterol:
16
mg
|
Sodium:
240
mg
|
Potassium:
1266
mg
|
Fiber:
14
g
|
Sugar:
23
g
|
Vitamin A:
342
IU
|
Vitamin C:
16
mg
|
Calcium:
237
mg
|
Iron:
4
mg
Why You Want To Try Our Chocolate Potato Milk Ice Cream
We've included a range of fats in our potato milk ice cream recipe to guarantee that it comes out rich and creamy with partial coalescence, just like dairy ice cream. It's firm but not hard with a soft, smooth texture like frozen yogurt. By simply blending a few simple ingredients, you'll have tasty, creamy chocolate ice cream made from potato milk in an hour or two.
What Does Chocolate Potato Milk Ice Cream Taste Like?
Chocolate creamy potato milk ice cream tastes just chocolate sorbet, just slightly more creamy. The cashew butter's light flavor melds with the chocolate to create a subdued but lingering dimension of flavor while at the same time keeping the ice cream silky smooth and decadently creamy.
Chocolate Potato Milk Ice Cream Tips
If you've got the time and patience and want a texture that is even closer to dairy, give this tip a try. Instead of freezing the ice cream mixture all at once, pour out just enough to cover the surface of a large baking dish and freeze the thin layer of ice cream for 45 minutes. Next, use a fork to scrape away any ice crystals that have started forming around the edges. Pour another layer and repeat the process, but this time, check-in in half an hour. Repeat the process until you've got a full tub of creamy, smooth ice cream that will not harden excessively when left frozen for an extended period.
Chocolate Potato Milk Ice Cream Variations
A great twist to basic ice cream is to include bits of broken chocolate. Crush up your favorite slab and grind it to bits before adding to your blender with the rest of the potato milk ice cream ingredients. Cookies are another great addition, as are nuts. From crushed macadamia nuts to crushed slivers of almonds, chews, and even peanuts. For those who want to retain a smooth texture, use nut powder instead.
Chocolate Potato Milk Ice Cream Substitutions
You can make creamy chocolate potato milk ice cream using a variety of different flavors. Almond butter is a popular alternative, but all types of nut butter come out great. Even peanut butter can be added to give this vegan ice cream a twist. The lime juice is added to balance out and soften the flavor of the avocado, which comes out rich, creamy, and chocolatey once everything is blended.
Maple syrup isn't a must, but it blends into the flavor of chocolate and potato milk well. The next best alternative would be a cup of dark brown sugar. Otherwise, coconut sugar, refined white sugar, stevia, syrup, and all other varieties of sweeteners can be used at your discretion to sweeten up the ice cream.
Why Is My Vegan Ice Cream So Hard?
Non-dairy vegan ice cream has a far higher moisture content than creamy dairy. Instead of fats forming creaminess, the water solidifies freezing to ice which gives many vegan ice creams a harder consistency than many expect. Our creamy potato milk ice cream has been carefully put together to avoid excessive hardening. However, if you find any vegan ice cream recipe coming out too hard, increase the quantity of nut butter or add another source of fat.
How Do You Make Vegan Ice Cream Smoother?
Adding full-fat coconut milk and/or coconut cream to vegan ice cream makes it considerably smoother by increasing the fat content. For an even smoother consistency to our recipe, add an additional half a cup of whipped coconut cream and blend with the rest of the ingredients. For ice cream with an even deeper chocolate flavor, melt down two or three ounces of vegan dark chocolate with 70% to 80% cocoa and add this to the whipped coconut cream before blending.
Can You Refreeze Vegan Ice Cream?
Vegan ice cream does not refreeze well. We recommend freezing to solid and then serving out all your ice cream within the next day. It's best two hours after making and hardens if left in the freezer for too long. The only way to freeze or refreeze plant-based ice cream is to freeze it in layers, as described earlier. It will still end up hardening after a couple of days, but it stays softer for much longer.
What To Serve Chocolate Potato Milk Ice Cream With
Serve potato milk ice cream with potato milk pancakes and drizzle with caramel or maple syrup. Otherwise, slather with our decadent easy avocado chocolate mousse and eat as is. Ice cream also goes great with lacto-fermented blueberries for something different.
---
Recent Recipes