Spicy & Smooth Potato Milk Korma
Every korma relies on the creaminess of milk to reach the silky texture everyone knows and loves. Instead of intriguing the palette with sharp flavors, tastes blend into a rich, smooth, spicy curry with a dense but evenly textured mouthfeel and a mild degree of heat. Korma can be made with any type of cream or milk and yogurt, but the thick understated richness of potato milk is an often overlooked base for one of the tastiest Indian meals around. Follow our creamy chicken or vegan potato milk korma recipe, and you may just discover your new favorite comfort food.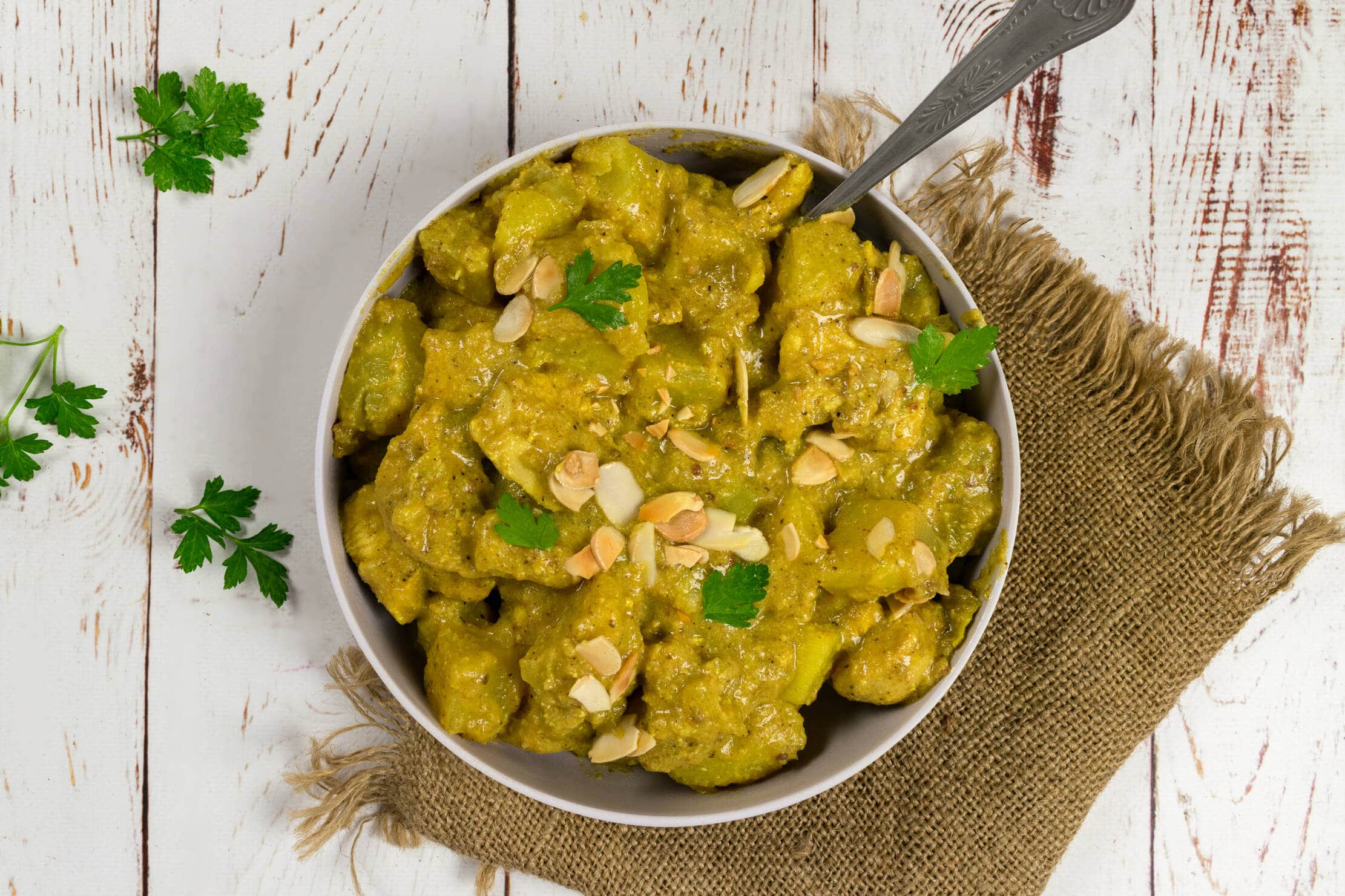 Ingredients
1

Pound

Chicken Pieces Or 1 Block Extra-Firm Tofu

1

Teaspoon

Turmeric

1/2

Teaspoon

Ground Black Pepper

1

Teaspoon

Kashmiri Spice/Chili Powder

1

Teaspoon

Cumin

1

Teaspoon

Garam Masala

1

Tablespoon

Garlic Paste

1

Tablespoon

Ginger Paste

4

Tablespoons

Potato Milk Yogurt

4

Tablespoons

Ghee Or Vegetable Oil

2

Medium Potatoes

Cubed

½

Teaspoon

Coriander Seeds

½

Teaspoon

Cumin Seeds

2

Cardamom Pods

2

Shallots

Sliced

6

Almonds

Soaked

6

Cashews

Soaked

¼

Cup

Potato Milk Yogurt

2

Bay Leaves

4

Curry Leaves

1

Cinnamon Stick

2

Cloves

4

Green Chilis

Stemmed, Seeded & Minced

½

Cup

Potato Milk

½

Cup

Dissolved Vegetable Bullion

3

Tablespoons

Lemon Juice

1

Teaspoon

Nutmeg Powder

½

Teaspoon

Garam Masala

½

Teaspoon

Ground Coriander

1

Tablespoon

Fresh Coriander

1

Tablespoon

Toasted Slivered Almonds
Instructions
Create a marinade up to twelve hours before cooking potato milk korma by mixing together the turmeric, ground black pepper, Kashmiri spice (or chili spice), cumin, garam masala, garlic paste, ginger paste, and four tablespoons of potato milk yogurt.

If preparing chicken potato milk korma, work the marinade into the chicken raw, ensuring that it covers everywhere, and seal in an airtight container for refrigeration until it's later needed. Those cooking with tofu should brown tofu cubes in a little oil on all sides first before allowing them to cool and then soak in the marinade, just like when making chicken.

Boil the cubed potato for ten to fifteen minutes or until cooked to the point just before falling apart and then drain and set aside.

Heat two tablespoons of ghee or oil in a large saucepan over medium heat and fry the coriander seeds, cumin seeds, and cardamom until the seeds start crackling and popping.

Add the sliced shallots and fry until they begin to brown before adding the drained, soaked cashews and almonds.

Fry until a toasted aroma is emitted from the nuts.

Remove from the heat and allow to cool completely before transferring to a container for blending using a blender or food processor.

Transfer to a container for blending and add a quarter cup of potato milk yogurt. Blend until a smooth sauce-like consistency is reached and set aside.

In either the same large saucepan or a new pan, heat another two tablespoons of ghee over medium heat and fry the bay leaves, curry leaves, cinnamon stick, and cloves until the curry leaves begin to curl.

Add the chilis and saute while stirring well until the aroma of chili begins to grow pungent.

Transfer the marinated chicken to the pan and saute for five minutes or until the ginger in the marinade grows aromatic and the exterior is evenly cooked on all sides.

Stir in the onion and potato yogurt paste you made earlier, the lemon juice, and the cup of dissolved vegetable bouillon liquid.

Sprinkle in the nutmeg, garam masala, and coriander powder and simmer for fifteen minutes before mixing in the boiled cubed potatoes. Turn the heat to high, bring to a boil, cover, and turn the heat to low.

Simmer for five to ten minutes while stirring infrequently or until the protein is cooked correctly and the korma reaches the thickness desired.

Remove the cinnamon stick, solid bay leaves, and cloves. Garnish with fresh coriander, toasted slivered almonds, and serve.
Video
Notes
If I were to do this agian, I would add salt like you do to pasta before boiling the potatos to spice it up and make this less bland.
What Is A Korma?
Korma is a classic, smooth Indian curry that derives its name from the Urdu word 'qormā,' which translates to 'braise.' The flavor of korma relies on braising and blending the ingredients sequentially, which fuses tastes to the creamy core base sauce made up of milk and a yogurt marinade.
What Is Potato Milk Korma?
Our potato milk korma uses the same combination of authentic aromatic herbs and spices as the oldest recipes used since the 15th century but replaces the dairy products with potato derivatives. A delicate balance of spices infuses flavor into creamy potato milk and yogurt sauce while blending with and drawing flavor from a perfectly matched spicy marinade made from potato milk yogurt. Most are blown away by the texture and well-rounded complexity of flavor.
What Is Potato Milk?
Potato milk is a superbly sustainable plant-based milk with a neutral base flavor, creamy texture, and slightly sweet taste. It's healthy, affordable, endlessly versatile, and shockingly easy to make at home. We suggest you give our creamy potato milk recipe a try. You'll have a gallon ready in no time.
Potato Milk Korma Tips
Preparation is the key to a good korma. Make the marinade and marinate your protein a full day in advance, regardless of whether you're using chicken, beef, mutton, tofu, or paneer. Those including mixed vegetables can consider marinating them for four to six hours beforehand.
Potato Milk Korma Substitutions
Although the flavor won't be exactly the same, feel free to substitute ground spices for any of the whole spices listed. If you don't have any cardamom pods, star anise results in a similar flavor. Green chilis are the chili of choice traditionally for a korma, but red chilis work. The quantity listed grants a medium korma, so adjust the quantity accordingly. For a hot curry, double the number of chilis and consider adding a tablespoon of Kashmiri spice/chili powder just after the curry leaves.
Potato milk forms the central basis for this recipe, but you can use any yogurt, and any milk preferred. From dairy yogurt and full-fat milk to coconut and nut derivatives, they'll all work to a certain degree. Potato, however, has a flavor profile that's perfectly suited to the spicy richness of an aromatic, smooth korma. It blends amazingly while complementing the underlying spices.
While a blend of cashews and almonds is highly recommended, substituting grated or desiccated coconut is possible and may be preferable to some. We find that that nutty flavor pairs slightly better with the potato milk base of this korma recipe. Those adding coconut instead should add a three-quarter cup just before blending while frying until lightly toasted.
Tofu has been suggested as the go-to substitute for chicken in this recipe for vegans. However, if you're vegetarian or pescatarian and do still consume dairy products, consider paneer instead. Paneer, or Indian cottage cheese, is a tasty mild high-protein traditional ingredient that absorbs flavors well while imparting a milky flavor and creaminess of its own to the korma. Fry off paneer in a little oil or ghee until golden brown before marinating.
One of the easiest ways to whip up a tasty potato milk korma that's completely vegan without tofu is to include a range of mixed vegetables instead. Make sure that your vegetables are all roughly the same size and texture so that they cook through at the same rate, or stagger adding them to your korma Broccoli, cauliflower, peas, and green beans are all tasty but unconventional substitutes that can be added to the base recipe. Always marinate all meat replacements. Vegetables only need a few hours.
What To Serve Potato Milk Korma With?
Potato milk korma's bold flavor goes great with plain medium-grain or basmati rice. Otherwise, serve it on a roti or with freshly made naan bread. Diabetic curry fans are known to enjoy korma over a bed of iceberg lettuce. The lettuce soaks up the sauce while delivering a satisfying combination of fresh flavor and crunch.
Can You Freeze Potato Milk Korma?
Potato milk korma can be refrigerated, but it should, ideally, not be frozen. Even though frozen korma is technically still safe to eat when properly frozen for up to three months, freezing any korma results in a watered-down curry that falls flat on flavor. A tadka, or tempering solution, is a potential quick fix that will have a limited effect on re-enlivening tastes. Even so, the best recommendation for leftover creamy potato korma is to seal it well and refrigerate for up to two days before reheating to retain the fullest flavor.
---
Recent Recipes