Coffee & Chocolate Potato Milk Smoothie
A potato milk smoothie comes out rich, creamy, and silky smooth while serving as a light, neutral base for a host of bright flavors that are great for a wake-up pick-me-up. Our vegan potato milk smoothie is a great quick meal for breakfast or brunch, but once you've tried the explosion of flavor for yourself, you'll soon be trying out other tasty ingredient combinations. The taste of coffee is subdued but prominent with a rich creaminess that only avocado can bring.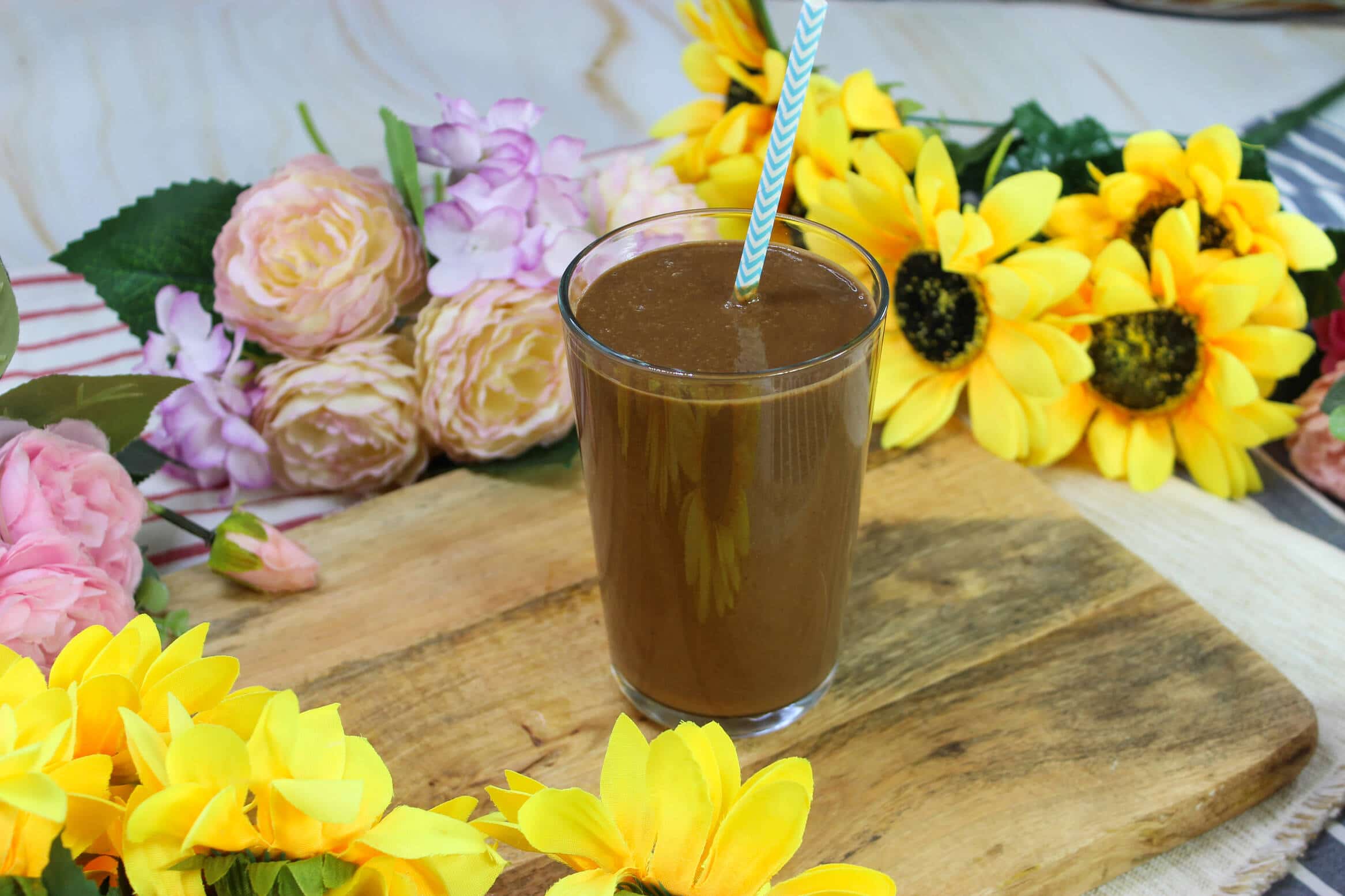 Ingredients
1/2

Cup

Strong-Brewed Cold Coffee

1/2

Cup

Potato Milk

1

Ripe Banana

Frozen

1/2

Avocado

Frozen

2

Tablespoons

Maple Syrup

2

Tablespoons

Peanut Butter

2

Tablespoons

Unsweetened Cocoa Powder

1

Tablespoon

Ground Flaxseed

½

Teaspoon

Ground Cinnamon

4

Tablespoons

Potato Milk Yogurt

Optional
Instructions
Add the coffee and potato milk to your blender or tall glass for use with an immersion blender.

Add the banana and avocado.

Add the maple syrup and peanut butter. If adding potato milk yogurt or another yogurt, add it additionally at this step.

Add the cocoa powder, ground flaxseed, and cinnamon.

Blend until smooth and serve.
Video
Nutrition
Calories:
346
kcal
|
Carbohydrates:
41
g
|
Protein:
9
g
|
Fat:
20
g
|
Saturated Fat:
4
g
|
Polyunsaturated Fat:
5
g
|
Monounsaturated Fat:
10
g
|
Cholesterol:
5
mg
|
Sodium:
182
mg
|
Potassium:
802
mg
|
Fiber:
9
g
|
Sugar:
23
g
|
Vitamin A:
152
IU
|
Vitamin C:
10
mg
|
Calcium:
183
mg
|
Iron:
2
mg
Potato Milk Smoothie Substitutions
.
Chia seeds can be used in the place of flaxseed. If you want to add yogurt, any variety works as a worthy substitute. Those opposed to bananas can use a whole avocado instead and leave it out. For a completely different spin in the basic recipe, substitute a cup of frozen cauliflower in place of the banana and avocado. If you have ripe figs, they're a great sweetener to use instead of maple syrup. Honey and agave can be considered, but each imparts a strong flavor of its own.
Potato Milk Smoothie Tips
Use frozen fruits so that your smoothie comes out perfectly chilled, thick, and ready to drink. If you find yourself making smoothies often, get a powerful blender. Low wattage blenders simply don't cut it. The investment will pay for itself over and over in effort, time, and both flavor and texture satisfaction. A good blender is also essential for crushing ice.
Potato Milk Smoothie Variations
There are so many extra ingredients to add to smoothies that we're all lucky enough to have endless flavor combinations at our disposal. Ginger, lime, turmeric, cinnamon, citrus zest, mint, black pepper, cardamom, thyme, vanilla, and chocolate all pair well with berries. Bananas love chocolate, avocado, turmeric, various nut butters, ginger, nutmeg, sesame, coconut, vanilla, and liquors like brandy and rum. Green smoothies go great with lime, lemon, ginger, cilantro, matcha powder, turmeric, and many other taste-specific spices that hinge on the leafy veg used.
What Can Potato Milk Be Used For?
The potato milk included in this recipe can be used in all varieties of cooking, baking, and drink making. Use potato milk anywhere that you'd normally use dairy. The dessert-like flavor is subtle enough for just about any application. You'll find that the neutral taste and thick texture of potato milk works particularly well in smoothies.
What Is The Healthiest Liquid To Put In A Smoothie?
There are lots of healthy liquids to include in smoothies. Water, yogurt, kefir, dairy, and plant-based milk like almond, soy, coconut, and potato milk are all high in nutrients and healthy liquid bases for a smoothie. Even fruit juice can be used as the liquid in a refreshing summer smoothie.
What Are The Five Steps To Making A Smoothie?
Every good smoothie starts with the liquid. Add the liquid or liquids like potato milk, milk, or water you'll be including in your smoothie first. Next up are the frozen ingredients. Frozen berries, small chopped fruit, and ice all come second. The third step is adding large ingredients like larger chopped or sliced frozen fruit and vegetables like spinach, kale, pumpkin, and cauliflower, to name but a few. Fourth is the small ingredients and optional extras like spices, nutrient powder mixes, nut butters, and sweeteners. Fifth and finally, blend until the consistency you prefer.
Do You Have To Put Ice In A Smoothie?
You don't have to put ice in a smoothie, but it helps improve the consistency and cool your drink effectively. Feel free to omit ice completely in any smoothies that you make with frozen fruit. Those who opt to add unfrozen bananas and avocado to this potato milk smoothie recipe should consider adding half a cup of ice to the mix.
Are Smoothies Better With Milk Or Water?
Whether smoothies are better with milk or water depends on the other ingredients and the desired nutrient profile. Milk adds creaminess to smoothies, whereas adding water brings out the individual taste of everything that's added more prominently. All milk varieties will inadvertently fortify smoothies with calcium and the vitamins and minerals relative to the type of milk being added. Every plant-based milk has its own host of benefits while also adding a subtle flavor of its own to your blends.
Is It Better To Eat Fruit Whole Or Pieces In A Smoothie?
Smoothies with whole fruit and smoothies with pieces are both healthy. However, whole fruit has more fiber which helps one feel fuller for longer. High fiber intake lowers the risk of developing chronic illnesses while bolstering general health.
Best Smoothie Ratios
The optimal ratio for an unfrozen fruit smoothie is three parts fruit, two parts liquid, two to three ice cubes, and a maximum of two tablespoons of extra small ingredients. Frozen fruit smoothies require three parts frozen fruit to three parts liquid with two tablespoons of extras. Green smoothies call for two parts greens to an equal quantity of liquid and three parts frozen fruit. Stick to these ratios, and your smoothie will always come out perfect.
What To Serve With Potato Milk Smoothies?
A smoothie is so filling that it can be consumed as a meal on its own. Many drink a smoothie for breakfast. For something extra that will fill the gap while tasting great with our potato milk smoothie, consider snacking on wonderful Wyoming cowboy cookies or whip up homemade pancakes Huancaina, a classic Peruvian delicacy.
---
Recent Recipes