How Many Potatoes Per Person For Mashed Potatoes?
Guests
Potato Size
# of Potatoes Needed
2
Small to Medium
3
4
Small to Medium
6
8
Small to Medium
12
10
Small to Medium
14
2
Medium to Large
2
4
Medium to Large
4
8
Medium to Large
8
10
Medium to Large
10
Note: This is assuming 9 to 11 ounces of raw potato is needed for mashed potatoes.
Chips, Crisps, Fries, Croquettes, Rostis – the list goes on… We owe a lot to the humble potato. A versatile vegetable that is and has been a staple of human diets all around the world for hundreds of years. Often overlooked as it is seen to lack the sophistication of other carbohydrate sources such as cous-cous or bulgar wheat.
The Irish Stereotype
However, as an Irish person, I proudly conform to the potato loving stereotype that is so often given to Irish people. Here in the Emerald Isle, we can't take the credit and glory for 'discovering' the potato – that honor belongs to the Inca Indians of Peru who between the years 8000BC and 5000BC first cultivated the starchy plant.
Growing up in Rural Ireland mashed potatoes were an indispensable part of dinner each day. No exaggeration. In fact, to this day my mother still holds the belief that a dinner is not complete without potatoes. Pasta and rice were far too exotic to be cooked in our house. Being from a family of 8 children, I marvelled as how my mother always managed to cook just enough potatoes for all the hungry mouths around her. I can still see the near industrial sized saucepan of potatoes boiling away for some time. The potato masher was an important utensil in our house and whoever got the job of mashing that day was sure of a good arm work out! After all, no one likes a lumpy mash!
Like some form of witchcraft, after everyone got their portion of mashed potato the saucepan was always empty; adhering to the Goldilocks principle of being just right!
How many potatoes per person?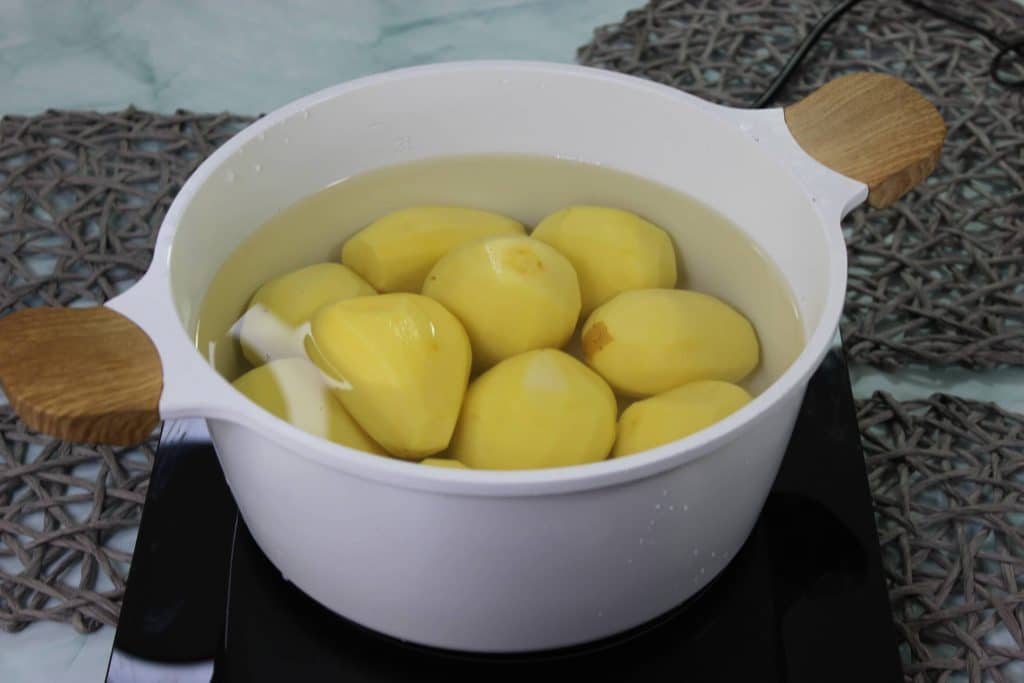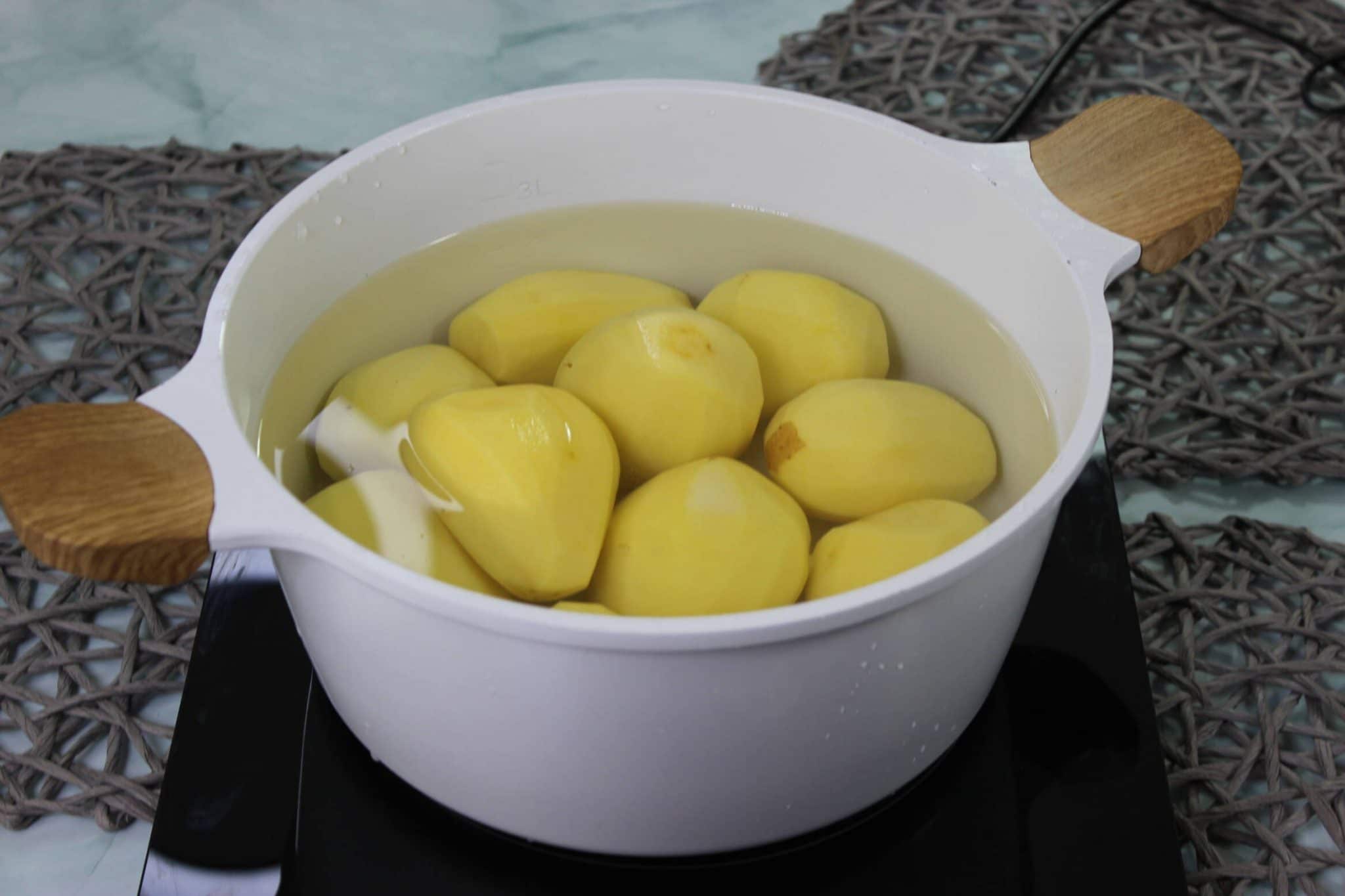 Unfortunately, my mother never gave away her secret of knowing how many potatoes were needed per person so after some time researching and practising I have found a general guide that can be followed to help cook the right amount.
First of all, there are some considerations that can be thought about.
How hungry are your guests?
Adults or children?
What size are the potatoes?
What sides are available (if any)
Once these are taken into account the general guideline can be adjusted to cater for your table. This rule of thumb alone may leave you with a slight surplus or deficit but it is a ballpark figure that you can adjust upon trialling.
So now the answer you've all been waiting for: 9oz to 11oz raw potato per person is a standard amount to serve per person as mash. This is usually 1 – 1 ½ medium sized potatoes. For some this may veer on the big appetite side but leftover mash makes a great base for fish cakes or even potato cakes; in my eyes a win-win situation –today's dinner and tomorrow's lunch using just the one pot!
Now that we have got the shop talk out of the way, let's move onto ways to perfect and spruce up your mash and show the world that the potato can hold its weight amongst the trendier carbohydrate sources available.
Mash and mash again.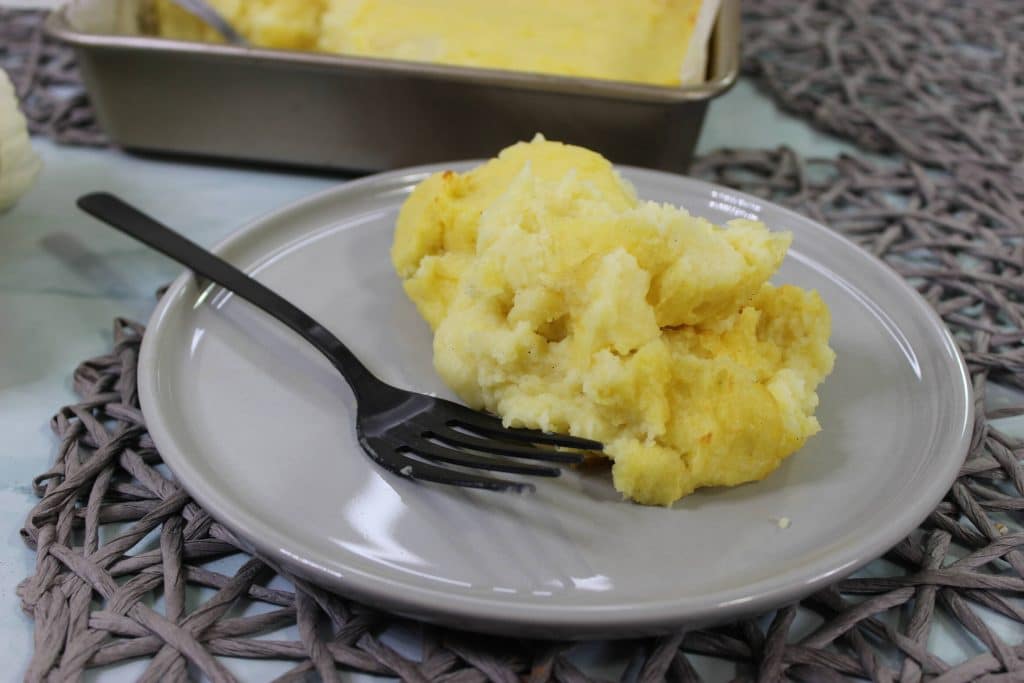 As I mentioned earlier, no one likes a lumpy mash. When you think your mash is smooth, mash again just to be sure. If you want to be tenacious about your mashed potatoes, try using a potato ricer. This leaves you with the silkiest and smoothest mash. Try to avoid food processors and hand blenders as this can turn your mash gloopy and resembling glue.
Season
As with all foods, seasoning is often the forgotten component. Salt, plenty of pepper and a knob of butter will elevate the taste of your mashed potatoes. Adding 50-100ml milk (warm) can also give a nice creamy flavor (dairy free milks such as almond or oat can also be used here)
Jazz it up!
Mashed potatoes don't always have to be kept simple! Experiment with different additions to give a flavor boost. Spring onion is a common addition in Ireland, a dish often referred to as Colcannon – I would highly recommend this hearty dish. Another possible addition could be some paprika and a sprinkling of crumbled chorizo or why not try adding garlic and cream for an alternative take on potato gratin.
Extra Ingredient
Amount needed per potato
Spring Onion
1 Spring Onion
Chorizo
2 oz Chorizo
Butter
1 tablespoon
Cheddar Cheese
¼ cup
Cream Cheese
Heaped dessertspoon
Garlic clove
½ – full clove
Cover
When potatoes are cooked, cover with a towel or kitchen paper instead of the saucepan lid. The towel will soak up the moisture preventing the mash from becoming soggy and gloopy.
Enjoy!
Whether your mash is a side dish or star of the show, take time to taste the flavor of the mash. Tasting the smooth, well-seasoned, often over-looked vegetable in all its glory.
The Last Spud
In summary, potatoes are a staple food to many. Often seen as bland and boring but in reality can carry strong and bold flavors. 9oz to 11oz raw potato per person is the average amount needed to satiate most appetites for mashed potatoes. Mash well and season well are non-negotiables for a mashed potato that will be enjoyed by both young and old. An inexpensive, readily available, nutritious food – let's start the potato revolution!
---
Recent Recipes