Delicious Prosciutto Egg Cups
If you love bacon and eggs of any kind, this is a modern twist on classic flavors. Perfect on their own for on-the-go busybodies as well as with sides for a lazy brunch, these prosciutto egg cups pack in all the flavor and are super easy to prepare.
Prosciutto egg cups are essentially egg muffins. Made in individual pots or muffin tins, these are easy to eat and involve putting your filling into the cup, pouring over some beaten egg and seasoning, and then popping them into the oven – they could not be simpler! Whether you're looking for a healthy snack or a more filling breakfast, these are your answer.
If you have kids, this will likely be a favorite with them too. Prosciutto egg cups are also gluten-free, carb-free, and fit into a keto or paleo diet, so they can be enjoyed guilt-free by people with a wide variety of dietary requirements. If you want to make vegetarian versions or add other foods to your egg cups, this recipe is adjustable and can be tailored to the fussiest of eaters.
You can bake these or make them in an air fryer. With such a versatile and healthy snack, what are you waiting for?!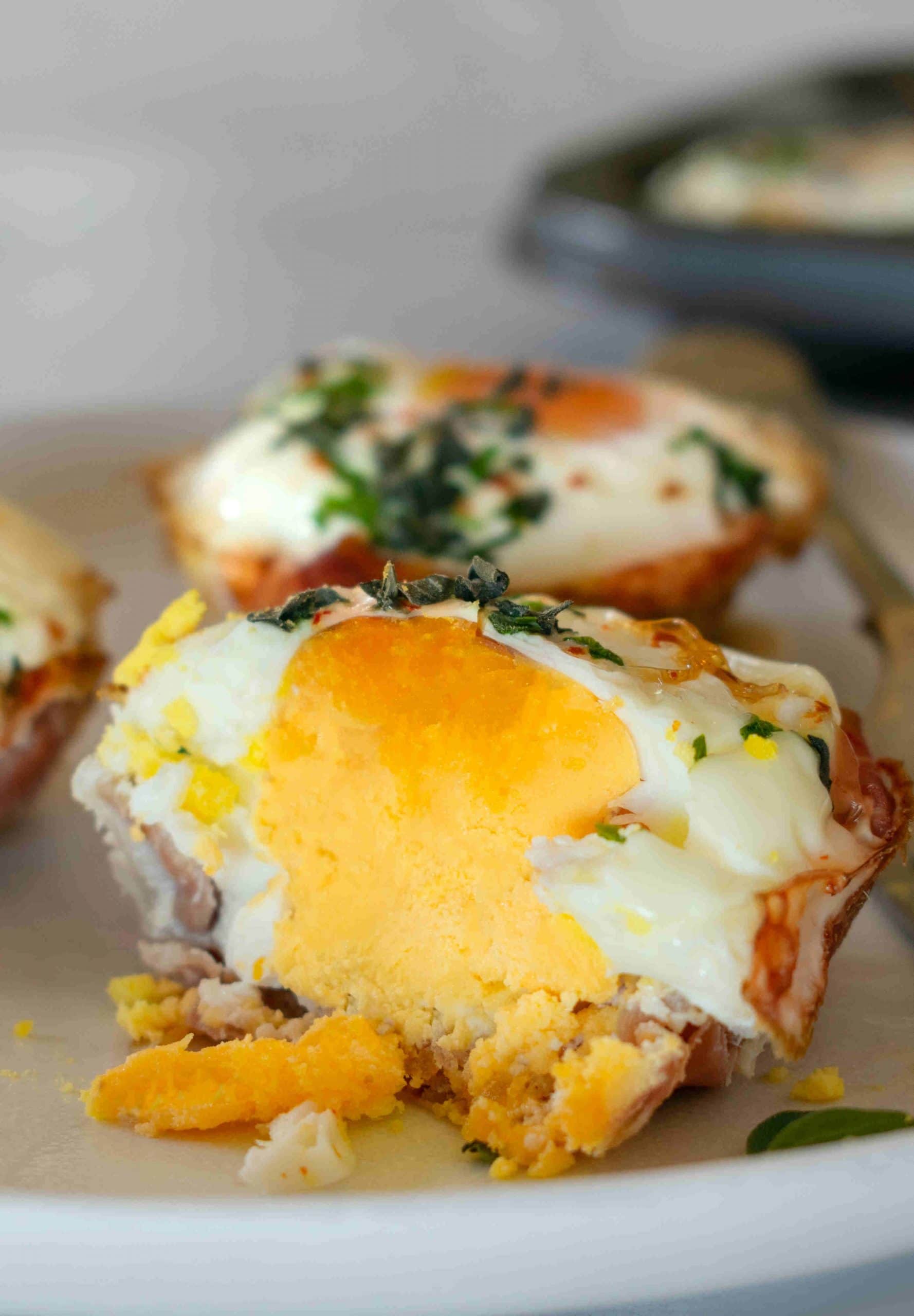 Ingredients
6

eggs

6

pieces

prosciutto

Salt and pepper to taste

Any other seasoning

dill, basil, and chili flakes all work well
Instructions
Heat oven to 375°F.

Spray a muffin pan with oil or cooking spray.

Carefully line the muffin cups with pieces of prosciutto, taking care not to leave any gaps. It's easiest to put the piece of prosciutto on top of the muffin tray and then gently press it down, molding it to the cup.

Crack an egg into the prosciutto.

Sprinkle with seasoning.

Bake for 10-15 minutes in the oven until the eggs are done the way you like them. They do continue to firm up after removing them from the over, so bear this in mind!

Remove from the oven and leave to cool a couple of minutes before removing from the cups.

Eat them while warm or leave them to cool and serve later.
Video
Nutrition
Calories:
67
kcal
|
Carbohydrates:
1
g
|
Protein:
6
g
|
Fat:
5
g
|
Saturated Fat:
2
g
|
Polyunsaturated Fat:
1
g
|
Monounsaturated Fat:
2
g
|
Trans Fat:
1
g
|
Cholesterol:
164
mg
|
Sodium:
69
mg
|
Potassium:
63
mg
|
Sugar:
1
g
|
Vitamin A:
238
IU
|
Calcium:
25
mg
|
Iron:
1
mg
Notes & Tips
Make sure that the prosciutto pieces are overlapping and molded to the tin so that there aren't any gaps for the egg to get through, even though you've sprayed the pan beforehand.
Allow the cups to cool properly before storing them if you're not going to eat them right away.
Select eggs that are similar in size so that they cook through evenly. If you don't have access to these, then beat the eggs like you're making scrambled eggs and divide the beaten mixture equally between the cups.
Due the the simplicity of the recipe, choosing higher quality ingredients is a great way to improve flavor. For example, Iberico prosciutto prosciutto that has been aged longer and free-range eggs to give you an idea.
Variations & Substitutions
Putting a slice of tomato, some mushrooms, or baby spinach leaves into the prosciutto cup before adding the egg gives the cups a nice twist and adds that extra little bit of flavor. Sprinkling some cheese on top makes for a slightly more indulgent treat. As an alternative to breaking in the egg whole, it is also possible to beat the egg until smooth and add some grated cheese or seasoning before putting it into the cup.
These little cups are already super simple and gluten-free. They are not vegetarian, but prosciutto can easily be substituted for vegetarian options. Try using kale, spinach, or a slice of eggplant if you're lining your cups; otherwise, if you're just doing an egg mix, you can add whatever you have in your fridge – olives, tomatoes, asparagus, baby spinach, red peppers, onion or zucchini.
While you can substitute the prosciutto easily, there's not much you can replace the egg with to make these vegan or egg-free, but given their simplicity, they are great for several other dietary requirements, including low carb, paleo, and keto.
Sides & Compliments
These egg cups don't need any sides at all and are great as a stand-alone dish. If you want to include them in a brunch or a picnic spread, then many sides do compliment them well though. If you're serving them hot, put them on some toasted, buttery brioche or fresh sourdough that can mop up the liquid egg yolks.
Adding pesto on top or enjoying them with half an avocado on the side is delicious and keeps the meal carb-free while filling you up a bit more. Serving these on a bed of lentils is also a great and filling combination. For those wanting something quick and easy, eating them with fries is also a good option.
Storage
These are perfect for making in advance and keeping, eating them over a few days, or saving them for an event for which you won't have time to prep the day before. The egg cups can be stored in an airtight container in the refrigerator for up to a week or frozen and then just left to defrost naturally on their own.
If you want to heat them again, pop them into a hot oven for a couple of minutes or into the microwave. Be mindful of not putting them in for too long, as you don't want dry eggs, and rather heat them in smaller increments of 30 seconds! If you do accidentally dry them out a little through overheating, adding some mayonnaise, pesto, or another sauce of your choice is a great way to help cover this up!
An After Taste
Prosciutto egg cups make a great addition to a lunch box, to a picnic, as a breakfast on the go option, or as a feature in a brunch spread. A healthy snack popular with kids and adults alike, these are a great, adaptable dish that can be made ahead of time and easily stored.
---
Recent Recipes