Simple Raspberry Banana Avocado Smoothie
Smoothies are easy to make and you can put them together in just a few minutes. The options are endless in ingredients and flavor combinations. They can be a great meal substitute or a quick snack. They're perfect for those who want to cram nutrients and flavor into one cup.
What makes the perfect smoothie? There are a few criteria that a smoothie needs to have in order for the recipe to be a keeper.
Most would agree that a great smoothie needs to be velvety smooth, made with easy-to-find ingredients, and delicious.
This raspberry banana avocado smoothie is perfect for everyone. It's fruity, which will satisfy the little ones in our lives, and has added nutrients (that you can't taste!) by adding avocado. You can even prep the smoothie ingredients ahead of time so that it comes together even faster.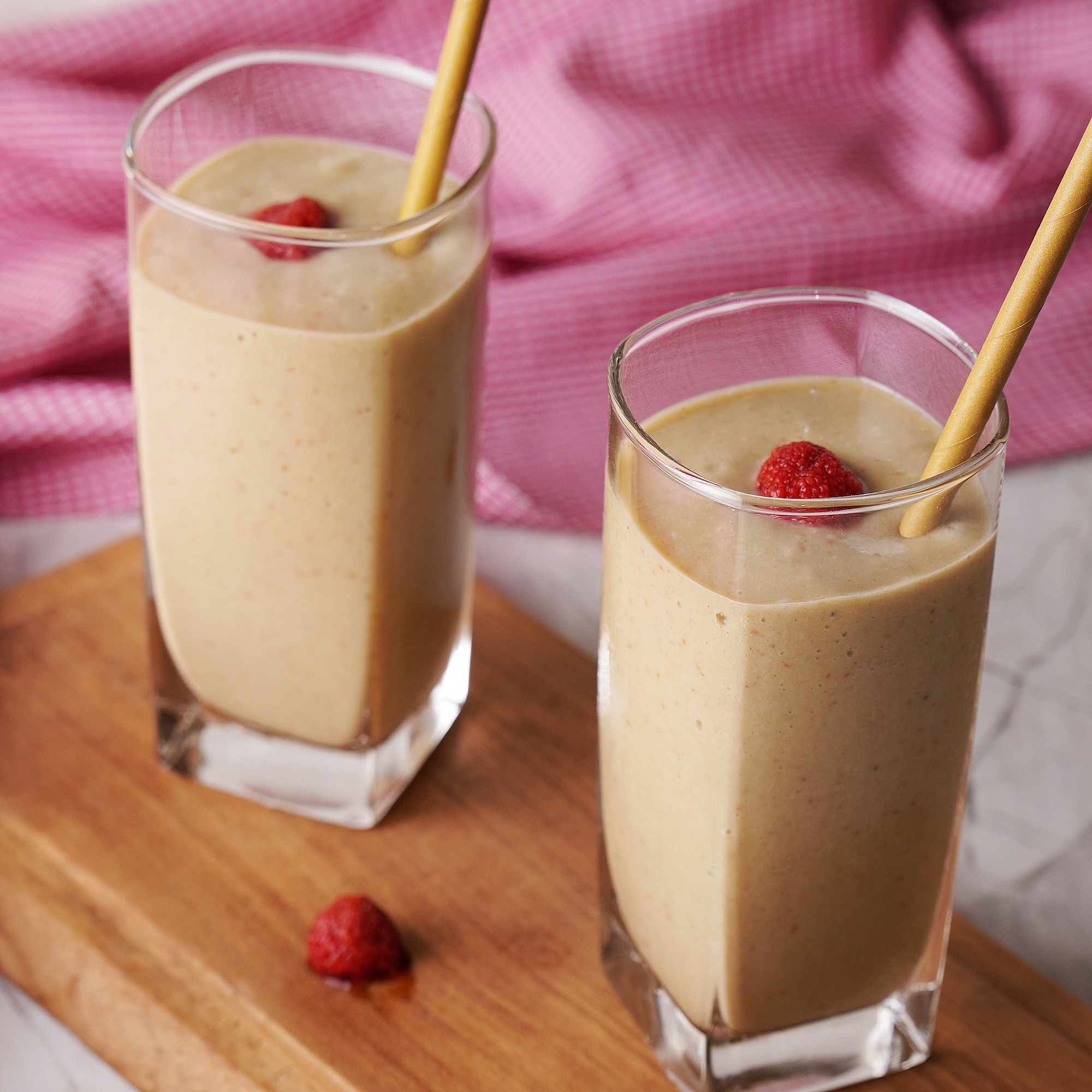 Ingredients
½

avocado

peeled and pitted

3/4

cup

raspberries

frozen

1

banana

frozen

1 ½

cup

coconut milk

1

tablespoon

maple syrup
Instructions
Add avocado, raspberries and banana in a blender.

Add more coconut milk or water to reach your desired consistency.

Mix all ingredients together in a high-power blender until smooth.

Enjoy your Simple Raspberry Banana Avocado Smoothie!
Video
Nutrition
Calories:
259
kcal
|
Carbohydrates:
17
g
|
Protein:
3
g
|
Fat:
22
g
|
Saturated Fat:
17
g
|
Polyunsaturated Fat:
1
g
|
Monounsaturated Fat:
3
g
|
Sodium:
14
mg
|
Potassium:
459
mg
|
Fiber:
4
g
|
Sugar:
8
g
|
Vitamin A:
63
IU
|
Vitamin C:
12
mg
|
Calcium:
31
mg
|
Iron:
3
mg
Notes & Tips
Using frozen fruit allows you to make a creamier smoothie and avoid using ice. If you only have fresh fruit, you can throw in a few ice cubes so your smoothie is chilled.
A good blender is a very important tool for perfect smoothies. There are so many options to choose from that suit many budgets. This single-serve blender is a great option.
When making the smoothie, if you let the frozen fruit sit in the coconut milk for a minute or two before blending, it will result in a smoother drink.
Banana bread isn't the only use for bananas that are turning brown. You can also use them for smoothies. Simply peel them and put them in a freezer-safe container and pull out each banana as you need them.
Do you need to increase your protein? You can add your favorite protein powder to this smoothie.
Substitutions & Additions
You can use any berry instead of raspberries. You could also use an assortment of berries instead of just raspberries.
You can use any liquid here, but the coconut milk is going to make a really smooth, thick, creamy smoothie. You can easily use almond milk, oat milk, fruit juice, or even water.
You can also add greens to this smoothie. Spinach would be a good example. Keep in mind, you may need to add more liquid.
If you don't like avocado, you can substitute it with another half of a banana.
Can Smoothies Be Made In Advance?
You can make a smoothie and store it in a thermal container if you're on the go. Some smoothies you can keep in the fridge for a few hours or overnight. You'll need to mix it up again prior to drinking it though and it may not stay completely frozen.
It's not recommended to store this blended smoothie because it has avocado and avocado oxidizes and turns brown after it's cut open. Therefore, your smoothie might look a little brown and taste a little unpleasant.
There is a better solution though. You can prep smoothie "kits" and freeze them ahead of time. This will save you many steps in preparing the fruits and will make the process quicker.
Simply prepare the fruits (not the milk) and store them in a freezer-friendly plastic bag. These silicone bags work really well. Cutting the fruit into even pieces is a good idea here.
Then, when you want to make the smoothie, pull the bag from the freezer, put it into the blender, add the milk, blend and go!
Are Smoothies Healthy?
Smoothies are a fantastic way to sneak in a substantial amount of fruits and vegetables without even realizing it.
There are several reasons that smoothies help your body. First, it's important to be cautious of the ingredients that you're putting into the smoothie. Smoothies are usually very healthy, but can have some drawbacks.
Fruit smoothies are great, but if you're watching your sugar intake, you may need to be cautious. A daily fruit-filled smoothie can spike your sugar, cause tooth decay or contribute to obesity.
Instead, there are plenty of other ingredients that you can add to balance out the sugar and sweetness of fruit.
For example, using natural nut milk is a great idea. It's even better if you can make the nut milk yourself. Then, you are sure that there are no unnecessary additives.
Adding plain yogurt is another way to add creaminess, substance, and health benefits to the smoothie without adding sugar.
Finally, vegetables are great in smoothies! Spinach and other greens have always been a common ingredient in smoothies, but the options don't end there. You can add cauliflower, carrots, or even sweet potatoes to your smoothies easily.
Are Smoothies Good For Breakfast?
Smoothies are a good breakfast choice because they are fast and portable. But, think twice before you replace your daily breakfast with just a smoothie.
Smoothies that are made with mostly fruit may satisfy a craving for a short period, but will probably leave you hungry shortly thereafter.
If you're going to have smoothies for breakfast, make sure that they have a good balance of fruits and vegetables that are high in fiber. This raspberry banana avocado smoothie is a great option.
You can also have a few other snacks besides the smoothie to help you stay full longer. Smoothies go great with avocado toast (this would be a brilliant use for the other half of the avocado!). You could also pair a smoothie with a fiber-filled bread like this homemade honey walnut bread.
---
Recent Recipes