Ravioli is a pasta type but with a filling inside. It envelopes a stuffing with either spinach, cheese, meat, vegetables, or a combination of more than one of those. It is typically served with a sauce or broth.
Ravioli lasagna is like basic lasagna, but the ravioli is used instead of lasagna sheets. It gives the lasagna extra depth, texture and is quick and easy to make.
Ravioli and lasagna both originate from traditional Italian cuisine. The two dishes combined create a new level of delicious comfort food for any day — lunch or dinner.
Lasagna is a favorite in most homes, and making it using ravioli is super convenient, especially for those evenings you need a quick fix.
You can make ravioli lasagna ahead and store it in the fridge till you are ready to bake and serve. It also freezes well for a lazy dinner or surprise guests.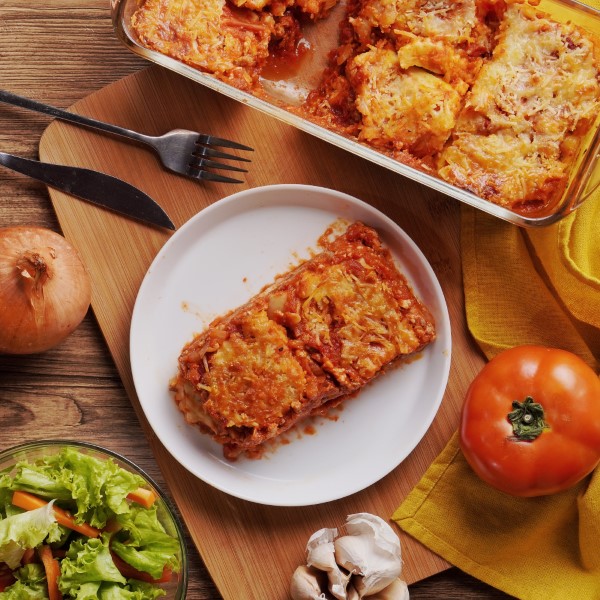 Ingredients
Meat
1

lb

ground meat

beef, lamb, chicken, turkey, pork

1

tsp

oil
Pasta Sauce
1

medium

onion

finely chopped

2

tbsp

olive oil

2-3

cloves

garlic

crushed

3

large

ripe tomatoes

crushed

14

oz

tin tomato paste

1

tsp

sugar

1

tsp

salt

½

tsp

ground black pepper

1

tsp

dried basil or 5-6 freshly chopped basil leaves

½

tsp

Italian herbs

¼

tsp

red chili flakes

optional

¼

cup

clean drinking water
For the Lasagna:
24-30

refrigerated or frozen ravioli

with a filling of choice

½

cup

grated cheese

½

cup

grated mozzarella

or broken into pieces

¼

cup

parmesan cheese
Instructions
All ingredients ready? Let's begin!
Meat
Heat the oil in your skillet.

Add the ground meat while separating and stirring it. Cook until no more pink and water evaporates.

Remove the mince from the skillet and keep it aside.
Pasta Sauce
Add the oil to the same skillet you cooked the ground meat. Heat the olive oil on a medium setting.

Put your finely chopped onions into the oil and saute it for 4-5 minutes until the onions are soft and translucent – almost disappearing.

Add the garlic and saute for another 30-40 seconds.

Add the crushed tomatoes and simmer for 1 minute.

Then add the tin of tomato paste and simmer for 1 minute.

Now add the salt and pepper and cook for 1 minute.

If you enjoy the extra heat, now is the time to add the chili flakes and cook for a minute.

Add the sugar, and again, cook for 1-2 minutes.

Lastly, add in the herbs and cook for another minute.

Then pour the water into the sauce, bring to a boil while stirring. Let it boil for 2-3 minutes. Watch out for splatters.

Taste and adjust spices as needed. You can add more salt if it is lacking or sugar if the sauce is sour.

Turn the heat down to a medium-low, close the lid and allow the sauce to cook for 5-10 minutes.

While the sauce is cooking, you can grate the cheeses and mix them all up (if it is not pre-grated).
Layering The Lasagna
Lightly grease your lasagna baking dish.

Add a third of the pasta sauce to the bottom of the baking dish.

Layer a third of the ground meat over the sauce.

Add ravioli as the third layer.

Use another third of the pasta sauce of the ravioli.

Then add another third of the ground meat.

Sprinkle half the cheese for the next layer.

Repeat the layers until all the ingredients have finished with cheese as the last layer. In a standard baking dish, you should get around 2 ravioli layers. If you have a smaller container, use less cheese between the stacking to last you all the layers.
Baking
Preheat the oven to 400°F.

Lightly grease the inside of a piece of foil and cover the baking dish with it. The grease helps prevent the cheese from sticking to the foil.

Place the lasagna in the oven for 30 minutes.

After that, remove the foil and put the oven to broil for 5-10 minutes until the cheese is golden and slightly crispy on the sides.

Remove, serve, and enjoy with your sides of choice, such as a green salad or garlic bread!
Video
Nutrition
Calories:
694
kcal
|
Carbohydrates:
55
g
|
Protein:
35
g
|
Fat:
38
g
|
Saturated Fat:
14
g
|
Polyunsaturated Fat:
1
g
|
Monounsaturated Fat:
12
g
|
Trans Fat:
1
g
|
Cholesterol:
120
mg
|
Sodium:
1690
mg
|
Potassium:
1150
mg
|
Fiber:
7
g
|
Sugar:
14
g
|
Vitamin A:
1987
IU
|
Vitamin C:
29
mg
|
Calcium:
241
mg
|
Iron:
13
mg
Notes & Tips
Both fridge and frozen ravioli work well. But refrigerated tends to add more flavor. If you use frozen ravioli, add 5 minutes to your baking time. You can boil the ravioli first to help cut down oven time, but it is unnecessary.
For the crushed tomatoes: Boil or immerse them in hot water for a few minutes, then transfer them to cold water. Once cool to touch, you can remove the peel and crush it with a fork or potato masher.
You can spice the pasta sauce as you prefer. Add any herbs you enjoy or a little cumin for a more flavorful and less traditional sauce.
If you want a thin sauce, use more crushed tomatoes instead of tomato paste.
Add more or less water as needed per your consistency preference.
If you don't want to turn on the oven, you can use a pan or skillet. (2)
Clean up as you go and enjoy the process!
Substitutions & Alternatives
For the ravioli lasagna recipe above, it would be best to use ravioli with cottage cheese or spinach filling. You can use one with meat if you enjoy the extra protein.
If you use ravioli with a meat filling, you can omit the extra pound of ground meat or half the amount if you want less meatiness in your lasagna.
You can also liquidize the tomatoes if you want an even smoother sauce.
For quicker and less mess cooking, use ready tin crushed tomatoes.
You can use ready store-bought pasta sauce and add it directly when layering the lasagna. That will cut your cooking time by half and make for a quick dinner with almost no clean-up after.
You can use any types of cheese you like and adjust the amount depending on how cheesy you prefer your lasagna.
You can also use any shape ravioli you have on hand or can find. The square ravioli works best for layering lasagna, but you can use what is convenient and available.
To balance out the sourness of your pasta sauce, you can add a little ketchup instead of sugar.
If you are vegan, use vegetable ravioli and vegan cheese substitutes.
---
Recent Recipes