Easy Rice Atole With Cocoa Powder
Atole is a Latin American hot drink that is traditionally prepared with corn masa, water, milk, unrefined sugar, and cinnamon. Masa is a type of corn hominy flour. This thick beverage is common in Mexico and Central America. Sometimes the drink is made with chocolate and is known as champurrado.
Atole is often served during the Mexican holiday, Day of the Dead or Día de Muertos. It is also a popular breakfast beverage and is offered by street food vendors. It is filling and satisfying – a real comfort food.
This drink can either be thin or have a consistency of thick porridge and can be served as dessert. Though commonly made from corn flour or meal, it can also be made from oats, wheat, or rice. In this atole recipe, we are using white rice as the base to give the drink its structure.
Recipes for rice atole vary from different regions of Latin America. Some call for cooking the rice in water and then milk. Others call for cooking the rice in milk. While some use evaporated milk. I like all of them, but I prefer adding some milk to the cooking water right from the beginning and finishing with evaporated milk. I like this because it is similar to making rice pudding, one of my favorite desserts. There is something luxurious about steeping your raw rice in milk.
This drink is creamy, sweet, and perfect for a cool day when you are craving something comforting. While people claim it gives them energy, I like to think of this as a good snack to have while wrapped in a blanket, curled up on the couch with Netflix or a good book, and then nodding off for an afternoon nap.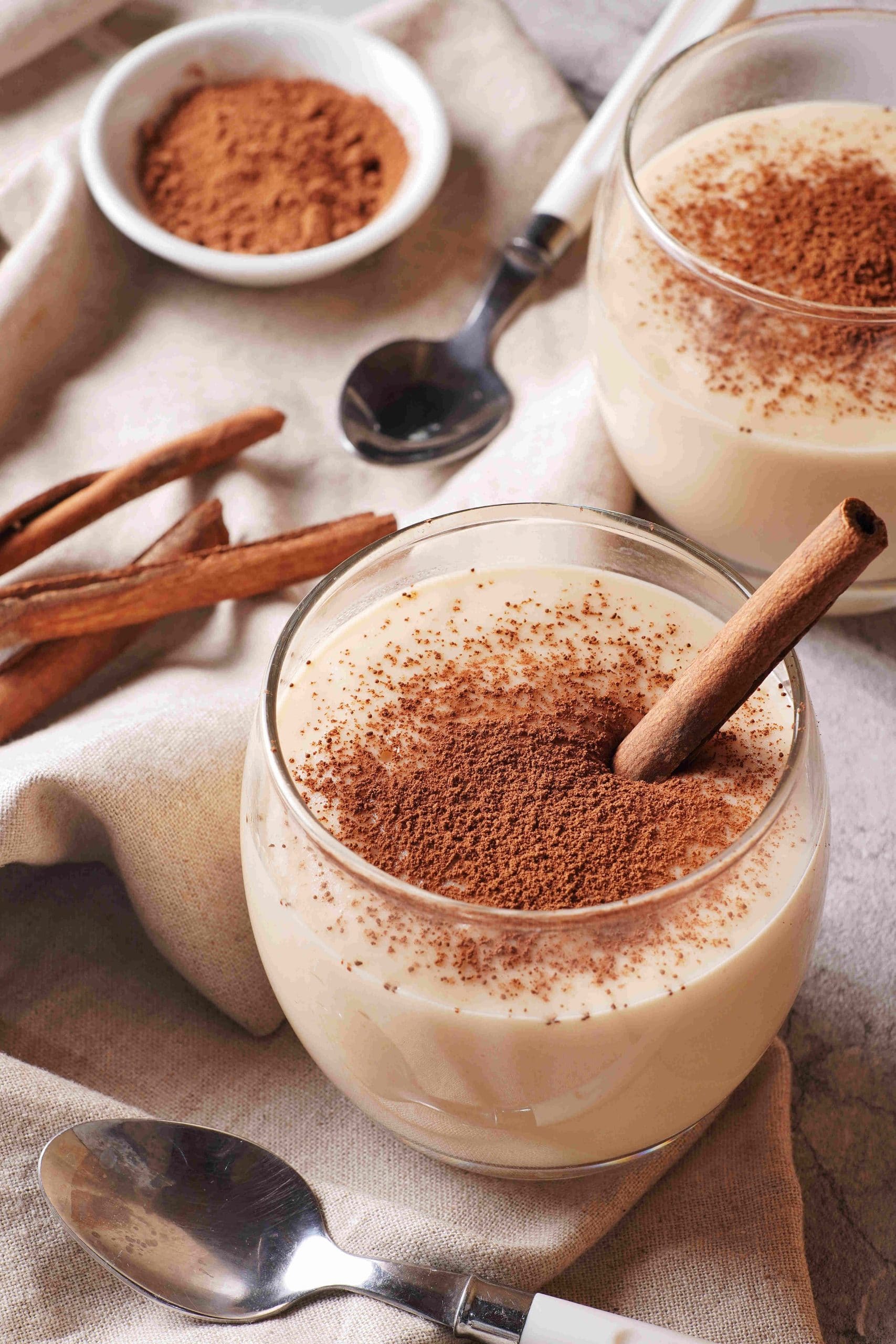 Ingredients
1

cup

long-grain white rice

2-1/2

cups

water

2-1/2

cups

whole milk

divided

1

cinnamon stick

2

cans

12 ounces each evaporated milk

1/2

cup

raw turbinado sugar

or granulated sugar

1

tsp

pure vanilla extract

Pinch

of sea salt

1 to 2

tsp

cocoa powder
Instructions
Place the rice in a fine strainer or sieve and rinse very well under cold water to remove the starch and any dust.

In a medium to large saucepan over high heat, stir together the water, rice, 1-1/2 cups of milk, and the cinnamon stick. Bring this to a boil. Then, reduce the heat to low and cover the pot. Cook for 20 minutes until the rice is tender and the liquid is absorbed.

Increase the heat to medium-high. Stir in the remaining milk, evaporated milk, sugar, and vanilla. As soon as the mixture comes to a boil, cook for 5 minutes stirring often.

Ladle the rice mixture into a blender and puree until smooth and creamy. You will likely have to do this in batches.

Pour the atole into coffee mugs or heat-proof glass Irish coffee mugs. Sprinkle some cocoa powder on top of each drink. Serve while warm.
Video
Nutrition
Calories:
211
kcal
|
Carbohydrates:
44
g
|
Protein:
4
g
|
Fat:
2
g
|
Saturated Fat:
1
g
|
Polyunsaturated Fat:
1
g
|
Monounsaturated Fat:
1
g
|
Cholesterol:
4
mg
|
Sodium:
22
mg
|
Potassium:
102
mg
|
Fiber:
1
g
|
Sugar:
19
g
|
Vitamin A:
68
IU
|
Vitamin C:
1
mg
|
Calcium:
64
mg
|
Iron:
1
mg
Shop Ingredients
Notes & Tips
I think it is important to rinse your rice well. Rice is often dusty after harvesting and from the naturally occurring bi-product of the hulls during the milling process. It is also very starchy. Much of that starch sits on the surface of the grains. Rinse the rice well until the water runs clear to remove that excess dust and starch.
I would love to tell you to just put the ingredients in the pot, cover it, and go do some errands. In this case, it is okay to stir the rice a couple of times while it is cooking. This is a comforting beverage that deserves some TLC.
You can altar the liquid ingredient amounts and the cooking time for a thinner or more porridge-like dish. It is definitely not a crime to leave out some liquid and cook this down to a porridge or rice pudding consistency. That is excellent for breakfast topped with raisins or granola.
Variations For The Holidays
I love the cinnamon in this recipe. I basically just love cinnamon. It is delicious in both sweet and savory dishes. It is also excellent for digestion and certain tummy troubles, as it warms the intestines. Start with that as your base spice.
Atole is a perfect holiday beverage. If serving this around Thanksgiving, add a few pinches of pumpkin pie spice blend. For Christmas, add a festive peppermint (candy cane) stick for decoration and infused flavor. To ring in the new year, add a pinch of nutmeg on top of the drink and maybe spike it with a little dark rum.
What To Pair With Atole?
I think this beverage is a complete meal in a mug that doesn't need anything else. In Mexico, you will see atole served with tamales. Tamales are banana leaf or corn husk wrapped packets stuffed with masa dough that is often filled with stewed meats, cheese, vegetables, or fruits. Tamales are meant to be eaten slowly as they are quite filling. The combination of atole and tamales will mellow you out in a good way.
For a complete breakfast with plenty of savory and sweet goodness, as well as nutrition, to start your day, I would serve a Mexican-style quiche with chorizo along with some steamed greens followed by rice atole to finish off the meal. I would even sprinkle a little espresso powder on top of the atole. This would be a perfect Sunday brunch on a crisp fall day.
---
Get Foodie Deals
We collect great foodie-focused deals from across the web daily. Get yourself or your favorite foodie a great deal at big name stores.
Recent Recipes