Best Rich & Spicy Vodka Sauce Pasta
Vodka pasta or penne a la vodka is usually made with penne rigate, tomatoes, herbs, vodka, and cream. But don't worry, you can't taste the alcohol in the sauce. The cooking technique ensures the vodka evaporates so that you or your guests don't get drunk. At least not from the pasta. This rich & spicy vodka sauce pasta recipe takes a twist on the original recipe by adding chili paste. The spicy and flavorful harissa really makes this sauce come together. But you can use your favorite chili paste to create a unique spicy penne a la vodka recipe.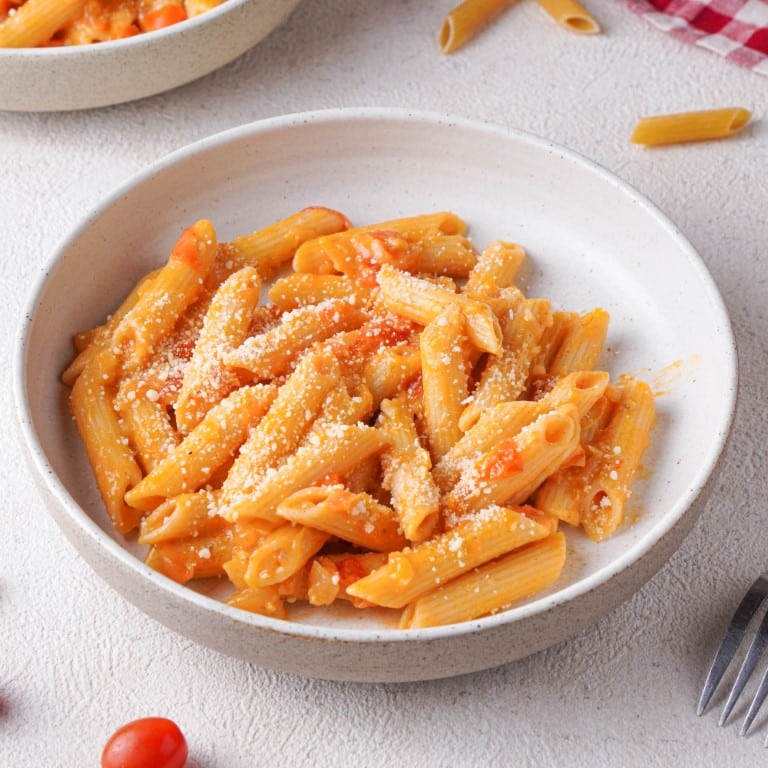 Ingredients
8

oz

Penne Rigate pasta

1

cup

cherry tomatoes

chopped

½

an onion

minced

2

garlic cloves

crushed or minced

¼

cup

heavy cream

2

shots of vodka

about 1/3 cup

4

Tbsp.

extra virgin olive oil

EVOO

1

Tbsp.

harissa

or your favorite chili paste

2

Tbsp.

tomato paste

1

tsp.

sugar

¼

freshly grated parmesan cheese + more for serving

3

Tbsp.

pasta water

Salt & Pepper to taste
Instructions
Make sure you have all the ingredients. Ready? Let's begin!

Heat olive oil in a medium saucepan on medium heat.

Add garlic and onion and let it cook for 2 min.

Toss in cherry tomatoes and let them cook until soft. About 4 min.

Boil pasta in salted water, according to the package's instructions. It usually takes 10 min to cook penne pasta al dente.

Back to the sauce. Add tomato paste, chili paste, sugar, and pasta water. Stir until bubbling.

Pour vodka into the sauce and turn up the heat to medium-high so that the alcohol evaporates.

Turn the heat down to medium, add heavy cream, and stir.

Sprinkle parmesan cheese and mix until combined.

Cook until desired consistency (should be thick and creamy).

Turn the heat down and add salt and pepper to taste.

Mix pasta into the pan and toss until each penne is evenly coated with creamy spicy goodness.

Serve with more grated parmesan on top. Dig in!
Nutrition
Calories:
631
kcal
|
Carbohydrates:
64
g
|
Protein:
12
g
|
Fat:
29
g
|
Saturated Fat:
8
g
|
Polyunsaturated Fat:
3
g
|
Monounsaturated Fat:
16
g
|
Cholesterol:
25
mg
|
Sodium:
218
mg
|
Potassium:
427
mg
|
Fiber:
3
g
|
Sugar:
7
g
|
Vitamin A:
748
IU
|
Vitamin C:
15
mg
|
Calcium:
65
mg
|
Iron:
2
mg
Notes & Tips
I highly suggest cooking the pasta al dente because it's actually healthier. Pasta cooked al dente has a lower glycemic index and it's more easily digested. Not to mention, it tastes better and you'll eat less cause you've got to chew more. Also, it won't be a soggy mush when you reheat the pasta. It's all wins here.
Here's another tip for the pasta: if it's done before the sauce is ready, drizzle some EVOO on it, mix, and set aside. This way you'll keep the pasta from sticking to each other. You can also make pasta from scratch. Just bear in mind that fresh pasta takes only 2-3 min to cook. Check out this recipe for homemade pasta shapes you can make without a pasta machine.
When it comes to tomatoes, garden or sweet cherry tomatoes are the best. But you can simply add a little more sugar if you're using regular tomatoes. It's good to taste the sauce before adding the pasta and adjust the flavor to your liking.
Don't forget to save some of the pasta water to add to the sauce. This helps to thicken it and turn the sauce into creamy decadence. It's an Italian pasta trade secret that you don't want to skip.
Substitutions & Suggestions
If you don't have tomato paste, you can use canned chopped tomatoes. In this case, increase the amount to 3 tablespoons and reduce pasta water to 2 tablespoons. And, as mentioned before, you can replace harissa with your favorite chili paste. Don't forget to take the sweetness level into account and reduce or omit the sugar if necessary. You don't want your rich and creamy vodka sauce tasting like ketchup. Add as much chili paste as you wish to make this rich and spicy vodka sauce pasta as hot as you desire.
To make this recipe vegan, substitute vegan cream for the heavy cream, and vegan parmesan cheese for the parmesan. Of course, it won't taste the same, but the result can be delicious in its own way. I find that coconut cream pairs nicely with tomato sauce. If you're adding nutritional yeast instead of parmesan cheese, go easy on it. Normally, 2 teaspoons are enough.
Vodka, on the other hand, can't be replaced by any other alcohol. Vodka works thanks to its neutral taste. If you add rum, it'll taste like rum, if you add gin, it'll taste like gin. So, unless you want an alcoholic pasta dish, don't substitute the vodka. Besides, how would this be a vodka sauce without vodka? Just remember to evaporate the vodka well so that you don't feel like you've taken a shot with every bite.
To make this recipe low-fat, reduce the amount of EVOO and substitute light cream. But I highly recommend putting your calorie counting aside and making this recipe as rich as it's supposed to be. Your taste buds will be happy which means you'll be happy. And don't forget that happiness is good for you.
Where Is Penne A La Vodka From?
Before checking the history behind penne a la vodka, I'd already imagined an origin story of my own. I'm pretty sure this recipe was invented by a young guy with too many alcohol bottles in his cabinet. He used to host a lot of house parties and guests would always leave their half-drunk alcohol bottles behind. Then he got into a relationship and throwing parties wasn't relevant anymore. But he had to do something with all those half-empty bottles of liquor, right?
He was making pasta one night when his girlfriend started going through the liquor bottles and asking what they were going to do with them. In a moment of inspiration, he took a bottle of vodka and splashed a few shots into the pasta sauce. His girlfriend was in shock and said: "eww, you've ruined the pasta!" But after tasting the final creation they were both pleasantly surprised and decided to popularize this dish. The actual origin story is a bit different.
Many people claim to have invented penne a la vodka. The first was a chef by the name of Luigi Franzese who worked at Orsini Restaurant in New York back in the 1970s. His daughter claims that, supposedly, he needed to thin a sauce and added some vodka from his flask to do so. The second claim coming from the United States is that a university graduate named James Doty invented penne a la vodka in the 1980s. But there are also two chefs in Italy who say they were the first creators. In his cookbook, Chef Pasquale Bruno Jr. said that this saucy pasta dish comes from Bologna, Italy. While another cookbook claimed that it was a chef in Rome who popularized this dish to promote a new brand of vodka. But, whatever the origins of this famous pasta dish may be, its popularity is undeniable.
---
Recent Recipes