Homemade Rigatoni Amatriciana
Sugo all'amatriciana is an Italian pasta sauce that is named for the town of Amatrice in central Italy where it was conceptualized. This traditional red sauce is made primarily of guanciale, tomatoes, and Pecorino Romano cheese.
Despite the devastating earthquake that decimated this ancient and charming town in 2016, the village has bounced back. It is the agricultural center of the area that sits at the base of the foothills of the Gran Sasso e Monti della Laga National Park in the Abruzzo region of Italy.
Rigatoni Amatriciana is an extremely simple pasta dish, yet very rich. It is a staple on many Italian dinner tables and menus. Although the sauce is often served on long pasta shapes, such as bucatini or spaghetti, rigatoni is a great pasta for this sauce because of the ridges and tubular centers. Rigatoni captures and holds onto all the pork bits, tomatoes, and cheese.
I like to start this meal with a platter of cured olives and some bruschetta topped with burrata cheese, fresh basil leaves, and a drizzle of really good olive oil. The pasta would be the primo or first course, followed by either salmon peperonata or chicken diavolo. On the side, and for those vegetarians in the family, I'll have platters of simple vegetables, such as roasted asparagus and Brussels sprouts with prosciutto. I end the meal with either a leafy green salad or a platter of cheese and fresh fruit.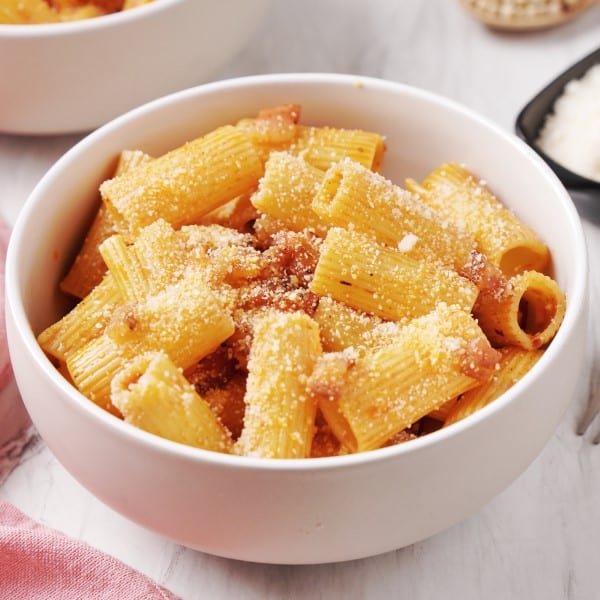 Ingredients
2

Tbsp

extra virgin olive oil

¼

pound

guanciale

cured pork cheek, diced

2

cloves

garlic

minced

1

can

28 ounces whole peeled tomatoes

½

tsp

red pepper flakes

Sea salt and freshly ground pepper to taste

1

box rigatoni pasta

Extra virgin olive oil for finishing

Freshly grated Pecorino Romano cheese for serving
Instructions
All ingredients ready? Let's begin!

In a large skillet over medium-high heat, warm the olive oil. Add the guanciale and sauté for 5 minutes until it starts to turn golden brown. Add the garlic and continue to cook until fragrant, approximately 1 to 2 minutes.

Using a food processor, blender, or immersion blender, process the tomatoes until they are a smooth consistency. Add the tomatoes to the skillet. Stir in the pepper flakes. Reduce the heat to medium-low and simmer uncovered for approximately 15 minutes while you cook the pasta.

In a large stockpot, bring plenty of water and 1 tablespoon of kosher salt to a rolling boil.

Add the pasta and cook until just al dente, about 1 minute shy of the package directions.

Season the sauce to taste with salt and pepper.

Using a spider strainer or slotted spoon, fish out the pasta and add it to the sauce. It is perfectly fine for some of the pasta water to drip into the sauce to help give it some starchiness.

Stir well to coat the pasta with the sauce.

Place the sauced pasta in individual serving bowls. Drizzle a bit of olive oil on the pasta. Top with the grated cheese.
Nutrition
Calories:
518
kcal
|
Carbohydrates:
61
g
|
Protein:
15
g
|
Fat:
24
g
|
Saturated Fat:
7
g
|
Polyunsaturated Fat:
1
g
|
Monounsaturated Fat:
6
g
|
Cholesterol:
25
mg
|
Sodium:
317
mg
|
Potassium:
373
mg
|
Fiber:
4
g
|
Sugar:
5
g
|
Vitamin A:
212
IU
|
Vitamin C:
6
mg
|
Calcium:
94
mg
|
Iron:
2
mg
Notes & Tips
When cooking pasta that is going to be added to a pan of sauce, be sure to only boil it to al dente. That is generally 1 minute shy of the package directions for dried pasta. The pasta will continue to cook as you coat it with the sauce. If using fresh pasta, it will take less than 3 minutes to cook. Either way, give the pasta a little bite to see that the texture is desirable – slightly chewy.
Another tip that I think makes many pasta dishes successful is to add a little bit of the pasta water to the sauce. Not only does this add flavor, it also adds starch. The starch adds body to the sauce and encourages it to adhere to the pasta.
Variations & Additions
Guanciale is a lovely cured pork product. It is the jowl or cheek of the hog and is an extremely flavorful muscle. Think about it, those cheeks are pretty much moving all day while the animal is foraging. Once cured, it is similar to bacon in flavor and texture. If you can't find guanciale, you could definitely use smoked bacon or prosciutto in this recipe. If you are vegetarian, leave the pork out. It will still be good.
The beauty of amatriciana sauce is in its simplicity in both ingredients and steps to prepare. Tomatoes are the base. You can make this sauce with fresh tomatoes if they are in season. I use high-quality canned tomatoes in winter. San Marzano tomatoes are my first choice. You will see some recipes that call for the addition of fresh herbs, such as basil or flat-leaf parsley. If using herbs, mince them and sprinkle them on the top of the dish just before serving for both fresh flavor and bright color.
Finishing the dish with Pecorino Romano is fairly traditional for the region. This is a dry and sharp sheep's milk cheese. You can substitute with Parmigiana Reggiano, Asiago, or fresh Parmesan.
The term rigatoni is derived from the Italian word rigate which means ridged, grooved, or lined. Rigatoni pasta is so great for this dish because the sauce clings to the ridges and slips inside the hollow centers. Fusilli could be an acceptable substitute for rigatoni. To be true to the region of Amatrice, you might use bucatini which is basically wide spaghetti with a hole in the center.
---
Recent Recipes