Simple Roasted Garlic Bread
Every weekend in the summer when I was growing up, we had Sunday dinner on our patio. My father handled the grill and made a Caesar salad. My mother boiled fresh corn on the cob and steamed green vegetables.
Once I learned how I made our family's favorite garlic bread. It was a giant loaf of crusty Italian bread that was cut into 1/2-inch thick slices, but not cut all the way through so you had to pull the bread apart. The garlicky spread for each slice was softened butter mixed with garlic powder, salt, and dried Italian herb seasoning. When I got older, I used pressed fresh garlic in place of the powder and minced herbs from the garden. I wrapped the bread in foil and baked it until the butter had melted and the crusts of the slices were a little crunchy. We devoured this and sometimes had to make 2 loaves.
Once I moved out of my childhood home and started experimenting more with my cooking techniques and using the abundance of fresh ingredients, I found a better way to make garlic bread. When I rented a small house in the country, a friend gave me a small Weber charcoal grill as a housewarming gift. I had been living in an apartment in a big city and having a small yard with a grill was nirvana.
One of the first things I made on the grill was roasted garlic heads. I slathered those creamy cloves on everything, including bread. This was a turning point in my garlic bread repertoire. There is nothing like roasted garlic. It is so buttery and the pungent garlic flavor is surprisingly mellow and almost a little sweet.
My roasted garlic bread recipe has very few ingredients: crusty Italian bread, garlic, butter, olive oil, salt, and fresh herbs. You can bake the bread in the oven or warm it up on a grill. For this recipe, we are warming the bread in the oven partially wrapped in foil. The garlic is already roasted, so heating up the bread only takes about 10 – 15 minutes, depending on how crunchy you want the upper crust of the bread. I like mine very crisp.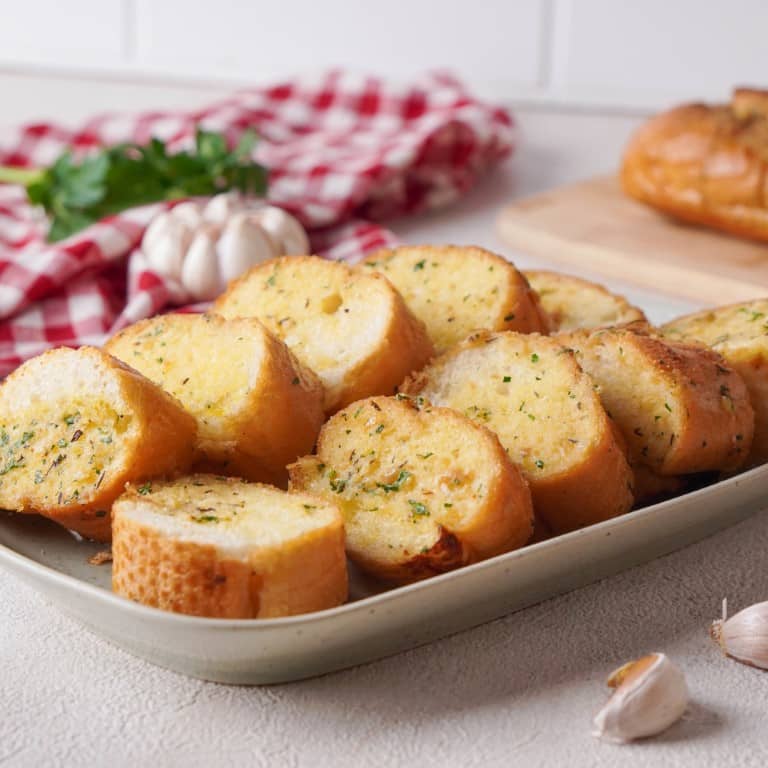 Ingredients
Roasted Garlic
3

large heads of garlic

1

Tbsp

extra virgin olive oil

1

tsp

kosher salt

1

tsp

dried thyme leaves
Garlic Bread
Roasted garlic cloves from 3 heads

6

Tbsp

unsalted butter

at room temperature (softened)

2

Tbsp

extra virgin olive oil

1/2

tsp

sea salt

1/4

tsp

freshly ground pepper

2

tsp

minced flat-leaf parsley or fresh oregano leaves

1

16 to 18-inch loaf of crusty Italian bread
Instructions
All ingredients ready? Let's begin!
Roasted Garlic
Preheat your oven to 375°F.

In a small mixing bowl, combine the olive oil, salt, and thyme.

Grab a sheet of aluminum foil large enough to wrap the garlic heads in. Slice 1/2 inch off the tops of each garlic bulb to expose the cloves. Place the garlic, root side down on the foil. Brush or spoon the oil mixture over the exposed cloves. Gather the foil and wrap the garlic to enclose it.

Place the foil packets of garlic directly on the oven rack and roast until the cloves are soft, approximately 50 minutes.

Remove the garlic from the oven and reduce the oven heat to 350°F.
Garlic Bread
In a medium mixing bowl, squeeze the roasted cloves of garlic out of the skin of the bulb and mash them with a fork.

Add the softened butter, olive oil, salt, pepper, and fresh herbs. Mix all of this together to form a spreadable paste. Cut the loaf of bread into 3/4-inch slices without cutting all the way through the bottom crust. This should resemble an accordion or Hasselback potato.

Using, a butter or dinner knife, spread the garlic paste evenly on both sides of each slice of bread, trying not to pull the slices apart.

Wrap the bottom and sides of the loaf of bread, leaving the top of the loaf slightly exposed so it can brown.

Place the loaf of bread on the upper rack of your oven and bake until warmed through and the top of the bread is golden brown, approximately 10 to 15 minutes.

Serve while war, allowing everyone to pull slices off the loaf.
Nutrition
Calories:
456
kcal
|
Carbohydrates:
34
g
|
Protein:
5
g
|
Fat:
34
g
|
Saturated Fat:
17
g
|
Polyunsaturated Fat:
4
g
|
Monounsaturated Fat:
11
g
|
Trans Fat:
0.5
g
|
Cholesterol:
23
mg
|
Sodium:
649
mg
|
Potassium:
178
mg
|
Fiber:
2
g
|
Sugar:
18
g
|
Vitamin A:
284
IU
|
Vitamin C:
4
mg
|
Calcium:
32
mg
|
Iron:
2
mg
Notes & Tips
The timing of the bread may vary, depending on your particular oven, so keep an eye on it. You can also warm the bread on your grill by placing it over indirect heat while you are grilling other items.
This recipe can also be made open-faced by slicing the loaf or baguette in half lengthwise. Spread with the garlic mixture and toast it under your broiler. Then, slice it into individual pieces.
Roasted garlic will keep in a sealed container in your fridge for a few days, so you can make it ahead of time. You can also freeze roasted garlic cloves for a couple of months.
Substitutions & Additions
Bread: This recipe works with a variety of bread. I like the crusty Tuscan bread. You can use a French baguette, batard, whole grain, focaccia, or gluten-free bread.
Garlic: If you don't want to take the time to roast garlic, you can use pressed cloves of garlic or garlic powder. You also might want to try this with black garlic. Black garlic is fermented and heated for a long time. It is sweeter in flavor, black in color, and sticky in texture.
Butter: If you are vegan, you can make this garlic bread with just extra virgin olive oil or use your favorite vegan butter.
Herbs and Spices: I enjoy both parsley and oregano in this recipe. You could also use basil, thyme, or rosemary. If you don't have fresh herbs, use dried. For a kick, add a couple of pinches of cayenne pepper flakes to the buttery mixture.
Cheese: I often make roasted garlic bread with the addition of grated parmesan or pecorino Romano cheese added to the spread.
---
Recent Recipes