Salmon is high on my list of delicious and nutritious seafood. I think the bright orange flesh is a sign that salmon is loaded with good stuff. Salmon doesn't get that bright hue from sitting in a pond munching on pellets and not doing much else. Wild salmon spend much of their lives in the ocean and then swim upstream in brackish and freshwater streams and rivers to spawn. These fish are hard workers and good eaters of smaller fish, crustaceans, krill, plankton, and insects.
Salmon prefer colder waters; Hence, their flesh is high in fat content. It is also high in protein. There is very little saturated fat in salmon and plenty of heart-healthy omega-3 fatty acids. This is the beneficial fat you want to eat.
I am partial to wild-caught salmon over farm-raised. When you read the label on a package of farmed salmon, you will often see food coloring as an additive. I don't necessarily want that. If I decide to purchase farm-raised salmon, I look for organic Atlantic salmon that is sustainably raised in designated areas of the ocean. Generally, I look for wild king, chinook, or Atlantic salmon. These have soft and buttery flesh. Though, firm-fleshed sockeye and coho can take on a lemony piccata sauce nicely as well.
I prepare salmon in several different ways. I will eat it raw, cured, smoked, sauteed, grilled, and baked. I also add salmon to stews, chowders, and pasta dishes. For this recipe, I have prepared salmon piccata. Piccata is a piquant sauce composed of lemon, broth, wine, capers, butter, and fresh herbs poured over seared or sauteed protein or vegetables.
Salmon is not a flaky, delicate fish. I like to serve salmon piccata on a sturdy bed of arborio rice or risotto, boiled farro, or creamy polenta. I will also serve a side of pesto butter beans with broccoli, dark leafy greens with olive oil, garlic, and lemon, or ratatouille. I think you can see the direction I am going in. Salmon piccata really pairs nicely with Mediterranean ingredients and flavors.
You will want to pick up 4 to 6-ounce fillets with the pin bones and skin removed. Or, you can prepare your own fresh salmon if you are skilled at gutting and filleting a freshly caught fish. That would be awesome.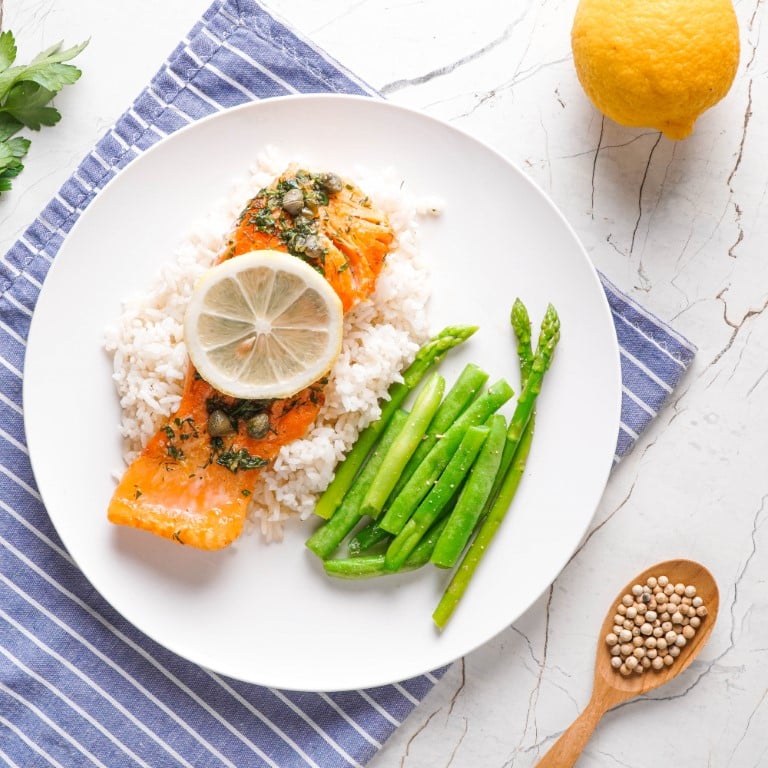 Ingredients
Four 4 – 6 ounce skinless salmon fillet portions

½

tsp

kosher or coarse sea salt

¼

tsp

freshly ground pepper

2

Tbsp

extra virgin olive oil

¼

cup

dry white wine

¼

cup

vegetable broth

2

tsp

lemon zest

Juice of 1 whole lemon

2

Tbsp

butter

2

Tbsp

brined capers

drained

1

Tbsp

minced fresh flat-leaf parsley

1

Tbsp

minced fresh dill

Salt and pepper to taste

4

thin slices of lemon for garnish

2

cups

cooked rice

farro, or polenta for serving
Instructions
All ingredients ready? Let's begin!

Pat the fish fillets dry with paper towels.

Season them with salt and pepper on both sides.

In a large sauté pan or skillet over medium heat, warm 2 tablespoons of olive oil. When the oil is hot, add the fish to the pan and sauté 3 minutes per side until just opaque and golden. The internal temperature should read 140°F when checked with a digital thermometer. Transfer the fillets to a serving platter. The fish will continue to cook while you make the sauce.

Turn the heat up to medium-high. Add the wine to the pan and deglaze, whisking to incorporate any brown bits in the pan. When the wine bubbles, add the broth, lemon zest, and lemon juice to the pan. Cook until the liquid has reduced by half, whisking often.

Turn the heat off and whisk in the butter until it melts and the sauce is silky. Sir in the capers, parsley, and dill. Season with salt and pepper to taste.

Pour the warm sauce over the fish and serve immediately over a bed of rice, farro, or polenta with lemon slices on top of each fillet and green veggies on the side.
Nutrition
Calories:
429
kcal
|
Carbohydrates:
24
g
|
Protein:
36
g
|
Fat:
18
g
|
Saturated Fat:
3
g
|
Polyunsaturated Fat:
5
g
|
Monounsaturated Fat:
9
g
|
Cholesterol:
94
mg
|
Sodium:
546
mg
|
Potassium:
901
mg
|
Fiber:
1
g
|
Sugar:
1
g
|
Vitamin A:
211
IU
|
Vitamin C:
6
mg
|
Calcium:
44
mg
|
Iron:
2
mg
Notes & Tips
Make sure to pat the fish dry with paper towels and season it just before it goes into the pan. Salt will cause moisture to come to the surface. As the fillets hit the hot pan, the oil will splatter if there is too much moisture.
I say this often, but you really do want to use a wine that you would drink for this sauce. It makes a difference in the finished dish.
Remember to zest the lemon prior to juicing it so you aren't left with trying to zest squished lemon skins.
Substitutions & Additions
Fish: If you can't find wild-caught, fresh salmon, you can use frozen. You want to slowly defrost the fillets in the refrigerator overnight. Be sure to pat them very dry before cooking. Other fish fillets that work for this recipe are Chilean sea bass, swordfish, haddock, and black cod (sablefish).
Wine: I once made a piccata sauce with champagne because I had some left in a bottle that we had opened the night before and didn't drink all of it. I have to say, it was a great substitute for dry white wine. If you don't drink alcohol, you can simply use more broth and a teaspoon of good tangy mustard for the sauce.
Capers: I always have a jar of capers in my fridge, but sometimes I forget about them and they may have gone past the expiration date. A great substitute for capers is chopped green or kalamata olives.
If you want a thicker sauce, you can lightly coat the fish in all-purpose flour before sautéing it. Whisk the bits of cooked flour into the liquid to add some body.
Most of my piccata recipes include shallots or garlic. I didn't use either in this recipe because the salmon is flavorful enough for me. Also, I have dill in the recipe, which can be a strong herb. I wanted those two ingredients to be front and center, along with the lemon. Feel free to cook thinly sliced shallots or garlic until just aromatic in the pan just before adding the liquid components to make the sauce.
---
Recent Recipes