What could be better than warm, fresh baked bread? Probably nothing. What makes it even better is added flavors and toppings, which is why I love this scallion bread so much! It's a traditional Chinese baked good and it can be served as a side with so many dishes, even something like baked ziti. This bread is full of scallions and sesame flavor, so it can be enjoyed all on its own, too (perhaps with a slab of butter). It can be shaped a variety of ways, but I chose to go with a braided shape that you might already be familiar with from this easy Guyanese bread.
Bear in mind, as with any bread, this will need several hours to rise, so try to prepare it well in advance of when you want to serve it. This recipe makes two loaves, so you can freeze one for later if you want.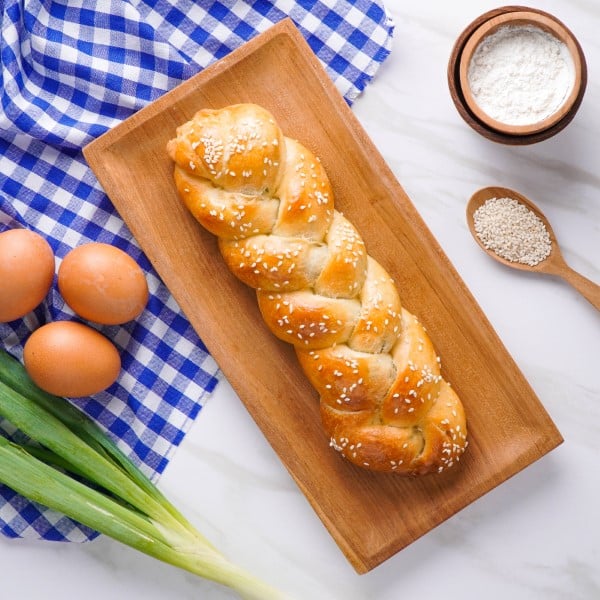 Ingredients
Non-stick cooking spray
½

cup

milk

2

tbsp

sugar

1 ¼

tsp

active dry yeast

2

cups

flour

1

tsp

baking powder

1 ½

tsp

salt

4

tbsp

butter

2

eggs

1

bunch scallions

2

+ tbsp sesame oil

1

tbsp

sea salt flakes

2

tbsp

sesame seeds
Instructions
All ingredients ready? Let's begin!

Use the non-stick cooking spray to grease a large mixing bowl all the way up the edges. Set aside.

In a small mixing bowl, add the milk and heat it in the microwave for 45 seconds or until it is warm (but not too hot!).

Add 1 tbsp of sugar and the yeast to the milk. Mix to combine then set aside.

If you have a stand mixer, add the flour, baking powder, and ½ tsp of salt to the bowl and mix briefly (if you do not have a stand mixer, use a regular bowl and be prepared to do a lot of kneading).

Add the butter to a small mixing bowl and melt in the microwave before adding it to the bowl with the flour. Add 1 egg.

After the yeast mixture has sat for at least 5 minutes, add it to the stand mixer too.

Use the paddle attachment and knead until roughly combined. If, after a couple minutes, it is too dry or too sticky, add a little bit of milk or flour respectively until it begins to shape like bread dough.

Turn the speed to medium and continue kneading for 8-10 minutes. If you do not have a stand mixer, you will need to use your hands to do this.

Lightly flour a counter or other surface and plop the dough there. Use your hands to knead a few times and shape into a ball with one seam down the middle.

Place the dough seam side down in the previously greased bowl and cover. Leave the bowl to rise in a warm place for 1 hour or until it at least doubles in size.

A few minutes before your dough is done rising, you can start preparing the filling. Finely chop the scallions then add them to a bowl.

Add 1 ½ tbsp of sesame oil and 1 tsp of salt. Stir to combine. Set aside.

Prepare a large baking tray by lining it with parchment paper.

Punch the dough to deflate then plop it on a lightly floured surface. Cut in half. Put one half back into the bowl before covering and setting aside.

With the half you have out, cut into equal thirds. Knead each bit separately into a ball.

Roll each ball out into a fat snake, then roll each longer and wider so each is about 12 inches long and 4 inches wide.

Brush the dough with sesame oil and sprinkle a little bit of salt across.

Use a teaspoon to scoop some of the scallion mixture and spread it up the long side of the rectangle.

Starting at the long edge with the scallions, tightly roll up the dough into a long snake (the scallions will be on the inside).

Repeat until all 3 sections have been rolled up. Place all 3 ropes side by side and pinch one end of all together before tucking the pinch under.

Gently braid the three pieces before pinching at the end and tucking that under as well.

Carefully transfer the braided loaf to the previously prepared baking tray.

Repeat all steps with the other half of the dough. When both finished loaves are arranged on the baking tray, make sure to leave a lot of space for them to rise.

Cover the loaves with a clean towel and let sit in a warm area for 2 hours or until they have doubled in size.

Once the loaves have risen, preheat the oven to 350F.

In a small bowl, add 1 egg and about a teaspoon of water. Whisk together.

Brush the loaves with egg wash then sprinkle sesame seeds on top.

If you want, you can also sprinkle some salt flakes or more chopped scallions on top as well.

Put in oven and bake for 25 minutes or until the braids are a toasty golden color.

Transfer to a wire cooling rack and let cool for 15-30 minutes before serving.
Nutrition
Calories:
136
kcal
|
Carbohydrates:
20
g
|
Protein:
4
g
|
Fat:
4
g
|
Saturated Fat:
1
g
|
Polyunsaturated Fat:
2
g
|
Monounsaturated Fat:
2
g
|
Trans Fat:
0.003
g
|
Cholesterol:
29
mg
|
Sodium:
928
mg
|
Potassium:
78
mg
|
Fiber:
1
g
|
Sugar:
3
g
|
Vitamin A:
84
IU
|
Vitamin C:
0.4
mg
|
Calcium:
60
mg
|
Iron:
1
mg
Notes & Tips
The bread can be stored in a ziplock or other airtight container for a week. You can also freeze them for up to 3 months.
The ideal temperature for the milk during the first few steps is around 115F. That way it is warm enough to activate the yeast but not so hot that is kills it.
If you are using your hands to knead the dough, you can get it roughly mixed in the bowl, then turn it out onto a floured surface and continue kneading it that way. I find it easier to do than trying to keep doing it in the bowl. You will still need to knead it for 10 or more minutes.
---
Recent Recipes