Charleston, SC is well known for its She Crab Soup. This is a creamy bisque-like soup that is made with the meat harvested from female crabs. It is believed that the meat of female crabs is sweeter than that of the larger males. She crabs also have roe (eggs) that are used in the soup to intensify the flavor and add to the creamy texture.
Crabs are plentiful in the low-lying coastal waters of the southeastern United States. They are a culinary staple in what is called "low country" cuisine. You may have heard of a low country boil. This is a feast of boiled shellfish, sausage, potatoes, and corn. Traditionally, boils have shrimp as the main protein. In Charleston, you are likely to find a boil that also includes local blue crabs. These are the crabs that are used to make the classic she crab soup. The crabs are on the smaller side and the meat is tender and sweet.
What I love about she crab soup is the restraint in the number of ingredients used. This soup is primarily crab meat cooked in a thick milky broth. I add finely chopped onion and celery to the soup base for additional aromatic depth of flavor. These ingredients don't fight with the crab for center stage.
The first time I had crab soup, it was thick like chowder and served with tiny saltine crackers on the side. I find that a soft roll, like a Parker House roll, is quite nice for dunking into any of the soup that is left in the bowl that your spoon can't grasp. I like serving this with a glass of dry rosé wine or even champagne.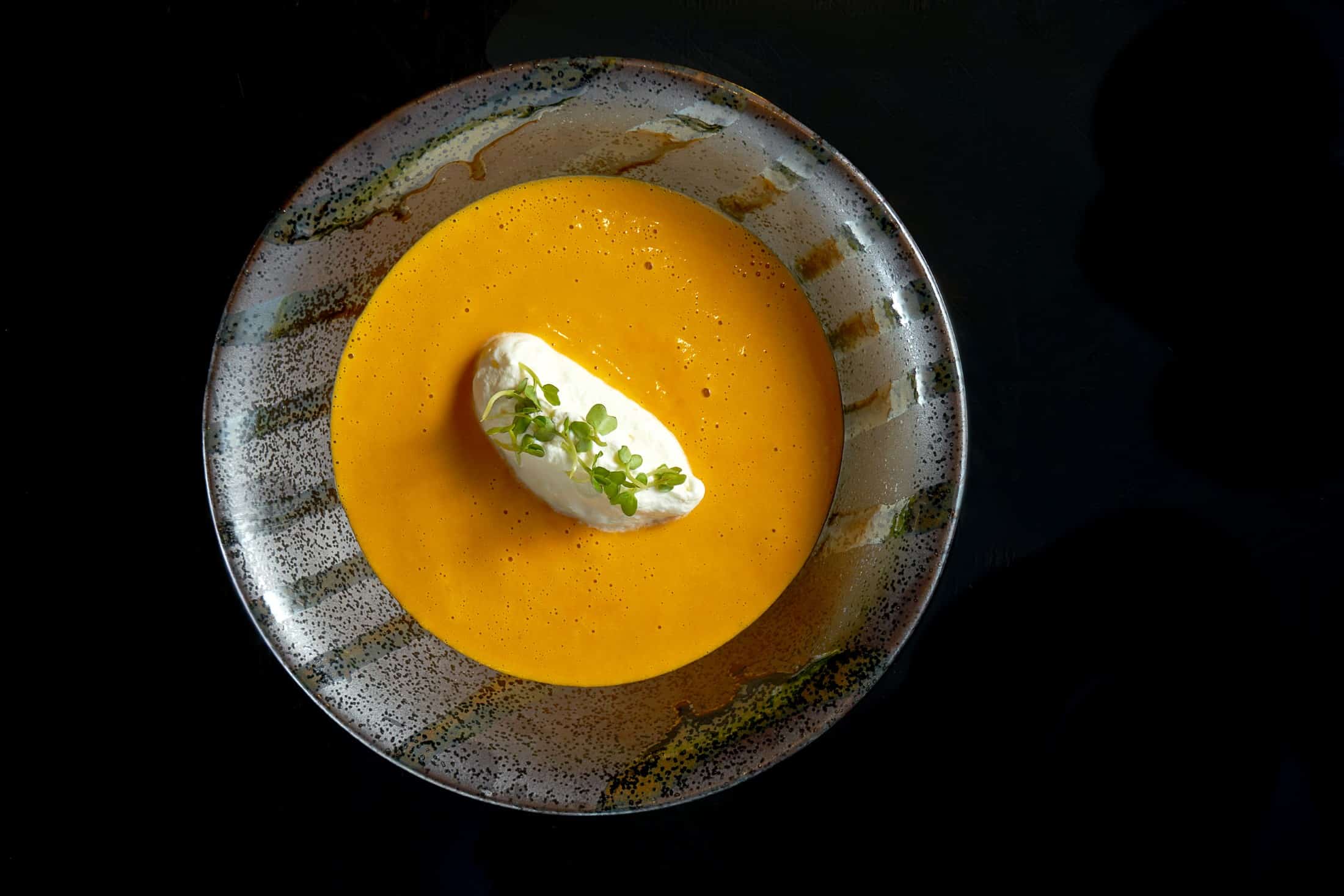 Ingredients
4

Tbsp

butter

1

small yellow onion

peeled and finely chopped

1

celery rib

finely chopped

4

Tbsp

all-purpose flour

3-1/2

cups

whole milk

1/2

cup

chicken stock

1

pound

fresh lump female crab meat

1/4

pound

crab roe

1/4

tsp

freshly ground pepper

preferably white pepper

1/4

tsp

ground mace

1

cup

heavy cream

1/2

cup

dry sherry

Sea salt to taste

1 to 2 tsp

Chopped flat-leaf parsley and paprika for serving
Instructions
In a large stockpot or Dutch oven over medium heat, melt the butter. Add the onions and celery and sauté until the vegetables are softened, approximately 4 minutes.

Place the milk and broth in a saucepot over medium heat and warm it up. Don't allow it to boil. While that is warming up, stir the flour into the onion, celery, and butter until a smooth and slightly nutty smelling roux is formed. Don't allow it to turn brown. Season with pepper and mace.

Slowly pour in the milk and broth and whisk until well combined and the soup liquid starts to bubble. Turn the heat down a little until the soup is at a low rolling simmer. Gently stir in the crab meat and crab roe until well combined. Allow this to cook for around 15 minutes, stirring often, until the soup thickens.

Stir in the cream and sherry. Continue to cook until the soup is the thick and creamy consistency you like and the sherry has mellowed, approximately an additional 15 minutes. Stir often. Season with salt to taste.

Ladle the soup into serving bowls and garnish lightly with paprika and chopped parsley leaves.
Nutrition
Calories:
227
kcal
|
Carbohydrates:
11
g
|
Protein:
5
g
|
Fat:
17
g
|
Saturated Fat:
11
g
|
Polyunsaturated Fat:
1
g
|
Monounsaturated Fat:
4
g
|
Cholesterol:
54
mg
|
Sodium:
75
mg
|
Potassium:
213
mg
|
Fiber:
0.5
g
|
Sugar:
6
g
|
Vitamin A:
704
IU
|
Vitamin C:
2
mg
|
Calcium:
121
mg
|
Iron:
0.4
mg
Notes and Tips
This rich and creamy soup is one that requires your attention. A little TLC goes a long way.
You will want to keep an eye on the vegetables so that the butter doesn't burn. Adjust the heat as necessary. After adding the flour, don't allow the roux to cook too long or it will turn brown.
Heating up the milk and broth will ensure that the roux won't clump up when you add the warm liquid to the pot. Add it slowly and stir or whisk the entire time. Likewise, stir the soup often so the bottom doesn't scorch and the soup doesn't break or separate. You want a uniform consistency.
I recommend using a good quality dry drinking sherry for this soup. Cooking sherry is generally of lesser quality. The sherry is a prominent flavor in the soup, so go for one that you would want to sip on.
Substitutions
The key ingredient in this creamy soup is the she crab. That may not be an option when you are shopping for crab. If you can't find female crab meat, just use really fresh lump crab meat. The freshness is what counts. If crabs aren't in season and you are craving this soup, you could use a high-quality canned crab. I would recommend one labeled "lump crab meat".
While I call for chicken broth in this recipe, you could go all out and make a shellfish broth by buying fresh she crab shells. You could harvest the meat and simmer the shells in water with a little Old Bay seasoning until you have a concentrated shellfish broth. Yum. You can also make a shellfish broth with shrimp shells.
When it comes to the roe component, that may not be available either, unless you are lucky enough the have fresh she crabs with the roe intact. A good substitute for crab roe is the chopped yolks of 2 hardboiled eggs.
Not everyone keeps a jar of mace in their spice rack. Nutmeg is a fine substitute for mace in cream soups.
---
Recent Recipes