Simple Gluten-Free Italian Flatbread
If you are following a low FODMAP diet, then you may be interested in this simple Italian gluten-free Socca flatbread recipe. This recipe only requires 3 ingredients, garbanzo flour, olive oil, and water with the option to add various seasonings and vegetables. Garbanzo bean flour is a great low FODMAP ingredient to have on the stock as it is gluten-free and high in protein. This flatbread recipe is easy and extremely versatile and can be served in many different ways. The only caveat is that the bread mixture must be refrigerated for at least 3-6 hours (the longer the better).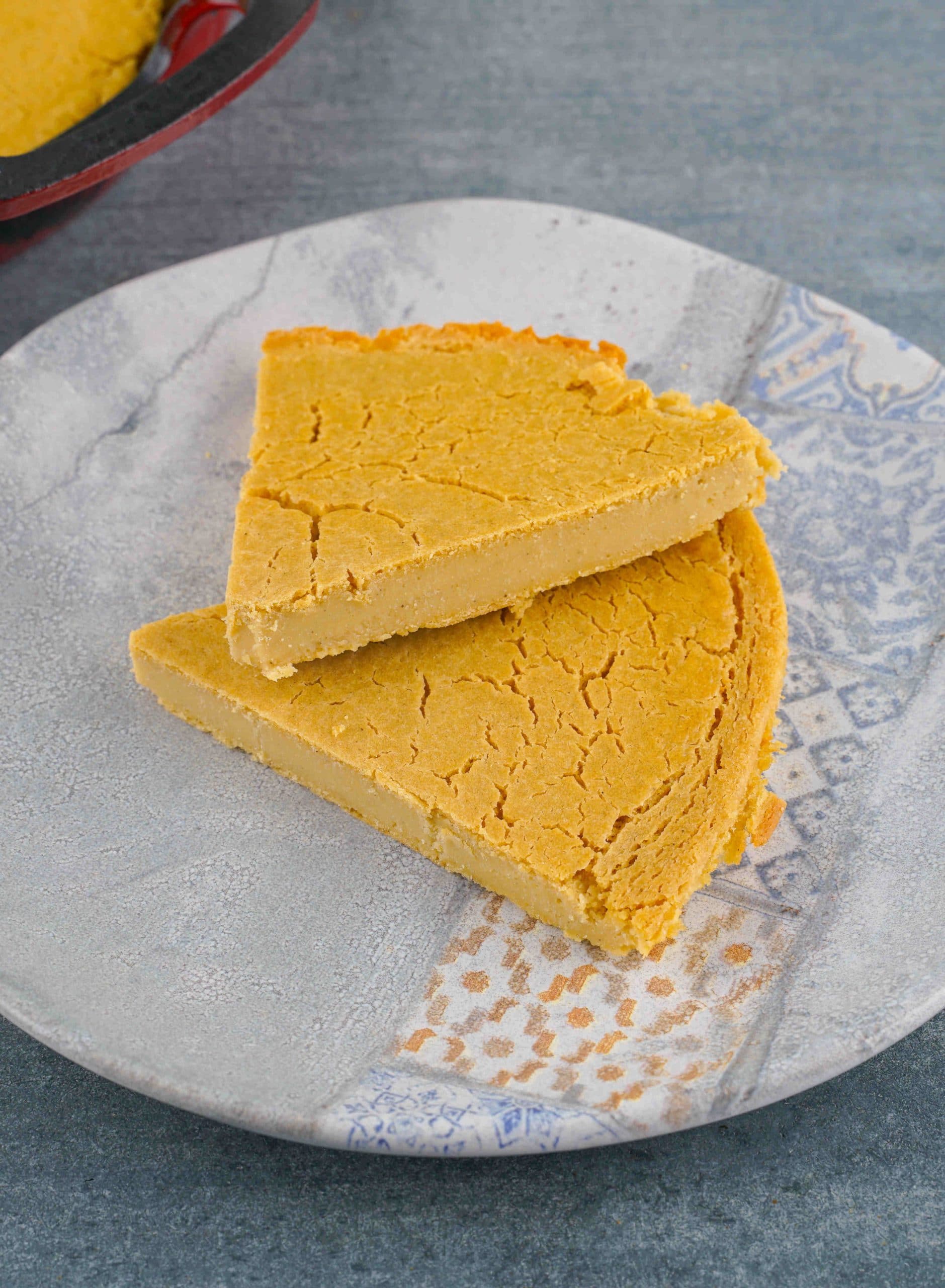 Ingredients
1.5

cups

garbanzo bean flour

or chickpea flour

1.5

cups

water

3

tbsp

olive oil

1

tbsp

salt

1

tbsp

pepper

Dried or fresh herbs

rosemary, basil, or parsley
Instructions
Combine garbanzo bean flour with water and olive oil. Either whisk or use a blender (a blender makes a smoother texture).

Cover and let mixture rest in the refrigerator for 3-6 hours. The longer the better. After letting rest, remove foam from the top of the mixture.

Add desired seasonings like salt, pepper, or dried herbs. This bread can be easily flavored so get creative with your favorite spice mixes! Try this sumac spice substitute if you are feeling like some Middle Eastern flare.

Preheat the oven to 450° Fahrenheit (232° Celsius). Then place a 10 inch cast iron skillet in the oven and broil on high for 5 minutes. After the pan is heated, coat the bottom grease with 1-2 tbs olive oil.

Pour mixture into a greased and heated 10-inch cast-iron skillet. Ensure mixture coats bottom.

Broil for 6-9 minutes until browned and blistered. Use a spatula to serve and remove from the skillet.
Video
Nutrition
Calories:
180
kcal
|
Carbohydrates:
18
g
|
Protein:
7
g
|
Fat:
9
g
|
Saturated Fat:
1
g
|
Polyunsaturated Fat:
2
g
|
Monounsaturated Fat:
6
g
|
Sodium:
1185
mg
|
Potassium:
267
mg
|
Fiber:
3
g
|
Sugar:
3
g
|
Vitamin A:
18
IU
|
Calcium:
20
mg
|
Iron:
2
mg
Notes & Tips
Garbanzo bean flatbread is a very versatile bread and can be seasoned and topped with basically anything. If the bread browns too quickly, move to the lower rack on the oven. This flatbread should be served immediately but can also be saved and toasted later on.
Garbanzo bean flour can be found in most bulk or flour sections of the health food markets and supermarkets alike. This flour is very versatile and can be used in many ways!
What Is A Low FODMAP Diet?
FODMAP stands for fermentable oligosaccharides, disaccharides, monosaccharides, and polyols and many with IBS are advised to follow a low FODMAP diet.  A low FODMAP diet avoids fructans, found in most wheat and bread products. Fructans are high in these sugars and fibers because they're easily fermented by intestinal bacteria, leading to IBS symptoms. Check out our own post that goes into detail about this diet here.
What Goes Well With Socca Flatbread?
Feel free to top this flatbread with hummus, healthy vegan cream cheese substitutes, or Adjvar, a Serbian roasted red bell pepper spread.
Sides & Compliments
Flatbread is a perfect appetizer and goes well with a variety of sides such as;
Sauteed Mushrooms Saute mushrooms with olive oil and put on top of the flatbread.
Cauliflower Cauliflower would also pair nicely with this flatbread. Try this harissa cauliflower recipe.
Fruit salad Fruit will soften the smoky flavor of the quiche. Serve a mix of strawberries, grapes, and blueberries for a classic fruit combination.
History Of Socca
Socca originated from the Genoa region of Northern Italy, also known as farinata, and quickly spread to the South of France. Socca is commonly known as a street food easily found in Nice and traditionally seasoned with just pepper and olive oil. It is a great low-calorie snack and low FODMAP bread option for those with gluten sensitivity, celiac, or IBS as it is easily digested.
Storage
This flatbread is best served warm straight from the oven. However, it can be refrigerated and toasted at a later date. For freezing, wrap in plastic and reheat in the toaster.
Common Questions
Are Garbanzo Beans A Low FODMAP Food?
Yes, garbanzo beans are low FODMAP.
Can I Make The Batter Ahead Of Time?
Yes, you can make the filling ahead of time and use it up to 48 hours after.
What Does Garbanzo Bean Flatbread Taste Like?
It depends on what seasonings as the garbanzo bean flour is easily seasoned. Without seasonings, the bread has a mild taste.
---
Recent Recipes