Simple Gnocchi Soup with Sausage
Do you ever crave a hearty meal that is bursting with flavor, protein, and fresh veggies? Well, this gnocchi soup with sausage is the perfect thing! It is incredibly filling due to the gnocchi pasta and sausage. It includes fresh tomatoes and spinach so you get a good boost of healthy vitamins and is seasoned with garlic, onion, and spices. It is the perfect soup to eat year-round, which cannot be said of all soups. If you want a different but equally delicious gnocchi dish, try homemade gnocchi poutine.
This recipe is so much simpler than I ever would have guessed before making it. It's very easy and takes under an hour to cook, so this might become one of your dinner staples! You can choose to buy or make your own gnocchi for this recipe. I have not included directions to make your own gnocchi here, but I do talk more about it below the recipe and show you where to find an easy recipe to make it at home.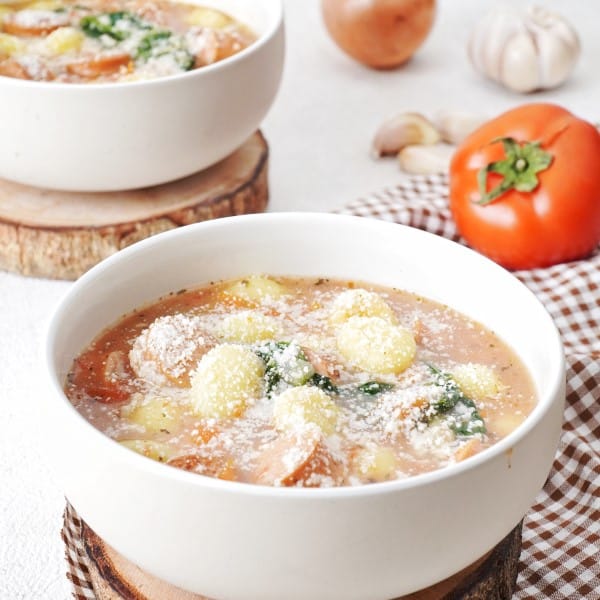 Ingredients
1

lb

sausages

3

tomatoes

1

onion

5

garlic cloves

2

cups

spinach

1

tbsp

olive oil

½

tsp

chili pepper flakes

4

cups

chicken broth

2

tsp

Italian seasoning

1

tsp

salt

½

tsp

ground pepper

16

oz

gnocchi

¼

cup

grated parmesan
Instructions
All ingredients ready? Let's begin!

Chop the sausages into small bite-sized chunks. Cut the tomatoes into bite-sized chunks as well.

Peel and dice the onion. Peel and finely dice the garlic (or use a garlic press).

Rinse and dry the spinach. Set aside.

Put a large pot over medium high heat and add the oil to it.

When the oil has heated through, add the sausage and chili pepper flakes. Cook until the sausage has browned on all sides. Make sure to stir occasionally to prevent sticking.

Add the onion and garlic to the pot. Cook for about 5 minutes or until the onions become soft.

Add the chicken broth, Italian seasoning, salt, and ground pepper. Stir to combine and bring to a boil.

Once the soup boils, turn the heat down to medium low and cover with a lid. Let simmer for 10 minutes.

Add the gnocchi to the pot. Keep cooking until the gnocchi rises to the surface of the soup. Test the gnocchi texture. If you want it a little softer, cook for a little longer. Otherwise, remove from heat.

Add the spinach to the pot and stir until combined.

Use a ladle to scoop the soup into bowl. Make sure to dip the ladle all the way to the bottom of the pot so each bowl gets an even amount of sausage.

Sprinkle some parmesan cheese on top of each bowl, or allow each person to add their own.

Serve hot and enjoy!
Nutrition
Calories:
427
kcal
|
Carbohydrates:
34
g
|
Protein:
18
g
|
Fat:
25
g
|
Saturated Fat:
8
g
|
Polyunsaturated Fat:
3
g
|
Monounsaturated Fat:
11
g
|
Trans Fat:
0.2
g
|
Cholesterol:
61
mg
|
Sodium:
1794
mg
|
Potassium:
476
mg
|
Fiber:
3
g
|
Sugar:
3
g
|
Vitamin A:
1608
IU
|
Vitamin C:
14
mg
|
Calcium:
102
mg
|
Iron:
5
mg
Notes & Tips
This soup can be stored in a container with a lid in the fridge for up to six days. You can also freeze it for later by putting it in a suitable air-tight container. It will store in the freezer for several months. To reheat, you can leave it in the fridge the night before to defrost or pop it directly into the microwave for a few minutes (provided the container is microwave-proof). Alternatively, you can put the cube of frozen soup in a pot and reheat it on the stove.
If you would like a different texture, you can remove the sausage filling from the casing and cook it as ground pork. Alternatively, you can buy ground pork for the recipe, but it will not be seasoned, so you may want to add extra spice to it. 
What Kind of Sausage Should I Use?
Since this is an Italian dish, the best sausage to use is Italian sausage, though you can really use whatever sausage you want. You can usually find Italian-style sausages at your local food store, so you won't have to go out of your way if that's what you decide to use. The main difference between Italian sausage and other sausages is the blend of seasoning used in each. Italian sausages usually incorporate flavors like chili pepper flakes and, most importantly, fennel, while other types of sausage do not.
What is Gnocchi?
Gnocchi is a kind of Italian pasta that is made primarily made of potatoes but also uses eggs and flour. It is referred to as potato dumplings and can be eaten on its own with a nice sauce as well as incorporated into other dishes like this gnocchi soup with sausage.
If you have not had gnocchi before, you might be surprised by its texture. It is chewier than other pastas, which can be attributed partly to its size and also to the potato. Potatoes are incredibly starchy and starch usually manifests in baked or cooked goods as a thickening agent which can result in that chewy texture. The pasta itself is not shaped like spaghetti or even rotini. Instead, gnocchi is shaped more like a little spoonful, which means that the thicker shape cooks differently and also contributes to the chewy texture.
Where to Find Gnocchi
Because gnocchi is unique amongst pasta, you probably won't find it on the shelf with the rest of the pasta. Try looking in the refrigerated section instead. Gnocchi should be widely available in most supermarkets, but it is usually fresh (or sometimes frozen) because of its different ingredients and make up.
You can make your own gnocchi, though I didn't include it in this main recipe because it can add a lot of time to the process and I wanted this to be a fast dish. If you would like to try your hand at making your own potato dumplings, you can learn how from this gnocchi pomodoro recipe. It tells you how to make and cook gnocchi at home in the first half of the recipe. Gnocchi can be altered a variety of ways before cooking, so if that is something that interests you, don't be afraid to experiment!
---
Recent Recipes