Many cultures and cuisines have a version of fried bread. This is generally a flour, shortening, and leavened dough that is rolled out, cut into individual portions, and deep-fried in oil. Fry bread puffs up when cooked. The inside is light and airy and the outer shell is crisp and golden. Fry breads are often dusted with confectioner's sugar and cinnamon or drizzled with honey for a sweet treat.
These sweet breads can be eaten for dessert, breakfast, or as a midday snack with tea or coffee. In Mexico, fry bread is called sopapillas. It is also referred to as sopias or sopaipillas.
Sopapillas are fairly easy to make. You start by making an all-purpose flour, baking powder, and salt-based dough that has vegetable shortening or lard cut into the dry ingredients. Water is added to pull the mixture together. While the dough is resting, you will heat vegetable oil in a Dutch oven or a deep fryer to 375°F. Roll the dough out and cut it into 3-inch squares or triangles. Then, just fry until the dough is golden brown and the sopapillas puff up, approximately 30 seconds to 3 minutes. The cook time varies, so keep an eye on it.
Kids really love these delightful puffy breads with sugar and cinnamon dusted over the top and drizzled with a good local honey. However, you can slice them open and fill them with savory ingredients, such as cheese, lettuce, and shredded or ground meat for an appetizer or lunch.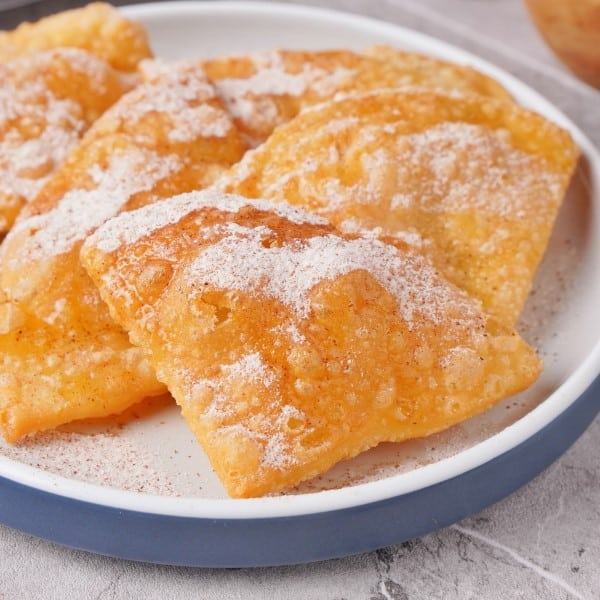 Ingredients
2

cups

all-purpose flour

1

tsp

baking powder

¼

tsp

sea salt

2

Tbsp

solid vegetable shortening or lard

¾

cup

warm water

3

cups

vegetable oil

grapeseed, avocado, or canola

¼

cup

confectioner's sugar

combined with cinnamon

1

tsp

ground cinnamon

4

Tbsp

runny honey
Instructions
All ingredients ready? Let's begin!

In a large mixing bowl, whisk together the flour, baking powder, and salt. Add the shortening, and use your hands or 2 knives to combine it well with the flour. The result should be the consistency of grainy or pebbled sand.

Add the warm to the bowl a few tablespoons at a time, working the dough with your hands until it comes together into a ball.

Lightly dust a clean work surface with flour. Knead the dough for 5 minutes until it is smooth. Form the dough into a ball and place it back in the bowl. Cover the bowl with a kitchen towel and set it aside for 20 minutes to rest.

Flatten the ball into a disc and cut it into 4 pieces.

Pour the oil into a large heavy-bottomed pot or deep fryer. Heat over medium or medium-high to a temperature of 375ºF.

Dust the work surface again with a little flour. Shape one of the dough pieces into a ball. Flatten into a round disc. Roll the disc to approximately 1/4-inch thick and 6-inches in diameter. Cut the rolled-out dough into 4 triangles or squares. Carefully drop each one into the hot oil. Cook until the dough pieces puff up and the outsides are golden brown and crisp, turning over after 1 minute.

Roll out the other balls of dough while the batches are frying. Repeat until all the sopapillas are cooked. Remove the sopaipillas from the oil using a spider or slotted spoon and place them on a platter lined with paper towels to drain.

Transfer the sopapillas to a serving platter and dust with the confectioner's sugar and ground cinnamon. Then, drizzle with honey and serve.
Nutrition
Calories:
175
kcal
|
Carbohydrates:
37
g
|
Protein:
3
g
|
Fat:
4
g
|
Saturated Fat:
1
g
|
Polyunsaturated Fat:
1
g
|
Monounsaturated Fat:
1
g
|
Trans Fat:
0.4
g
|
Sodium:
128
mg
|
Potassium:
40
mg
|
Fiber:
1
g
|
Sugar:
9
g
|
Vitamin A:
1
IU
|
Vitamin C:
0.1
mg
|
Calcium:
38
mg
|
Iron:
2
mg
Notes & Tips
You can make the dough a day ahead and store it in your refrigerator until ready to fry. Just be sure to allow the dough to come to room temperature until you are ready to roll it out and cut into sopapilla shapes.
It is important not to crowd the pot or deep fryer when cooking the sopapillas. As they puff up, they will expand and float to the top of the oil. They need some room to do this. Remember to flip them over so that all the surfaces crisp up.
You can keep the sopapillas warm in a low oven, approximately 200°F while you cook all the batches.
Store leftover sopapillas, if there are any, in an air-tight container without any toppings, as sugar and honey might make the pastries soggy. You can reheat fry breads in a toaster oven or warm oven at about 300°F.
Substitutions & Variations
I think lard is the authentic way to go for making Mexican-inspired sopapillas. Vegetable shortening is probably a healthier choice if you are watching your calories and cholesterol. Other options for the shortening include coconut oil, vegetable-based margarine, and ghee.
You can definitely make a gluten-free version of this classic treat by using your favorite gluten-free flour blend. The interior of the sopapillas will be a little bit chewy but still airy.
For savory sopapillas, just split them open and fill the center with veggies, meat, cheese, or whatever you like to make a bite-sized sandwich. You can check out our recipe for patacon maracucho (plantain sandwich) for some ideas for a Latin-inspired fried and savory version of an otherwise sweet dish.
For a really special sweet pastry, I enjoy making either a custard cream or a sweet ricotta cheese and filling the centers of the sopapillas with either of those, as you might a cannoli or donut. This makes for an upscale dessert if entertaining guests.
---
Recent Recipes