The words "Pasta alla Sorrentina" roll off the tongue like an elegant description of a fancy dish. In fact, this pasta recipe is surprisingly simple with very few ingredients. Pasta alla Sorrentina is absolutely delicious despite its lack of complexity. For this reason, you should splurge on the basic ingredients by getting the freshest produce and cheese your market has to offer.
You are going to need paccheri pasta as the base of the dish. Paccheri are large tube-shaped noodles that flatten out a bit when they are cooked. This pasta does take somewhat longer than smaller shapes to cook. You might not find paccheri in most grocery stores. You can find this pasta in Italian specialty markets and online.
Traditionally, the tomatoes used to make the sauce are fresh cherry tomatoes that will burst open when cooking. The tomato-based sauce is enhanced with fresh garlic cloves and fresh basil leaves. This is a perfect summertime meal with garden-fresh ingredients. Thumbs up if you are lucky enough to have your own garden with tomatoes and herbs.
The dish is finished with scamorza cheese, either fresh or smoked, that melts into the warm pasta. Scamorza is a Southern Italian cow's milk cheese. It is a stretched-curd cheese, similar to mozzarella. It is generally formed into a ball that is tied with a string toward one end and hung to dry and mature. It resembles the shape of a fresh pear. 
Pasta alla Sorrentina is a lovely, fresh dish from the Italian region of Campania, specifically the seaside town of Sorrento; hence, the name of the dish. I like to serve this as a main course with some crusty Italian bread and a glass of deep red, earthy red wine with stone fruit notes from Southern Italy. As they do in Italy, you can finish the meal with a salad of bitter or wild greens, such as arugula and dandelions, dressed in a lemon and Dijon vinaigrette.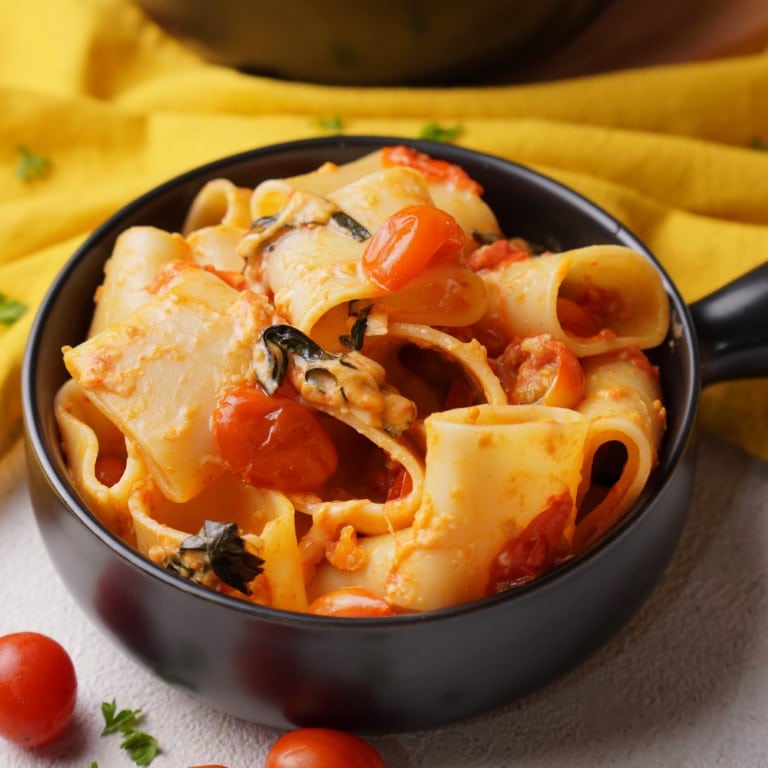 Ingredients
12

ounces

of paccheri pasta

Salted water

3

Tbsp

extra-virgin olive oil

plus more for finishing

3

cloves

garlic

sliced

1

lb.

fresh cherry tomatoes

sliced in half

Sea salt and freshly ground pepper to taste

4

ounces

scamorza cheese

cut into 1/2-inch cubes

½

cup

torn basil leaves
Instructions
All ingredients ready? Let's begin!

Bring a large pot of generously salted water to a boil over medium-high heat while you start preparing the sauce.

In a large skillet over medium-low heat, warm the olive oil and garlic.

Once you see small bubbles dancing around the garlic, add the halved tomatoes and raise the temperature to medium. Cook, stirring occasionally, until the skins of the tomatoes crack open, approximately 12 minutes.

While the tomatoes are cooking, add the pasta to the boiling water and cook until just al dente, approximately 8 to 10 minutes.

Season the tomatoes with salt and pepper to taste. Don't over-salt, as you will be adding some of the seasoned pasta water.

Using a spider or slotted pasta spoon, place the paccheri in the pan with the tomatoes. It is fine for some of the pasta water to end up in the sauce. This will help to thin the sauce and add some starch for it to cling to the pasta. If the sauce is too thick, add about 1/2 a ladle of the pasta water. Allow the pasta to warm through for 1 to 2 minutes.

Turn off the heat and add the cheese and basil to the pan. Once the cheese starts to melt, the dish is ready to be served.

Place the pasta alla Sorrentina in a serving bowl or individual bowls and drizzle with a little bit of extra virgin olive oil. Enjoy right away while still warm.
Nutrition
Calories:
548
kcal
|
Carbohydrates:
70
g
|
Protein:
19
g
|
Fat:
22
g
|
Saturated Fat:
7
g
|
Polyunsaturated Fat:
2
g
|
Monounsaturated Fat:
10
g
|
Cholesterol:
28
mg
|
Sodium:
204
mg
|
Potassium:
477
mg
|
Fiber:
4
g
|
Sugar:
5
g
|
Vitamin A:
997
IU
|
Vitamin C:
27
mg
|
Calcium:
240
mg
|
Iron:
2
mg
Notes & Tips
The first thing to take into consideration is that paccheri pasta is pretty big. Therefore, it takes a little longer than smaller shapes to boil. I highly recommend starting the pot of water before you prepare the sauce and cooking the pasta while the tomato sauce is simmering. 
Because this pasta dish has a light tomato sauce, it is really fine to add some of the starchy pasta water into the sauce. This definitely helps the tomato juices, garlic, cheese, and herbs to cling to the paccheri.
Substitutions & Additions
Depending on where you live, paccheri might not be that easy to come by. While I love this particular tubular pasta that collapses in the sauce, I think you could definitely make pasta alla Sorrentina with rigatoni or pappardelle. Really, any larger pasta would work. Just be mindful of the different cooking times.
If you look up pasta alla Sorrentina recipes on Italian websites, you may find that smoked scamorza is the preferred cheese to use in the recipe. I like smoked cheese, but I would use less than this recipe calls for because it can be very strong in flavor. Unsmoked scamorza is already a pretty flavorful cheese. If you prefer a more subtle cheese element, try Buffalo mozzarella.
Extra virgin olive oil is fairly classic for the sauce base. I wouldn't dislike this dish with a combination of 2 tablespoons of extra virgin olive oil and 1 tablespoon of butter. Everything tastes better with butter. When cooked with olive oil, butter can brown slightly and impart a nice nutty flavor and creaminess to the sauce.
To add a bit of zing to the recipe, toss a healthy pinch of pepperoncino (cayenne pepper flakes) into the oil right before the tomatoes are added.
---
Recent Recipes