Crispy Southern Fried Pork Chops
The majestic hog is the king of beasts in the culinary world of the Southeastern United States. Almost every part of the animal is edible, from snout to tail. And that needs to be respected when choosing to eat pork.
I admit that I don't eat pork often. There is a good reason for that. My favorite cuts of pork are those from the heritage breeds that are free to roam and forage on acorns, grasses, and probably some insects and dirt. You can actually taste the sweetness of the nuts and grasses in the meat. Also, these animals are not layered with excessive fat because they actually exercise. Unfortunately, free-range pig cuts are not as available as commercially raised pork. If possible, get pork chops that are hormone and antibiotic and free-range. You will be amazed at how good this meat tastes.
In the south, you can find a whole roasted pig, which is to die for. The meat is slow-cooked and super juicy. And the skin is crunchy. Yum. While a roasted pig is fabulous, it is reserved for special occasions and for those with the space and equipment to roast the pig. But you can enjoy juicy pork at home by making a classic southern fried pork chops recipe on your kitchen stovetop.
This southern fried pork chops recipe is one of the simplest and tastiest ways to prepare good cuts of pork. I go right for the bone-in rib loin chops. The meat is lean and tender, as long as you don't overcook it. Pork no longer needs to be cooked to oblivion for fear of bacteria. In fact, it is fine and preferable if just a tiny bit pink. It is almost unthinkable now to overcook pork and serve it dry and chewy.
There are some traditional side dishes to serve with southern fried pork chops. I think my favorite is braised collard greens. Creamed spinach is another nice green veg to have with chops. A crunchy coleslaw is definitely up there. Applesauce is always a winner with pork chops, as is southern baked macaroni and cheese. Creamy grits or easy cornbread should also be on the menu. Of course, sweet tea is the beverage pairing of choice.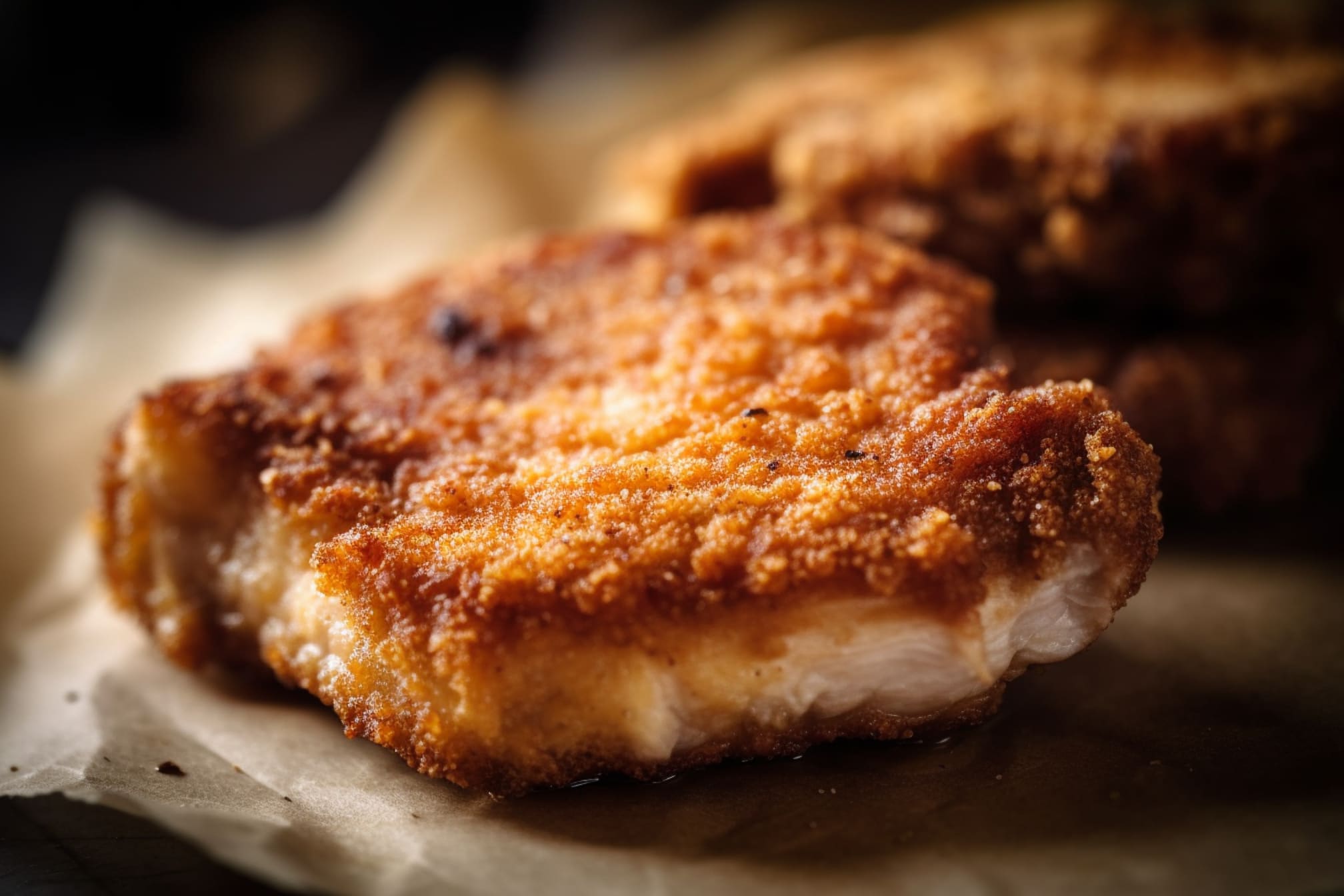 Ingredients
4

bone-in rib loin pork chops

about 1 inch thick

1/2

tsp

sea salt

1/2

tsp

freshly ground black pepper

2

cups

canola oil

1/3

cup

buttermilk

3/4

cup

all-purpose flour

1/2

tsp

baking powder

1/2

tsp

garlic powder

1/2

tsp

onion powder

1/2

tsp

paprika

1/8

tsp

cayenne pepper

optional
Instructions
Remove the pork chops from the packaging and pat them dry with paper towels. Season them on all sides with salt and pepper. Set them aside on a sheet pan.

In a deep cast-iron skillet or Dutch oven over medium heat, warm the oil to 350°F.

While the oil is coming to temperature, pour the buttermilk over the pork chops, turning to coat both sides.

In a shallow bowl, combine the flour, baking powder, garlic powder, onion powder, paprika, and cayenne. Mix well with a fork.

Dip each pork chop into the flour mixture and coat well. Shake excess flour off.

Using tongs, lower the pork chops into the skillet without crowding the pan. Do this in batches if necessary. Fry the chops until golden brown on the bottom, about 4 minutes. Turn the chops over and continue to cook until the other side is golden brown and crisp, approximately 4 more minutes. The internal temperature should read 145°F when checked with a digital meat thermometer.

Transfer the cooked pork chops to a paper towel-lined plate to drain.

Place the chops on a serving platter and enjoy while warm.
Notes and Tips
It is always best to allow your proteins to come to room temperature for a few minutes before frying. This ensures that the meat cooks evenly and all the way through.
The oil needs to be hot before the chops go in, but not so hot that the coating burns. An easy way to check the heat is to place the handle end of a wooden spoon in the oil. If the oil bubbles around the handle, it is hot enough.
Definitely cook in batches if your skillet isn't large enough. Crowding the pan will cause the oil to cool down and the coating will become soggy.
Substitutions
Pork Chops: I prefer the rib loin chop that is lean with a little bit of fat. It is also very tender. The center cut chop is the porterhouse or T-bone cut with one side of the bone being a steak with a little fat cap and the other side being a tender filet. These are pricy but delicious with a mild pork flavor. Either chop is good for frying. Shoulder and sirloin chops are better for braising. You can also use boneless rib chops if you prefer. These might cook more quickly.
Canola Oil: Canola oil has a high smoke point and is good for frying. If you want to be authentically southern, use peanut oil. Any high-smoke vegetable oil should be fine.
Buttermilk: Buttermilk is tangy, which adds a lot of flavor to the chops. Plain yogurt, not Greek style, is a fine alternative.
All-purpose Flour: If you are gluten-free, there are plenty of GF flour blends that will work in this recipe.
Cayenne Pepper: I enjoy a little heat when I fry pork chops. If you don't have cayenne, you can add a few dashes of hot sauce to the buttermilk. Or, simply omit the spice if you don't want the kick.
Storage & Reheating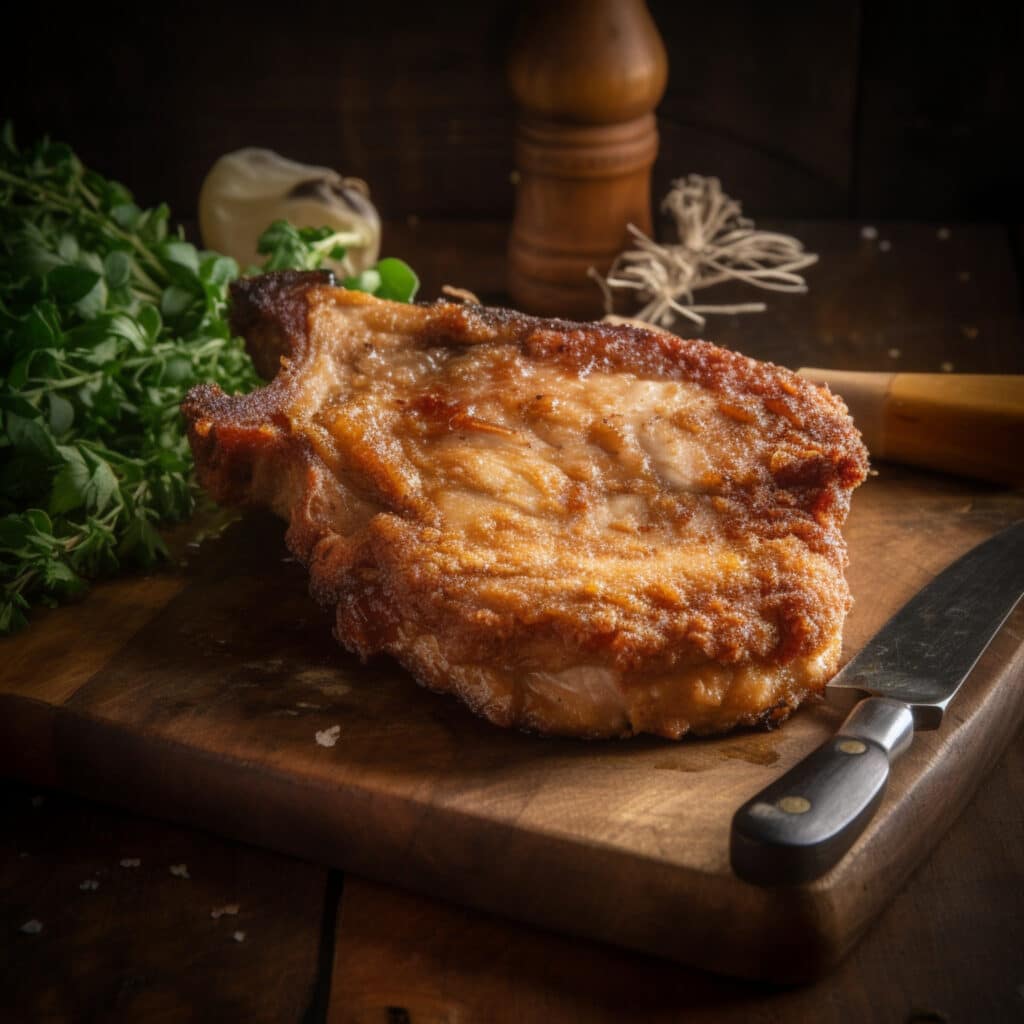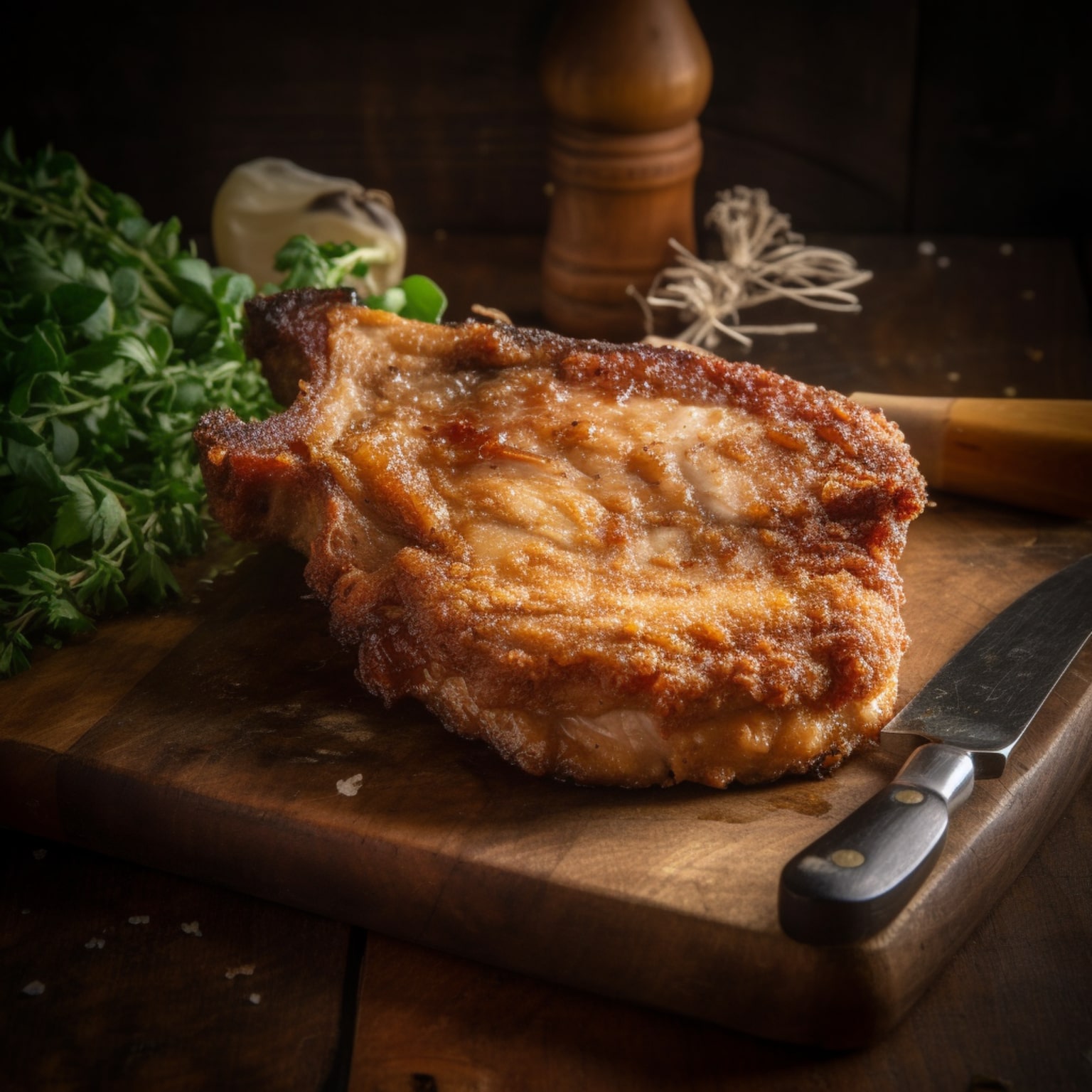 Store leftover fried pork chops in an airtight container in the refrigerator for up to 3 days.
To reheat, preheat your oven to 350°F (175°C). Place the pork chops on a wire rack over a baking sheet and heat for 10-15 minutes, or until the internal temperature reaches 145°F (63°C). This method helps retain the crispy coating while warming the chops.
Serving Suggestions
Braised collard greens
Creamed spinach
Crunchy coleslaw
Applesauce
Southern baked macaroni and cheese
Creamy grits
Easy cornbread
Sweet tea as the beverage pairing of choice
Common Dietary Restrictions & Diets
Gluten-Free: Replace all-purpose flour with a gluten-free flour blend.
Dairy-Free: Substitute buttermilk with unsweetened almond milk mixed with a tablespoon of vinegar or lemon juice.
Egg-Free: No changes needed, as this recipe is already egg-free.
Common Mistakes
Not allowing the pork chops to come to room temperature before frying, which can result in uneven cooking.
Frying in oil that is too cold or too hot, leading to soggy or burnt coating.
Overcrowding the skillet, causing the oil to cool down and the coating to become soggy.
Overcooking the pork chops, resulting in dry and chewy meat.
Health Risks & Benefits
Risks: Fried foods can be high in fat, especially saturated and trans fats, which may increase the risk of heart disease when consumed in large quantities. The breading on fried pork chops may also increase calorie count.
Benefits: Pork chops are a good source of protein and essential vitamins and minerals, such as thiamin, niacin, and vitamin B6. When made with high-quality cuts of pork, this recipe can be a part of a balanced diet when enjoyed in moderation.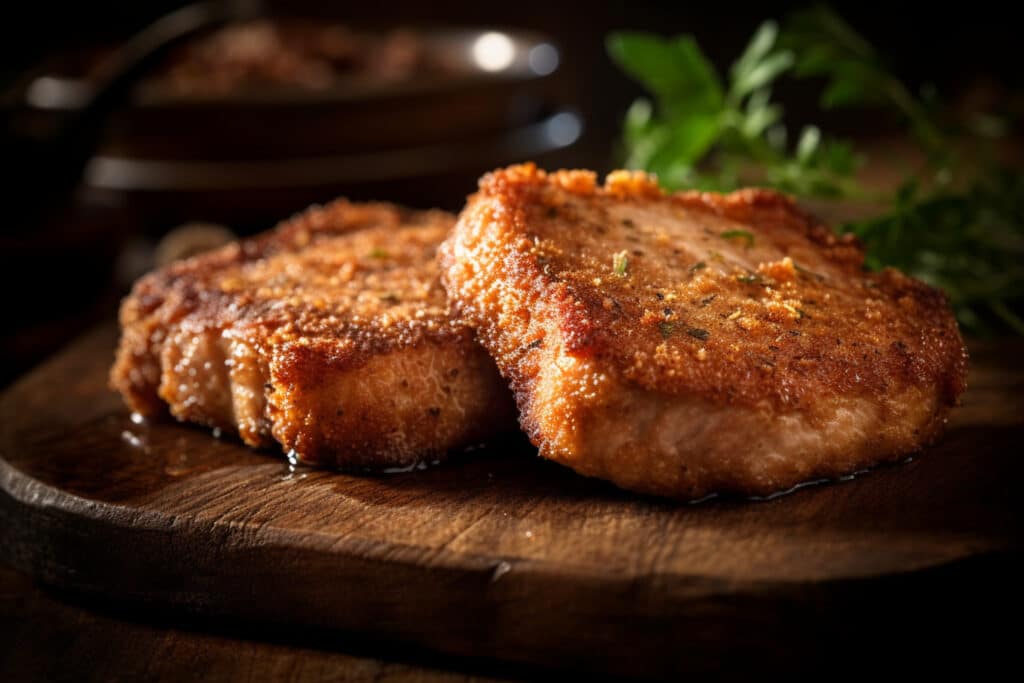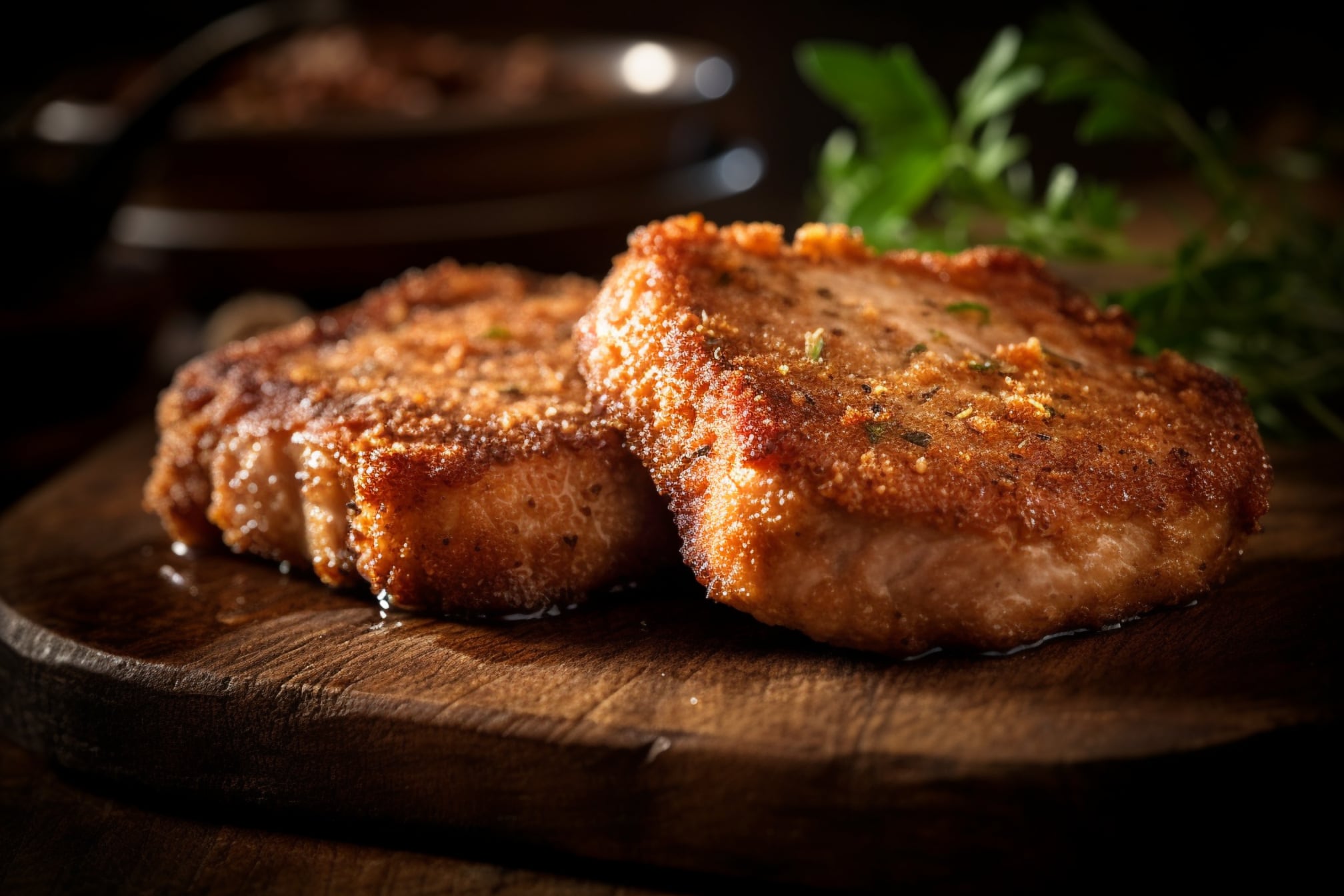 Recipe Context
Southern fried pork chops have a long history in the Southeastern United States, where pork is a staple ingredient in many dishes. This recipe is a classic way to enjoy pork in the region, where it is traditionally made with bone-in rib loin chops and served alongside an array of Southern-style side dishes. The simple and delicious preparation has made it a beloved dish for generations.
Common Questions
Can I use boneless pork chops?
Yes, you can use boneless rib chops, but they may cook more quickly than bone-in chops.
What if I don't have buttermilk?
You can use plain yogurt (not Greek style) as a substitute, or mix unsweetened almond milk with a tablespoon of vinegar or lemon juice for a dairy-free alternative.
Can I use another oil for frying?
Peanut oil is a traditional Southern choice, or you can use any high-smoke vegetable oil.
How do I know when the oil is hot enough for frying?
Place the handle end of a wooden spoon into the oil. If bubbles form around the handle, the oil is hot enough for frying.
---
Recent Recipes