Spicy & Filling Taco Cupcakes
Our spicy taco cupcakes combine a delectable savory, spicy filling made up of both ground beef and refried beans with the crunch of cheesy tortillas. The authentic Mexican flavor found in every last bite of the attractive layered design fuses into the exact taste you'd expect from a taco, just with a more rewarding texture.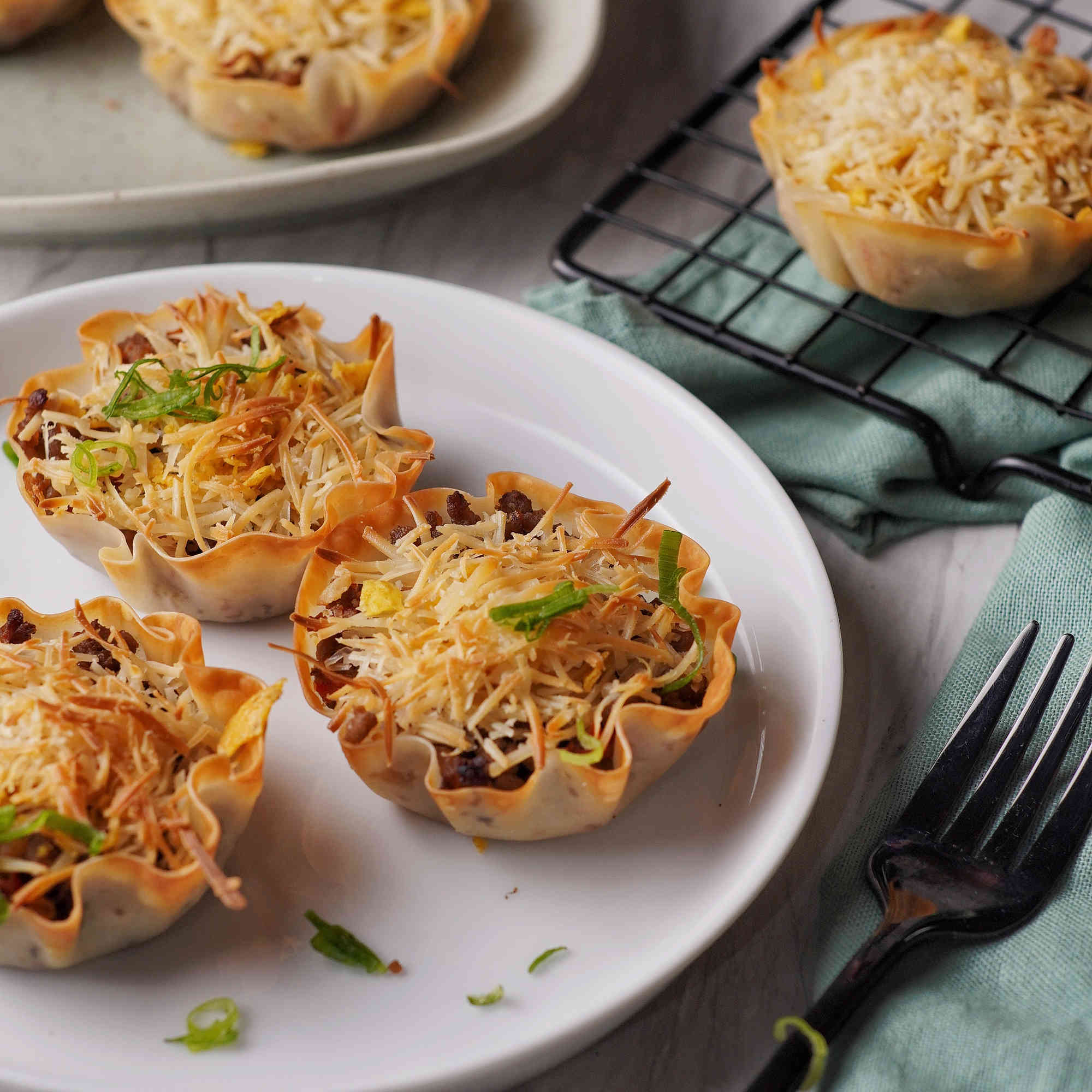 Ingredients
¾

Pound

Lean Ground Beef

¼

Pound

Ground Pork

1

Teaspoon

Red Pepper Flakes

1

Teaspoon

Paprika

1

Teaspoon

Cumin

½

Teaspoon

Dried Oregano

2

Tablespoons

Ground Black Pepper

1 ½

Teaspoon

Salt

3

Tablespoons

Vegetable Oil/Lard

½

Teaspoon

Coriander Seeds

1 ½

Large White Onion

Finely Chopped

6

Cloves

Garlic

Finely Chopped

2

Large Red Chilis

Seeded & Minced

½

Bell Pepper

Finely Chopped

2

Tablespoons

Red Wine Vinegar

¼

Cup

Beef Stock

1

Can Black Beans

3

Tablespoons

Lard

2

Jalapeno Chilis

Finely Chopped

2

Green Chilis

Finely Chopped

1

Teaspoon

Coriander Powder

1

Teaspoon

Cumin

4

Tablespoons

Lime Juice

2 ½

Cups

Cheddar Cheese

Grated

18

Wonton Wrappers

18

Tortilla Chips
Instructions
Get all your ingredients together

Combine the lean ground beef, ground pork, red pepper flakes, paprika, cumin, dried oregano, black pepper, and half a teaspoon of salt by hand until well mixed. Set aside.

Heat a large skillet or saucepan containing three tablespoons of oil or lard over medium heat.

Add the coriander seeds and fry until they begin to crackle and pop.

Add the onion and saute for 2 to 3 minutes or until the first signs translucency.

Add the garlic and saute for 2 to 3 minutes or until aromatic.

Add the chilis and bell pepper and saute for 2 to 3 minutes or until the peppers are tender.

Turn up the heat to high and transfer the ground meat to your pan.

Disperse the mince evenly and brown for 4 to 5 minutes while frequently stirring to prevent sticking. Drain off the fat as it amasses.

Mix in the red wine vinegar and a quarter cup of beef stock.

Reduce the heat to medium and simmer for 10 to 15 minutes or until the liquid has reduced completely and the mince is tender. Remove from the stovetop and set aside.

Drain and rinse the canned black beans and set them aside in a colander.

Heat a separate large skillet or saucepan containing three tablespoons of lard over medium heat and saute half a chopped onion until translucent.

Add two cloves of chopped garlic and the finely chopped jalapenos and green chilis. Saute for 2 to 3 minutes or until aromatic.

Stir in the black beans, coriander powder, cumin, salt, and a tablespoon of black pepper and saute for 4 to 5 minutes while stirring infrequently.

Pour over the lime juice and mash the beans with a fork until the consistency desired is reached.

Reduce the heat to low, cover, and cook for 2 to 3 minutes. Remove from the stove and set aside.

Preheat your oven to 375°F and oil or apply nonstick cooking spray to 18 muffin cups (three trays.)

Press one lightly wonton wrapper into each muffin holder to form a cup and repeat with the remaining muffin cups.

Create a layer of refried beans by filling each taco with a tablespoon of refried beans.

Crush a tortilla and scatter it over the beans evenly.

Create a second layer by scooping over a tablespoon of the cooked ground meat mix.

Create a third layer by topping off the ground meat with grated cheese followed by another crushed tortilla.

Repeat the process to create another section of three layers and finish off your taco cupcakes with extra cheese.

Add additional toppings if desired and before baking in the oven at 375°F for 15 to 20 minutes or until golden brown.
Video
Nutrition
Calories:
178
kcal
|
Carbohydrates:
10
g
|
Protein:
11
g
|
Fat:
11
g
|
Saturated Fat:
5
g
|
Polyunsaturated Fat:
2
g
|
Monounsaturated Fat:
3
g
|
Trans Fat:
1
g
|
Cholesterol:
33
mg
|
Sodium:
390
mg
|
Potassium:
190
mg
|
Fiber:
1
g
|
Sugar:
1
g
|
Vitamin A:
501
IU
|
Vitamin C:
17
mg
|
Calcium:
144
mg
|
Iron:
1
mg
Taco Cupcakes Tips
While making taco cupcakes in a regular muffin pan is possible, a silicone muffin tray is preferable and highly recommended. Unless a conventional pan is extremely well oiled, there is a very high chance of your cupcakes sticking and breaking/falling apart when you remove them. A silicon mold guarantees that each taco cupcake will simply slip out
Taco Cupcakes Substitutions
Instead of ground pork, uncase an Italian sausage to include in your mincemeat. Be sure to try out different types of sausages as each changes the base flavor of your meal. Chorizo is a tasty favorite, but all varieties of Italian sausage, from hot to sweet and neutral, integrate into the taste of savory taco mince perfectly.
Turkey can be used in place of ground pork. Those who wish to omit red meat completely can make the spicy mincemeat from turkey alone or ground chicken. As with ground beef, we advise using a combination of ground poultry and ground pork for better flavor.
We've listed cheddar cheese, but any good melting cheese works as a substitute. Monterey jack, pepper jack, gouda, and mozzarella are all viable alternatives. Otherwise, for an authentic Mexican flavor, crumble over cotija or queso Blanco.
Taco Cupcakes Shortcuts
Pressed for time? Use canned refried beans instead of making beans fresh. The individual herbs listed can be swapped out for a premixed taco seasoning blend or any other herbs you prefer as long as they work with a spicy, Mexican flavor profile. If there's any leftover roast in your house, give this recipe a try with pulled apart pork or shreds of beef. Omit the salt while keeping the other ingredients the same, and you'll have tasty gourmet taco cupcakes in no time.
Taco Cupcakes Variations
To spice things up a notch, try seasoning the wrappers first. Before placing a wonton wrapper into each cup, give it a light coating of oil and sprinkle it with chili powder, garlic powder, and a pinch of cumin. Otherwise, feel free to use whichever herbs and spices you prefer. The subtle seasoning incorporates extra flavor into every last bite.
For a truly elevated flavor lift, include slow-cooked beef or lamb shoulder, which has been marinated in garlic, chili, and oregano instead of ground meat. Goat is another high-end but delicious option when cooked over an extended period.
Taco Cupcake Toppings
There are tons of great toppings to finish off your taco cupcakes with instead of just plain cheese. Chopped chives, halved or quartered cherry tomatoes, scallion greens, salsa, or even chopped, fried mushrooms all work. Sour cream is a leading choice for many but gives chipotle sauce, chili sauce, or even a drizzle of ranch dressing a try for a delicious, simple alternative.
What To Serve With Taco Cupcakes?
Taco cupcakes are finger food and pair well with other snacks like simple Harissa shrimp and Greek lemon fries. Regular fries are another great pairing. Taco cupcakes and quiche always work well together. Our Mexican quiche with chorizo is a must-try.
---
Recent Recipes