Simple Spicy Firecracker Shrimp
A firecracker shrimp recipe is not as straightforward as you might expect. There are so many interpretations and variations of this dish. Northern African restaurants serve a tasty version that is a bit pale in color. The shrimp is coated in cornstarch and eggs for the sauce to cling to. An Asian-style recipe might include potato starch and fish sauce. The shrimp might also be cooked in peanut oil. I have even seen firecracker shrimp with sugar in the sauce and one recipe where the shrimp are wrapped in wonton skins and deep-fried.
While these recipes are very good in their own right, I don't really feel that starch, eggs, sugar, and wrappers are necessary for a simple spicy firecracker shrimp platter. I like the emphasis to be on the naturally sweet shrimp and a deeply flavored spicy sauce, as the name "firecracker" implies. This recipe for firecracker shrimp takes the dish down to the basics with a few spicy condiments and a little honey. It is easy and cooks in just 5 minutes. I think it is the perfect weeknight entrée when you are in the mood for something spicy but short on time.
Firecracker shrimp is often served with white rice so the grain can soak up the excess fiery sauce and mellow out the heat when eaten together. The stark contrast between the red-hued shrimp and the fluffy white rice is like a work of art. I like to top the cooked shrimp with thin slices of green jalapeño peppers and scallions for an added pop of color. The peppers also give you a hint of what to expect in terms of flavor.
Another great way to serve firecracker shrimp is to make 2 batches and pile them high on a platter. Place a cup of serving toothpicks on the side and a stack of cocktail napkins. These shrimp make a great game-day party snack or a backyard barbecue appetizer.
For this recipe, I use jarred chili garlic sauce, chili oil, and sriracha. You can make your own of each of these condiments, but I really want to keep the recipe simple. Each sauce ingredient is complex and the jarred brands are quite good, so save yourself some time. Most markets carry all three.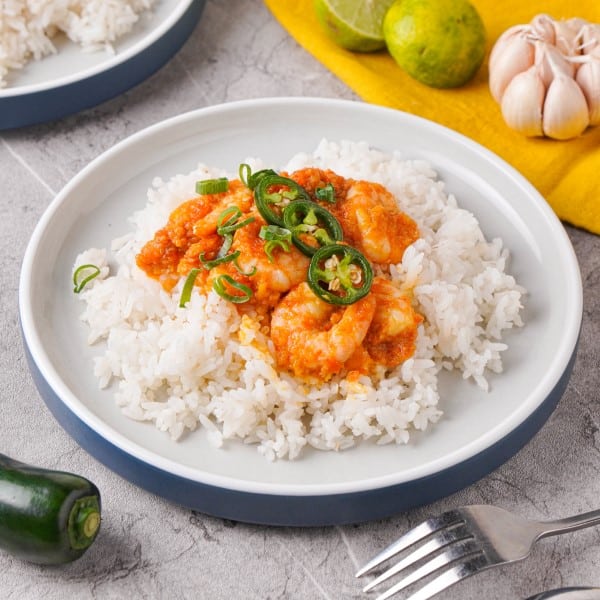 Ingredients
2

cups

cooked white rice

optional

½

cup

chili garlic sauce

2

Tbsp

spicy chili oil

1

Tbsp

sriracha

1

Tbsp

white wine vinegar

1

Tbsp

runny honey

1

tsp

paprika

1

tsp

freshly squeezed lime juice

Sea salt and freshly ground pepper to taste

1

pound

large raw shrimp

peeled and deveined

1

Tbsp

extra virgin olive oil

1

Tbsp

jalapeno pepper slices

1

Tbsp

green scallion slices
Instructions
All ingredients ready? Let's begin!

In a small mixing bowl, whisk together the chili garlic sauce, chili oil, sriracha, vinegar, honey, paprika, lime juice, and salt and pepper to taste.

Pat the cleaned shrimp with a paper towel to dry them and add them to a large bowl.

Pour half of the firecracker sauce over the shrimp and toss to coat the shrimp well.

Cover the bowl with plastic wrap and set aside for 5 to 10 minutes. You can also refrigerate for 15 to 30 minutes.

In a large skillet over medium heat, warm the olive oil. Add the shrimp and sauté for 2 minutes. Turn over and sauté until pink and slightly firm, approximately 1-1/2 minutes longer.

Pour the remaining sauce over the shrimp and stir just to warm through.

Transfer the firecracker shrimp to a serving platter and garnish it with the jalapeño and scallion slices. Serve immediately over white rice or with toothpicks and napkin
Nutrition
Calories:
330
kcal
|
Carbohydrates:
35
g
|
Protein:
18
g
|
Fat:
12
g
|
Saturated Fat:
2
g
|
Polyunsaturated Fat:
1
g
|
Monounsaturated Fat:
8
g
|
Trans Fat:
0.01
g
|
Cholesterol:
143
mg
|
Sodium:
2183
mg
|
Potassium:
182
mg
|
Fiber:
2
g
|
Sugar:
10
g
|
Vitamin A:
304
IU
|
Vitamin C:
9
mg
|
Calcium:
72
mg
|
Iron:
1
mg
Notes & Tips
If you have access to a fishmonger, fresh shrimp will be the best ingredient for this recipe. However, you can use frozen shrimp that is raw. Defrost it in the refrigerator overnight for the best results. Pat the thawed shrimp dry with a paper towel to remove excess moisture before marinating.
I normally cook shrimp in my large cast-iron skillet. For this recipe, I actually prefer a large non-stick sauté pan.
Substitutions & Additions
This recipe is easy because you are using prepared sauces. The quality of these jarred products is generally very good. You can make your own condiments from scratch if you are adventurous. We do have a great recipe for homemade sriracha that will keep for some time.
White wine vinegar is very nice in this recipe. I don't always have a fresh bottle of that on hand because I don't use it often. I do have unfiltered apple cider vinegar in my fridge always. That is a perfectly fine substitute. Rice wine vinegar also works. For a bit of added sweetness, try balsamic vinegar.
If you are looking for an extra hit of heat, sprinkle some cayenne pepper flakes on the dish before serving. This also looks nice.
Too much spice? Serve with lime wedges to cool the fiery shrimp down a touch.
I think shrimp and rice are a perfect pairing. You could just as easily serve firecracker shrimp over quinoa or pasta. It is also a great addition to tacos with some shredded lettuce and avocado slices. And don't forget ramen noodle bowls. To make a complete meal out of firecracker shrimp, prepare a large colorful salad of leafy greens, cucumbers, jicama slices, and orange bell peppers topped with the shrimp and a drizzle of Mexican crema.
I recommend serving this dish with a refreshing and citrusy cocktail or some ice-cold beers. Or, make a pitcher of Chicha Morada, a chilled Peruvian drink made with blue corn, fruit, and spices.
---
Recent Recipes