Homemade Starbucks Dragon Drink
Starbucks is so popular that is has almost become synonymous with the word cafe. One of the reasons people love Starbucks is because it offers a wide variety of drinks besides coffee, so pretty much anyone can find something they like. The franchise also has some fun drinks that become very trendy and one of those is the Pink Drink, also known as the Dragon Drink.
It's a dragonfruit based juice drink that doesn't have regular coffee in it, though it can still be made to give you that punch of caffeine you might be seeking. If you are fond of the Pink Drink or dragonfruit in general, you may want to try recreating it at home. It can save you some money and you won't have to leave the house when the craving strikes.
Below is our version of Starbuck's infamous Pink Drink, perfect for instagramming or sharing with friends. If you are looking for a more coffee-based cold drink, you could try this sweet and creamy Thai iced coffee instead. It's just as sweet and delicious, but you get that rich velvety taste we've all come to expect with coffee. Or, if you want a fruity drink but just aren't fond of dragonfruit, we've got you covered with this sweet and creamy strawberry matcha latte!
If you don't have a cocktail shaker, you can use a mason jar or other sealable container. Just make sure that if you use a glass jar you don't shake the ice too hard and break it.
If you end up with any leftovers, you can keep it covered in the fridge for a day, though you should reshake it before consuming to make sure everything is still distributed properly. Also bear in mind that any ice from before will have melted, watering down the taste a little bit, so you may want to spruce it up with a little more juice.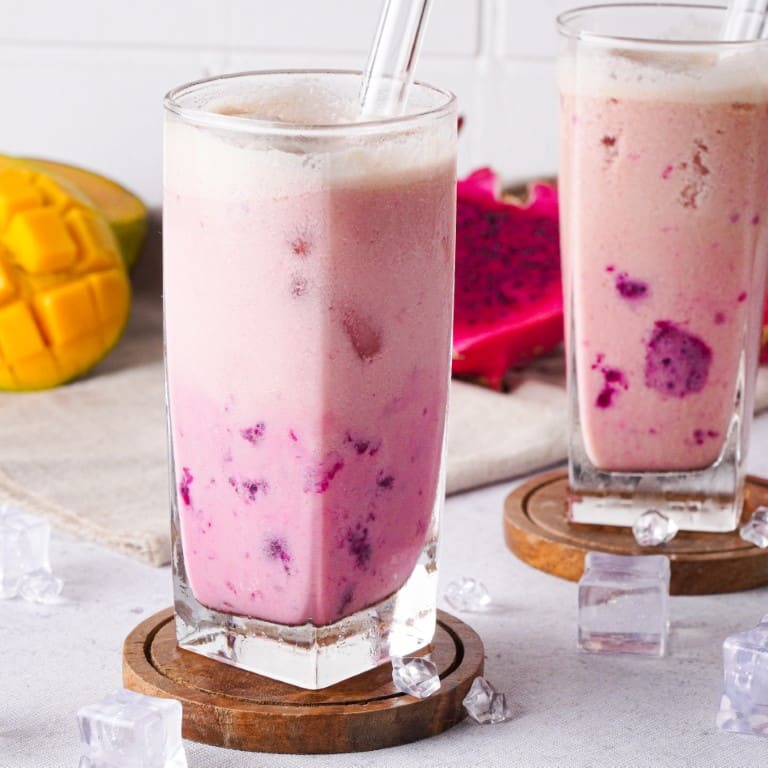 Ingredients
¼

cup

apple juice

2

teaspoons

freeze dried dragon fruit powder

¼

teaspoon

green coffee powder

1

cup

ice

½

cup

mango juice

1

cup

coconut milk

¼

cup

fresh dragonfruit

2

tablespoons

simple syrup
Instructions
All ingredients ready? Let's begin!

If you haven't already cut your dragonfruit, you can do so by cutting it in half then scooping the flesh out with a spoon, trying to keep it in chunks. If you have a melon baller, you can use that instead for lovely little scoops of fruit.

Add the a few tablespoons of the apple juice, all of the dragon fruit powder, and all of the green coffee powder to a bowl or mug. Use a fork or small whisk to mix until combined.

Add the mixture to a cocktail shaker. Add the rest of the apple juice, the mango juice, coconut milk, and the simple syrup. Also add a handful of ice cubes.

Make sure the lid is on properly then shake for about a minute to combine everything.

Place a few ice cubes and several pieces of fresh dragon fruit into your serving cups then pour the juice from the cocktail shaker, dividing it equally between the glasses. Top with a reusable straw and enjoy!
Nutrition
Calories:
353
kcal
|
Carbohydrates:
36
g
|
Protein:
2
g
|
Fat:
25
g
|
Saturated Fat:
21
g
|
Polyunsaturated Fat:
0.3
g
|
Monounsaturated Fat:
1
g
|
Sodium:
64
mg
|
Potassium:
360
mg
|
Fiber:
1
g
|
Sugar:
26
g
|
Vitamin A:
1
IU
|
Vitamin C:
2
mg
|
Calcium:
34
mg
|
Iron:
5
mg
Substitutions & Alterations
Apple juice is generally more common for people to have in their fridge, but I prefer grape juice. That holds true for this drink as well, and the good news is that you can easily substitute apple juice for white grape juice. If you use regular grape juice, you'll throw off the whole gentle pink aesthetic of the drink (and let's be honest- that's half the fun).
If you want a blended pink drink, that's super easy! Instead of adding everything to the cocktail shaker, add it to a blender and pulse until combined. The ice should break up and give the drink more of a slushie texture-though, considering it's a Starbucks drink, it might be more apt to compare it to a frappe's texture. I enjoy blending my pink drink on particularly warm days because, when the ice is integrated with everything else, it feels a bit frostier on the tongue.
As with most dishes of this nature, the ratio of ingredients can easily be altered to fit your tastes. This combination should get you pretty close to the Starbucks version, but feel free to adjust it as necessary for maximum enjoyment.
The green coffee powder adds caffeine, but it can also add a more bitter flavor that you might want to avoid. If that is the case, you can reduce the amount or omit it entirely. If you're making this drink for children, you should probably leave it out anyway.
What is Dragon Fruit Powder?
Dragon fruit powder is made from the fruit. It is freeze dried and milled into a powder that is easy to add to recipes-both drinks and desserts. The process helps condense a lot of the fruit's flavor into a small amount of powder, so it is an excellent way to utilize the taste of dragonfruit without having to deal with fresh produce. Additionally, fresh dragonfruit can go bad, while the powder can be kept for a much longer time. It can also add a vibrant color to anything you use it in!
The best place to find dragonfruit powder would be at a health food market or online; you are unlikely to find it in your regular supermarket.
What is Green Coffee Powder?
Green coffee powder comes from the same place coffee does–the coffea fruit. Unlike the coffee beans you are probably used to, the method of processing green coffee powder is different. Regular coffee beans are roasted a certain way while green coffee beans are not roasted at all. You could say that green coffee powder is a dry form of uncooked coffee.
There are several health benefits of green coffee, including fat burning and metabolism boosting. It is gaining popularity because it can be added to dishes like smoothies or desserts so you get a caffeine boost without actually needing to drink coffee.
---
Recent Recipes